airstream, the manufacturer of the iconic 'silver bullet' camping trailer, has teamed up with california-based pedego electric bikes to take its adventure gear onto two wheels. decked out in brushed aluminum, the resulting e-bike matches airsteam's hallmark style, in bicycle form. powered by pedego's rugged motors and powerful batteries, the silver bullet bike runs riders over hills, through headwinds, and along long distances with ease. the electric bike features pedego's state-of-the-art geared motor that promises to deliver the best acceleration and hill climbing for any adventurer. for those that really want to run with the winds, the ride even features a twist-and-go throttle for full power on demand. 

all images courtesy of pedago
the pedego X airsteam bike gets its power from a 48-volt lightweight lithium battery, which provides an average of 25 to 60 miles distance on a single charge. five levels of automatic pedal assist mode make for a more natural riding experience. meanwhile, shimano seven-speed gearing guarantees maximum control while pedaling. not ones to compromise on comfort, the airstream collaboration uses a deluxe saddle with a suspension seat post for extra cushioning, along with kevlar-belted premium balloon tires for an extra smooth ride. 
the bike comes complete with airstream's name on the chain guard, as well as the company's badge for the front. 'our customers love the outdoors and the open road,' explains airstream president and CEO bob wheeler. 'so, we are thrilled to partner with pedego and allow airstreamers to take their journeys even further with these one-of-a-kind aluminum electric bikes.'
don dicostanzo, CEO and co-founder of pedego electric bikes adds that 'the pedego airstream electric bike is a natural fit for those who love the open road for adventure. these bikes complement airstream's legacy of quality, innovation, luxury and fun.'
Save
Save
oct 20, 2017
oct 20, 2017
oct 20, 2017
oct 20, 2017
oct 12, 2017
oct 12, 2017
oct 05, 2017
oct 05, 2017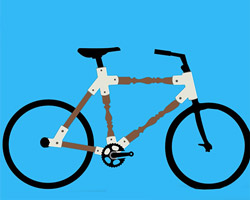 sep 22, 2017
sep 22, 2017
sep 20, 2017
sep 20, 2017