jul 24, 2012
planetsolar: the first solar powered boat around the world
the world-record setting 'MS tûranor planetsolar' is the first entirely solar-powered ship to circumnavigate the globe
at 2:00pm on september 27th, 2010, the 'MS tûranor planetsolar' boat set sail from the port of monaco, with the intention of achieving the first voyage around the world powered exclusively by solar energy. 585 days, 28 countries, three oceans and 11 seas later, the boat completed its journey, crossing its finish line in monaco at 2:12pm.
this month, 'planetsolar' has just set out for a new journey, sailing from coast to coast in the mediterranean sea as a living exhibition of the commercial viability of solar technology. the craft has completed visits in barcelona and mallorca, spain, and has just docked in cagliari, on the italian island of sardinia. 'more than a ship', the new crew explains, '['planetsolar'] is now a mobile battery', designed to power light shows, concerts, and press exhibitions as it docks in each port.
visitors are invited to explore 'planetsolar' in person in cagliari through july 30th, 2012, and listen to new captain eric dumont speak about the ship and its journey on the morning (11:00am) of tuesday, july 24th.
'planetsolar' arrives in cagliari on the italian island of sardinia, as part of a summer 2012 mediterranean tour
'planetsolar' docked in cagliari, sardinia
sunset view of the ship's solar paneling
named 'tûranor' after 'the power of the sun' in JRR tolkein's book 'the lord of the rings', the 35-meter long (115-foot) catamaran is covered in 537 square meters (5780 square feet) of photovoltaic panels with 18.8% yield, generating an estimated 260,000 kWh of energy over its 60,006-kilometer (37,000 nautical mile) journey. 38,000 individual solar cells feed six blocks of lithium-ion batteries.
the 'planet solar' craft itself was developed over the course of eight years, requiring 14 months of construction. the project was founded in 2004 by swiss explorer raphaël domjan and financed by german entrepreneur immo ströher. new zealand designer craig loomes directed the development of the double hull vessel, working alongside engineers to optimize not only the energy collection but also the aerodynamics and efficiency of the lightweight carbon ship.
3/4 top view
'planetsolar' holds four naval records: the fastest crossing of the atlantic ocean by solar boat (26 days 19 hours 10 minutes); the longest distance ever covered by a solar electric vehicle; the first circumnavigation achieved by solar craft (taking 1 year 7 months and 7 days); and the fastest crossing of the south china sea by solar power (4 days 23 hours 45 minutes).
for its world tour, the catamaran set sail with a crew of six, which was reduced to four for the second leg of the journey, although six former french soldiers were also dispatched to the boat for protection around the gulf of aden, where the crew closely evaded pirates in march 2012 as it rounded the coast somalia.
beginning in june 2012, a new crew led by french captain eric dumont has taken the helm.
'planetsolar' arrives in miami
'planetsolar' off the coast of tahiti
the ship crosses the suez canal
arriving in monaco after its 585-day world journey
onboard throughout the entire trip was a handwritten note by jules verne, author of 'around the world in 80 days'
aerial schematic of the solar panel placement on the ship and its wings
view behind-the-scenes of the construction of the ship, and footage of the boat in sail
entrepreneur immo stroeher addresses the 2011 ITB conference in berlin about the 'planet solar' project
oct 15, 2017
oct 15, 2017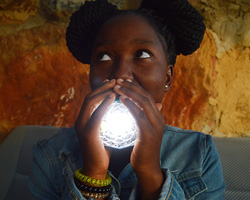 sep 01, 2017
sep 01, 2017
aug 26, 2017
aug 26, 2017
aug 24, 2017
aug 24, 2017
aug 03, 2017
aug 03, 2017
aug 01, 2017
aug 01, 2017