raptor boats' 'fishing platform XL' combines a tent with a boat, letting fishers relax on rivers sheltered from rain and wind. frequent return trips to the shore are no longer needed, and with 150 square feet of space, there's room for the whole fishing crew. the 'platform XL' features 15 D-rings, meaning a range of tents, shelters, or bivys can be pitched, letting up to four keen fishers spend the night on their temporary floating home.

all images © raptor boats
raptor boats' 'fishing platform XL' is constructed from five pieces: four airdeck parts form the boat's base, while a surrounding tube keeps passengers from falling overboard. made of a high-strength five-layer PVC in 1100 decitex, this features a special anti-slip material capable of supporting over 3500 lbs. the manufacturer understands the open water can be unpredictable at times, which is why a repair kit is included with every platform. there are handgrips flanking each boat, eight different air chambers act as an added security measure against sinking, plus an efficient drainage system will keep the crew from capsizing. with all bases covered the 'fishing platform XL' lets anglers focus on their next catch, without being caught exposed in the elements. 
oct 19, 2017
oct 19, 2017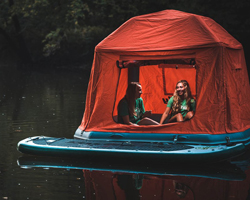 oct 10, 2017
oct 10, 2017
oct 10, 2017
oct 10, 2017
oct 05, 2017
oct 05, 2017
oct 02, 2017
oct 02, 2017
sep 21, 2017
sep 21, 2017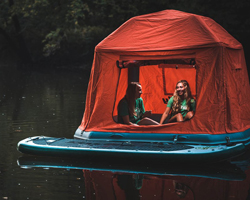 oct 10, 2017
oct 10, 2017