with rinspeed's 'oasis' concept vehicle, the self-driving electric car for the city and surrounding areas, swiss car designer frank m. rinderknecht challenges the notion of the urban jungle that requires SUVs the size of 'battle tanks' for the daily struggle for survival. rinderknecht introduces his alternative concept: a maneuverable speedster with an integrated small garden plot behind the windshield.
video courtesy of rinspeed
the rinspeed boss therefore challenges the car's form with mobile urban gardening. with its large glazed areas and shrouds on the front wheels, the refined two-seat runabout has a futuristic appearance–somewhat reminiscent of a modern interpretation of the famous 'star wars' character R2D2 . both can turn on their wheels with almost a zero radius. in the case of the 'oasis', two in-wheel electric motors and torque vectoring provides the neat steering angle, developed by ZF on lake constance.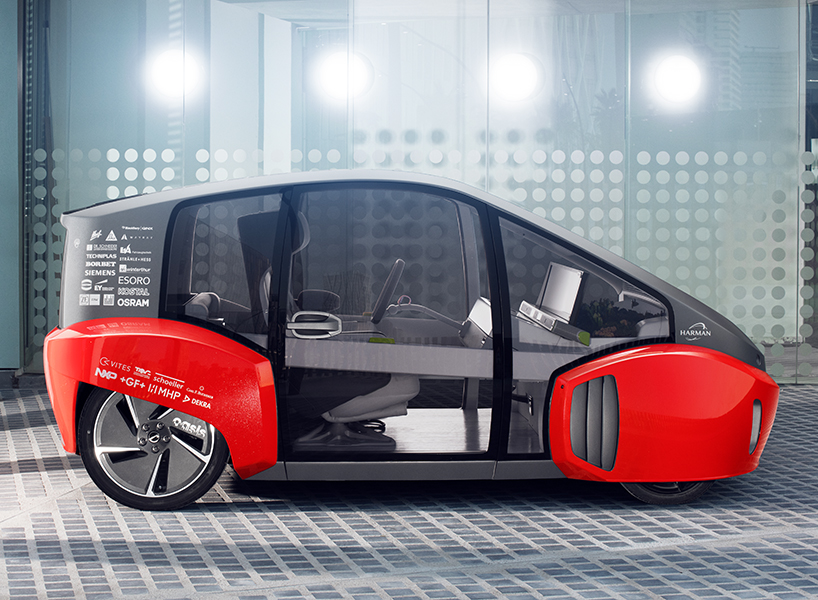 all images © rinspeed 
the ultimate eye-catcher is the small garden which can provide enough space for growing radishes or even little bonsai trees. automotive supplier kostal adds an element of nature to the car to make it a true third space. 'home + garden' quickly becomes 'car + garden'–brought together by a custom removable planter. the small garden plot is just one of features that creates a new living space in the interior of the car. in keeping with a great tradition, the twenty-third rinspeed concept car was engineered by swiss company 4ERC and executed by esoro.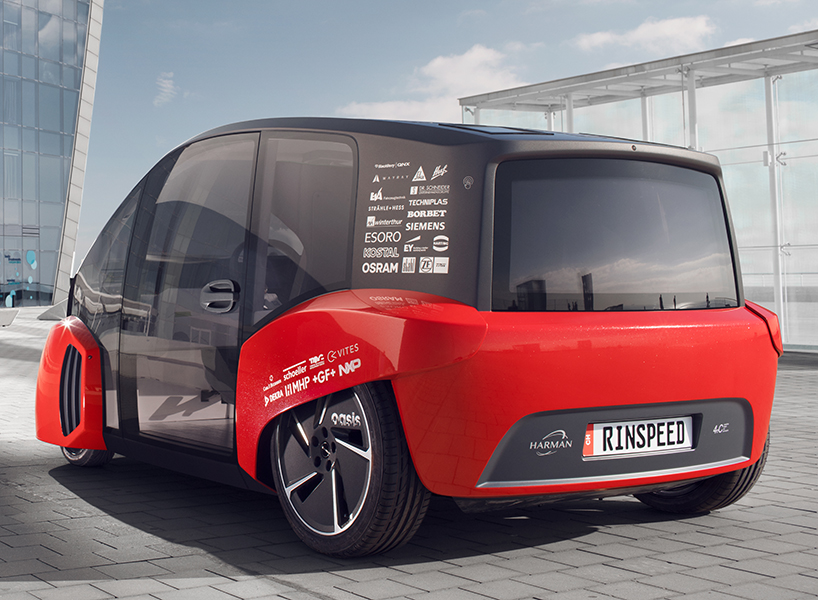 futuristic exterior design with reimagined interior space
armchairs, sideboard plus a TV provide a modern living room ambience in white. it has a welcoming and inviting ambience, create by swabian textile developers at strähle+hess, and dutch company stahl, upholsterer of leather and synthetic surfaces in automotive interiors. together, they have created an ensemble of natural leather with surfaces complemented by textiles with bright-edging highlights. elegant aluminum seat bases from GF automotive have a lightweight design. the floor is made from real wood, crafted by the specialists at meisterwerke.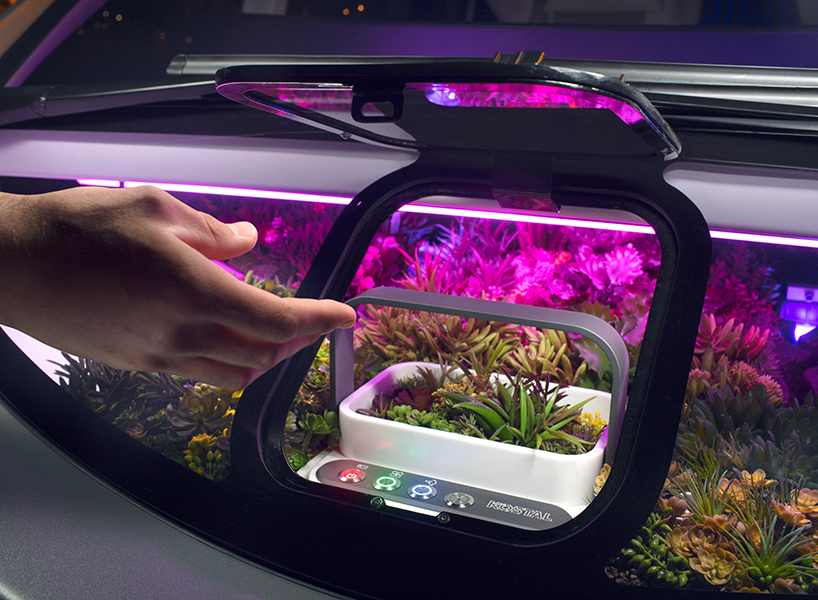 the concept vehicle is equipped with harman LIVS technologies (life-enhancing intelligent vehicle solutions). this innovative technology allows 'oasis' to let its driver know that several facebook friends with similar tastes have recently liked a new restaurant that just opened nearby. a quick 'OK' signaled to the personal assistant of the car and the table has been reserved. to interact with the harman system, the occupants can use a slightly curved 5K widescreen display with voice-or-gesture-control that spans the width of the 'oasis' in front of its passengers. in manual mode, it presents the most important information in condensed form. the images of the electronic rearview mirrors are dimmed when no longer required.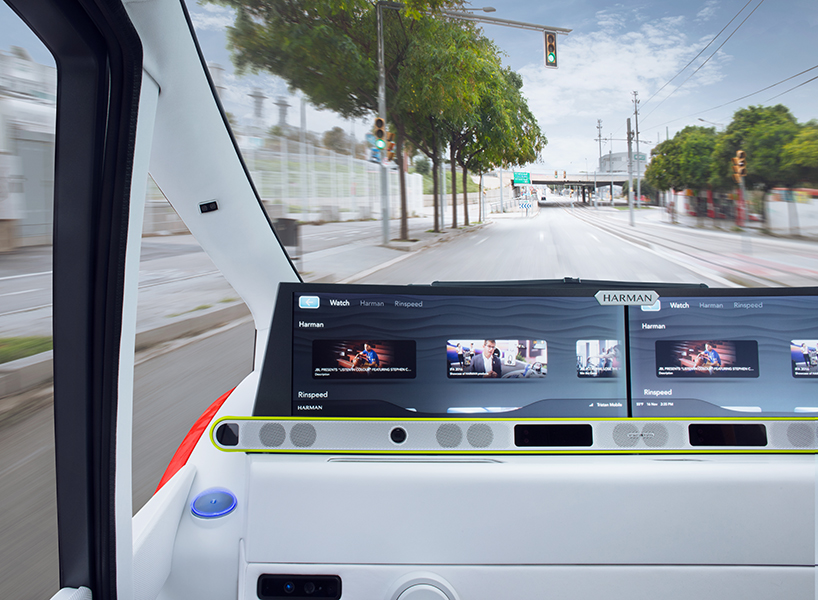 harman LIVS technology spans across the whole windshield
the steering wheel from ZF can fold flat and turn into a keyboard or work surface. the car thus becomes a self-driving office on wheels, complete with office productivity software and skype video telephony with live translation. the personal assistant not only knows which of the occupants is talking to it at the time, but also in what language the occupant speaks. 'oasis' passengers are able to exchange and share interesting news on social media channels by using swiping gestures. in keeping with a ten-year tradition, a mechanical carl f. bucherer swiss-watch is integrated on the steering column.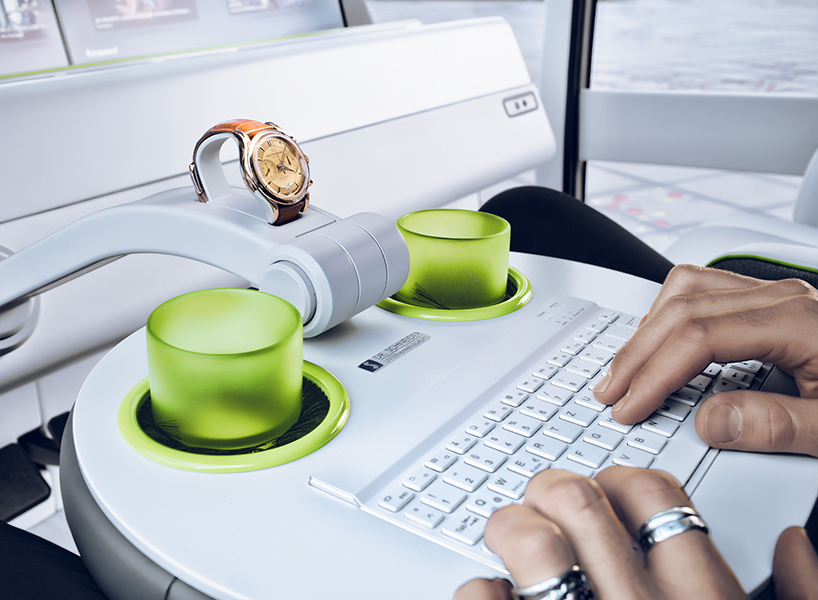 steering wheel stows away creating office space
who will own the car, who will operate it and what will it be used for? rinspeed boss rinderknecht has designed and equipped the car to keep all conceivable options open–if society is willing to share goods in a beneficial way. 'oasis' can be a shopping cart in the morning, a shipping services counter for a parcel service in the afternoon, and a pizza delivery vehicle at night. a digital access system from german supplier HUF makes it possible.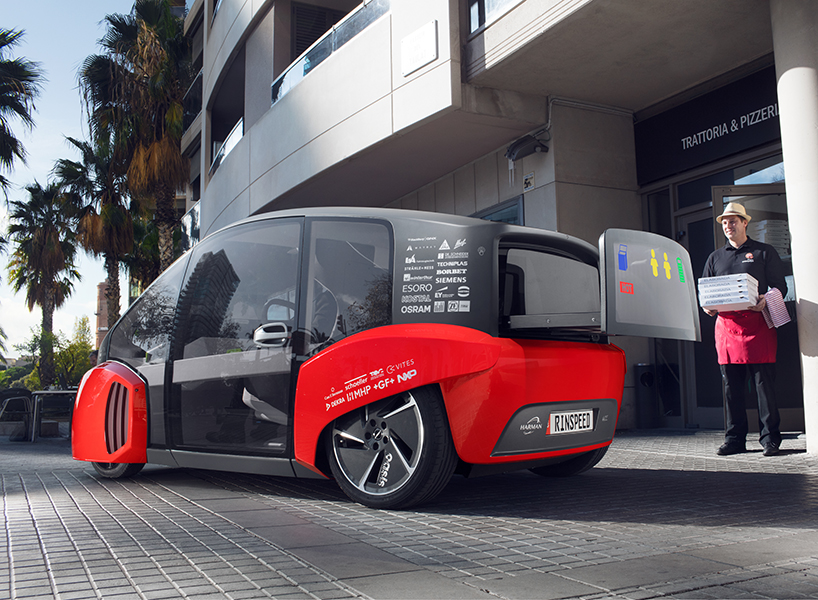 vehicle-share provides societal benefits
intelligent traffic management solutions from siemens help optimize the traffic flow, and thereby are a factor in providing more comfort in traveling, minimizing emissions, and enhancing the safety of all road users–for example, by warning road users of an approaching emergency vehicle. the 'oasis' uses different sensors based on NXP technology to capture a 360-degree view of its surroundings with pinpoint precision. thanks to vehicle-to-vehicle communication, it can even look around corners and obstacles. this sensor fusion is then used to compute the safe driving maneuver.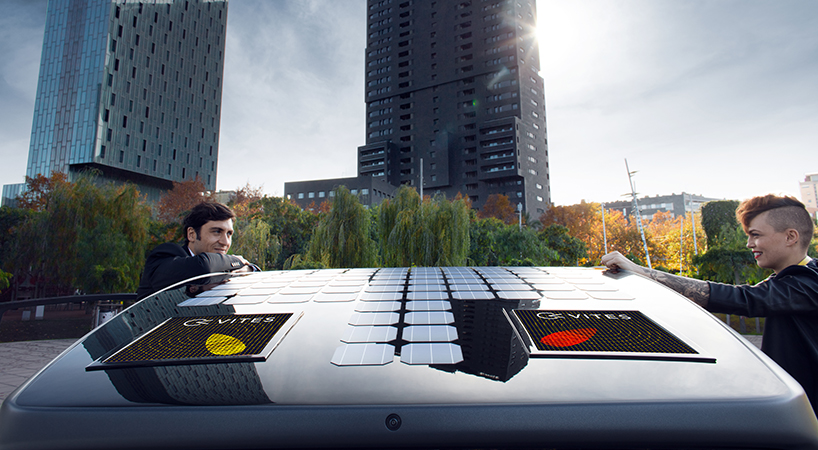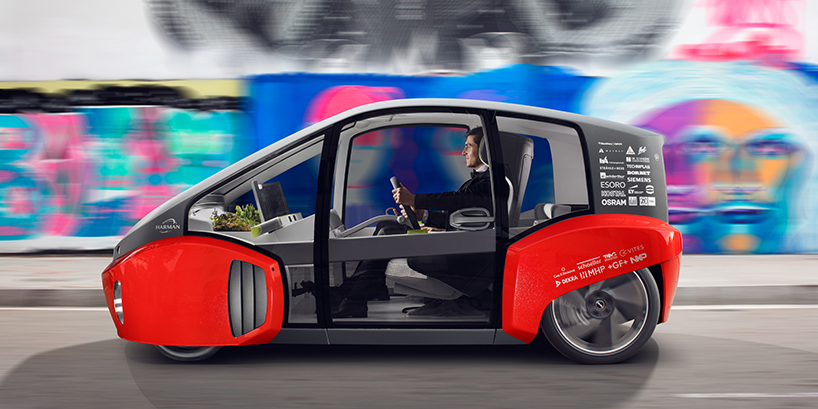 on display at CES, NAIAS + the geneva motor show
urban gardening on wheels as a new trend? a little bit out there? maybe. but this creation of swiss mobility innovator, frank m. rinderknecht, is an 'oasis' for inspiration in the otherwise rather expansive automotive wasteland. on display at the CES in las vegas and the NAIAS in detroit in january 2017, and in spring 2017 – in a manner of speaking, in the swiss national own front garden – at the geneva motor show.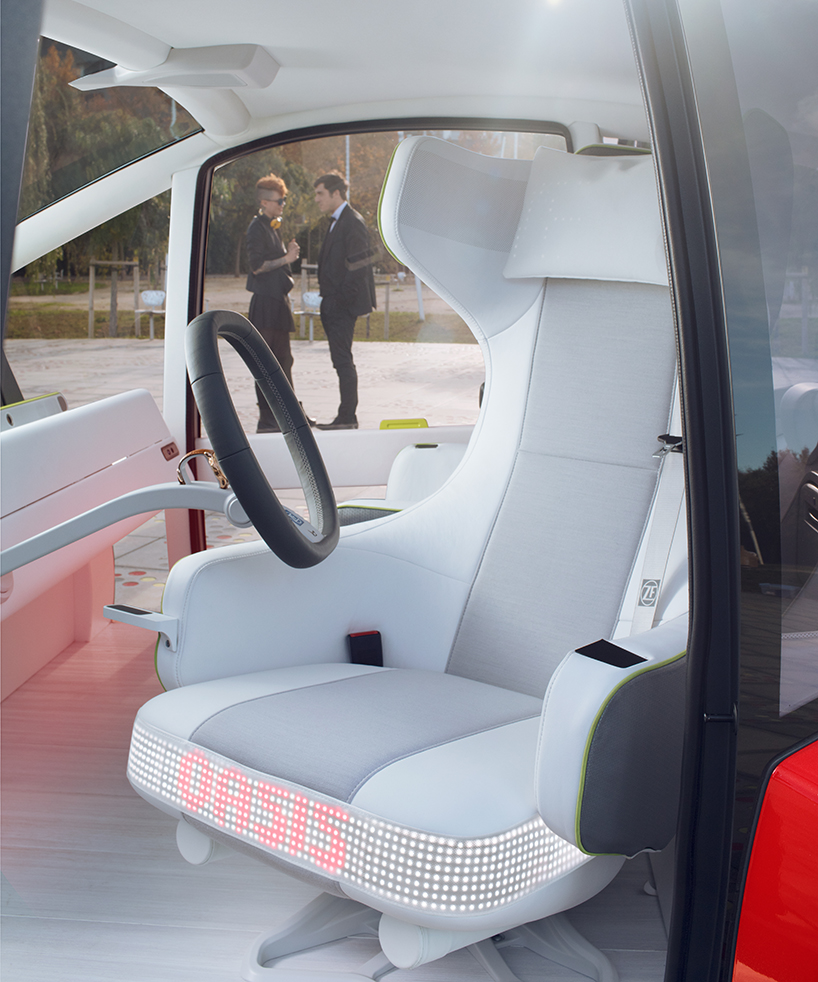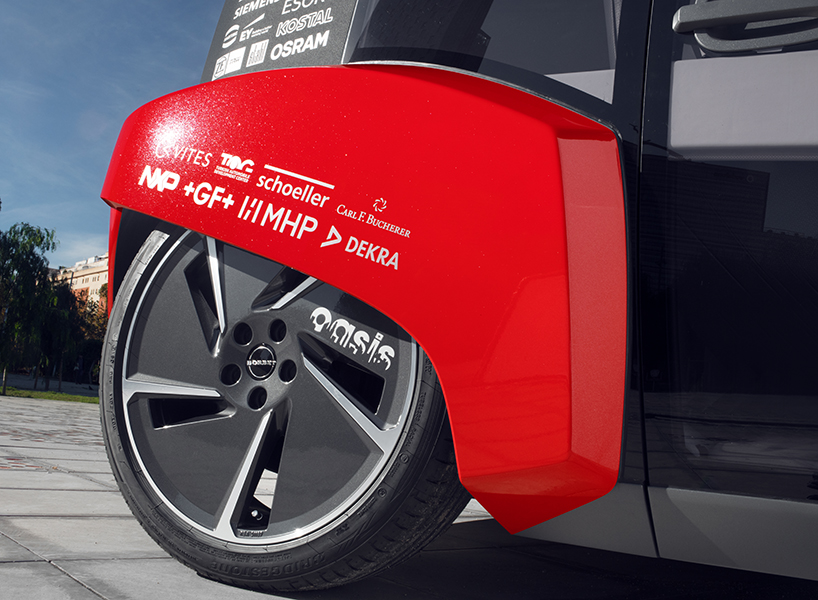 mar 18, 2019
mar 18, 2019
mar 16, 2019
mar 16, 2019
mar 06, 2019
mar 06, 2019
mar 06, 2019
mar 06, 2019
mar 06, 2019
mar 06, 2019
mar 06, 2019
mar 06, 2019
mar 15, 2019
mar 15, 2019
mar 14, 2019
mar 14, 2019
mar 13, 2019
mar 13, 2019
feb 11, 2019
feb 11, 2019
feb 06, 2019
feb 06, 2019
jan 24, 2019
jan 24, 2019
mar 13, 2019
mar 13, 2019
mar 12, 2019
mar 12, 2019
mar 12, 2019
mar 12, 2019
mar 11, 2019
mar 11, 2019
mar 07, 2019
mar 07, 2019
mar 06, 2019
mar 06, 2019
dec 06, 2017
dec 06, 2017
dec 16, 2015
dec 16, 2015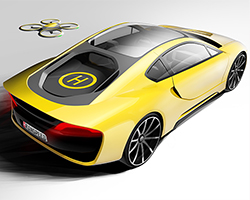 oct 12, 2015
oct 12, 2015
feb 17, 2015
feb 17, 2015
feb 18, 2014
feb 18, 2014
feb 25, 2013
feb 25, 2013
a diverse digital database that acts as a valuable guide in gaining insight and information about a product directly from the manufacturer, and serves as a rich reference point in developing a project or scheme.