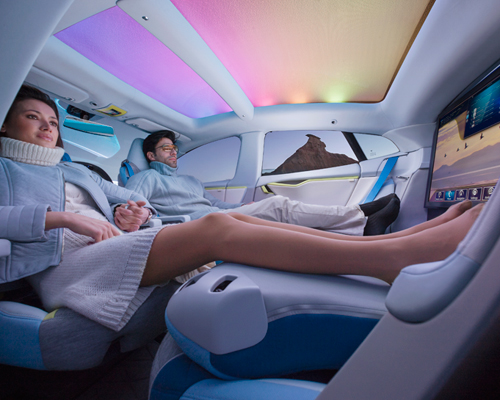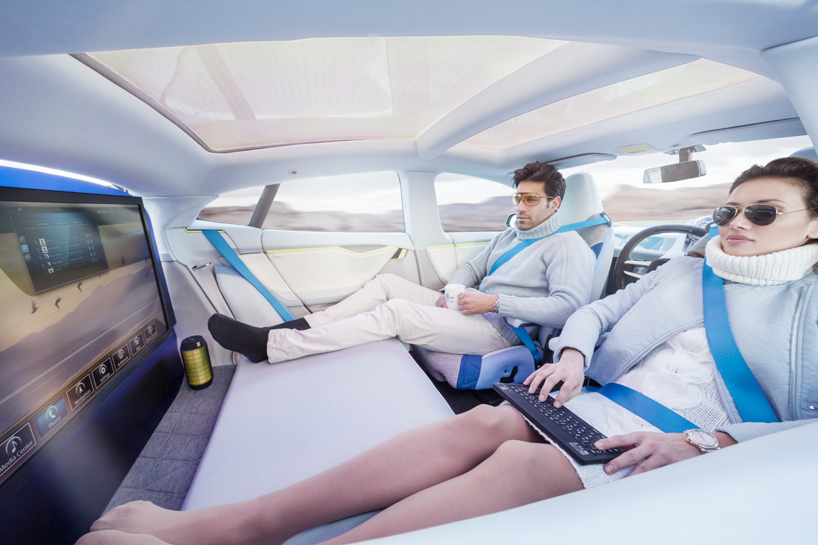 feb 18, 2014
rinspeed XchangE autonomous EV is an office + living room on wheels
rinspeed XchangE autonomous EV is a fully connected office and living room on wheels
all images courtesy rinspeed

unveiled ahead of the 2014 geneva motor show, rinspeed presents the 'XchangE', an automotive study to demonstrate how cars will be used as transportation in the not so distant future. the swiss company has conceived an all-electric autonomous touring sedan based on the exterior styling of the tesla model S, engineered by 4erc and built at esoro.
the EV features an interior configuration reminiscent of business-class seats of major airlines. the basic idea behind the seats that offer a host of adjustment, tilting and swiveling options comes from otto bock mobility solutions, a renowned manufacturer of medical prosthetics around the world; the integration of the advanced seats offer more than twenty possible seating arrangements. a futuristic TRW steering wheel features hands-on recognition, with a drive-mode-manager display in the upper rim and transparent multifunction keys with ambient lighting that can simply be 'parked' using a multi-redundant 'steer-by-wire' technology, similar to what can be found on modern jet aircraft.
dubbed as an 'office and living room on wheels', the fully networked EV provides proof of concept where passengers will be able to assume virtually any seating or resting position when traveling in a fully autonomous vehicle in the future, which will require a completely new operating and display concept. the new system devises harman's next-generation scalable infotainment platform, which is based on html5 and provides security protection against hacker attacks. the media platform inside the 'XchangE' offers numerous functions for navigation, entertainment, assistance and services that are displayed on a total of four screens.
a 1.2-meter-wide display strip in the steering-wheel support provides important information in wide-screen format. in the rear, a 32-inch 4k monitor transforms the connected car into a comfortable on-demand ultra-high definition movie theater that can be controlled with simple gestures.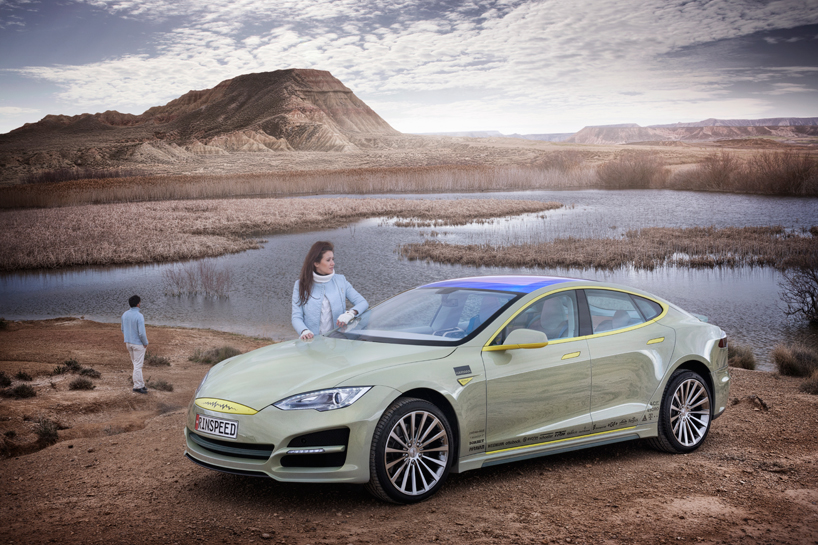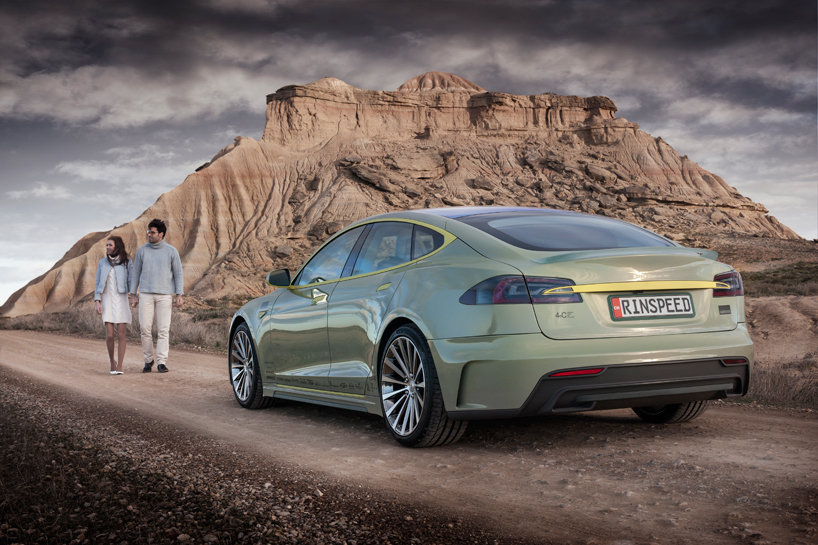 the 'XchangE' is also fully connected with the outside world; real-time sensorial data for car-2-car communication is handled by the harman infotainment system, which communicates with the cloud via an integrated LTE module provided by deutsche telekom company. all incoming vehicle data – from the harman infotainment system and other vehicle systems – intelligently links to numerous other online data sources to create travel-specific cloud services such as warning messages or recommendations on route and driving profiles, which are available to all road users in real time. the more vehicles and service providers are networked via the manufacturer-independent 'business-to-car' platform, the more people traveling by car benefit from added safety and convenience.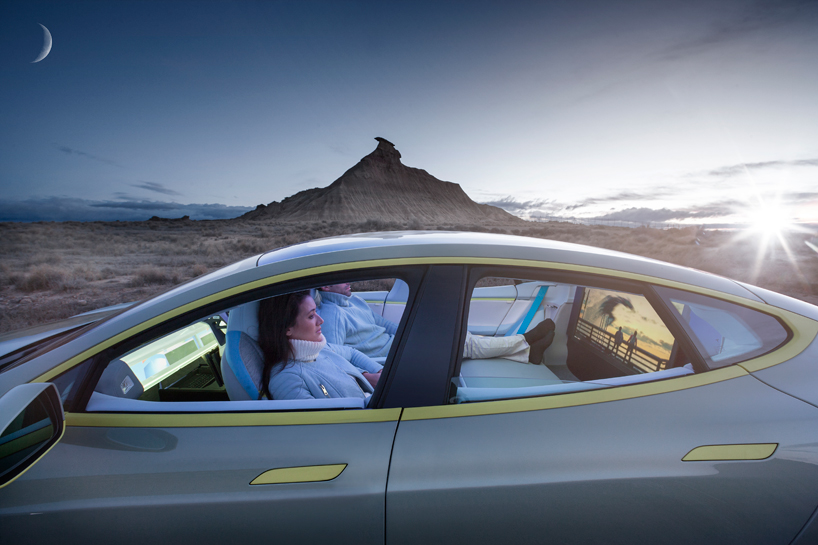 an intelligent access control system that uses RFID technology to identify the authorized driver or drivers switches on the essential functions of the 'XchangE'. the technical signals from the sensors and the vehicle control system are compiled by a 'connect' data-logging unit and transmitted continuously to the cloud, making it possible to analyze all operating data and generate reports, for example for fleet operators.
the ambient interior cabin was developed by strähle+hess, made of textiles whose blue and gray gradients evoke a maritime aesthetic. the focus of the textile development was in particular on the touch and feel of the fabrics, and the raw materials were selected to individually tailor their characteristics to the various comfort zones. natural resources such as merino wool and silk were also used, which were processed at a spinning mill in bregenz, austria.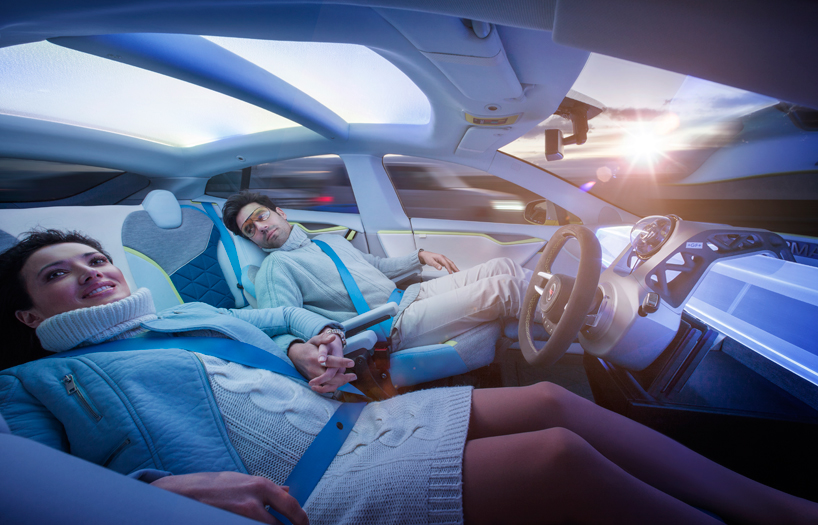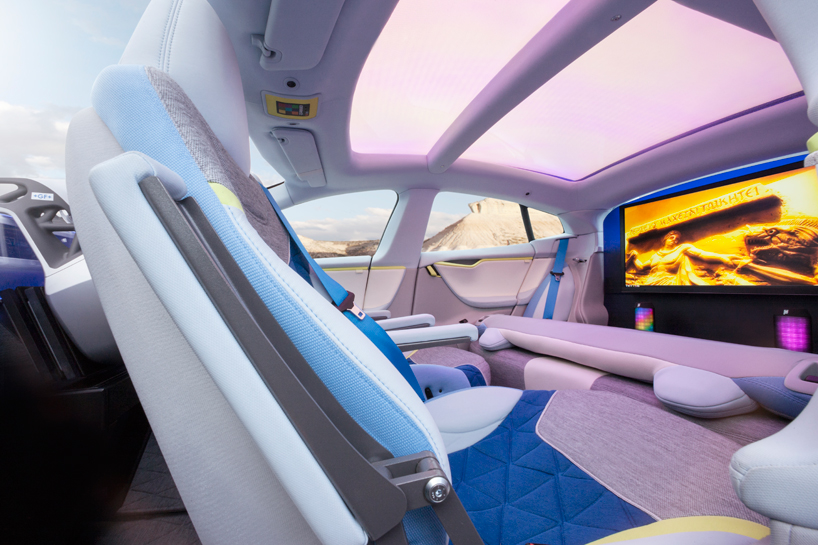 the high-tech plexiglas roof from evonik industries features a radiant surface coating and reflects all colors of the rainbow. 358 individually controlled LEDs in the 'endlighten' headliner and another 98 in the instrument panel create an individual feel-good atmosphere for traveling in comfort and at ease. numerous additional plexiglas elements in front and rear interior facade, rocker panels and rear spoiler, were created by refinement specialist mansory.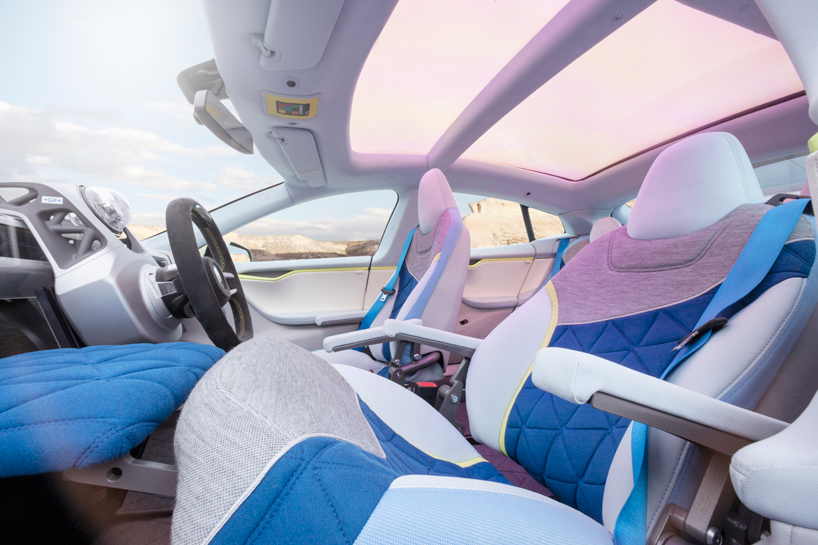 at the head of the dashboard, a moveable steering column arguably features the world's most expensive watch winder by swiss watchmaker carl F. bucherer, who implanted its trademark 'patravi traveltec' wristwatch in a transparent globe. when the car is stationary, the globe spins driven by an electric motor and in the process winds the mechanical watch movement.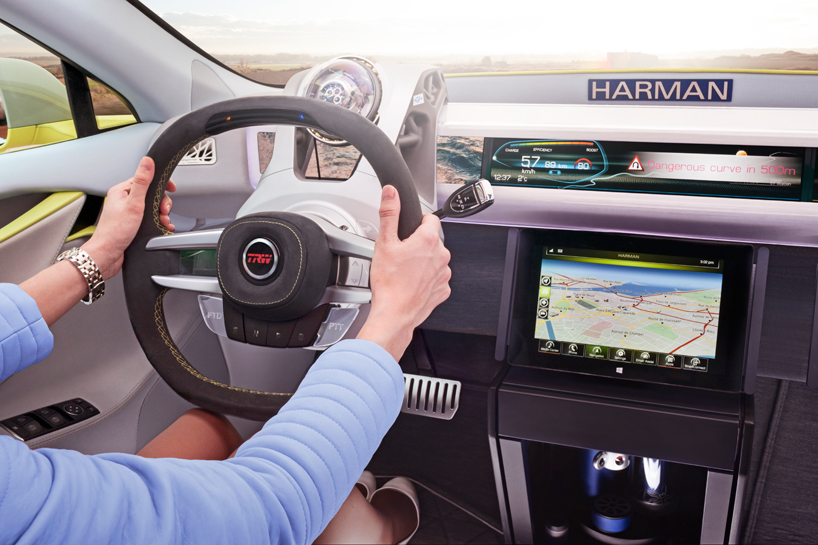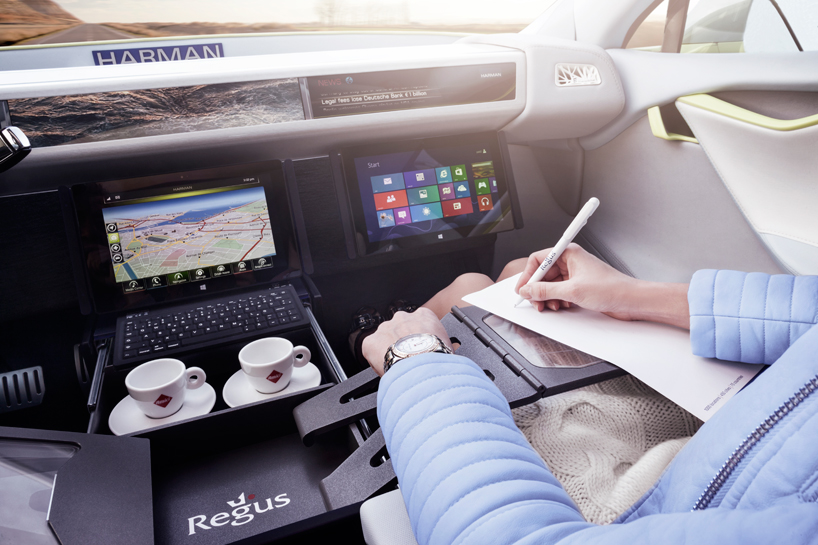 the futuristic concept demonstrates first hand how users will be able to read, listen to music, surf the web, watch movies in 4K resolution with surround sound, or hold a four-party meeting at 120 km/h and work on your files while brewing a fresh cup of italian espresso. the high-tech self driving living space showcases why individual travel will become more attractive when compared with traveling by train, plane or long-distance coach.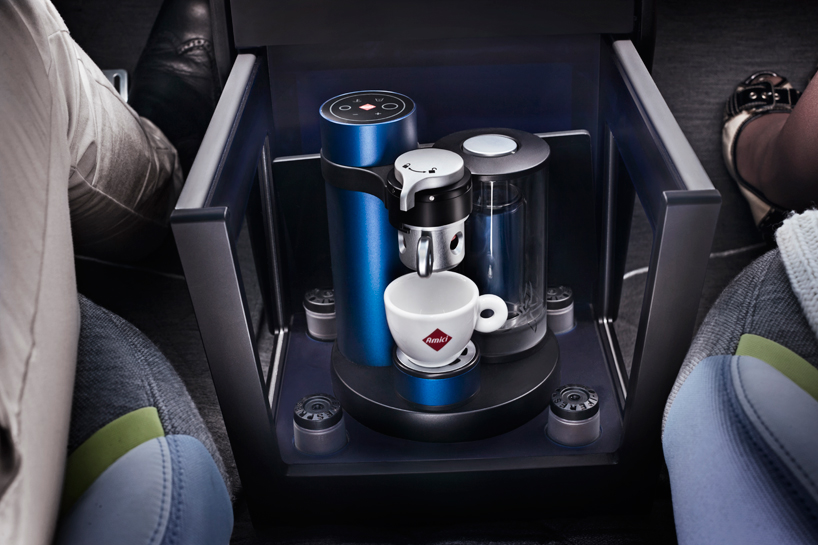 feb 17, 2015
feb 17, 2015
sep 12, 2013
sep 12, 2013
jul 31, 2013
jul 31, 2013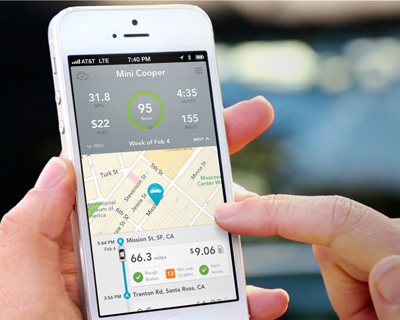 mar 13, 2013
mar 13, 2013
feb 12, 2013
feb 12, 2013
jan 08, 2013
jan 08, 2013
sep 10, 2019
sep 10, 2019
aug 26, 2019
aug 26, 2019
aug 06, 2019
aug 06, 2019
sep 16, 2019
sep 16, 2019
sep 13, 2019
sep 13, 2019
sep 10, 2019
sep 10, 2019
jul 31, 2014
jul 31, 2014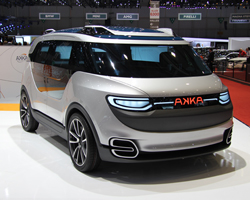 mar 12, 2014
mar 12, 2014
mar 10, 2014
mar 10, 2014
dec 06, 2017
dec 06, 2017
dec 12, 2016
dec 12, 2016
dec 16, 2015
dec 16, 2015
a diverse digital database that acts as a valuable guide in gaining insight and information about a product directly from the manufacturer, and serves as a rich reference point in developing a project or scheme.