autonomous or semi-autonomous, robots have been proliferating—and will continue to do so—in order to replace us humans in our different everyday tasks. we've seen how amazon is betting strong on delivery drones, automotive companies race in driverless car innovation, and even the medical realm sees these bots being more accurate than the human hand. and even though it's difficult to associate them with artistic competences, they are proving us wrong. from sculptors, to glassmaking, to tattoos, music, and more, we've compiled projects where robots are the creators.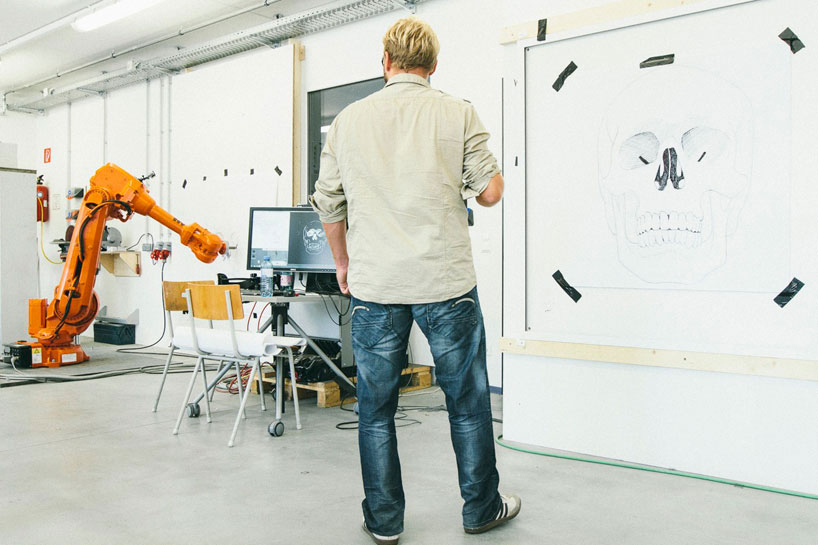 in 2013, alex kiessling and strukt design studio embarked on a cross-border project that marked art and technology by using industrial robots to simultaneously create large-scale drawings in three european cities. the 'long distance art' project fed real-time tracking via satellite to the two remote robotic devices, one stationed in berlin and the other in london. the robots mirrored kiessling's movements in real time, resulting in the creation of the same art piece in three different locations at the same time.
read more here.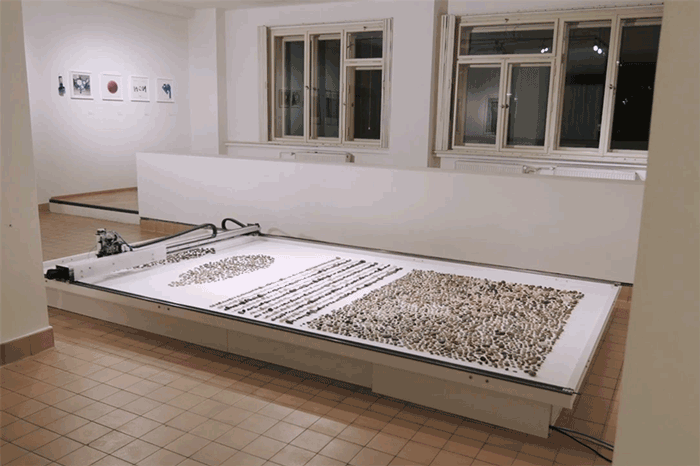 in 2016, artists prokop bartoníček and benjamin maus realized a robotic apparatus that sorts and organizes river pebbles based on their geological age. 'jller' comprises a 2×4 meter platform and rotating mechanical arm, which picks up individual rocks with an industrial vacuum gripper and moves them to their 'correct' location. without human assistance, the device autonomously analyzes the stones and sorts them based on their type and age — eventually rendering the history of the river as a visible artwork. the installation was presented at ex post gallery in prague.
read more here.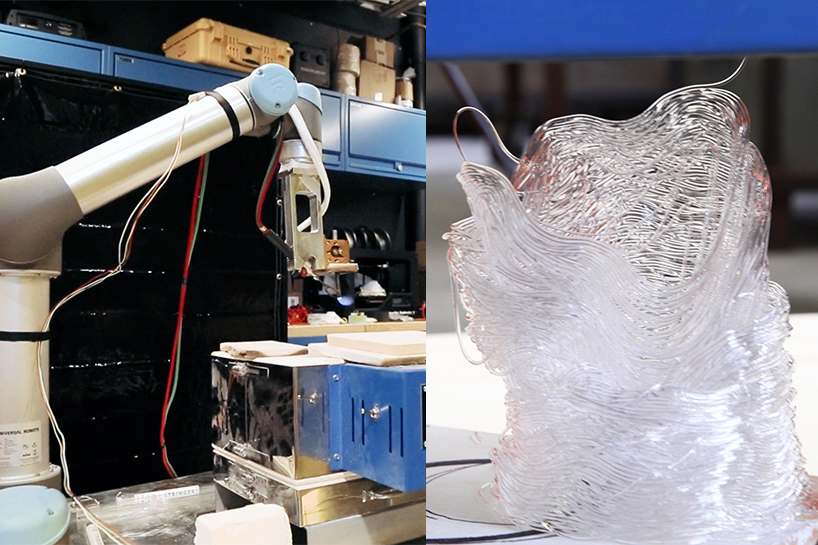 artist and researcher stefanie pender has used her expertise in craft processes and her interest in emerging technology to 'teach' a robot the art of glassmaking. after being selected to participate in the autodesk art in residency program, pender combined her knowledge of the two seemingly disparate fields to investigate whether human mastery can be taught to machines. 'tacit knowledge of craft processes has immense potential to enhance emerging technologies,' pender explains. 'the sensibilities gained through hands-on experience provide sophisticated comprehension of material behavior, physical properties and responsiveness to environmental conditions. these insights have led me to pursue merging traditional craft proficiency with contemporary technology in an effort to expand the boundaries of material processes.'
read more here.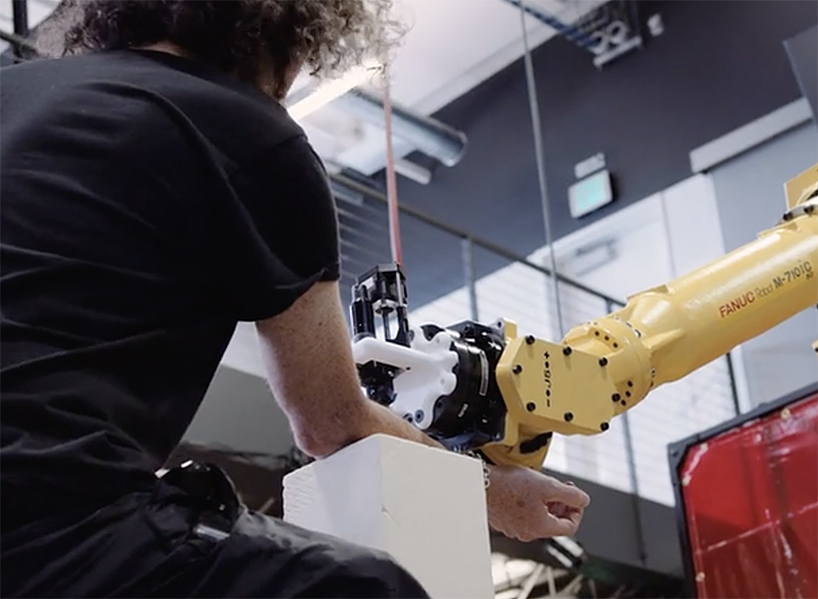 in body art, pierre emm and johan da silveira have created tatoué, an industrial robot arm that can autonomously draw intricate tattoos on humans. using 3D scanning technology, the body part is captured and then uploaded to dynamo, design software that converts the form into a geometric language the computer can understand. the software helps by applying the design onto the scanned surface, plus exporting the pattern code to the robot. 'tatoué' uses exactly the same needle and ink as traditional tattoo guns.
read more here.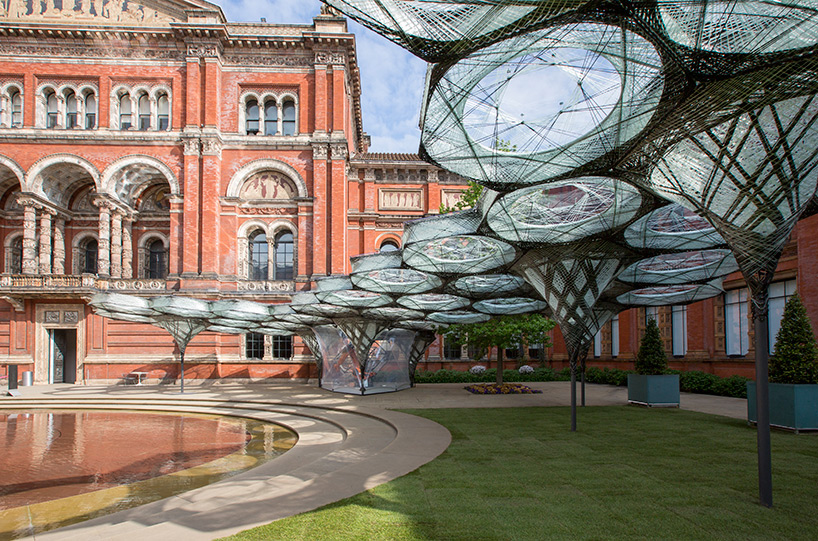 at london's V&A museum, a team of architects and engineers from the university of stuttgart designed a temporary structure built using a robotic production process. the 'elytra filament pavilion' was conceived by experimental german architect achim menges with moritz dörstelmann, structural engineer jan knippers, and climate engineer thomas auer. situated within the john madejski garden, the project explores the impact of emerging robotic technologies on architectural design and engineering. the design employed lightweight construction principles found in nature — most notably, the filament structures of the forewing shells of flying beetles known as 'elytra'. made of glass and carbon fiber, each component of the undulating canopy is produced using a robotic winding technique developed by the design team.
read more here.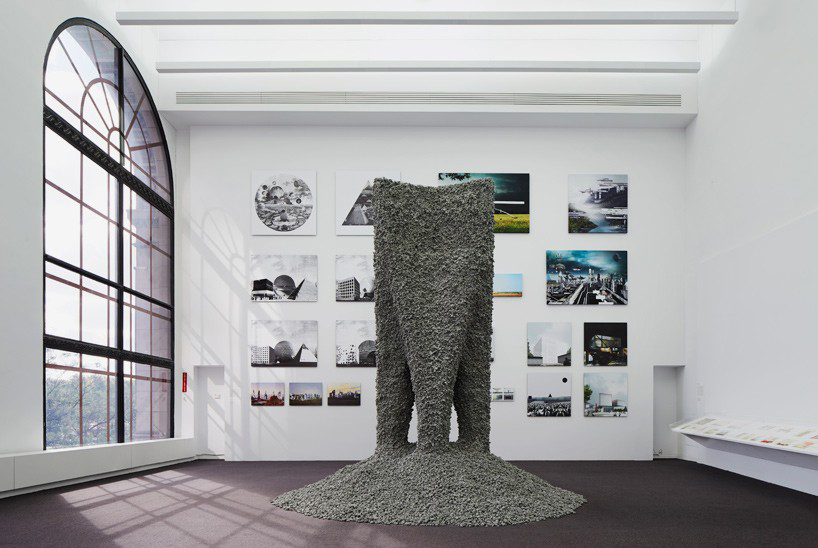 presented at the chicago architecture biennial 2015, this 3D printed rock installation was created using innovative robotic technology. developed by gramazio kohler research, ETH zurich, and the self-assembly lab at MIT, 'rock print' employs a specifically designed algorithm to guide a robotic arm in a three-dimensional, additive process. the device has positioned a textile filament layer-by layer around a loose granular material, forming a large-scale architectural artefact in a column-like shape that requires no additional supporting elements. the installation presents a radically new approach to the 'state of the art of architecture' – the official title of the inaugural chicago architecture biennial – and brings forth a new class of potentially fully reusable structures that can be automatically fabricated in non-standard shapes.
read more here.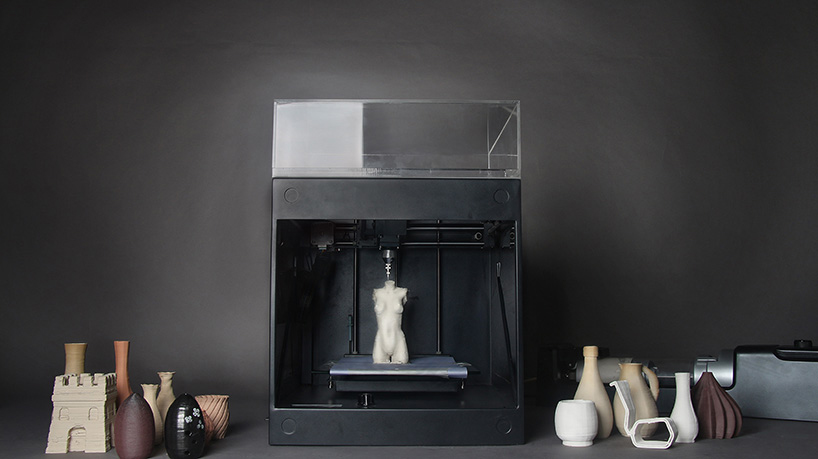 up until recently, 3D printing has largely gone hand in hand with plastic. yet recently, makers are starting to break the mould, experimenting with using 3D-printing technology for metal, yarn, or even foam. the latest expanse in this field comes comes from clayXYZ, a desktop 3D printer for ceramics. with some of the most elegant results yielded from a 3D printing technique, clayXYZ promises to be a revolutionary tool for individual ceramicists and sculptors who wish to design their creations digitally, yet sculpt them from clay.
read more here.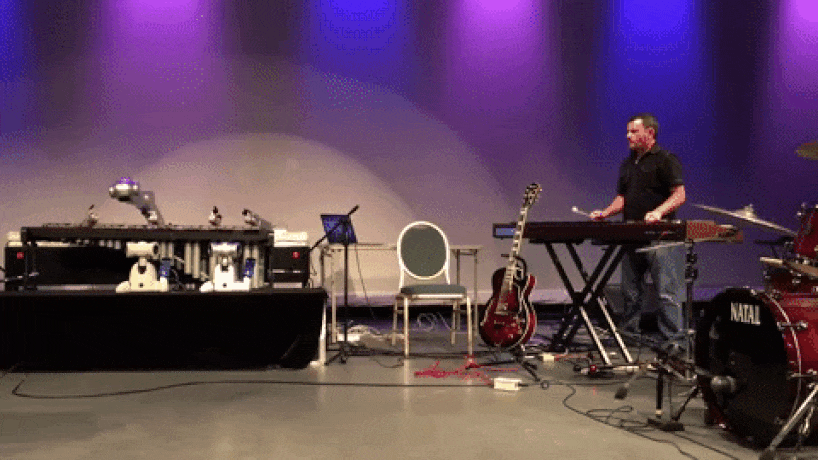 at a performance during last year's moogfest, gil weinberg, the lead researcher at georgia tech's center for music technology, gave a performance with the robot his lab has been working on for the past thirteen years. its robot 'shimon', which utilizes machine-learning-programs on music theory with a broad range of musical styles, from classical music to techno, adds an otherwise impossible element to musical performances, playing complex chord structures that humans simply can't recreate.
read more here.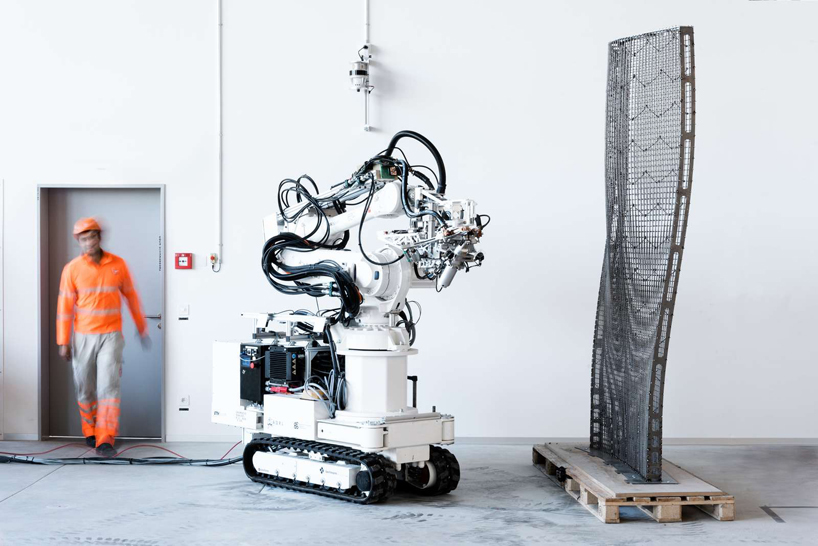 at the EMPA and EAWAG NEST building in dübendorf, eight ETH zurich professors are collaborating on a three-storey DFAB HOUSE made using predominantly digital processes. built using a two-meter high construction robot, the machine works by moving autonomously on caterpillar tracks. a steel wire mesh fabricated by the robot serves both as formwork and as reinforcement for the concrete. thanks to the dense structure of the steel wire mesh and the special composition of the concrete mix, the concrete stays inside the grid and does not pour out. the result is a double-curved, load-bearing wall that will characterize the architecture of the open-plan living and working area on the ground floor. a smart slab will then be installed – a statically optimized and functionally integrated ceiling slab, the formwork of which was manufactured using a large-scale 3D sand printer.
read more here.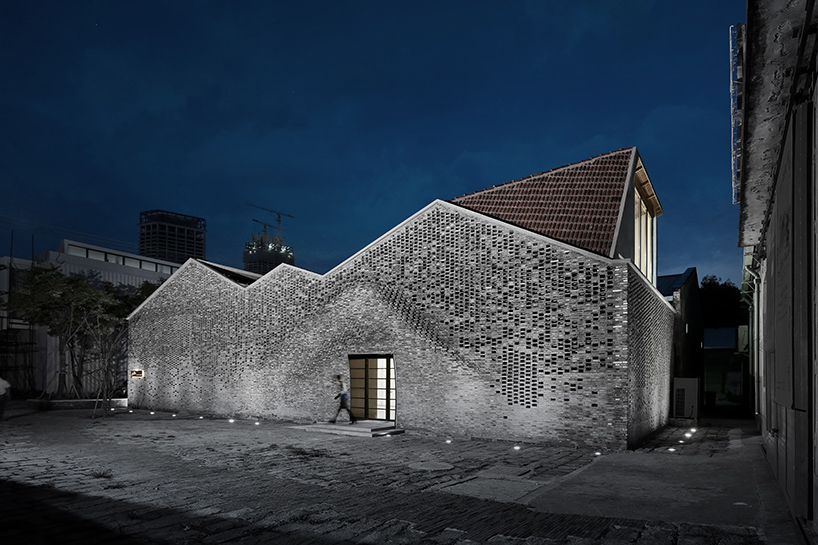 in shanghai, china, archi-union architects designed an exhibition space for a local art organization that features a distinctive brick façade. the building, which hosts various events and workshops took just five months to complete, thanks in part to a robotic masonry fabrication technique. the renovation project replaces a previously existing building, retaining and strengthening its exterior walls in order to maximize exhibition space. archi-union's scheme involved replacing the roof with a lightweight timber canopy. part of the roof has been elevated to both increase gallery space and allow for external views of the sky. as the complex brick façade could not be achieved with conventional methods, the design team utilized robotic fabrication techniques to convey the vitality of both the exhibition space and the wider neighborhood.
read more here.
robots
(412 articles)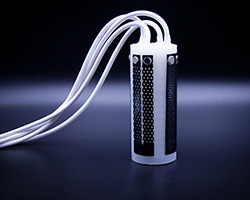 feb 14, 2020
feb 14, 2020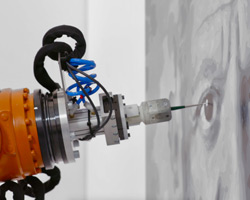 jan 26, 2020
jan 26, 2020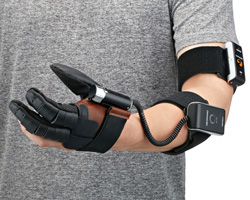 jan 17, 2020
jan 17, 2020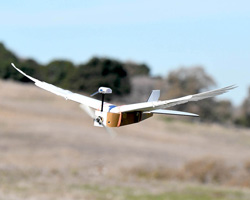 jan 17, 2020
jan 17, 2020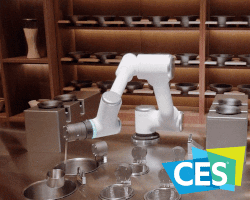 jan 13, 2020
jan 13, 2020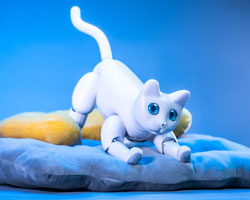 jan 03, 2020
jan 03, 2020
a diverse digital database that acts as a valuable guide in gaining insight and information about a product directly from the manufacturer, and serves as a rich reference point in developing a project or scheme.