established in 2014, beijing intelligent steward co., ltd. (ROOBO) is dedicated to holistically becoming a world leader within the field of artificial intelligence (AI) solution systems, products and services. through in-depth research and constant experimentation to widen their knowledge of AI, the brand has invented many high intelligent robots and consumer hardware over the recent years, including notable launches such as the 'pudding' and 'domgy' robots, and the 'idealens' headset and 'runbone' headphones. their latest product, the 'beanQ', which was first announced at CES 2017, is an early education consumer robot for children. it has received the 'best of the best' honor at the red dot award 2017 – a top international product and communication design prize – beating thousands of other quality entries from more than 60 countries.
to understand how such a new company won such a prestigious and highly sought after award, designboom interviewed the senior design director of ROOBO, feizi ye, who discussed the design principles behind the 'beanQ', its revolutionary fucntions, and what it means for their team to win the 'best of the best' prize at the red dot award 2017.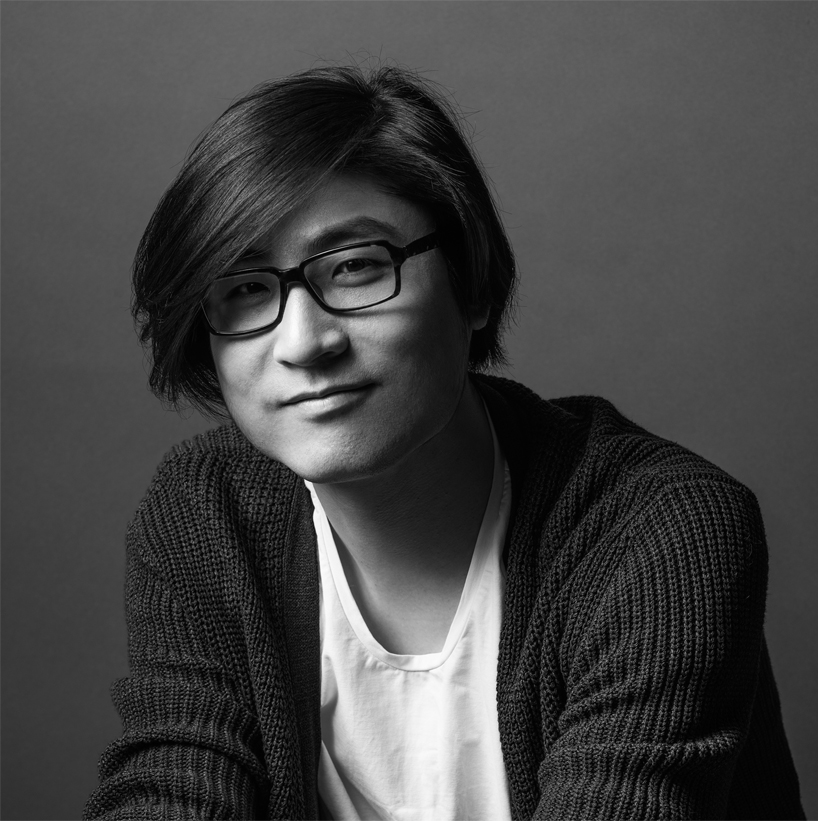 portrait of senior design director of ROOBO, feizi ye
designboom (DB): what do you think particularly helped the 'beanQ' win 'best of the best' of red dot award 2017?
feizi ye (FY): a robot, especially an android, must not just fit our needs of function as a 'machine', it must show more about the sense of life as a 'human'. we want to integrate 'human' into "machine" naturally in order to make users feel its vitality through our designing. therefore our design process wasn't rushed, instead it referred to the way of animation design so we devoted a lot to the character, form, habit, the background story, and even to the world view of 'beanQ'. this ground-breaking method and the resulting unique product concept, can successfully make people feel the mood of this lively robot through specific figure, color and dynamic conditions. I think that is the main reason for getting acknowledgement from the jury.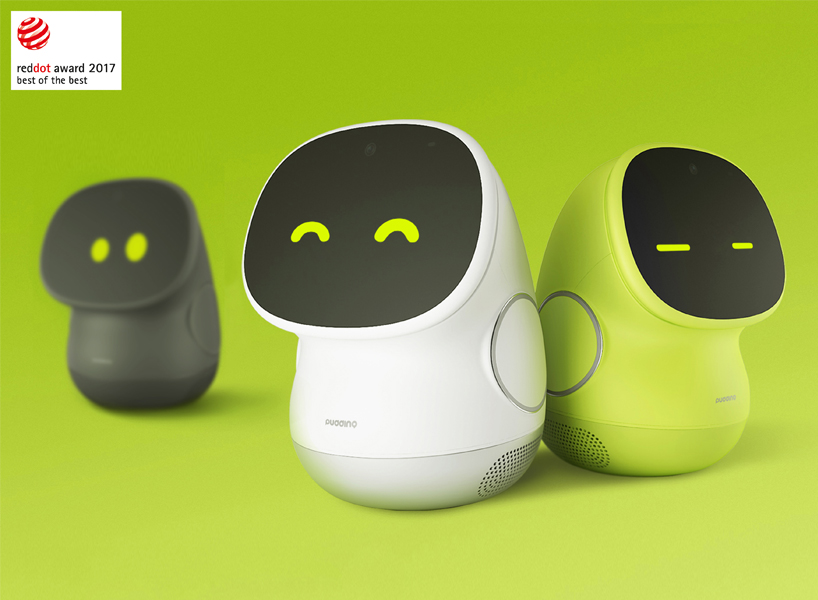 the 'beanQ' is a personal robot designed to aid in early childhood education
DB: were there any specific problems that you had to overcome when developing this project?
FY: apart from common problems, there were a few challenges that we had to overcome, which I can summarize in two parts. at first, we explored how to express the 'vitality' of the product effectively – this was the biggest challenge for us. we spent lots of time studying animation design at the beginning of this project, and it really helped its development. for example, when designing the waist of the 'beanQ', we wanted to make it differently so included an angle of 5 degrees between the plane of rotation for the body to rotate 330 degrees. this break-through point brought us a big surprise and made the 'beanQ' become ever friendlier in a static state. now when rotating, it becomes a lot more flexible, which looks tiny and cute.
as well, we have multiple touch areas on the head and sides of its body. this is where children can interact with the robot by stroking, touching or embracing it. furthermore 'beanQ' can also react by moving or expressing emotions. the anthropomorphic emotional expression system gives it a stronger ability to communicate, so the interaction can become more 'vitality'.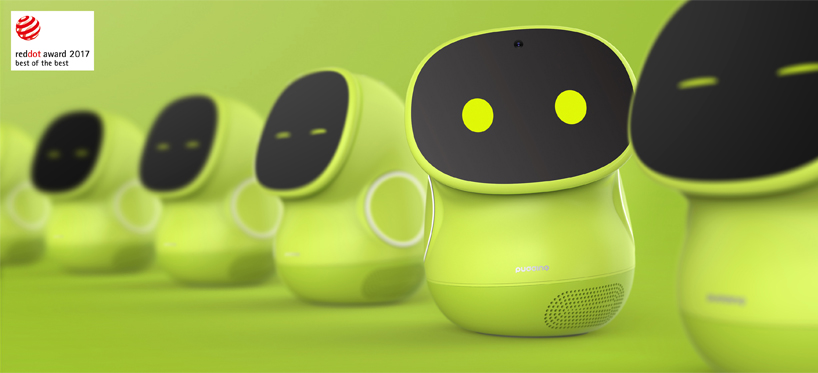 'vitality' – the principle of the whole design
continued…
also, safety was the other challenge we needed to face. through a number of observations and feedbacks from parents, we found that USB charging is actually a hidden danger in children products. we solved this through a cordless charger. we didn't want to think of it as just a separated functional accessory, so instead we decided to extend our design concept and defined it as the 'shadow' of 'beanQ'. in its details, the 'poka-yoke' design (a japanese term for fool-proofing) makes every child be capable of accomplishing the charging process without much attention. besides that, harmless non-toxic paint and its integrated design without sharp edges shows that every detail is intended for children.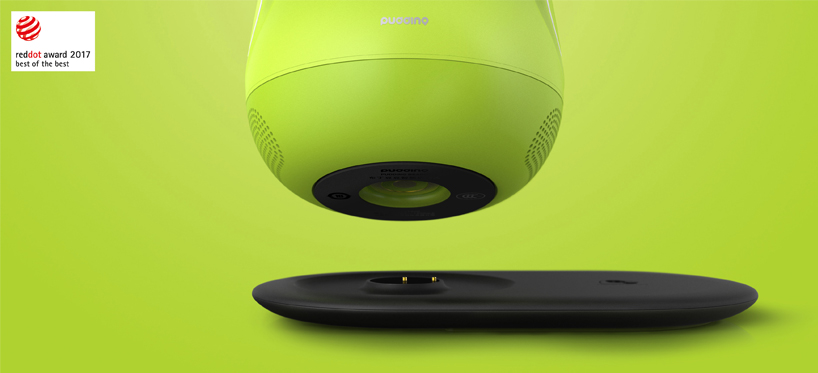 the cordless charger enables intuitive and safe completion by children
DB: what inspires the work that you and ROOBO do?
FY: the world of children should be colorful, but it seems that black, white and grey have become the standard formula for designing robot. formulaic design makes everything become bored and dull. we like to explore deeper thinking of products, rather than being different on purpose. we want to reveal what a robot for children should be through our own comprehension. based on 'vitality', we're trying to find a corresponding connection between children and product design.
the story of a bean
video courtesy of ROOBO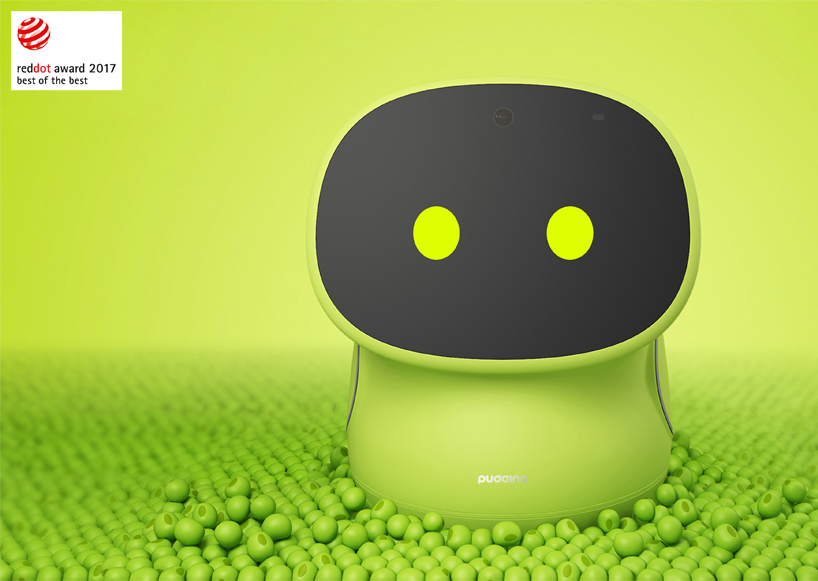 inspiration for the 'beanQ'
DB: can you tell our readers about some of 'beanQ's' key features, especially those that will aid the growth of childhood education?
FY: being professional, easy to use and safe are our main principles. with vivid colors, round and adorable design language, 'beanQ' is full of kindness and vitality. material quality provides safe and convenient interaction between children and the robot as well. we have strong AI team and educational expert teams to prepare high-efficient english courses for all the children. we specially chose different resources for children of different ages, according to the six sensitive periods of childhood as theorized by maria montessori, accompanying their growth in an all-round way. with accurate voice interaction, rich touch interaction and anthropomorphic emotional system, children can completely feel the joy of 'beanQ' and have fluid experiences.
furthermore, our team introduces the most intelligent robot in a professional, scientific and fun way for your children in the future. it's like a bean waiting for sprouting, which is full of curiosity and endless potential. it motivates the imagination of children and helps them explore things actively and gain knowledge more conveniently. they can form language habits and ways of thinking naturally. combining this with professional educational ideas, we used the forefront AI technology to make it possible for the robot to accompany them and provide better enlightenment. as well, it can help build a visualized and fun communication between parents and children, intensifying emotional communication between family members and making 'beanQ' their best friend.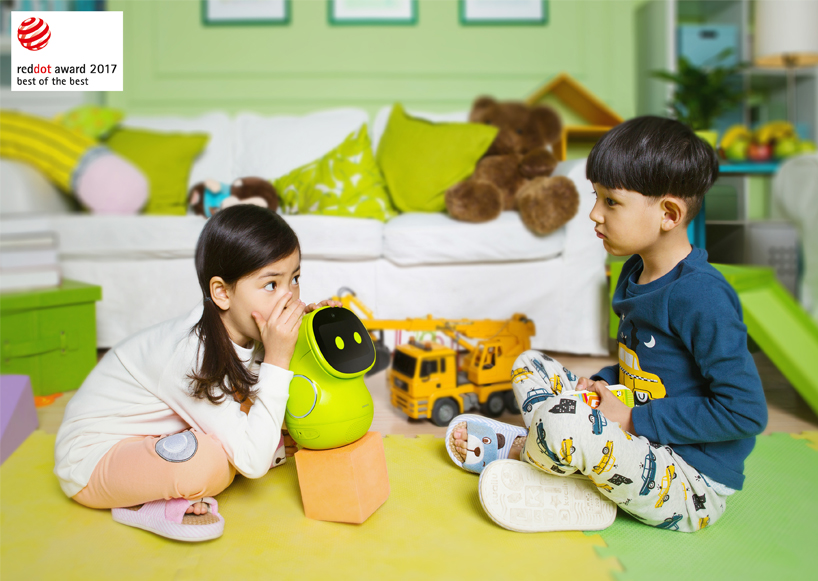 every detail, such as paint, material and form, has been tailored for kids
DB: your products are continuously pushing the boundaries of artificial intelligence, how are you able to devote so much energy to the research and development of this?
FY: behind the design, the value of this product and our intention on it matters a lot. it required us to have a strong backup for supporting the content and services. also, the design should be more proactive about the potential needs of target people. ROOBO has more than 300 people, which is rare in the field of AI in china.
we are developing cooperation with colleges and universities all over the world, such as princeton university, tsinghua university and more. to keep a foothold in this field, we need to invest a lot in improving the technology and try our best to figure out the deeper needs of users. for instance, we assembled an education-research team for the 'pudding' series. in order to improve the product quality and engineering ability, we need to observe the behavior of children and get precise information from parents or kindergarten teachers to design content specifically.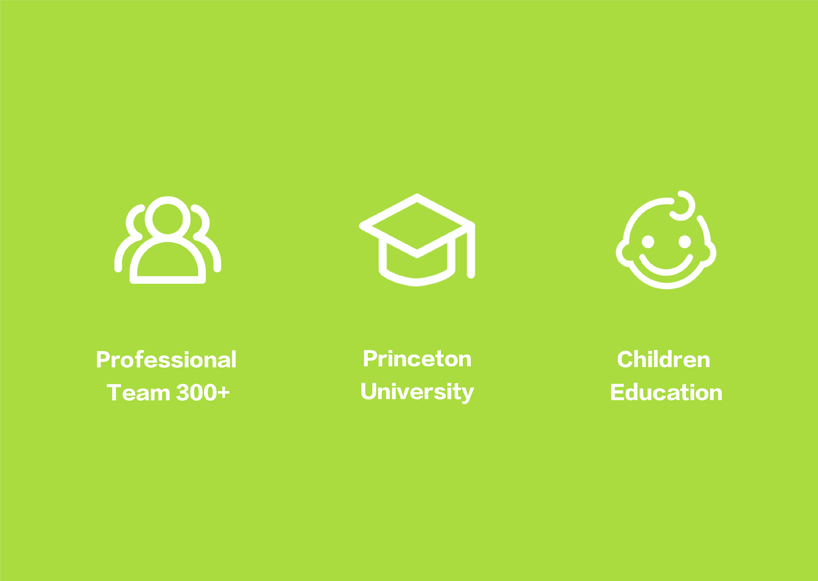 ROOBO have teamed up with internationally-established universities to further AI technology development
DB: finally, congratulations on winning the "best of the best" award, what does it mean to you and your team to be recognized with this achievement?
FY: as one of the most famous awards in design, red dot award is renowned for its strict requirement of originality and feasibility. winning this not only represents the high quality of 'beanQ', it also shows the acceptance and recognition of the jury and that our team is comparable to other global brands. besides, it verifies our potential and affirms our design principles, showing that we are capable of creating world-class original products.
as the very first red dot award 'best of the best' consumer robot, we hope more and more people can use 'beanQ'. with the rapid development of AI technology, our robot shoulders the mission for the popularization of AI technology. our vision is to make more and more families enjoy the convenience and fun of this revolutionary technology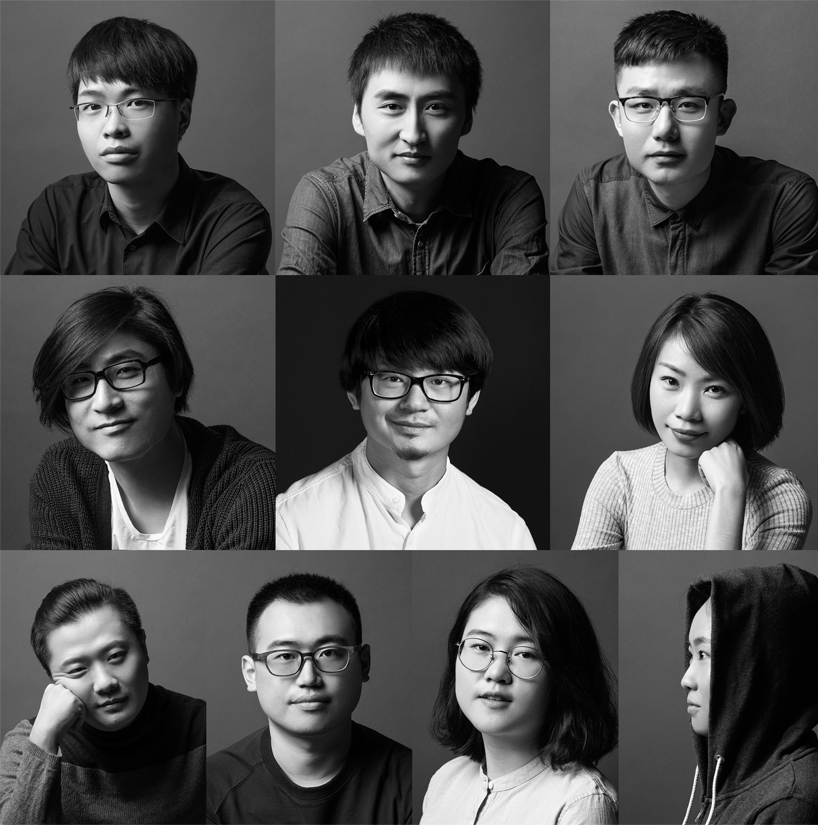 the team behind the ROOBO 'beanQ'
a diverse digital database that acts as a valuable guide in gaining insight and information about a product directly from the manufacturer, and serves as a rich reference point in developing a project or scheme.
designboom will always be there for you
milan, new york, beijing, tokyo

,
since 1999