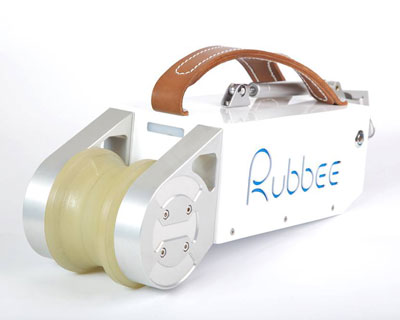 jul 23, 2013
rubbee turns regular bicycles into electric-powered ones
'rubbee' turns regular bicycles into electric-powered ones
you can switch between a regular bicycle and an electric on in just a few seconds with 'rubbee', an electric drive system which can easily be mounted to your two-wheeler via an integrated clamp mechanism.
the device works on friction, transferring energy with a 96% efficiency rate via a polyurethane wheel which is set to come into contact with one's tire, ensuring power is transferred by rubber, not by grinding. a suppression system makes sure that 'rubbee' provides a constant force to your bicycle, allowing minimum slip even in wet conditions–'rubbee' can be used successfully when it is raining, as all of the components (motor, electronics and batteries) housed within the single unit are waterproof.

the device can be strapped onto your bike via a leather strap
'rubbee' has only one electric plug which utilizes the same port in which to connect the handle-bar mounted throttle as well as the charger.  this component of the electric drive system only needs to be installed once and can remain intact even when the cyclist is not using the device. its battery pack of 20000 mAh has a lifespan of 2000 cycles, allowing you to recharge 'rubbee' everyday for 5 years without it losing its range. rubbee gives your bike the capacity to run at a top speed of 25km/h, with an average range (without pedaling) of 25km with a peak power of 800W, with full charge of 2 hours. when you prefer to pedal, the fixation pin is simply removed so that you can easily navigate with your bicycle without 'rubbee' interfering with your tires mobility.
the electric drive module has been designed to accommodate a range of bicycles offering compatability to standard 700c tires, with a width of 20mm-60mm.
the project is currently seeking funding on kickstarter here.

the friction wheel comes in contact with your bike's tire to collect energy from your output

taking rubbee for a spin
video courtesy of rubbee drive

rubbee on full suspension bicycle
video courtesy of rubbee drive
 h/t gizmag
aug 20, 2017
aug 20, 2017
aug 17, 2017
aug 17, 2017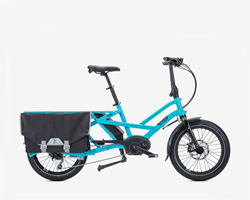 aug 08, 2017
aug 08, 2017