sep 18, 2014
seatylock secures your bike by transforming its saddle into a lock
the system secures your bike by transforming its saddle into a lock
images courtesy of seatylock
the patent protected product, 'seatylock' transforms its saddle into a solid one meter lock and is fully compatible with any bicycle. this improves the rider's convenience as no longer do they need to carry a lock or worry about theft. it has been manufactured from top quality materials such as hardened steel links and covered in a plastic coating in order to protect the bicycle frame from thieves and rust. the device is an integral part of your two-wheeler, so it will never be forgotten and works by fixing it to an immoveable object.

the product's kickstarter campaign video
video courtesy of seatylock
benefiting convenience is how the saddle takes no more than 30 seconds to operate and has three fixing points that create a spring effect for maximum comfort in your preferred seat position. the adapter has been tested to work on 10,000 cycles and includes a safety mechanism that prevents accidental release whilst cycling. 'seatylock' is available as two different models; trekking and comfort, and is currently seeking funding through its kickstarter campaign.

equipped with a universal adapter that is compatible with any standard of bike
'necessity is the mother of invention' said ilan mor, co-founder 'we believe that it will revolutionize the urban cycling experience. seatylock provides a necessary solution for a problem that affects bike commuters on a daily basis. it is an innovation born out of true necessity'

close-up view of the design technology functioning as a saddle

it takes 30 seconds to fix it to a secure object

the saddle then transforms into a lock that secures your bicycle

the products are available in a variety of colors

the simple, quick steps of how to use seatylock

the many different tests that very used to evaluate the device's functionality
oct 28, 2017
oct 28, 2017
oct 20, 2017
oct 20, 2017
oct 20, 2017
oct 20, 2017
oct 12, 2017
oct 12, 2017
oct 05, 2017
oct 05, 2017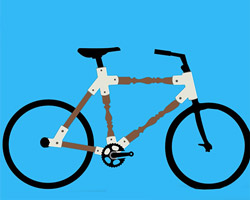 sep 22, 2017
sep 22, 2017