UK studio seymourpowell has designed a wearable collar that delivers atomised beauty products via a pure vapour. placing users in what they have dubbed a 'beauty bubble', the 'atmosphère' concept explores the intersection of new beauty and advancing technology.
seyourpowell's atmosphère collar is designed to provide environmental protection and beauty treatments on-the-go. it works by using sensors to harvest location-based data such as current pollutants, combining this with their own personal data like skin type and preferred temperatures.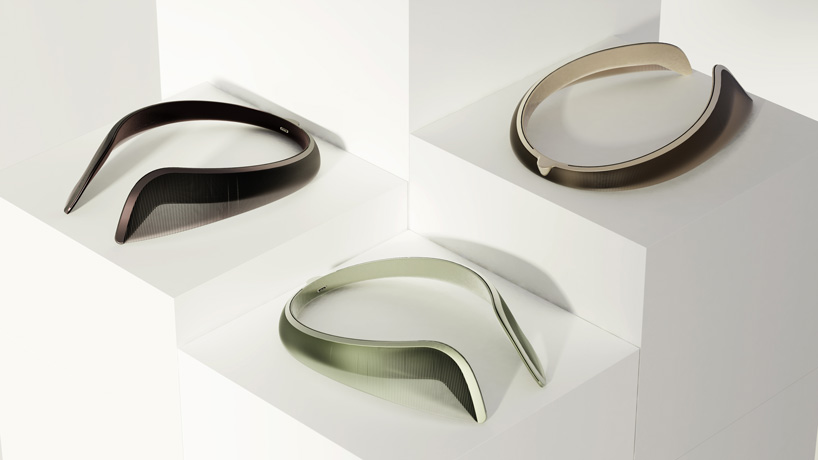 images courtesy of seymourpowell
vents around the rim then emit the necessary products to optimize conditions, adjusting levels of air filtration, humidity and active beauty ingredients like sun protection factor. in addition, the device also offers relief from excessive heat dispensing cooling sensations in response to rising mercury levels in cities.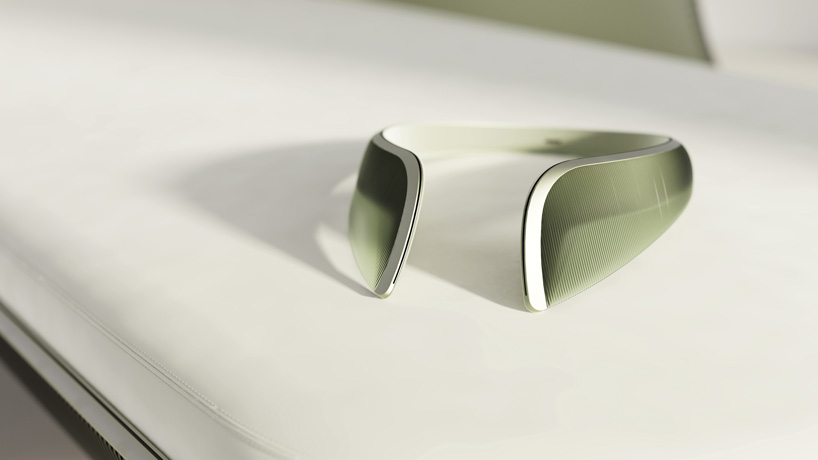 the concept also includes a chaise longue, an 'intelligent furniture concept' for the home that encapsulates the body with biologically nutritious air. making calculations based on the user, the device optimizes temperature and air quality to create the ultimate conditions for the body's skin. both devices come with an app which reveals the vapour at work offering information on current conditions.
'when we project ahead, we can see that life in the urban environment is going to be incredibly tough,' explains mariel brown, director of foresight at seymourpowell. 'poor air quality, restricted resources, soaring temperatures, long commuting times, loud and uncontrollable noise — this uncomfortable reality will take its toll on our mental health and sense of wellbeing.'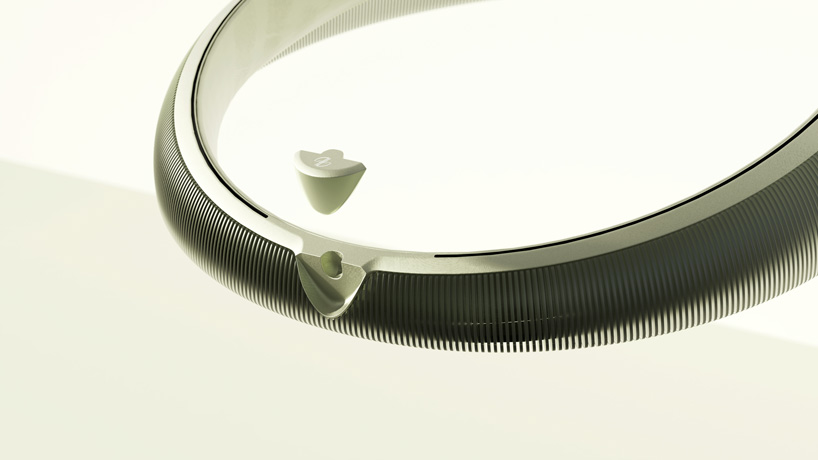 'the atmosphère concepts aim to take the heat out of the situation by essentially working the beauty/brain axis,' she says.
'scarcity of water will be the cause of a great deal of conflict in the future, and with this speculative project we wanted to imagine a future where 'water heavy' beauty rituals might be replaced by entirely new tech-enabled sensorial experiences that allow us to feel rejuvenated and fresh.'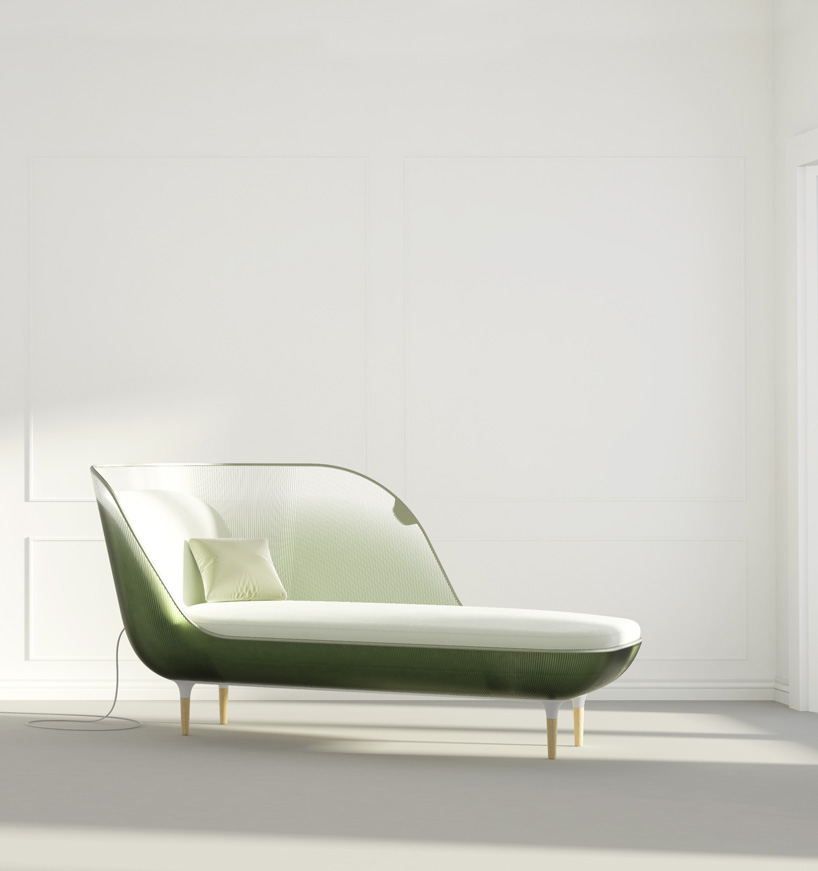 seymourpowell says it has witnessed a developing urgency around cleansing rituals as people's desire to detoxify their body, mind and soul, increases. from this, the studio has understood a need to create reliable beauty solutions that can be trusted.
'given the state of our ever-shifting urban environment, it is important for companies to consider the impact the environment around us can have on both our physiological and physiological wellbeing,' adds jonny culkin, designer at seymourpowell. 'atmosphère seeks to explore how beauty brands can help not only to protect their customers from the changing climate, but also provide a more mobile offering and service that actively works to respond to a user's environment.'
'for beauty brands to successfully meet the demands of future consumers, they will need to stretch their thinking far beyond a formula in a pack. instead they should explore the rich alchemy that is possible when you combine disruptive tech with new beauty behaviours.'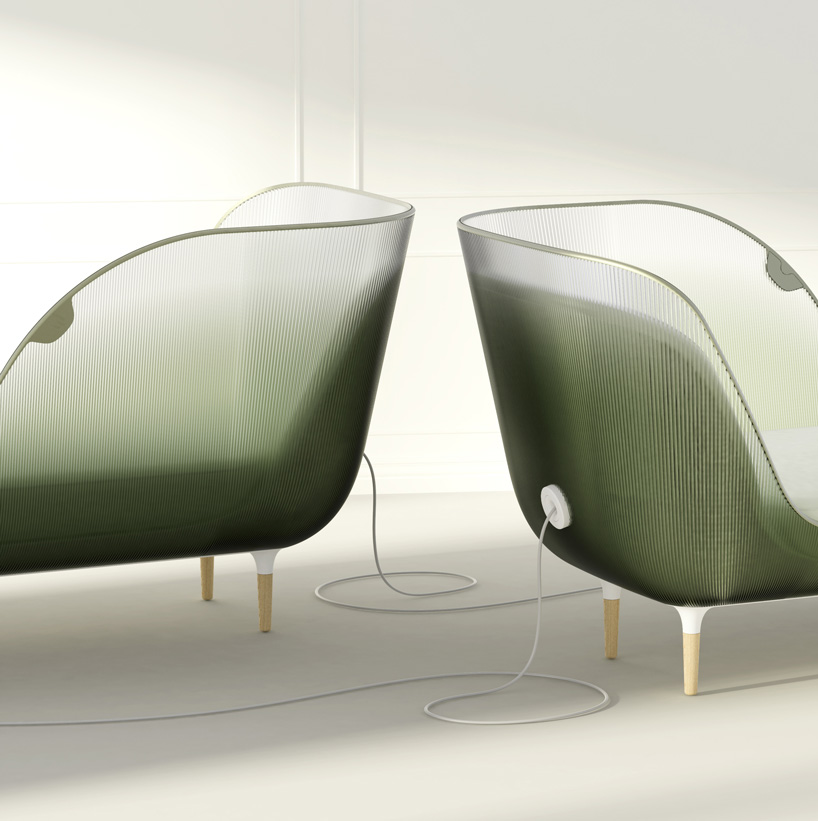 atmosphère is the third in a series of concept designed by seymourpowell as part of its research project titled 'understanding beauty consumers of 2025.' it aims to provoke debate by exploring potential futures for the beauty industry as a result of advanced technology and design.
the first concept 'identité presented a cosmetics service that curated weekly products using artificial intelligence. the second concept 'élever' looked at the influence of social media on the beauty industry, imagining a handheld mirror that doubles as a makeup printer on which makeup looks seen online could be downloaded and sprayed directly onto the face.
project info
studio: seymourpowell
concept name: 'atmosphère'
study: understanding beauty consumers of 2025
apr 23, 2020
apr 23, 2020
apr 01, 2020
apr 01, 2020
jan 06, 2020
jan 06, 2020
oct 09, 2019
oct 09, 2019
sep 21, 2019
sep 21, 2019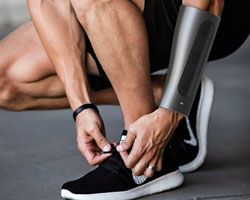 may 26, 2020
may 26, 2020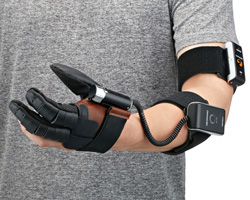 jan 17, 2020
jan 17, 2020
jan 14, 2020
jan 14, 2020
a diverse digital database that acts as a valuable guide in gaining insight and information about a product directly from the manufacturer, and serves as a rich reference point in developing a project or scheme.