apr 14, 2009
solar powered parking and charging stations
with the use of solar powered vehicles and devices more popular than ever there is a growing need for places to charge them besides the home.
most recently sanyo announced it will set up a 'solar bicycle parking lot' at the tokushima prefectural government office in japan to test its solar cells and rechargeable batteries. sanyo will install three 210W HIT solar panels and a li-ion battery unit to generate about 690kWh per year and sanyo's 'eneloop bike' will be used for duty trips as official vehicles of the government office.
the 'solar-shell' by 21 wheels is a charging station that incorporates PV (photovoltaic) panels, electronics and plug in accommodation for battery charging. the lockers arrive with the panels preset at the proper angle for optimum exposure at your latitude. the construction of fiberglass reinforced plastic is highly resistant to impact, scratching and corrosion.
another bike parking station that incorporates solar power is the 'bike tree'. rather than the sun's energy being used to charge electronic bikes the station uses it to store them safely in public areas by lifting them almost five meters off the ground. the bike's owner must use a smart card to store and reclaim their bike as shown in the video below.
the 'ubi-cycle' by jung tak uses a similar idea to the bike-tree.
in the USA envision solar are already implementing solar panels in car parking lots to keep regular cars cool and in some cases to charge electronic vehicles. at about 4 meters high each 'tree' is topped-off with a canopy covered in solar cells.
when 'planted' in the parking lot of a typical regional shopping mall, a grove of the square-shaped shades can generate up to half a megawatt, enough to power about 500 homes.
here is an example of a solar parking lot that already implements power charging for electronic vehicles in vacaville, california.
the santa monica civic auditorium also has its own 'solar port' where 39 toyota RAV4 EVs are charged using nothing but the sun's power captured by solar panels on the roof. the excess power they generate is routed to the auditorium, offsetting their electric bill each month.
indian firm EVfuture specializes in researching the potential of electric vehicles in the subcontinent. in 2008 they launched a solar charging station for electric vehicles in auroville, south india on earth day. the design features 2 electric panels on the roof with built-in chargers for 36V bicycles.
'sun stations' by german designer julene aguirre-bielschowsky are pieces of public furniture that provide free solar energy in open areas, allowing people to charge and use electronics in a wider variety of places such as: parks, plazas, town centers, university campuses, cultural centers, train stations, bus stops, etc.
for more on solar powered designs see our 2008 compilation of solar powered vehicles.
sep 11, 2019
sep 11, 2019
jul 08, 2019
jul 08, 2019
jun 25, 2019
jun 25, 2019
may 02, 2019
may 02, 2019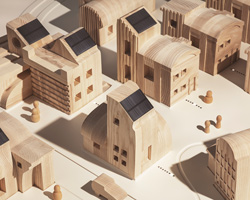 mar 08, 2019
mar 08, 2019
mar 07, 2019
mar 07, 2019
a diverse digital database that acts as a valuable guide in gaining insight and information about a product directly from the manufacturer, and serves as a rich reference point in developing a project or scheme.