aug 16, 2010
SOM two additional patents for seismic structural inventions
left to right: link-fuse joint™, pin-fuse frame™ , pin-fuse joint™ image © SOM jungmoo lee
link-fuse joint™ and pin-fuse frame™ are two new high-performance seismic structural mechanisms developed by SOM. the two structural devices join the series that began with the pin-fuse joint®, designed to protect buildings in areas of high seismicity.
link-fuse joint™ image © SOM jungmoo lee
the joints and frame operate mechanically during a seismic event, allowing the building structure to respond flexibly when subjected to extreme ground movement to thereby maintain structural elasticity.during moderate earthquakes they remain fixed, but during a severe earthquake, they slide or rotate to dissipate energy and reduce potential damage. following an earthquake, the devices return to theiroriginal positions. these new structural mechanisms provide a safer and more cost-effective solution than conventional assemblies as they minimize permanent structural deformation during a seismic event, thereby reducing subsequent repairs to the building structure as well as the associated cost and carbon emissions of repairs.
movement of link-fuse joint™ image © SOM jungmoo lee
the link-fuse joint™ is composed of two plate assemblies, each featuring a diagonal slot at the center. the slots of each plate are arranged diagonally perpendicular to each other and are positioned to allow at least a portion of one slot to align with a portion of the other. a pin is inserted through these openings such that the joint connection accommodates the movement of at least one of the plate assemblies relative to the other when the joint is subjected to a high seismic load. the joint is generally utilized in a link beam assembly, connecting interior walls within a structure. the joint may be incorporated into the reinforced concrete shear walls or steel braced frames of a structure subject to seismic activity and improves the structure'sdynamic characteristics by allowing the joint to slip under extreme loads. this slippage allows the structure to exhibit elastic properties during seismic events. see the animation
specification of link-fuse joint™ image © SOM
the full-scale testing program of all three mechanisms has commenced with results expected by fall of 2010. following successful completion of the testing program, these devices may be manufactured and installed in both new and existing occupied structures.
specification of link-fuse joint™ image © SOM
drawing of link-fuse joint™ in action image © SOM
pin-fuse frame™ the pin-fuse frame™ incorporates joints that 'fuse', or slide, during earthquakes in order to protect the structure from damage. by sliding, these joints protect frame members from buckling and yielding, thereby protecting the integrity of the entire structure and minimizing costly post-earthquake repair. the system comprises a pre-fabricated structural steel beam-column frame assembly with diagonal braces within frame bays. diagonal braces are divided into two halves connected across a middle gap that allows each half to slip toward or away from the other during a seismic event. rotational joints at each end of the horizontal beam elements in the frame are also designed to slip when subjected to a high rotational load.
the friction joints developed use arrays of pre-tensioned bolts that either clamp two halves of a brace together or clamp a beam and column together until a seismic event causes the force in the joint to exceed the resistance threshold created by friction. at this threshold, the two connected members are allowed to slip relative to one another within carefully designed slots. if the lateral load imposed on the structure continues to increase representing a rare seismic event, the bolts pass through the full length of the slots and re-engage with the connected members. at this point only do the elements continue to attract additional force and eventually create inelastic behavior of the frame members. see the animation
SOM was founded in 1936 by louis skidmore & nathaniel a. owings. john o. merrill joined them in 1939. since 1936, SOM has completed more than 10,000 architecture, interior design and planning projects in over 50 countries. currently, SOM employees represent over 70 countries and speak over 40 different languages.
SOM
(52 articles)
oct 17, 2019
oct 17, 2019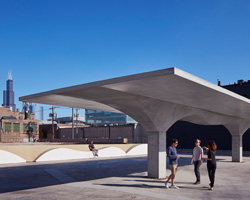 sep 20, 2019
sep 20, 2019
jun 12, 2019
jun 12, 2019
mar 04, 2019
mar 04, 2019
feb 08, 2019
feb 08, 2019
jan 25, 2019
jan 25, 2019
a diverse digital database that acts as a valuable guide in gaining insight and information about a product directly from the manufacturer, and serves as a rich reference point in developing a project or scheme.