may 29, 2012
spaceX dragon mission through the eyes of ISS astronauts
the spaceX 'dragon' circulating beneath the international space station, photographed by ISS flight engineer andré kuipers all images © ESA/NASA, courtesy andré kuipers
on tuesday, may 22nd, 2012, the spaceX 'falcon 9' successfully lifted off from the NASA cape canaveral air force station, carrying the 'dragon' spacecraft loaded with cargo for the international space station. as both crafts orbited at 17,000 miles per hour, 'dragon' successfully docked on friday, may 25th, and the crew began unloading cargo the next morning (you can find designboom's early reportage of the mission, and details about 'dragon', at 'spaceX dragon launch').
dutch astronaut andré kuipers– who joined don pettit as the two ISS crewmembers responsible for docking 'dragon'– photographed the capture, docking, and unloading of 'dragon'. he reflects in his blog: 'the 'dragon' mission is the operational highlight of my mission. but it is also a milestone for international spaceflight. this is the first time that a commercial spacecraft has flown to the ISS and docked with the station. you could say a new era of spaceflight has begun. soon private companies will take people to and from space.' (via gizmodo)
the 'dragon' will undock from the ISS on thursday, may 31st. it is then expected to re-enter the earth's atmosphere, splashing down via parachute in the pacific ocean off of southern california.
NASA coverage of the 'dragon' berthing to the ISS
as designboom reported, onboard the 'dragon' was 1014 pounds (460kg) of supplies: over 160 meals, a set of ice bricks and nanoracks modules for experimentation, cargo bags, and laptops and power cords. in addition, 15 student-designed experiments represent 'aquarius', the first mission of the 'student spaceflight experiments program'. researchers on the ISS will collect all of these materials, and refill 'dragon' with return cargo.
on the 'falcon 9' rocket boosters there was a more unexpected set of cargo: the cremated remains of 308 individuals, including those of actor james doohan, who played scotty on the television series 'star trek'. as planned, the 'falcon 9' separated from 'dragon' nine minutes and 49 seconds into flight and it is now orbiting above the earth, anticipated to re-enter the earth's atmosphere in about a year, burning up upon re-entry.
ISS flight engineers don pettit, joe acaba, and andré kuipers answer reporters' questions from inside the 'dragon' capsule
before docking, 'dragon' performs flight controls and tests within view of the ISS, here above the rocky mountains in america
from inside the space station's cupola, flight engineers don pettit and andré kuipers guide the ISS's robotic arm to capture the 'dragon'
zooming in to guide the canadarm to meet 'dragon'
the robotic arm brings in 'dragon' to meet the ISS
closer view
entry hatch to the 'dragon'
spaceX
(12 articles)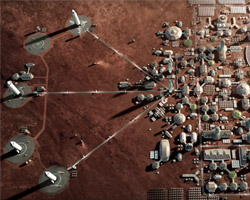 sep 29, 2017
sep 29, 2017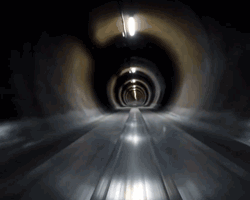 aug 28, 2017
aug 28, 2017
aug 23, 2017
aug 23, 2017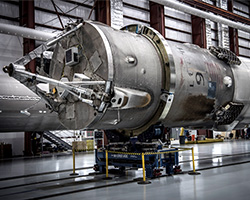 mar 31, 2017
mar 31, 2017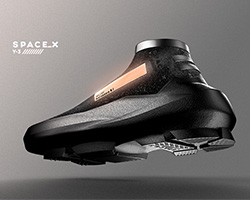 mar 08, 2017
mar 08, 2017
feb 28, 2017
feb 28, 2017