may 24, 2012
synergy airplane achieves 40MPG
the highly aerodynamic and fuel-efficient 'synergy' aircraft utilizes an innovative 'double-box tail' structural design
the 'synergy' personal aircraft being developed under john mcginnis combines decades of aeronautical innovation into a single, highly aerodynamic and fuel-efficient airplane design, including a custom-designed 'double-box tail'. a 1/4-scale carbon fiber model has already been tested, and with funding permitting the development team intends to build a full-scale prototype beginning late 2012 into next year.
the scale model in test flight
2011 test fly-by of the scale model
based on the scale model testing and calculations, the design is reported to achieve about forty miles to the gallon, ten times the fuel economy of conventional small jets, at ten percent of the cost. in addition to using biofuel and the experimental deltahawk turbocharged engine, it combines six innovations in drag reduction*, characterized most evidently in its double-box tail wherein a vertical winglet connects the tail and wingtip on each side (not to be confused with the more conventional but fuel-inefficient double-box wing design). 'synergy' also includes a ballistic parachute and push-button landing system in cases of emergency.
'all of the major drag reduction breakthroughs of the last 100 years have been underutilized in aircraft design. and what we're trying to do with 'synergy' is to use all of them in the most intelligent way that we can.' – john mcginnis
more technical information at the 'synergy' FAQs and on this oshkosh aviation thread
*mcginnis lists the six innovations considered towards the design as: laminar flow, non-planar configuration, wake-immersed propulsion, open thermodynamic cycle, pressure thrust, and optimum volumetric displacement waveform
view of the scale model craft during a test flight
with the design and model already approved by the FAA, the development team plans to build a full-scale prototype to be tested by the organization, before initiating a program seeking commercial production. they estimate that their final plane would have a maximum speed of between 100 to 450 mph, with a range of 500 miles.
from a piloting family of several generations himself, mcginnis notes that a major design concern in developing the 'synergy' is that the airplane be comfortable for non-pilots, an aspect neglected by conventional small personal planes. as a result, the aircraft is designed to comfortably seat five (although mcginnis notes it could be as high as seven).
mcginnis has launched a kickstarter campaign through june 4th to help fund continuing development costs.
structural design sketch
concept render
3/4 rear view
looking into the cockpit of the craft, which seats five to seven persons
john mcginnis (left) and a team member with the 1/4-scale model
behind the design and building of 'synergy'
technical specifications overall length: 21 feet wing span: 32 feet wing area: 144.6 square feet gross weight: > 3,100 pounds empty weight: < 1,650 pounds gross in-flight wing loading: 23.2 lbs/sq. ft. power: 200-hp two-stroke turbo/super diesel delta hawk cabin width, interior: 56 inches gear: tricycle, retractable minimum flight speed: <55 KIAS (dirty) range: >1,500 nautical miles w/std reserve
via gizmag
dec 18, 2017
dec 18, 2017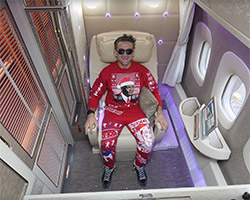 dec 13, 2017
dec 13, 2017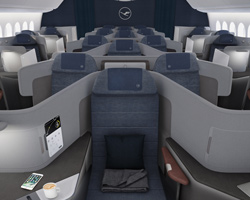 dec 09, 2017
dec 09, 2017
nov 30, 2017
nov 30, 2017
nov 10, 2017
nov 10, 2017
nov 08, 2017
nov 08, 2017
a diverse digital database that acts as a valuable guide in gaining insight and information about a product directly from the manufacturer, and serves as a rich reference point in developing a project or scheme.