aug 18, 2014
the denny created by teague and sizemore, wins 2014 oregon manifest
the denny created by teague and sizemore, wins 2014 oregon manifest
images courtesy of teague and sizemore bicycle
made by teague and sizemore bicycle, the 'denny' was voted winner of the 2014 oregon manifest bike design project. the manifest's project is an independent platform which partners high-level design firms with american bicycle craftsmen to develop the next-wave urban bike. the teague and sizemore creation was chosen as the best utility velocipede and will be built by fuji bikes. the two-wheeler has a detachable and quick stop handlebar lock and flexible storage to aid its use in the city. as well, the safety is improved as it is fitted with a rechargeable battery, which powers the brake lights, indicators and the electric assisted pedal.

the urban bike has a unique locking handlebar
the city bicycle also features a minimal fender design that removes water from the tires and auto-on lights that adjust to the surrounding natural light conditions. the seattle bike beat projects from 4 other cities, the 'black line' from chicago, new york city's 'merge', the 'solid' from portland and the 'evo' from san francisco. teague is a creative consultancy whose work includes the UPS truck, all boeing airplane interiors and the xbox. their group of multidisciplinary designers worked together with the custom bike shop, sizemore to create the 'denny'.

'denny' won the oregon manifest bike design project 2014
video courtesy of teague

the quick handlebar lock at work

the whole bar is removable for using as a lock

the storage device allows objects to be easily carried around

a 3/4 front view of the bike
oct 28, 2017
oct 28, 2017
oct 20, 2017
oct 20, 2017
oct 20, 2017
oct 20, 2017
oct 12, 2017
oct 12, 2017
oct 05, 2017
oct 05, 2017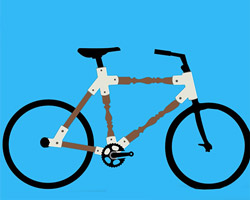 sep 22, 2017
sep 22, 2017