in the not-too-distant past, 'autonomous living' might have meant moving out of your parents' house, but today's definition is another matter entirely. we're talking about smart home technology, and what your home will do for you, rather than what you will do for your home.
picture this: it's summer 2017. your car is driving you home from a long day at work. a surge of sticky, steamy air streams through the window — it's hot outside. you scroll through your smartphone and switch on the air conditioner in your house to a refreshing 20°C…'cool', you think. as you preheat your oven, your refrigerator reminds you that you're out of lemons. you tell it to order you a couple more. from your in-home camera app, you see your kid brother playing games on his VR helmet. 'start you homework!' you tell him, via bluetooth-enabled voice transmission. your dog looks hungry, so you program its 'treat cam' to feed it a snack. you auto-water your smart herb garden that's looking a little droopy. by the time your car pulls up to your home and self-parks, facial recognition detects your presence, your garage door opens, and front door unlocks. you walk into your cool, connected home, and the lemons arrive by delivery drone mere minutes later…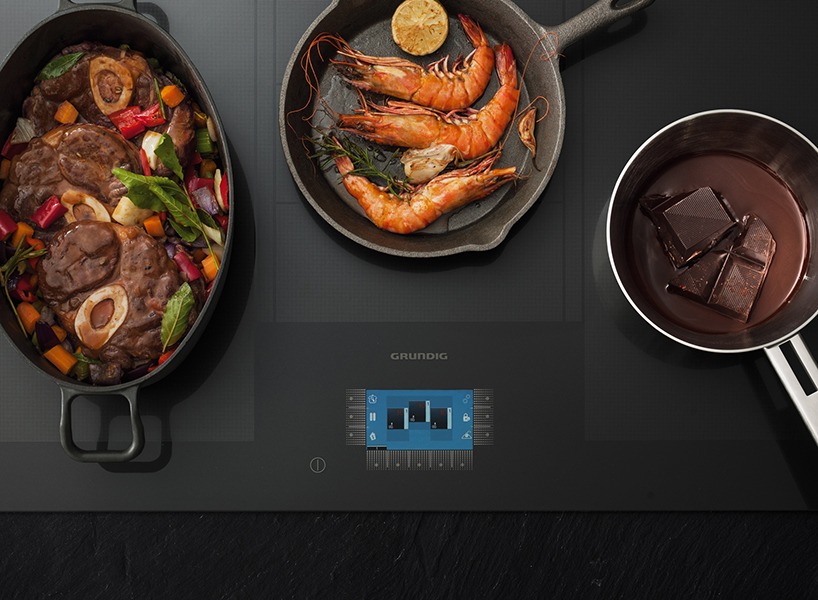 grundig 'connected home' envisions our smart and sustainable kitchen
see more about the collection on designboom here
the consumer technology association (CTA) estimates that by the year 2022, a typical home could contain a startlingly-high 500 smart devices. dr. shawn dubravac — the CTA's chief economist — noted that broadband and wifi adoption have become the modern day electrification and indoor plumbing. as we become increasingly immersed in every facet of our tangible surroundings, the possibilities of a connected life become progressively endless.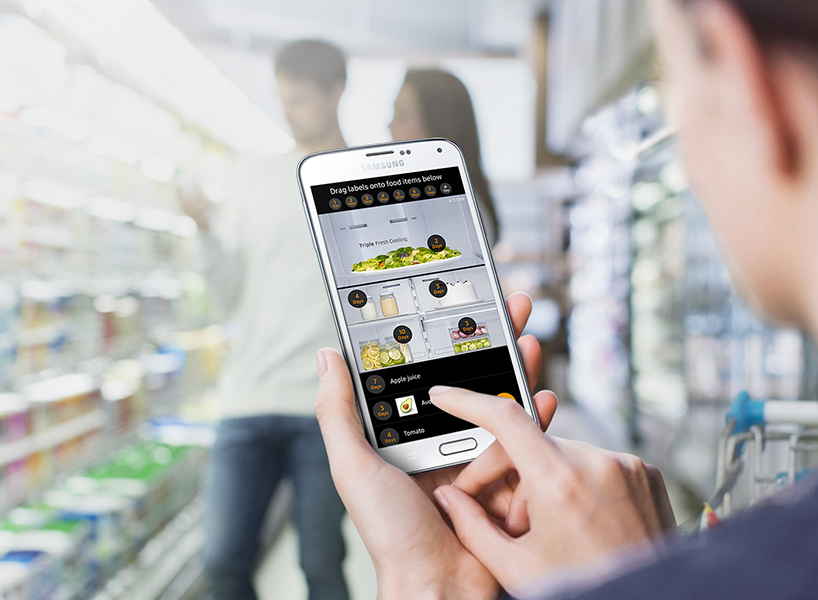 the samsung family hub refrigerator app allows you to check on your groceries remotely
companies are cooking up some wild devices, and your kitchen is a hotspot. grundig unveiled its 'connected home' collection at the IFA trade show in berlin, spotlighting the 'VUX marble induction hob'. through projection technology, an ordinary induction hob is transformed into an intuitive work surface, enabling users to completely control appliances — like dishwashers, mobile phones and even cameras — from a single surface point.
samsung's family hub refrigerator is a seriously sophisticated multi-tasker. its wifi enabled touchscreen lets users manage and purchase groceries, post, share and update calendars, and pin photos on a 21.5 inch HD screen on its exterior door. three high quality cameras inside the fridge capture an image every time the door closes, so users can remotely take a peek inside.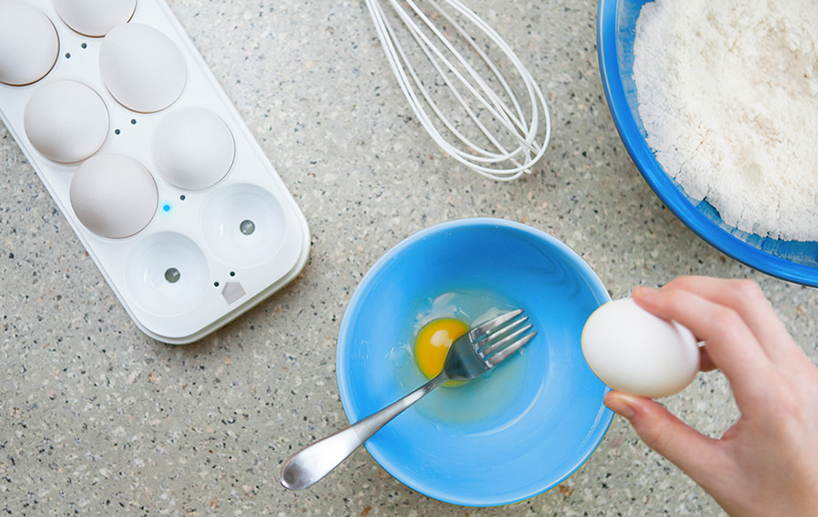 the 'egg minder' tracks and tells you the number of eggs you have, and when they're going bad
but high-tech isn't limited to large appliances — it's made its way into smaller-scale gadgets as well.
take the 'egg minder' for example, which wirelessly connects to your phone to track and tell you the number of eggs you have, and when they're going bad. why not slot a device like 'genican' into your bin. when you throw something away, a sensor scans the barcodes of the item and adds them to a new grocery list. for those who like to spend the day in their PJs, 'smartduvet' is self-making bed you've been waiting for. currently on kickstarter, the product uses featherweight space age fabric to autonomously fold your sheets back into position. on your way out the front door, don't forget your 'oombrella', which sends you severe weather alerts and lets you know if you forgot it a restaurant.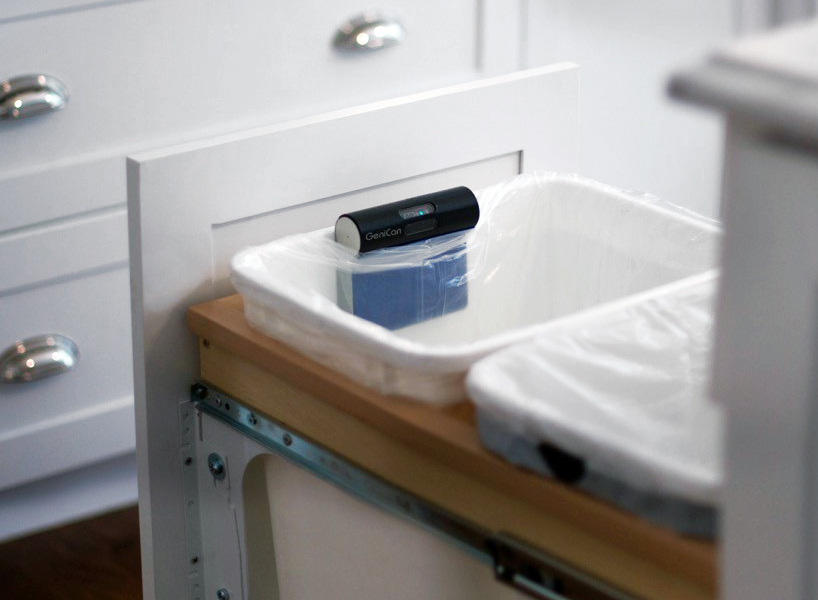 when you throw something away, 'genican' scans the barcodes of the item and adds them to a new grocery list
the applications of smart items across the home are limitless. while the success of the smart home is largely due to smartphones — now acting less like telephones and more like remote controls for appliances, speakers, and thermostats — the real future lies in getting all of these independent gadgets to talk to each other.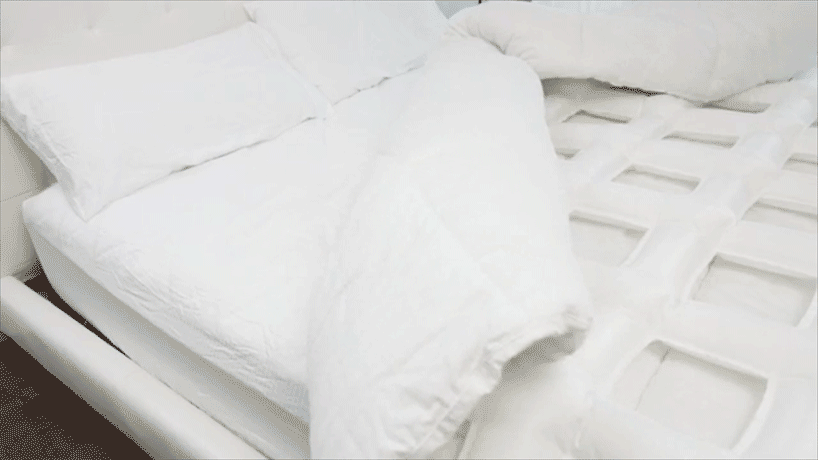 'smartduvet' places your duvet and sheets back in position every day
in 2017, there's going to be a big difference between smart home 'components', made by many different manufacturers, and a smart home 'system'. your dream home of the future will be a fully integrated experience. your entire house — not just your kitchen, or your garage, or your TV — will be conscious of your behavior and responsive to your needs.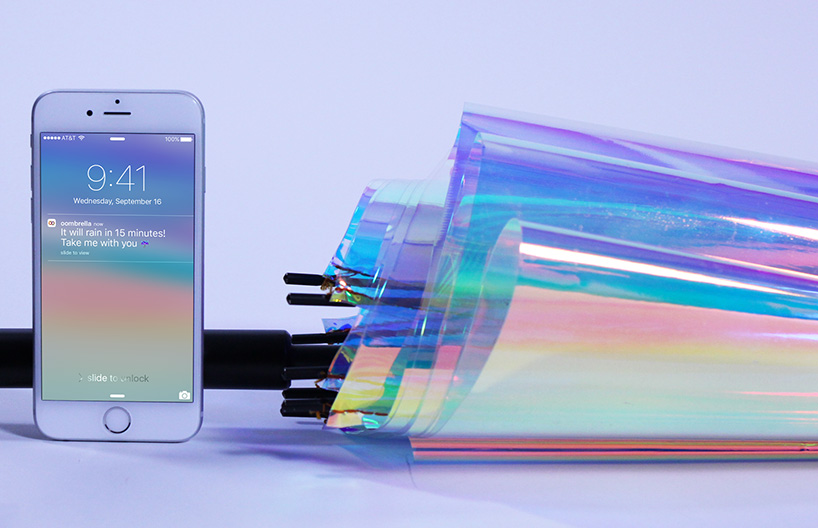 'oombrella' lets you know if you left it at a restaurant
temperature control is getting smarter too — google's nest is already on its third generation device since its early inception in 2011. the latest edition is heralded as a 'learning thermostat' and is able to acquire information about what temperature you like, building a schedule and personal climate profile around your life. but these tech-packed temperature-takers are now almost mainstream mechanisms seen in houses and offices across the world — so what's next for nest?
2017 could be the year that wearable technology and smart home technology finally get connected. your fitness band already measures and records everything from your heart rate, to how many steps you take each day — next year, it should be able to autonomously take your body temperature, sense its ideal surroundings, and pre-program your home to the most compatible climactic conditions.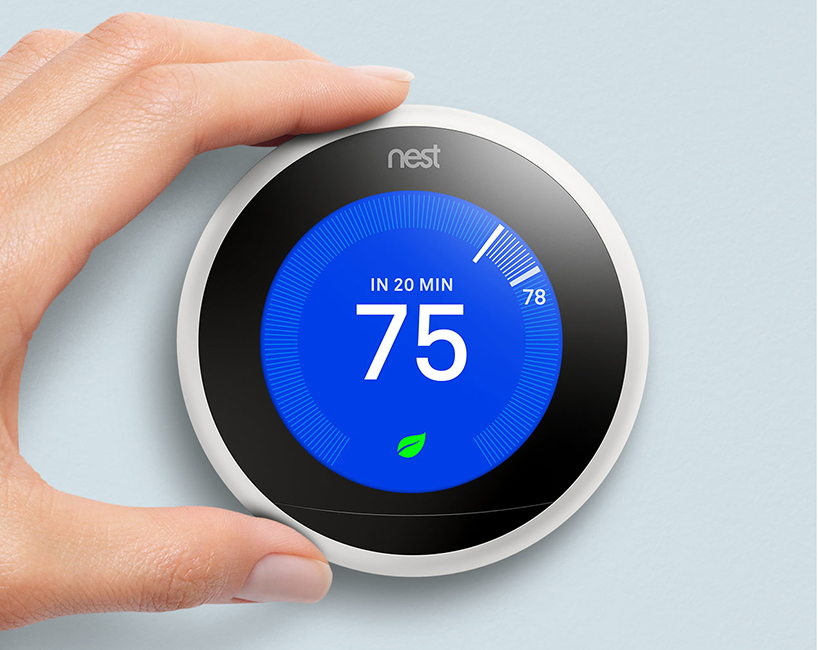 nest's third generation 'learning thermostat'
people are becoming increasingly protective of their privacy, and the home is one of the most important spaces where this rings true. two former google glass engineers teamed up to create a smart lock called 'gate' which allows people to lock and unlock doors for trusted individuals from anywhere, anytime. in a similar vein, the yves behar-designed 'august' wifi doorbell camera recently came out with a new feature that allows it to link to an airbnb account, so guests can automatically receive a secure virtual key after they book.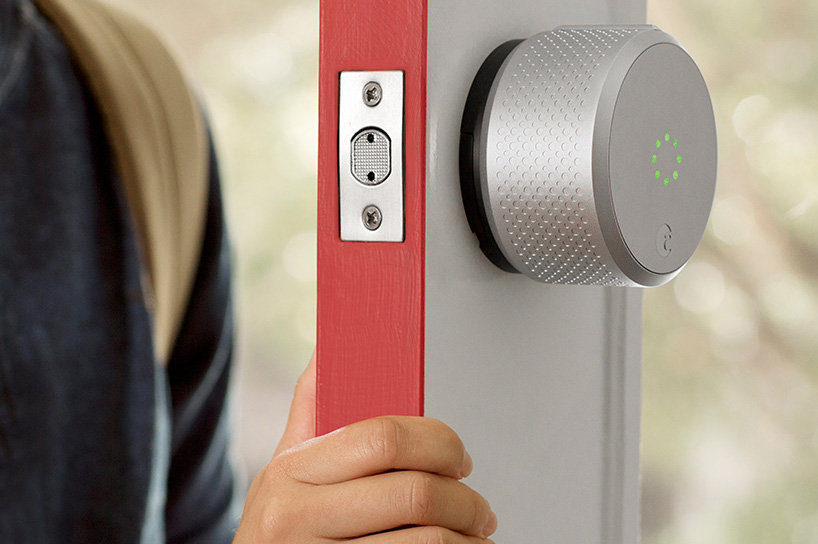 the yves behar-designed august smart lock
but with already-available platforms like 'trusted face' — an android feature that unlocks when it recognizes your face — home security technology can undeniably be pushed farther. in 2017, homes with smart security systems may not open their doors unless facial recognition software gives it the official OK. entire families can be programmed to enter safely and securely, while unrecognized visitors, faces matching those on sex offender watch lists, or even fugitives can be identified, flagged, and autonomously reported to the police.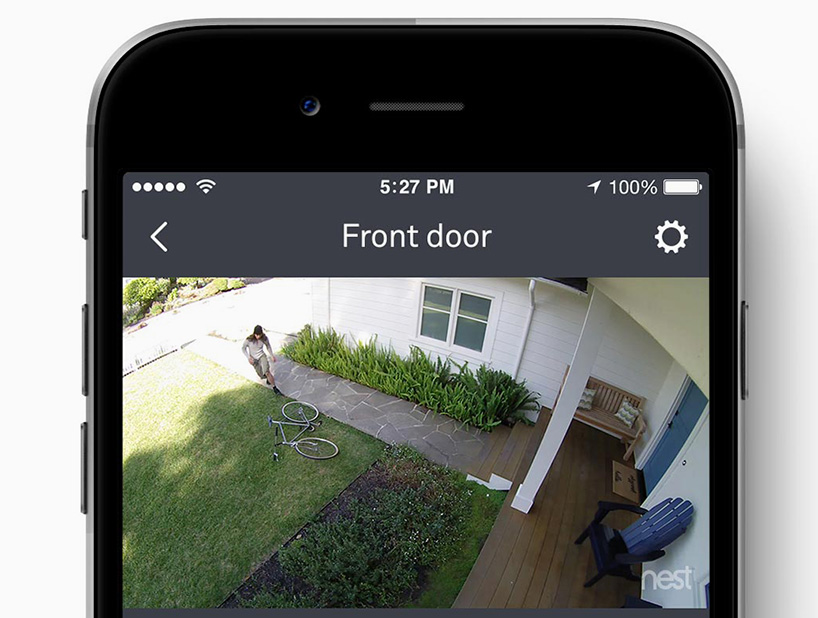 the nest cam outdoor security camera
in the united states alone, the CTA forecasts smart homes will be a booming $1.2 billion business. the technologies behind the once-utopian idea of 'autonomous living' are rapidly emerging as realities. we should brace ourselves for a 2017 where our homes may be smarter than us…
Save
Save
Save
Save
jul 13, 2020
jul 13, 2020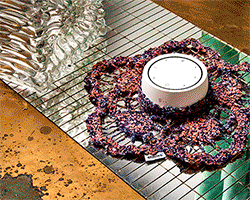 jul 09, 2020
jul 09, 2020
jun 26, 2020
jun 26, 2020
jun 11, 2020
jun 11, 2020
apr 23, 2020
apr 23, 2020
apr 01, 2020
apr 01, 2020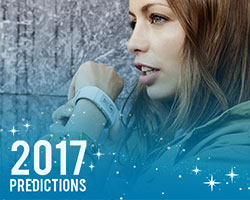 jan 01, 2017
jan 01, 2017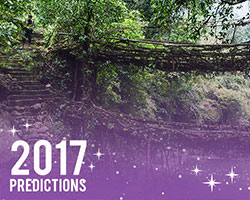 dec 29, 2016
dec 29, 2016
dec 28, 2016
dec 28, 2016
dec 27, 2016
dec 27, 2016
dec 26, 2016
dec 26, 2016
dec 25, 2016
dec 25, 2016
a diverse digital database that acts as a valuable guide in gaining insight and information about a product directly from the manufacturer, and serves as a rich reference point in developing a project or scheme.