'I think the biggest innovations of the 21st century will be the intersection of biology and technology,' apple's steve jobs told walter isaacson in his biography, originally published in 2011. since then, despite major technological advancements, real world applications of biodesign have yet to truly transform the field of architecture. more than five years after jobs' original prophecy, could 2017 be the year that our buildings are grown rather than built?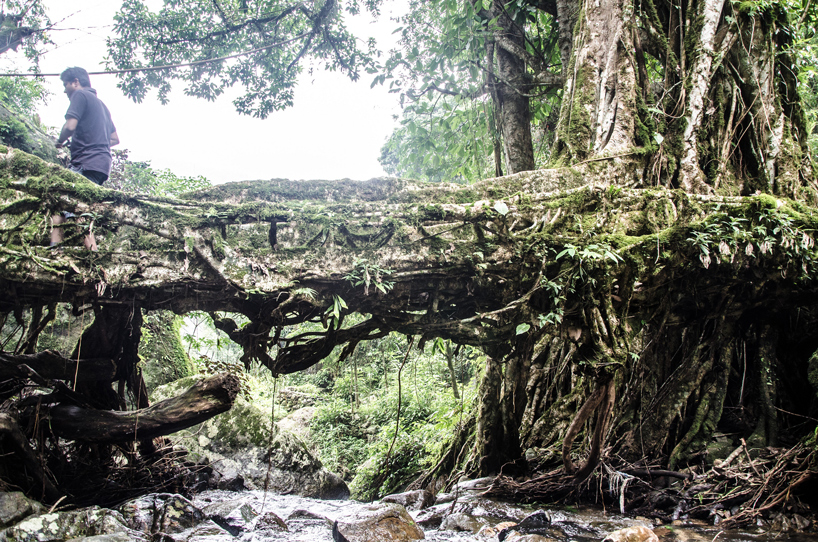 root bridges, which are incredibly strong, can take more than 10 years to become fully functional
image by ashwin kumar / creative commons (also main image)
although the histories of design and architecture are filled with analogies to the natural world — from the decor and motifs of art nouveau, to the span of a gull wing plane — its true integration with the built environment is yet to be fully been capitalized on.

one of the earliest examples is found in northeastern india, where villagers have been traversing bridges made from natural tree roots for 180 years. to create the spanning structures, roots from opposing banks are carefully guided to meet above the void below. the process can take more than 15 years until it is capable of carrying pedestrian traffic. however, once the bridge is functional, it only grows stronger over time without the need for maintenance. this use of biodesign incorporates living organisms within the construction's very DNA.
erik schlangen: a 'self healing' asphalt
video courtesy of TED
more recently, erik schlangen of delft technical university presented plans for a self-healing asphalt that could not only repair itself, but also save money in maintenance, and significantly reduce noise pollution. the process works through induction heating, where small steel wool fibers in the porous asphalt transform during the temperature change — repairing cracks and extending the life of the road signification. could self-healing asphalt soon see the end of pot holes? you won't have to worry about your autonomous self-driving car damaging its tires in 2017.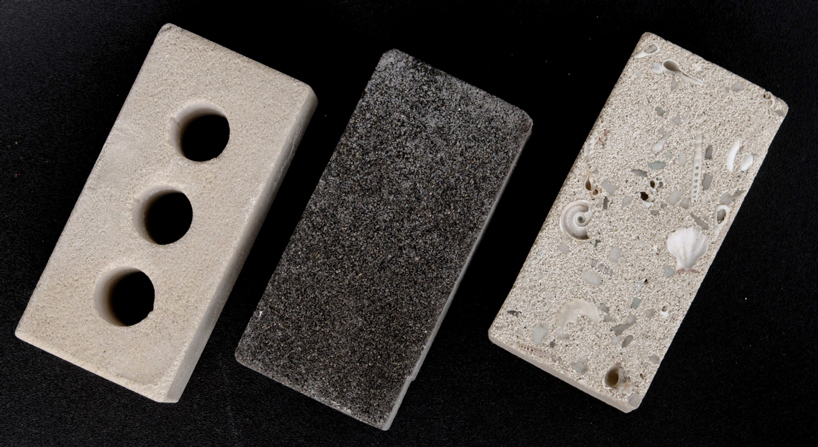 the manufacturing method uses bacteria to 'grow' a durable cement
image courtesy of bioMASON
and what about architectural applications? bioMASON bricks use bacteria to 'grow' a durable cement in ambient temperatures, producing sustainable building materials without emitting greenhouse gases. the growing process is similar to hydroponics, where units mixed with the microorganism are fed a special solution to harden the bricks.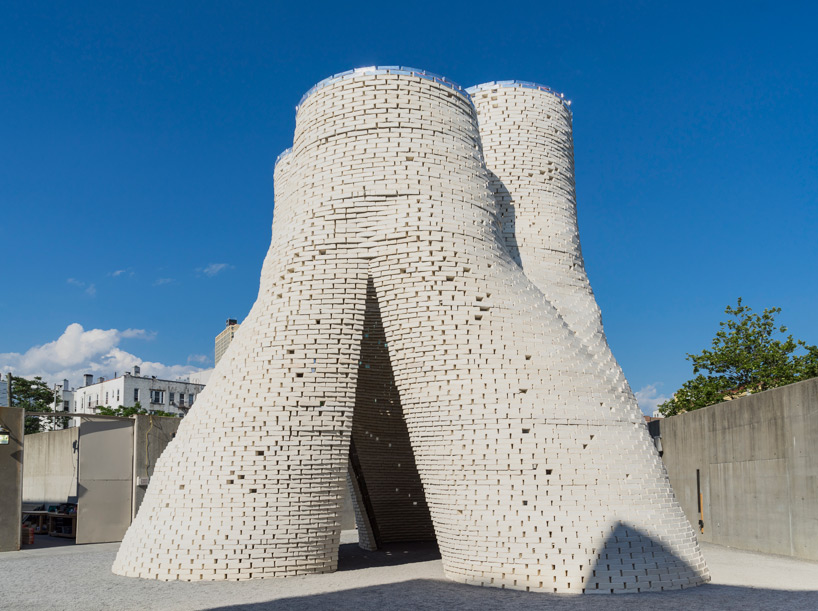 this structure was created using discarded corn stalks and root-like structures from mushrooms
image by kris graves, courtesy of MoMA PS1
in the same vein, new york-based practice the living constructed a circular tower in 2014 made entirely from a biodegradable material. using a pioneering method of biodesign, the structure was manufactured through a combination of discarded corn stalks and specially developed living root-like structures from mushrooms. while these kind of buildings were once confined to the world of sci-fi, could we soon see bacteria-born houses conceived in petri dishes? soon, you could be parking your new hoverboard in its own self-grown garage.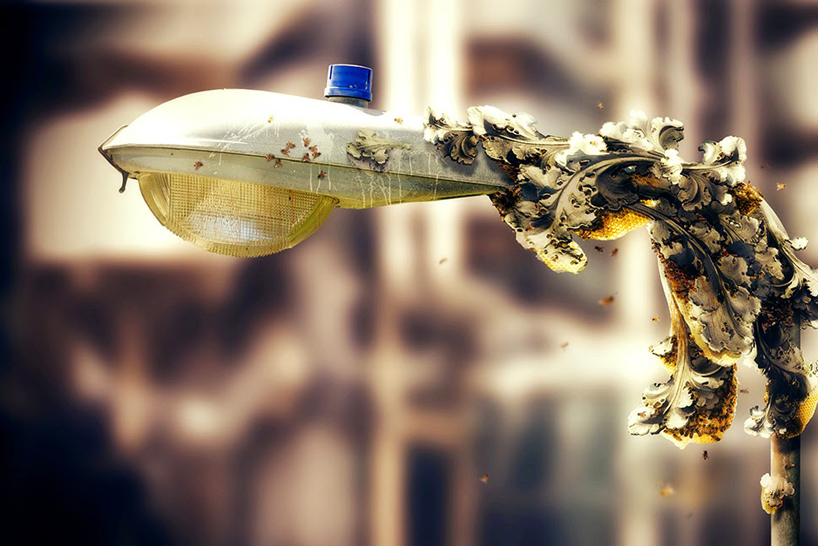 genetically modified bees could be given a mold to work within, before depositing bio-concrete
image by john becker
an even more sci-fi-like scenario was imagined by author geoff manaugh, who speculated on his blog about using genetically modified bees to '3D print' concrete. these 'architectural printheads', conceived as part of an ongoing project with designer john becker, would be used for repairing statues and other architectural ornaments. the imagined process is somewhat similar to a project carried out by dewar's whisky, where honeycombs were created within a transparent bottle.
the bees would be given an initial mold or cast to work within, before depositing the ingredients for bio-concrete on the walls, frames, or structures. as manaugh suggests, these insects could organically create entirely new architectural forms — trading in their beehives for six-storey apiaries or '3B' printed cathedrals.
ICD ITKE research pavilion 2013-14
video courtesy of the institute for computational design
replicating biological processes, researchers and students from the university of stuttgart continue to explore the potential of digital fabrication methods. the team worked with biologists to investigate, among other topics, the shells of beetles and the nests of subaquatic water spiders. however, rather than purely organic production, the pavilions' construction is impressively undertaken by KUKA robots who work in tandem to wind fibers around thin steel frames. this fusion of technology and architecture is merely the tip of an iceberg. will 2017 be the year when hybrid building methodologies finally emerge from beneath the water's surface?
Save
Save
Save
Save
Save
Save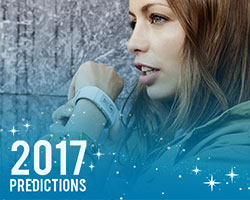 jan 01, 2017
jan 01, 2017
dec 30, 2016
dec 30, 2016
dec 28, 2016
dec 28, 2016
dec 27, 2016
dec 27, 2016
dec 26, 2016
dec 26, 2016
dec 25, 2016
dec 25, 2016
a diverse digital database that acts as a valuable guide in gaining insight and information about a product directly from the manufacturer, and serves as a rich reference point in developing a project or scheme.