like most electric cars, one-pedal driving is a crucial selective mode to help recuperate energy and maximize range. in the MINI cooper SE, the manufacturer's first solely electrically-powered model, this is actually the only mode. when we started our test drive of the new car in miami, florida, this switch took some time to get used to; it can be driven almost entirely with the accelerator alone and decelerates more quickly than usual. soon afterwards, though, we were effortlessly zipping across waterfront avenues, comfortably cruising down ocean drive, and smoothly moving in traffic downtown.
one-pedal driving set the tone for the electric MINI cooper SE. it accentuated MINI's famed go-kart drive, fun experience, and quirky design whilst underpinned by new technology – a breath of electrically-inspired novelties throughout. read our full experience below.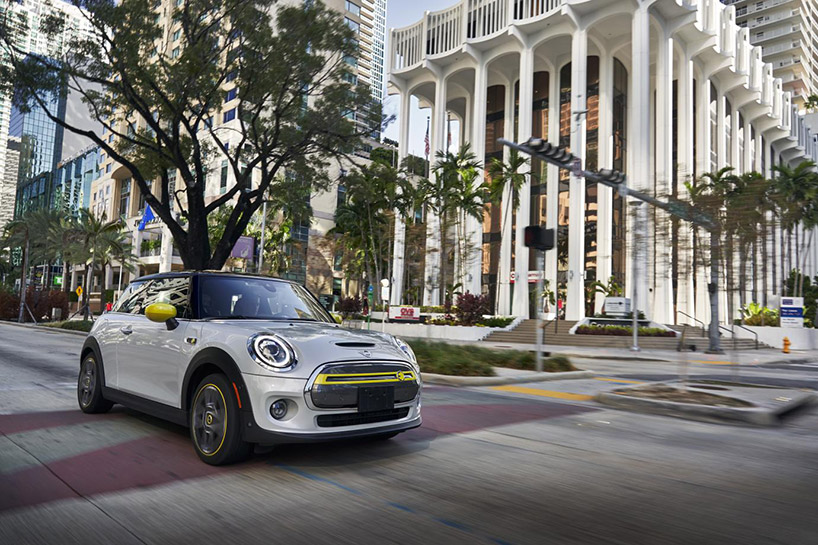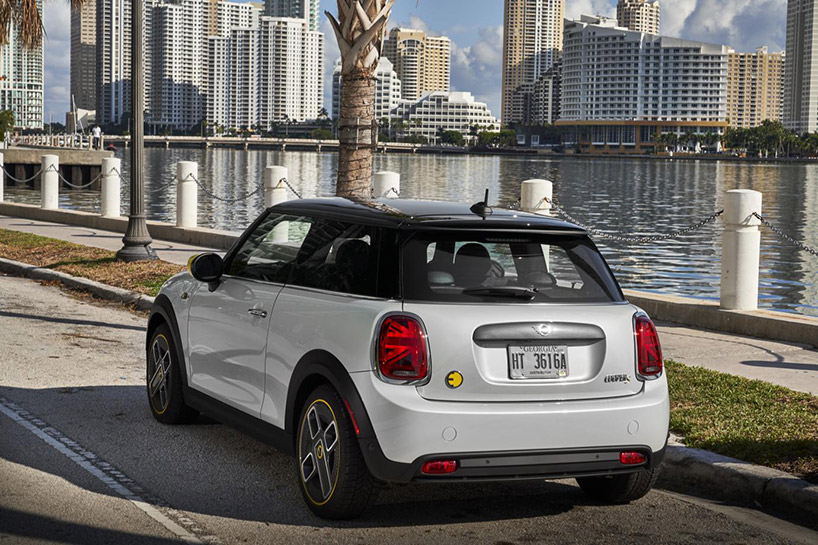 all images courtesy of MINI
from first glance, the MINI cooper SE appears very similar to previous traditional, quirky and much-loved models of the british brand. the 3-door car defines powerful, wide proportions with its sleek, all-round greenhouse, contrasting roof, and short overhangs. however, close up, discrete differentiations in the design highlights the new, future-oriented energy of the SE. starting with its embossed electric logo, yellow accents adorn the decorative bar on the grille, the stand-out wing-mirror caps, and the asymmetrically-designed wheel trim. the color contrasts eccentrically with the rest of the exterior, especially the clean white and black package that we drove in miami.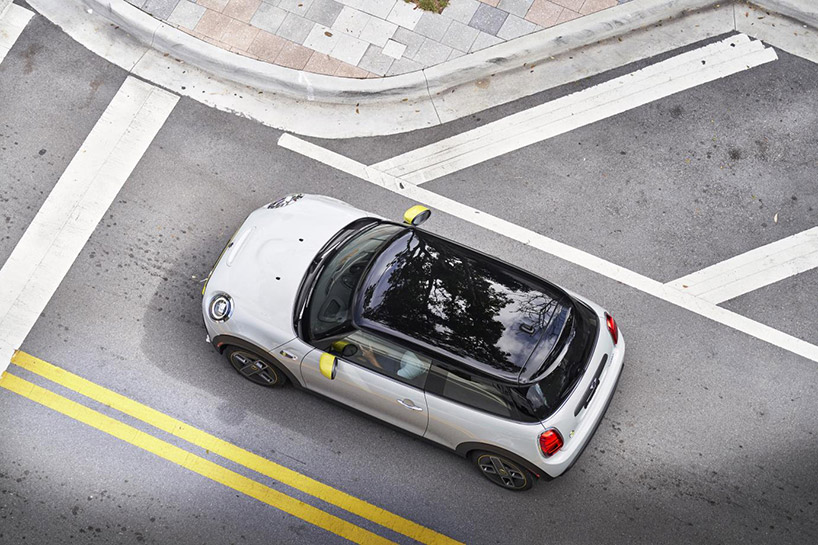 these model-specific accentuations continue inside as the electric yellow decorates the dashboard and illuminates instruments like the gear selector. there are four exterior and interior packages available that offer different harmonized combinations of finishes to customize your car, from the mirror caps to floor mats, in case yellow isn't your color. sitting on the luxuriously stitched seat, the driver has a heads-up display and thin 5.5′ screen straight ahead. together with the dashboard's screen, they communicate all key information including road speed and charge level, driving mode, control messages, entertainment, and navigation.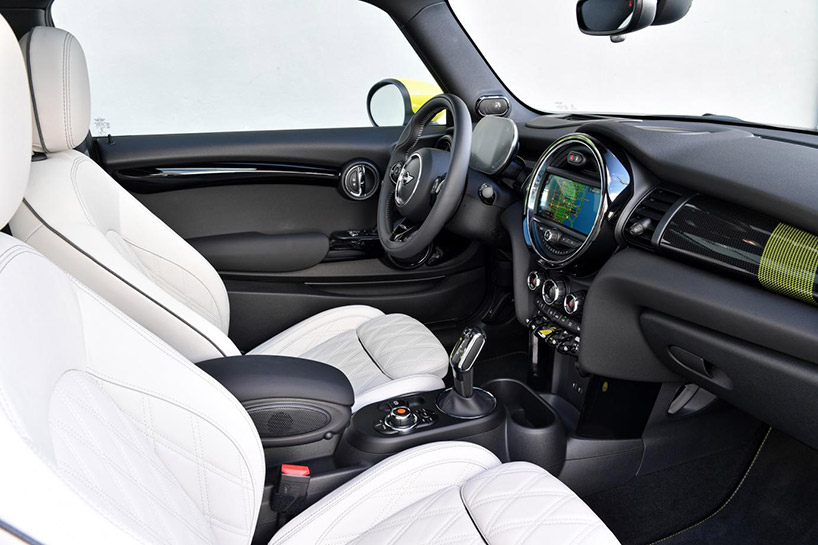 the MINI cooper SE's heart – the lithium-ion battery – is located below the cabin in the floor. combined with the 184 hp motor, this offers a range of 146- 168 miles (235-270 km) per charge and races from 0-37 mph (0-60 km/h) in 3.9 seconds. its range varies depending on the driving mode selected: sport, MID, GREEN, and GREEN+. the latter two are geared towards maximum efficiency, and a toggle switch allows you to increase/decrease recuperation levels all whilst driving with one pedal. once power levels are low, the battery can be energized at a household socket, optional MINI ELECTRIC wallbox, or public charging stations. AC charging with 11 kw powers the car to 80% in two and a half hours whereas DC charging with 50 kw charges the battery to 80% in just 35 minutes.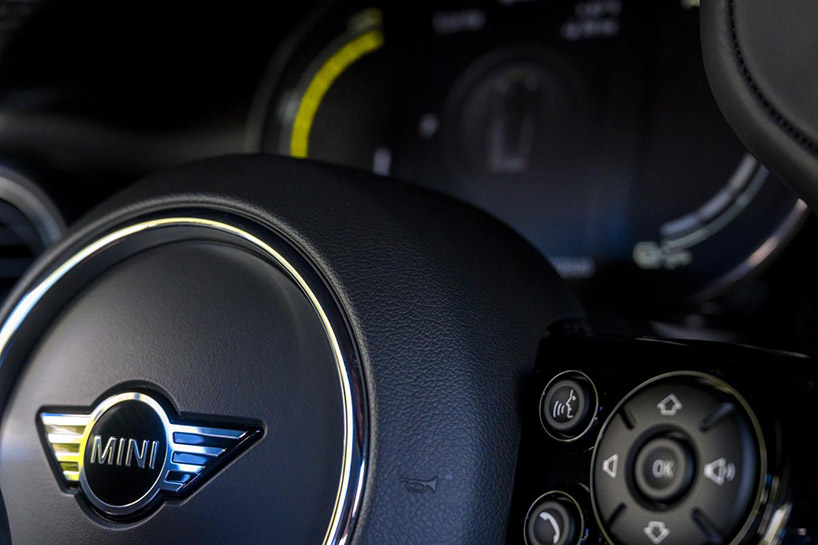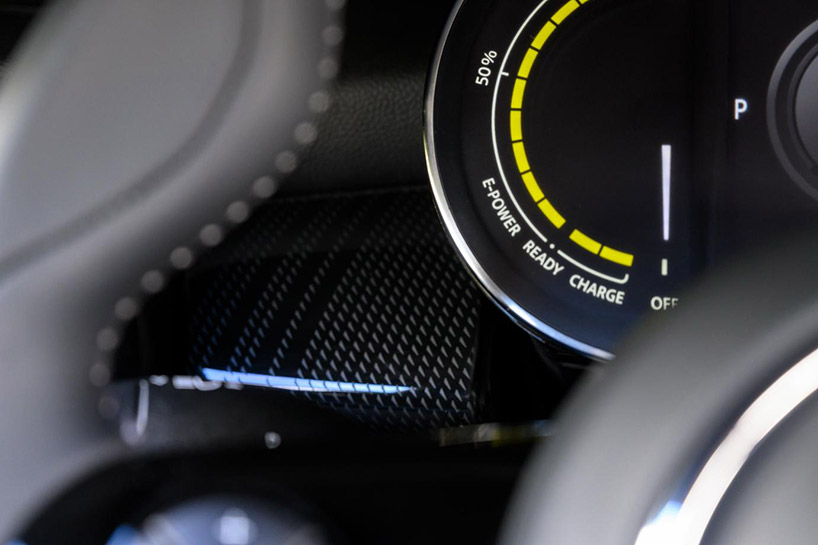 a 5.5′ screen with road speed and charge level, sits behind the steering wheel
with the motor's powerful performance numbers, the car's pace excelled in the city of miami. its electrification, however, enhances more than just the MINI's speed. the motor is smaller and lighter than conventional engines and therefore better harmonizes axle load distribution. this, as well as the battery built into the floor, creates a low center of gravity that makes for agile, easy handling, especially when cornering at speed. overall, this once again builds upon their famed go-kart drive. this feeling is strengthened, more sporty, and even quiet thanks to its electric technology.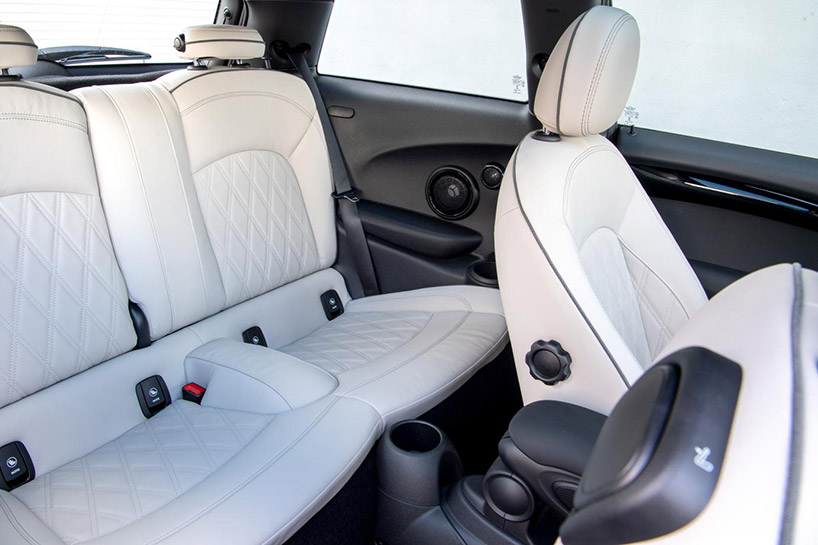 60 years after the launch of the original, our moment in miami with the MINI cooper SE showed how the brand continues to maximize its experience of fun, well designed, and creative use of space. it does not only highlight how powerful electric mobility can be in the urban environment, it also defines how this future can still be fun and expressive whilst sustainable. the design delicately accentuates its forwardness, appearing as quirky yet as luxurious as a MINI always should, and discretely hinting at its new energy within. our first drive proved the MINI cooper SE – the world's first purely electric premium small car – is ready to hit the roads.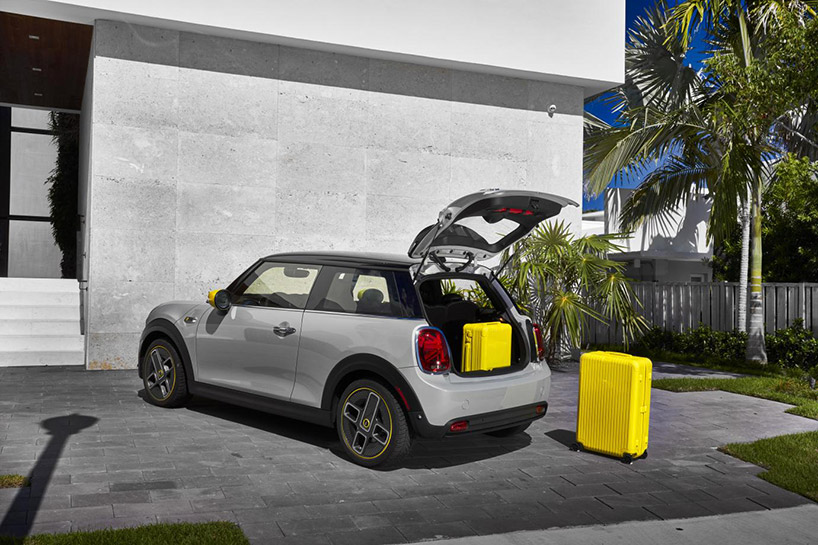 luggage volume is 211 liters, expanding to 731 liters when the rear backrests are folded down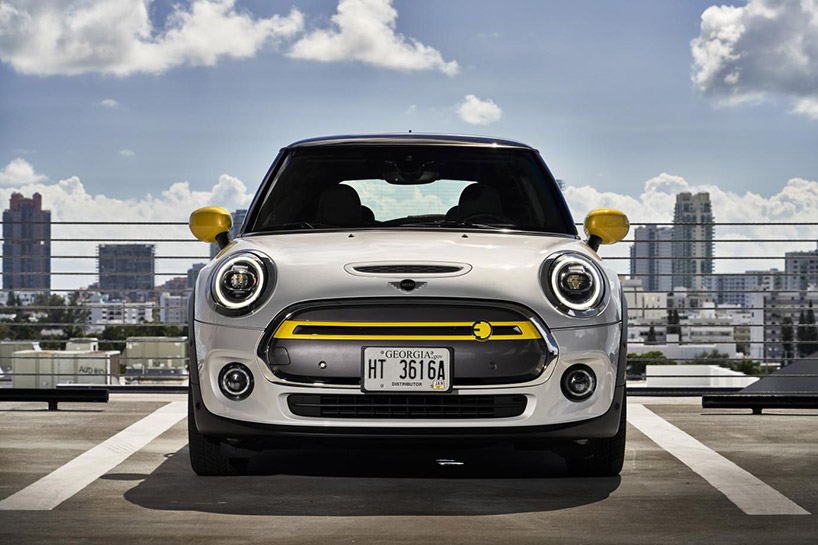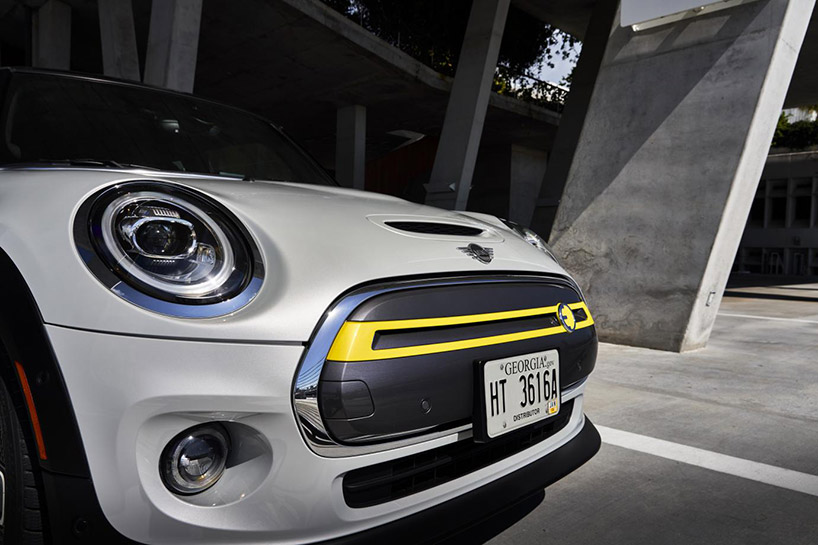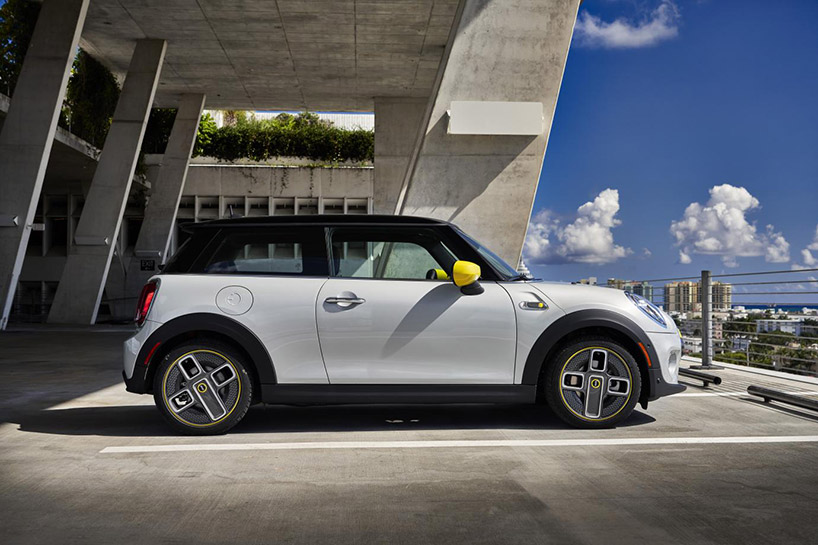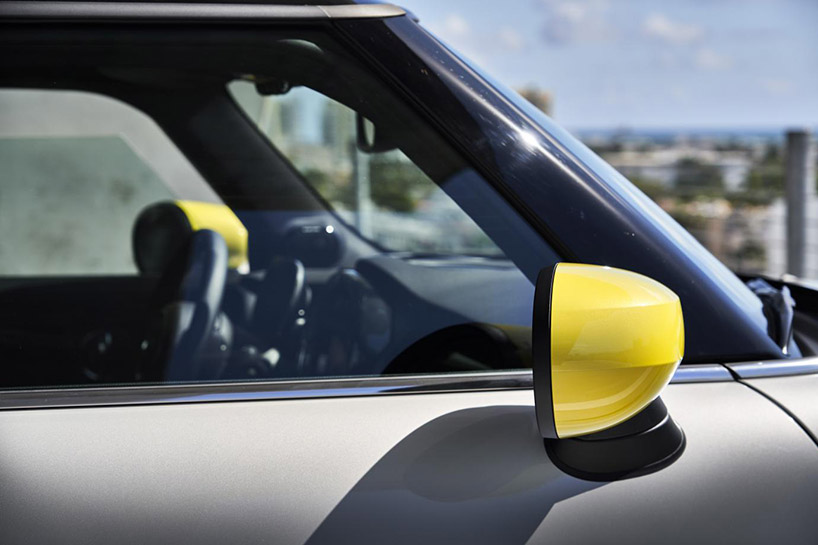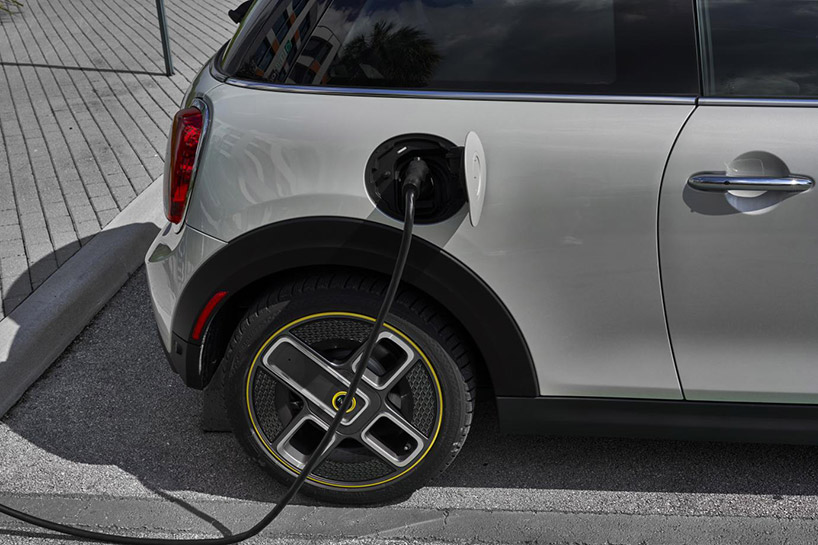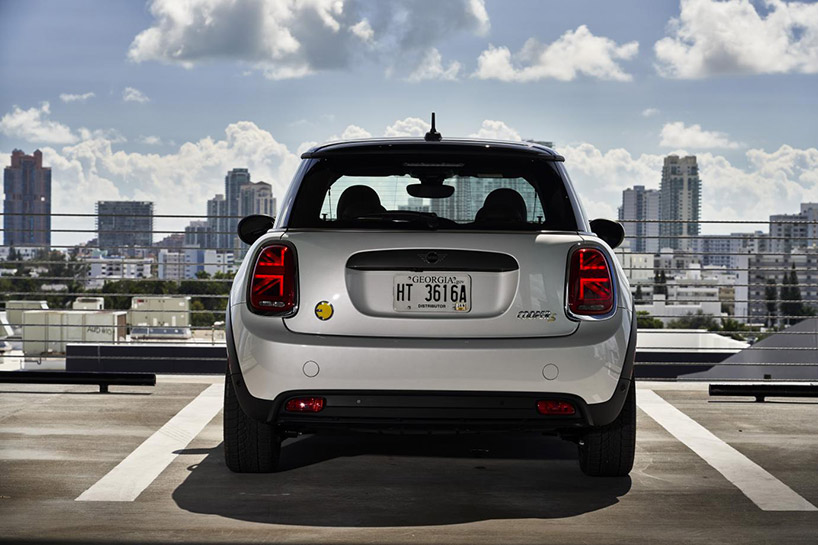 product info:
brand: MINI
model: cooper SE
battery range: 146- 168 miles (235-270 km) per charge
oct 31, 2019
oct 31, 2019
aug 02, 2019
aug 02, 2019
jul 14, 2019
jul 14, 2019
jul 10, 2019
jul 10, 2019
jul 03, 2019
jul 03, 2019
jun 24, 2019
jun 24, 2019
jul 13, 2020
jul 13, 2020
jul 10, 2020
jul 10, 2020
jul 10, 2020
jul 10, 2020
jul 10, 2020
jul 10, 2020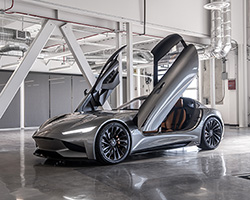 jul 10, 2020
jul 10, 2020
jun 13, 2020
jun 13, 2020
MINI
(63 articles)
mar 27, 2020
mar 27, 2020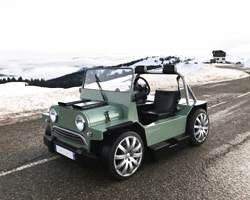 mar 22, 2020
mar 22, 2020
dec 11, 2019
dec 11, 2019
a diverse digital database that acts as a valuable guide in gaining insight and information about a product directly from the manufacturer, and serves as a rich reference point in developing a project or scheme.