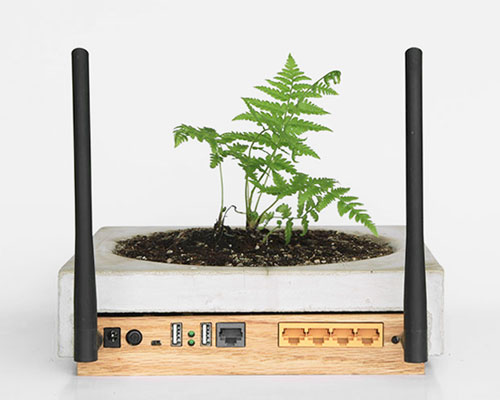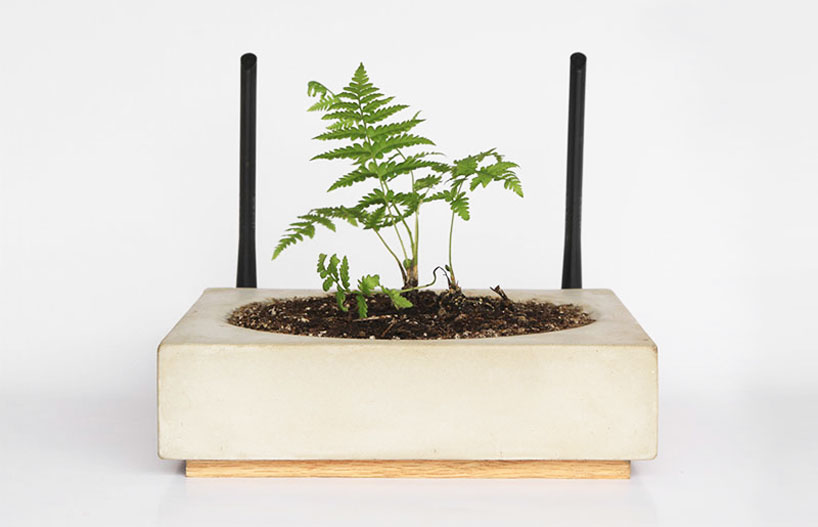 nov 05, 2013
the cybernetic meadow collection combines plants + electronics
the cybernetic meadow collection merges plants + electronics
all images courtesy sam kronick

the consortium for slower internet, an initiative founded by MIT graduate sam kronick has developed 'the cybernetic meadow collection', a set of handmade objects that seek to re-orient the relationships between consumer electronics in the home. the series includes a WiFi router and iPhone dock enclosed in a concrete planter and a concrete photo display with 16GB USB drive. each of the artifacts were designed by following the principles of the consortium: duration, de-familiarization, autonomy and divergence. the manifesto encourages users to consume information at a more complative pace, promoting a considered browsing experience.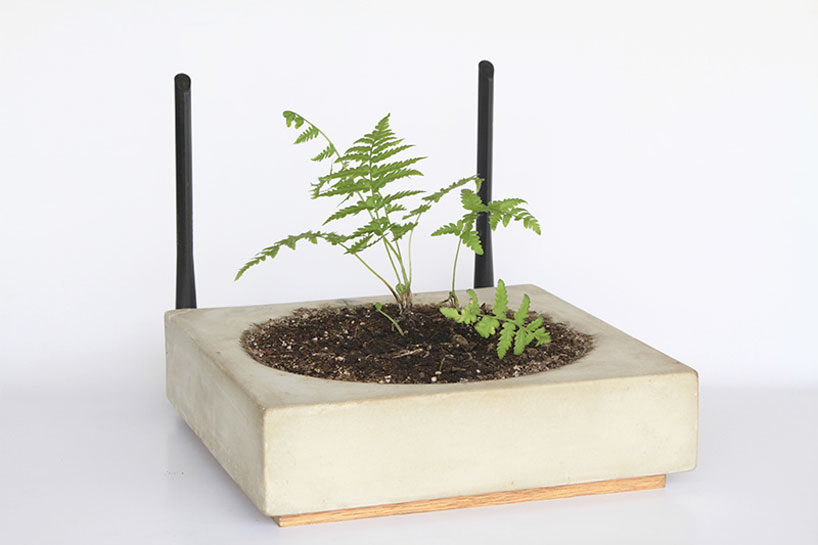 'WIFI router in concrete planter enclosure'
shallow planter dish is perfect for succulents, mosses, or small ferns (not included).
easily remove planter for watering and replace after draining.
solid oak base provides access to all original ports on router.
includes a functioning TP-link TL-WDR3600 router (compatible with openWRT and other firmwares)
will not make your internet slower, but does require periodic watering and care.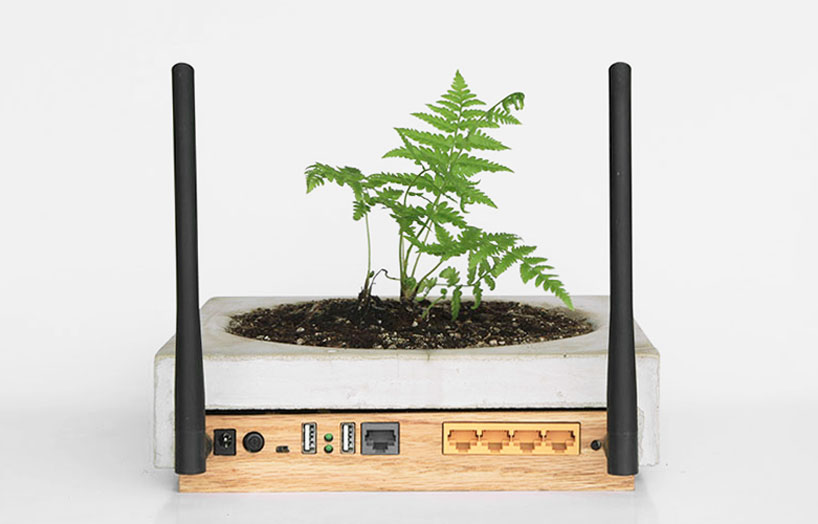 duration
there is no inherent concern with information that is transmitted and distributed with great speed, but slower internet suggests that information be consumed at a more contemplative pace. if information is to be a central part of our lives, slower internet is interested in finding ways to live with it on more human time scales; news, facts, updates, etc should be absorbed slowly and given time for consideration. systems that emphasize duration are central to a slower internet.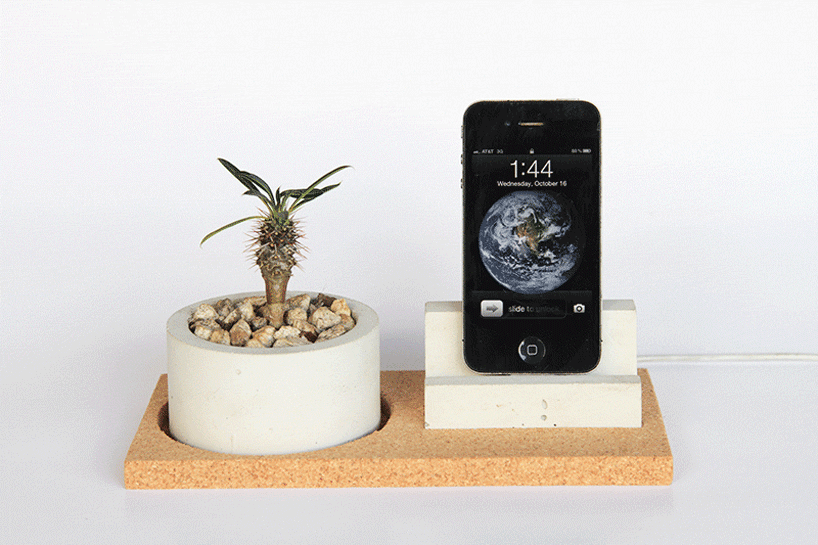 'concrete planter and phone dock with cork base'
interchangeable inserts allow you to use both iPhone 4 and 5 style chargers as well as most android phones.
charging cable and plant not included.
waterproof cork base holds excess water as it drains from the planter.

'dock'
defamiliarization
the information delivered by fast internet is the white bread of data: predictable, lifeless, sanitized for mass appeal. slow internet delivers content in unexpected formats and spaces. the practice of defamiliarization encourages users to scrutinize their role and participation in a given system. seamless experiences are suspect.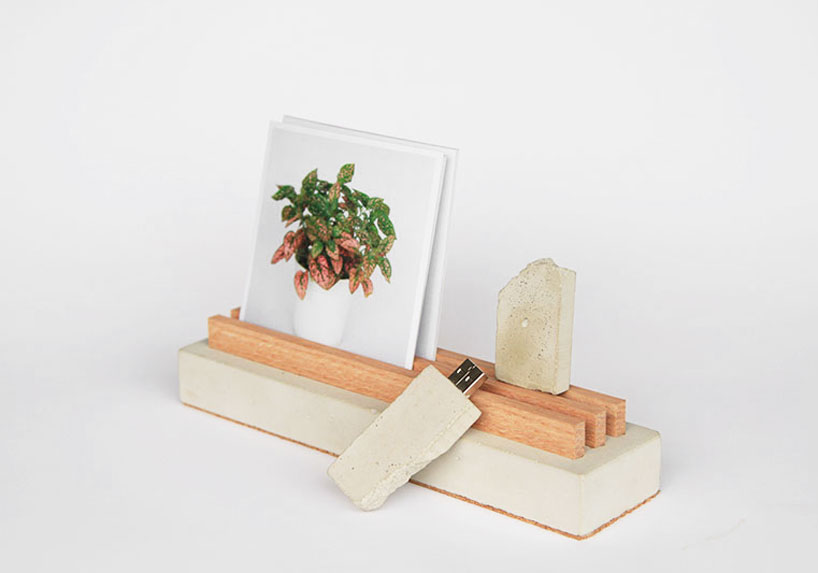 'drop out of the cloud with 'heirloom JPEGs' concrete photo display and 16GB USB drive
comes with one uniquely distressed concrete USB flash drive.
purchase additional drives as your storage needs grow. no monthly fees, no terms of service.
the consortium for slower internet does not participate in prism.
cork lined bottom with solid oak slats.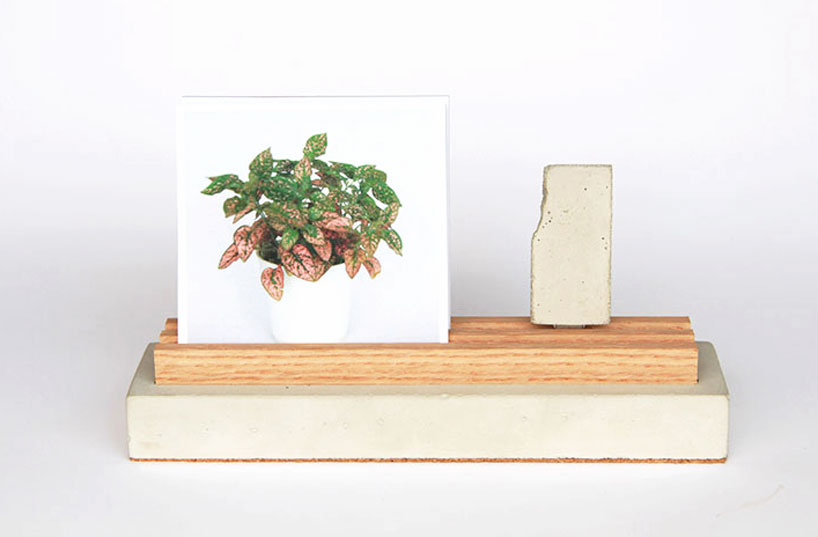 autonomy
fast internet dazzles with maximum features at minimum price, but it often does so at the expense of user autonomy. increasingly, users are encouraged to sacrifice their rights to own material they produce with a given system when services are rendered free of charge. slower internet respects user autonomy by giving creators control and ownership over their data. charging reasonable fees for a service is always preferable to spying on customers and appropriating their data to serve advertisements.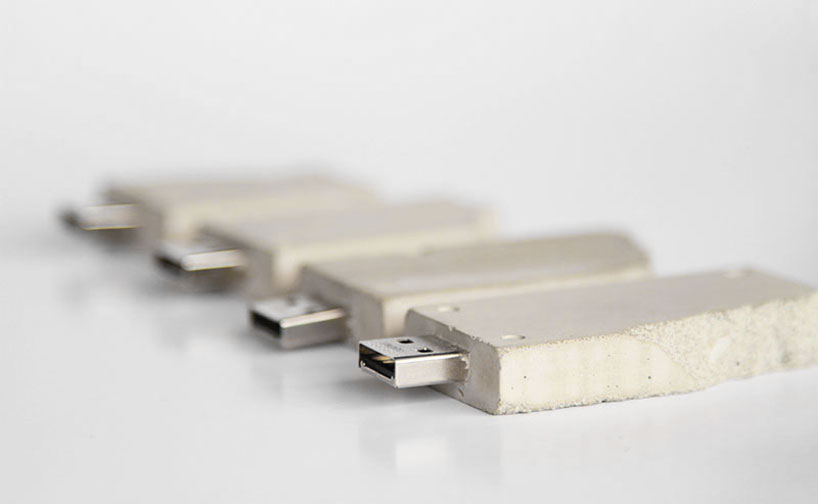 divergence
computers have long been universal machines, able to perform any calculation regardless of content. a slower internet, however, requires that dissimilar tasks occur in a diversity of spaces on a multitude of devices. living with information does not mean that we have to give any type of machine a monopoly over our attention. slower internet is a process of cultivating a garden of machines that fit localized, individual desires.
jun 13, 2019
jun 13, 2019
jun 10, 2019
jun 10, 2019
jun 06, 2019
jun 06, 2019
jun 05, 2019
jun 05, 2019
jun 01, 2019
jun 01, 2019
may 27, 2019
may 27, 2019
jan 11, 2019
jan 11, 2019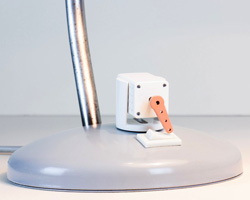 nov 21, 2018
nov 21, 2018
jan 10, 2018
jan 10, 2018
a diverse digital database that acts as a valuable guide in gaining insight and information about a product directly from the manufacturer, and serves as a rich reference point in developing a project or scheme.