nov 15, 2011
tilter city compact EV
'tilter' by synergEthic
french entrepreneur eric prosé founded the manufacturing company synergEthic to produce 'tilter', an ultra-compact, zero-emissions vehicle designed to satisfy day-to-day needs and the demands of urban space without polluting the environment. the vehicle features custom technology that that registers input from twelve sensors to automatically optimize vehicle response to difficult driving conditions. on exhibition during EICMA 2011, 'tilter' is planned for mass production and availability in 2012.
rather than requiring gasoline, the 440kg
'tilter' is powered exclusively by electricity. when the vehicle is fully charged, it may travel up to 120 KM. the top traveling speed of 'tilter' is 110 KM/H, attaining an acceleration of 0 to 100 km/hr (0-60mph) in 13.3 seconds.
the vehicle's aerodynamic body design caters to the maneuvering
required urban drivers. similar in form to a covered scooter, the vehicle seats two people in succession. the vehicle's steel body measures 900mm wide, 2530mm long, and 1650mm high, maintaining the visibility of both the driver and those with whom he shares the road. 'tilter' is small enough to park in spaces designed for two-wheelers, and the vehicle's sliding track door system enables easy exiting even in tight parking spots.
view of the vehicle in use
as in a scooter or motorcycle, the seats move with their passengers as they shift with the movement of the car. both the front and back seat are able to fold, the front to make room for the passenger to enter and exit, and the back, to increase storage space. the vehicle's small cabin adds increased protection for the driver in the event of accident or poor weather. the vehicle itself also naturally offers climate comforts:
'tilter' has peltier effect cells that guarantee a temperature of 15°C higher than the outside temperature in the winter and 10°C lower in the summer'.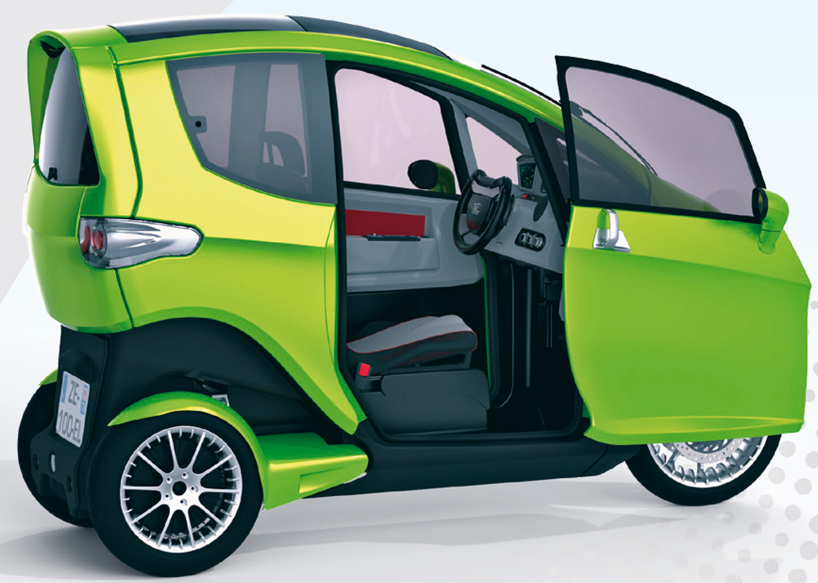 full profile view with door open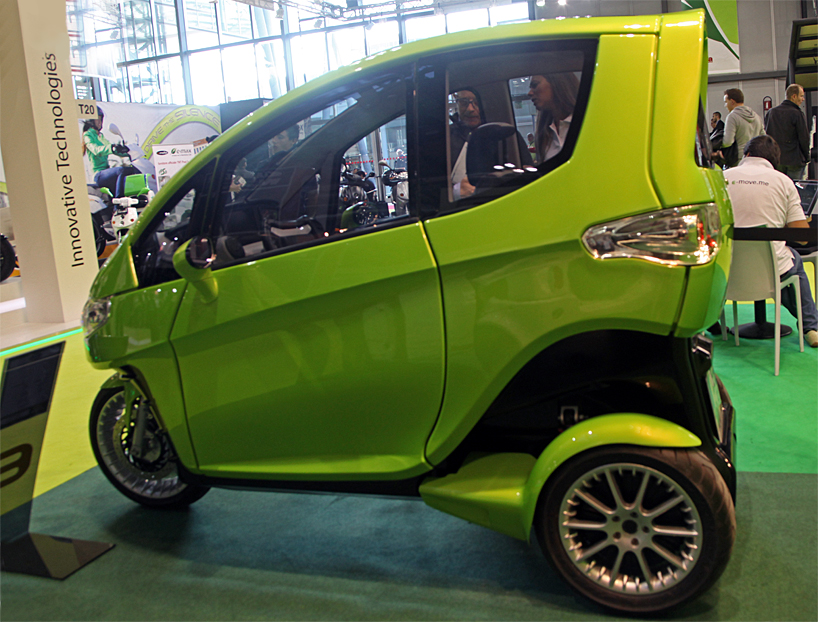 'tilter' on exhibition during EICMA 2011 image © designboom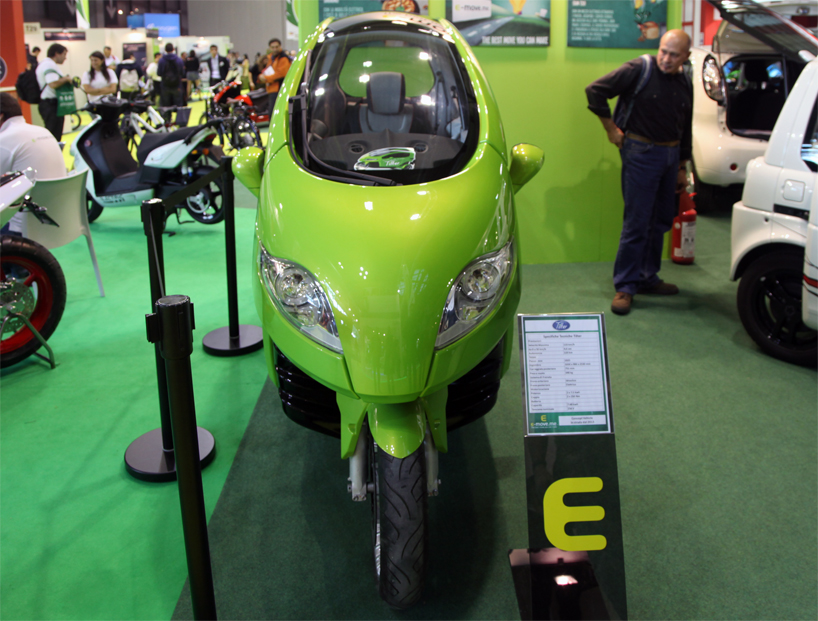 front view image © designboom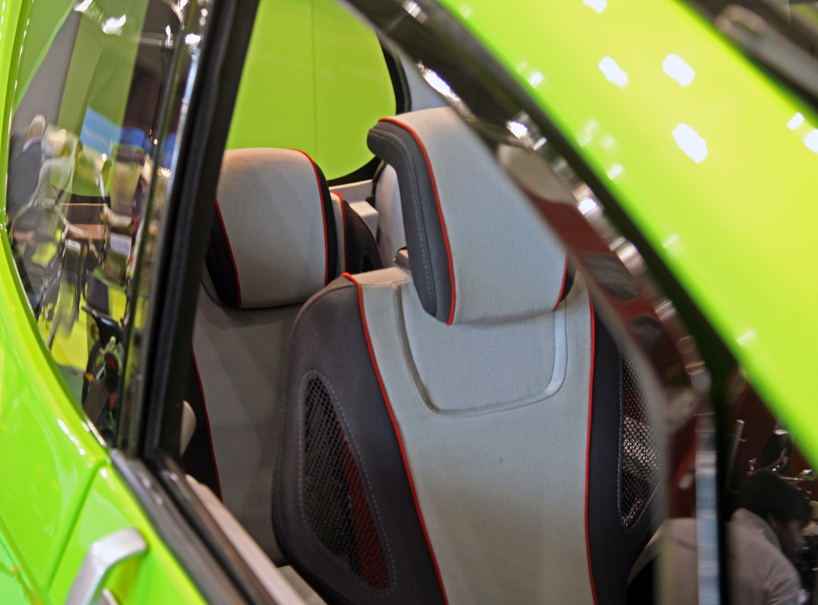 detail on interior, where the driver and passenger seats are arranged in single-file image © designboom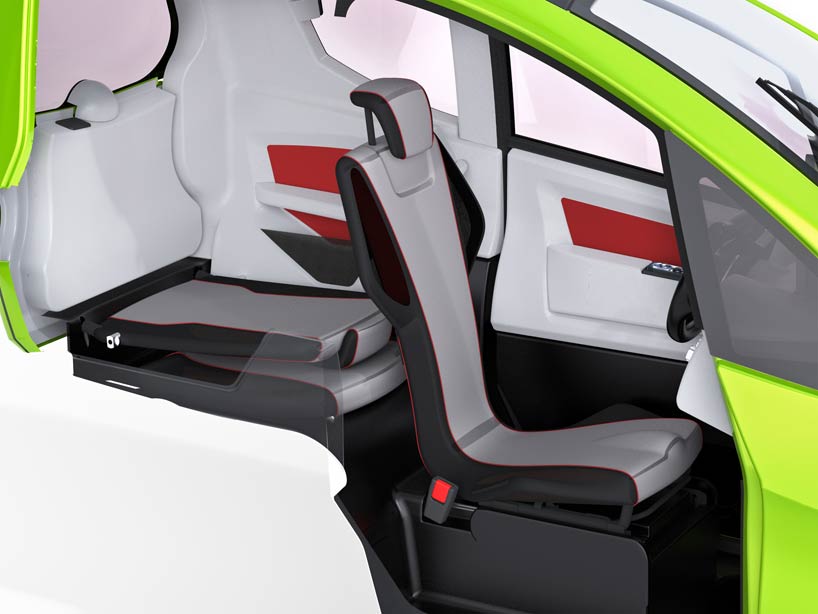 interior side view with rear seat folded for storage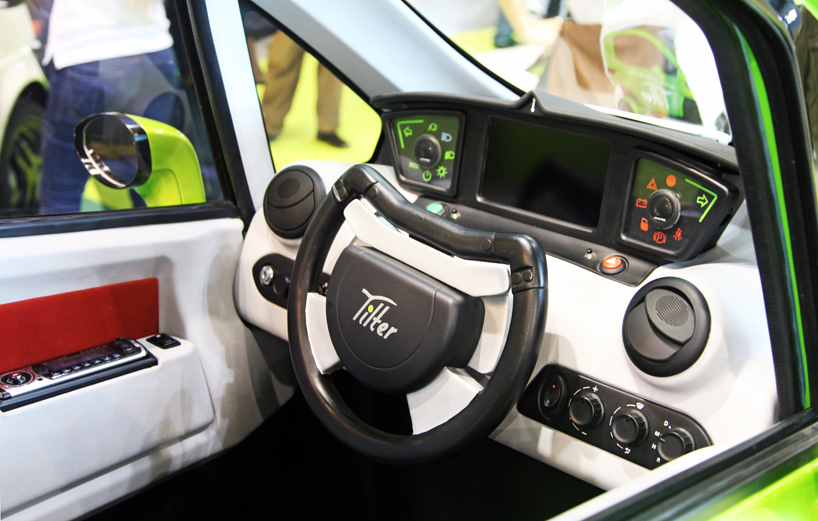 driver cabin; with driving and climate controls on dashboard and music player on driver door image © designboom
full view of 'tilter' steering wheel, which includes brake pedals
in addition to conventional foot pedals, 'tilter' features brake paddles on the steering wheel, increasing driver reaction time. with a turning radius of 5 meters. the automobile is stabilized automatically by synergEthic's 'active torque control'® system. information pertaining to driving conditions is collected from twelve sensors positioned around the car in order to calculate the ideal reaction. this system is activated when navigating through side winds, centrifugal forces, sloping roads, and uneven pavement.
'in the production version, a smartphone dock will allow for the use of applications specially developed for the 'tilter'. '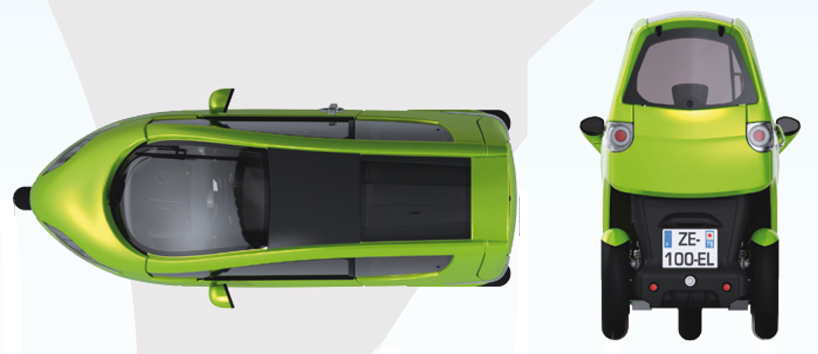 top and rear views
street view of 'tilter'
a diverse digital database that acts as a valuable guide in gaining insight and information about a product directly from the manufacturer, and serves as a rich reference point in developing a project or scheme.