see designboom's TOP 10 stories archive:




since designboom's very first annual reviews, 3D printing projects have always been one of the most eagerly anticipated and most read round ups. their stories constantly showcase almost unimaginable experimentation, where possibilities are realized even when, until very recently, were perceived inconceivable. if there was one constant within the technology of 3D printing, it would be that its progressions never seems to slow down. and 2017 was no different. we not only saw further advancements of manufacturing capabilities, but also of medicine and space engineering, footwear design and even the field of art.
continuing round ups of 2017, we look back at the TOP 10 3D printing projects that grabbed our and most importantly, designboom readers' attention over the past 12 months.
1 – ETH zürich artificial heart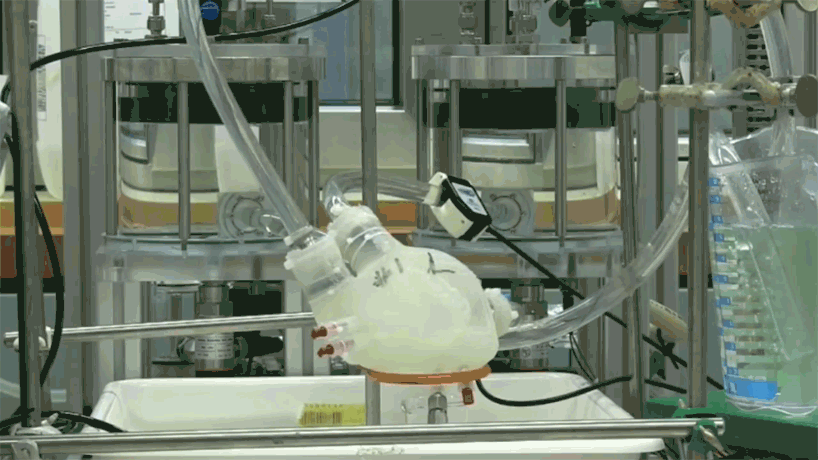 image © ETH zürich
ETH zürich researchers have 3D printed a soft silicone heart that beats almost like a real human organ. in collaboration with colleagues from the product development group zurich, they experimented with the prosthetic heart and found that it could provide a safer, more comfortable way to keep the blood pumping. it is around the same size as a human heart, weighs 390 g (0.85 lb) and was created using 3D printing and a lost-wax casting technique. just like the real heart, it has a right and left ventricle, which is separated by a chamber that serves as the organ's muscle.
2 – the institute advanced architecture of catalonia pedestrian bridge in madrid, spain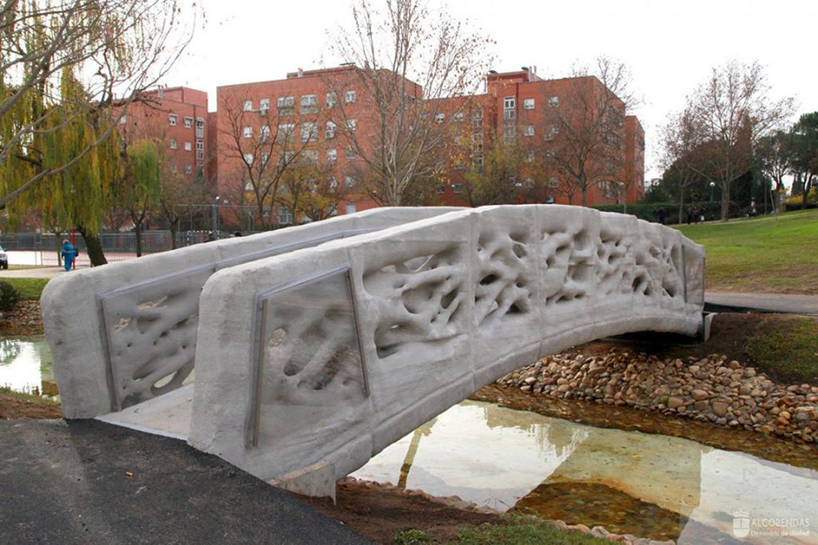 images © institute advanced architecture catalonia
the world's first 3D printed pedestrian bridge has been constructed in the the urban park of castilla-la mancha, a sparsely populated area of alcobendas, madrid. the project, which includes a total length of 12 meters and a width of 1.75 meters, seeks to further demonstrate that 3D printing can be utilized for creating outdoor structures. developed by the institute advanced architecture of catalonia (IAAC), the bridge was created using parametric design in order to optimize the distribution of materials and minimize the amount of waste by recycling the raw material during manufacture.
3 – desktop metal 3D printed metal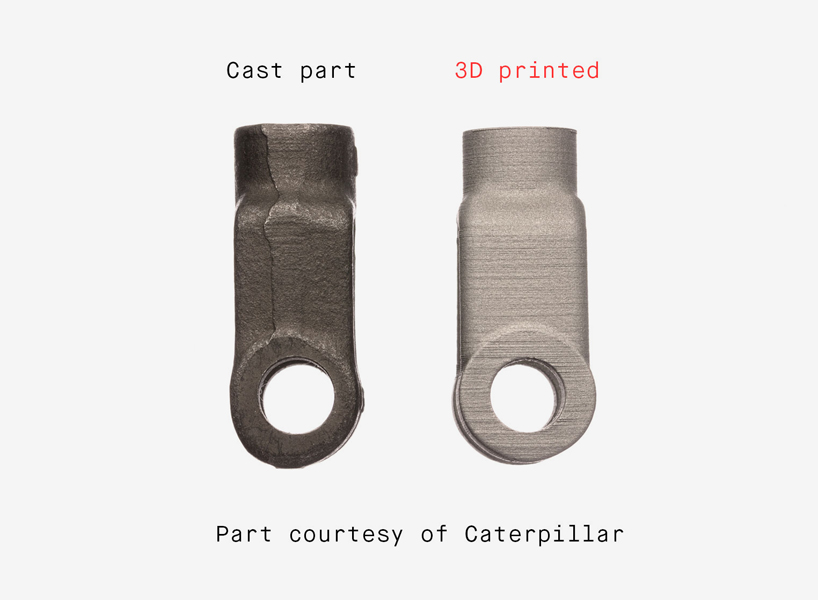 image © desktop metal
for the first time, affordable, safe and precise metal 3D printing for both prototyping and mass production is available across industries — at speeds 100 times faster. desktop metal revealed its 3D printers that can form objects from hundreds of different alloys including steel, titanium, aluminum, and copper. the system and results compare to injection-molded items, in terms of production quality and finish. however, in spite of the similarities, the manufacturing technique's arrival marks a fundamental shift in how products will be developed and brought to market.
4 – michael hansmeyer and banjamin dillenburger digital grotesque II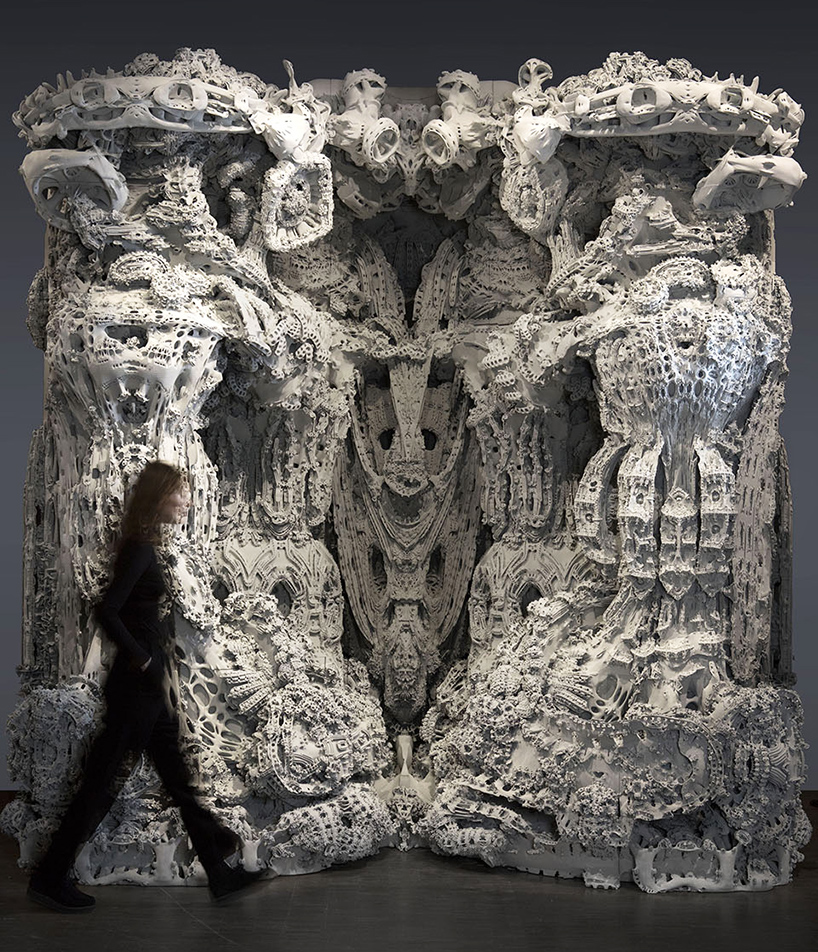 image by fabrice dall'anese
this highly ornamental structure is designed entirely by algorithms, comprises 1.35 billion surfaces and is materialized from 7 tons of printed sandstone. following the realization of their first human-scale architectural object back in 2013, architects michael hansmeyer and benjamin dillenburger have completed 'digital grotesque II' — a full-scale 3D-printed grotto. the abundance of differentiated and diverse geometries form an incredibly rich and dynamic spatial experience for each viewer. commissioned by centre pompidou, it is a testament to new kinds of architecture that use technology to re-conceive traditional building paradigms.
5 – NASA space chain mail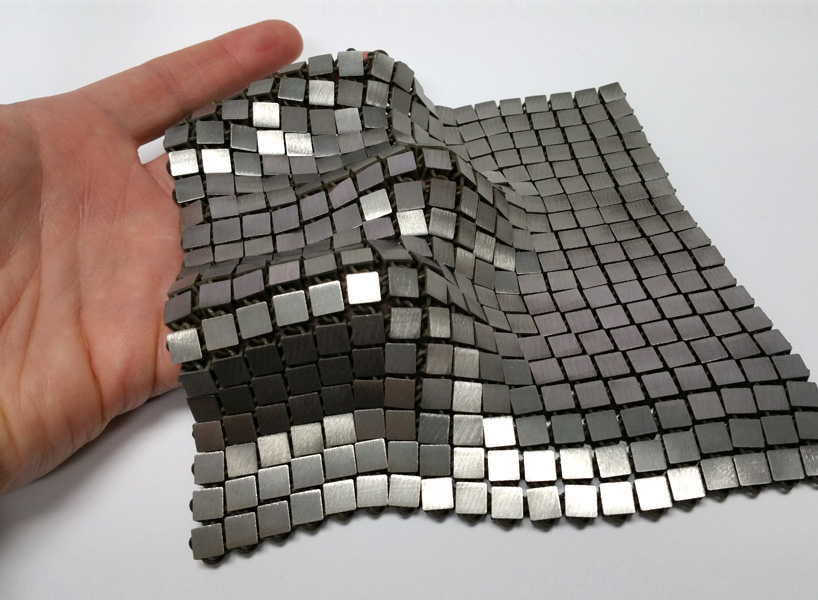 image courtesy of NASA
NASA are stepping straight into the future of textiles with their 4D printed 'space fabric' — a metallic material intended to be used like 'chain mail' to protect astronauts and spacecraft alike during their missions. although made of metal, the material remains foldable and retains the ability to change shape easily, making it apt for wrapping around spacecraft, or even to fabricate astronaut spacesuits. the material could even be used to keep machinery warm when exploring chilly locations like jupiter's ice 'europa' moon.
6 – the new raw print your city!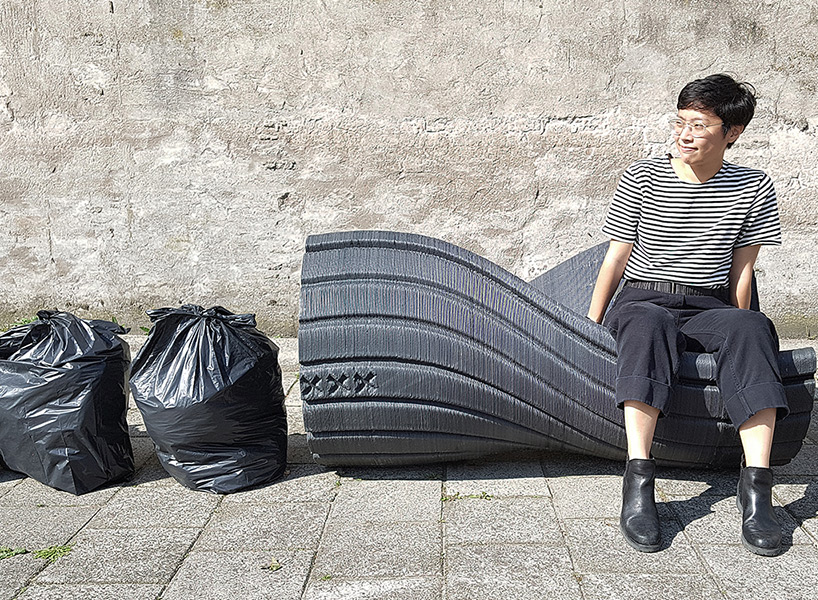 image © the new raw
rotterdam based research and design studio, the new raw, has introduced a new initiative called 'print your city!' that utilizes 3D printing to transform plastic waste into urban furniture. the first outcome of the project takes the form of the 'XXX bench', a furniture piece designed for amsterdam which generates a new use for recycled plastic bags. the bench seats two to four people and takes the form of a double-sided rocking chair, to act as a statement on working together to close the cycle for plastic. users have to find equilibrium together, or use their energy to rock each other. each one can be easily customized in terms of shape or function, and can also integrate messages or logos.
7 – barbara motyli

ńsk

a

and zuza gronwicz shoetopia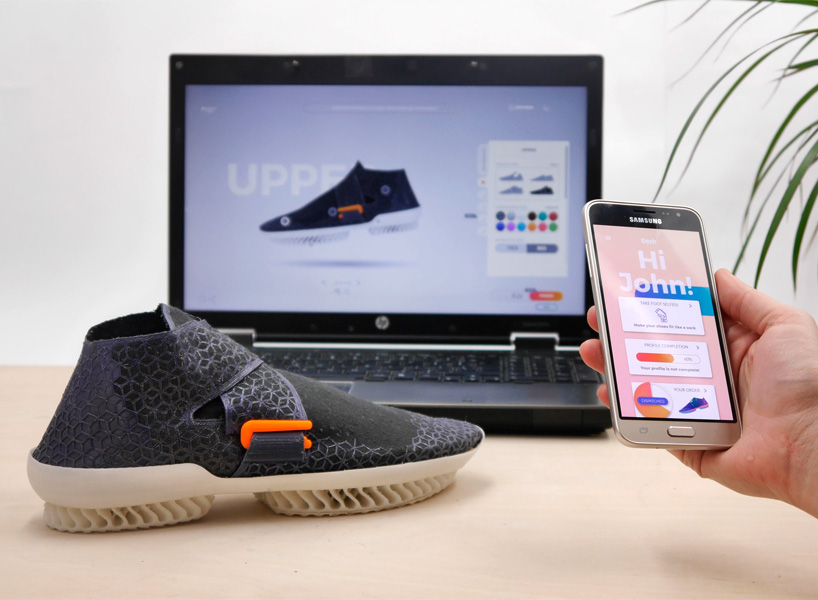 image courtesy of barbara motylińska and zuza gronwicz
the sneaker world has long been dominated by big brands, so, polish design students barbara motylińska and zuza gronwicz set out to propose an alternative, more sustainable model for the production and distribution of footwear. using 3D-printing techniques, their 'shoetopia' project created a design for a biodegradable sneaker that can be modified via an app. the personalized creation is then transformed into a print file, which can be sent directly to a local 3D printing center or private printer owner. the concept reduces waste due to over production and lets the customer request exactly the design they want.
8 – dinara kasko + jose margulis kinetic tarts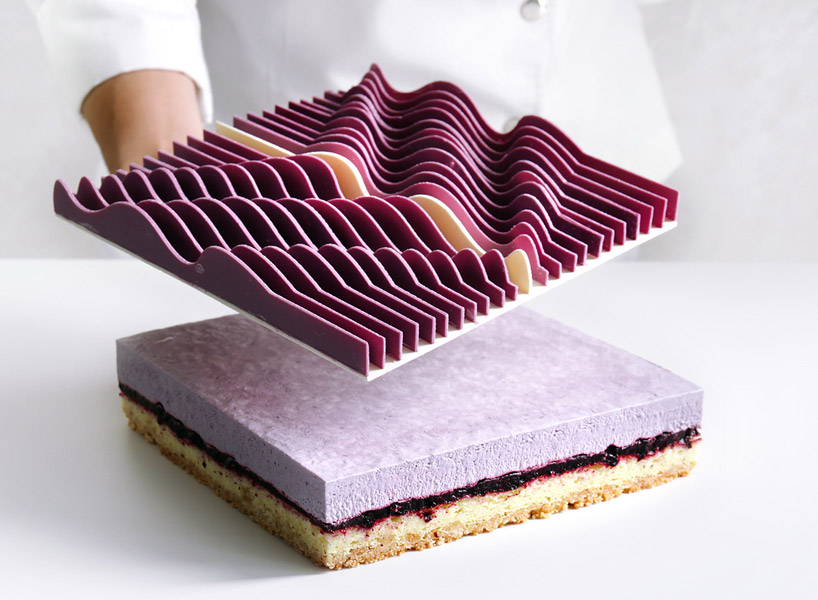 image courtesy of dinara kasko and jose margulis
ukrainian pastry chef dinara kasko has innovated a unique baking technique using mathematical algorithms and 3D printing. in her latest collaboration, she works with miami-based artist jose margulis whose experience using 3d printed volumetric geometries has helped develop her distinctive kinetic tart designs. the result – a multi-layered object of art, design and cooking – aims to create a culinary experience as much as a visual one, leaving a long and lasting impression.
9 – john edmark bloom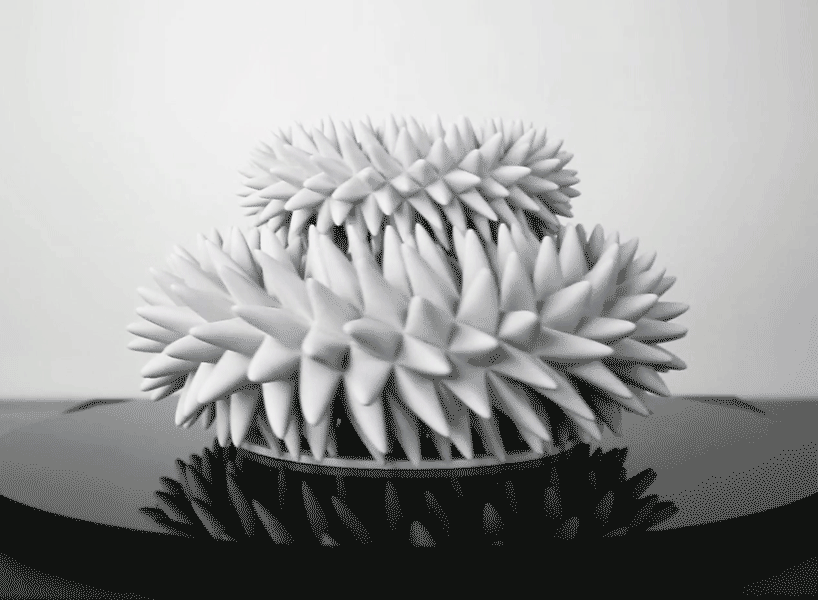 image courtesy of john edmark
artist john edmark has created a selection of 3D printed sculptures that mesmerize in their mathematical and mobile magnificence. called 'blooms', the designs draw influence from the numerical properties found in nature, like spiral patterns commonly seen in sunflowers, pinecones, and cacti. the kinetic objects are spun and animated as single, self-contained sculptures, unlike a 3D zoetrope, which mobilizes a sequence of small changes to a particular form.
10 – TU eindhoven bicycle bridge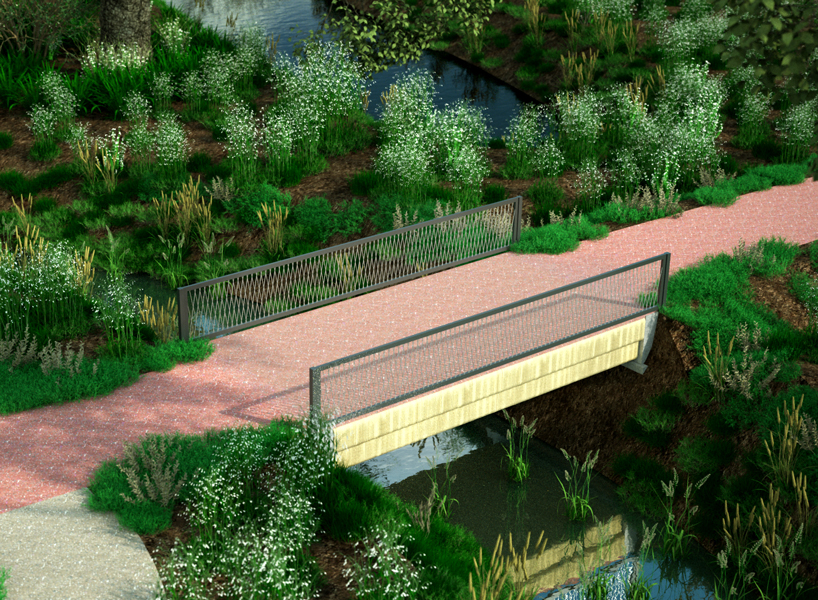 image © BAM international
back in june 2017, the eindhoven university of technology, in collaboration with construction group BAM infrastructure, began construction on a 3D-printed concrete bicycle bridge measuring 8 metres long and 3,5 meters wide. TU eindhoven's bridge will be made of printed, pre-stressed, and reinforced concrete, and will be used by cyclists to cross the peelsche loop, a canalized river in the town of gemert. the state-of-the-art 3D printer releases toothpaste-like fluid concrete on the printing plate, forming layer by layer the elements of the bridge.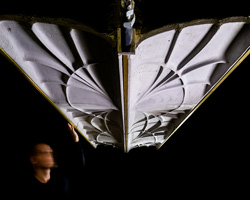 jun 28, 2020
jun 28, 2020
jun 17, 2020
jun 17, 2020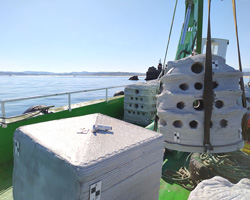 jun 16, 2020
jun 16, 2020
jun 15, 2020
jun 15, 2020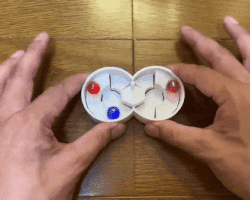 jun 10, 2020
jun 10, 2020
jun 06, 2020
jun 06, 2020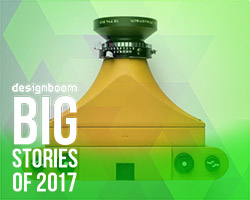 dec 21, 2017
dec 21, 2017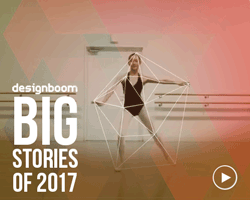 dec 20, 2017
dec 20, 2017
dec 19, 2017
dec 19, 2017
a diverse digital database that acts as a valuable guide in gaining insight and information about a product directly from the manufacturer, and serves as a rich reference point in developing a project or scheme.