TOP 10 3D printing stories of 2015
over the past year, 3D printing projects and experiments have continued to develop and expand manufacturing capabilities. 2015 has seen the continuation of independent companies and start-ups exploring new production extents, with worldwide-industry brands researching modern possibilities. continuing our annual review of the year's BIG stories, we round up the numerous 3D printing projects that caught our eye in 2015.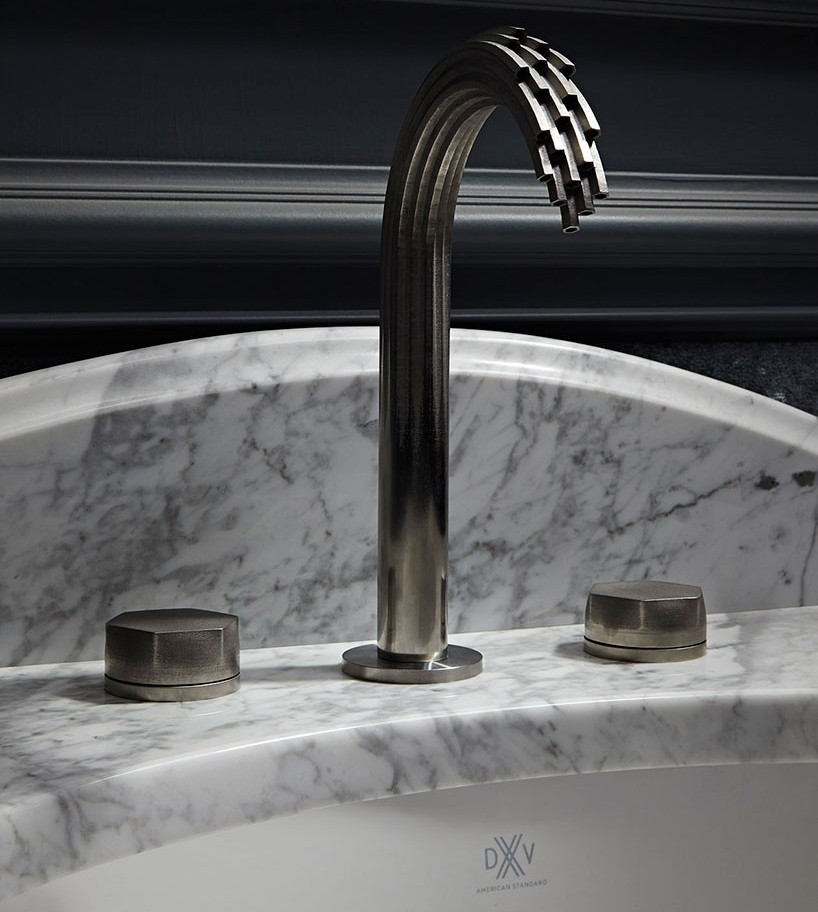 image courtesy of american standard
north american plumbing and building product manufacturer american standard, revealed a 'DXV' line of metal 3D printed faucets that revamp the way water cascades into the sink. the process opens new creative possibilities for the design and function of faucets, permitting original ways to present water with a entirely different user experience. the faucets were made using a method of 3D printing called laser sintering. the way the procedure works, is a computer guided laser beam fuses powdered metal into the shape with high heat and pressure. a solid metal block arises out of the powder, with the unique waterways embodied inside.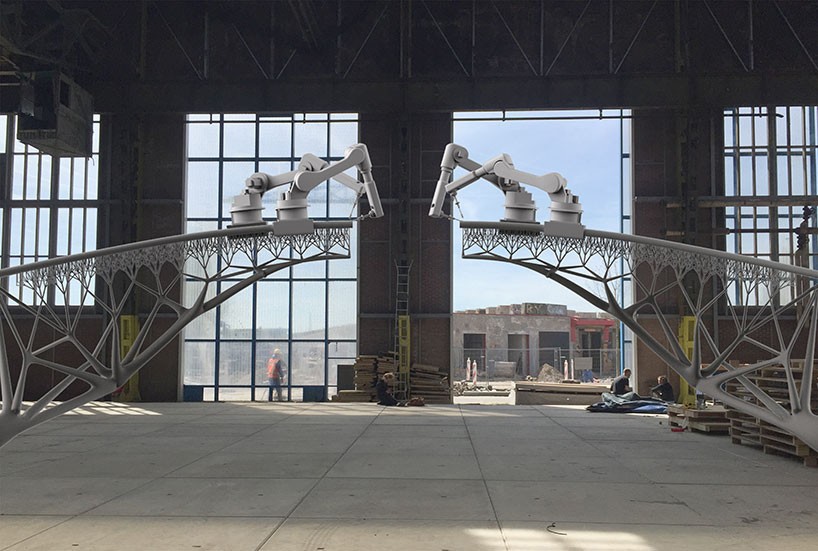 image courtesy of joris laarman for MX3D
heijmans, a dutch construction and civil engineering company and design software company autodesk have teamed up with local startup MX3D to create a 3D printed steel bridge that will be located in the centre of amsterdam, netherlands. the bridge will incorporate complex geometries that will be designed by joris laarman lab. the project will display innovative ways of building and a natural step in realizing a more automatic construction site.
'I strongly believe in the future of digital production and local production, in "the new craft",' describes joris laarman. 'this bridge will show how 3D printing finally enters the world of large-scale, functional objects and sustainable materials while allowing unprecedented freedom of form. the symbolism of the bridge is a beautiful metaphor to connect the technology of the future with the old city, in a way that brings out the best of both worlds.'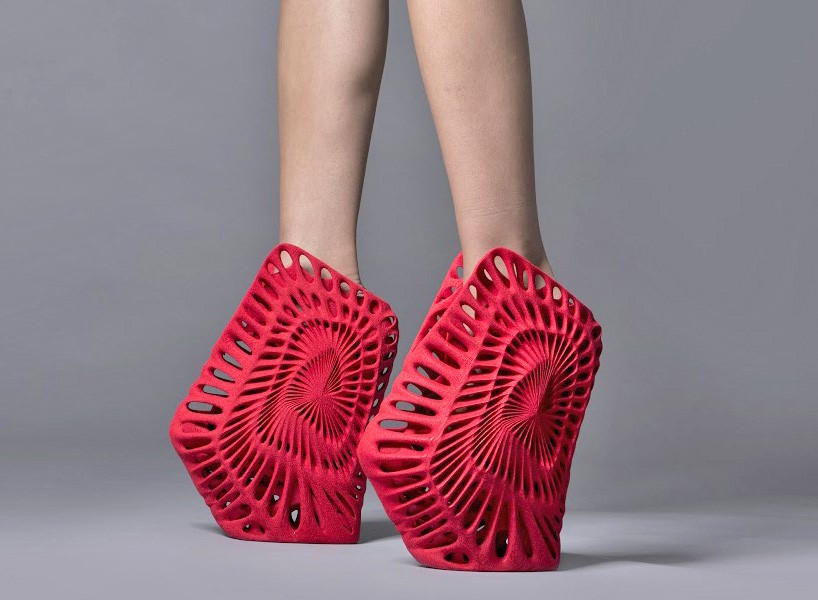 image courtesy of united nude
pushing the boundaries of rapidly developing technologies and showing the sculptural and experimental qualities that 3D printing offers, united nude joins forces with 3D systems for a major collaborative exhibition presented during milan design week 2015. the architectural shoe exhibition 're-inventing shoes' highlights five exclusive 3D-printed shoes, conceived by a select group of the worlds leading architects and designers: ben van berkel, fernando romero, michael young, ross lovegrove and zaha hadid.
the select group of high heels embody an overall investigation and exploration into the union of wearable design, functionality, production methods, aesthetics and technology and using the highest quality of 3D printing — selective laser sintering — in a hard nylon and all-new soft rubber material in their realization. each shoe presented for 're-inventing shoes' is available as a up to 50 pair limited edition. 're-inventing shoes' is on show at teatro arsenale, via c. correnti 11 within the 5vie art + design quarter during milan design week 2015.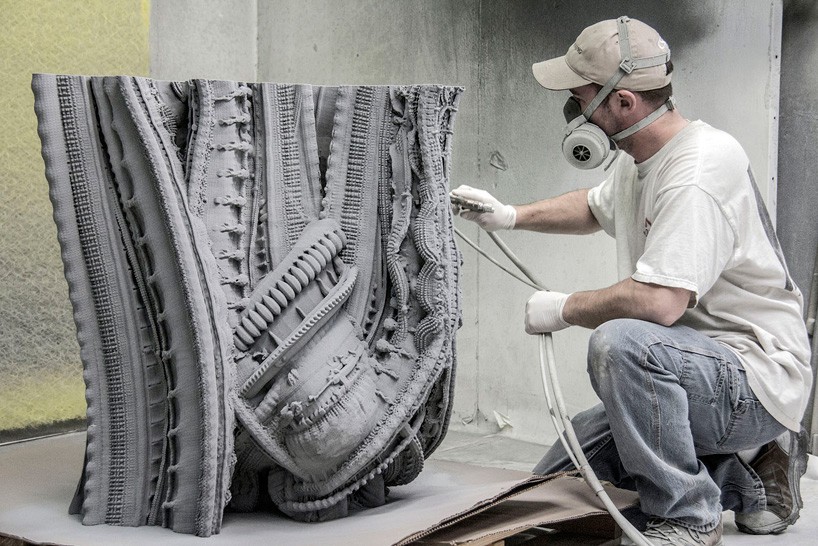 photo by victoria fard
the DX | design exchange in toronto brings forth some of the world's most innovative and challenging 3D printing projects realized across a range of fields — from design to science to architectural construction — in an exhibition entitled '3DXL'. curated by sara nickleson, DX curator and director of collections, '3DXL' elaborates on the history and technical robotics of the now prevalent technology. while still a bit of a mystery for some, the show seeks to break down the components of 3D printing and demonstrate its relevance and importance in the world of design and architecture, as well as in medicine.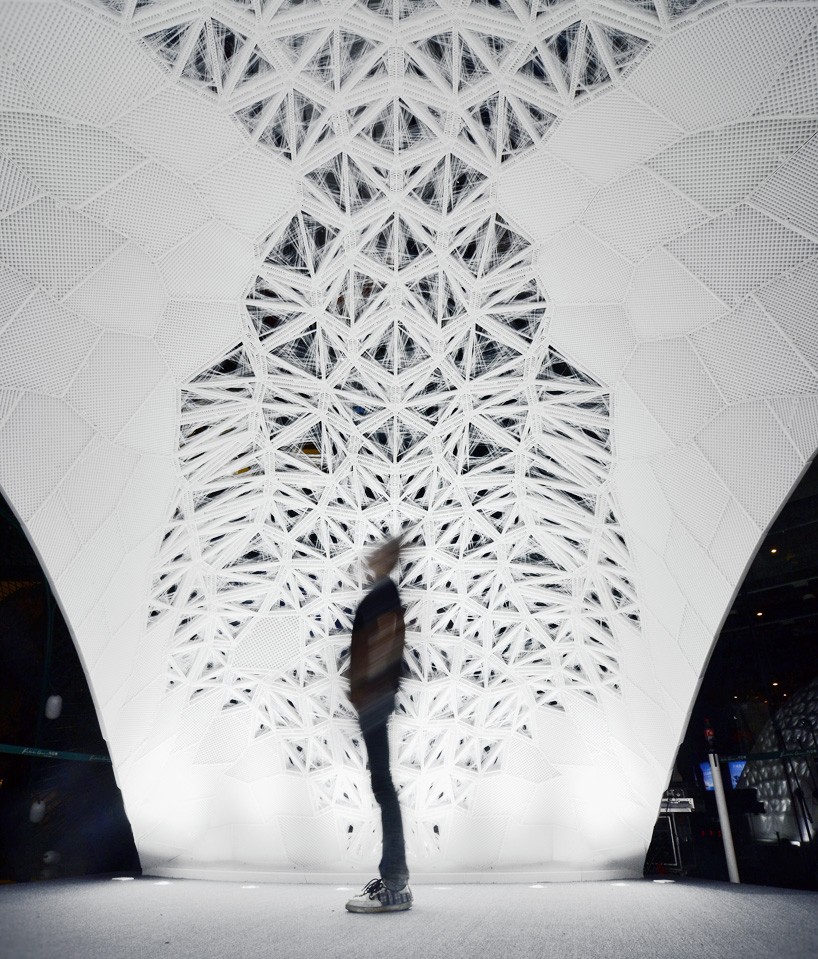 image by laboratory for creative design
beijing design week 2015 makes history with the reveal of VULCAN, the world's largest 3D-printed architectural pavilion. within the central atrium of the high-tech commercial/office complex of parkview green, the guinness world record award winning design spans overhead visitors in an arched configuration. laboratory for creative design (LCD) has developed a radical way of using the technology with the support of novel design techniques and construction methods applied on an architectural scale.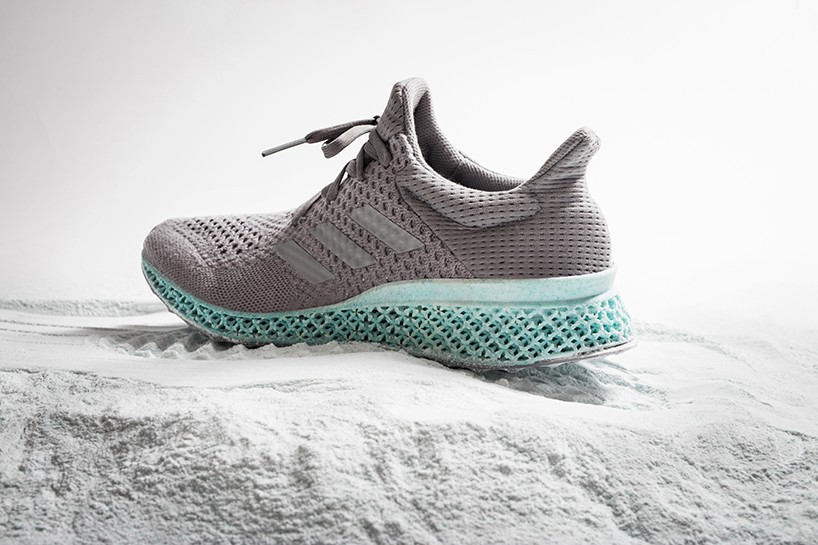 image courtesy of adidas
at the parley talk at COP21, adidas and parley for the oceans demonstrated how the industry can rethink design and help stop ocean plastic population with a innovative footwear concept – a 3D printed ocean plastic shoe midsole.
'world leaders forging an agreement is wonderful, but we shouldn't need to be told to do the right thing,' explains eric liedtke, adidas executive board member responsible for global brands. 'the industry can't afford to wait for directions any longer. together with the network of parley for the oceans, we have started taking action and creating new sustainable materials and innovations for athletes. the 3D-printed ocean plastic shoe midsole stands for how we can set new industry standards if we start questioning the reason of what we create. we want to bring everyone from the industry to the table and create sustainable solutions for big global problems.'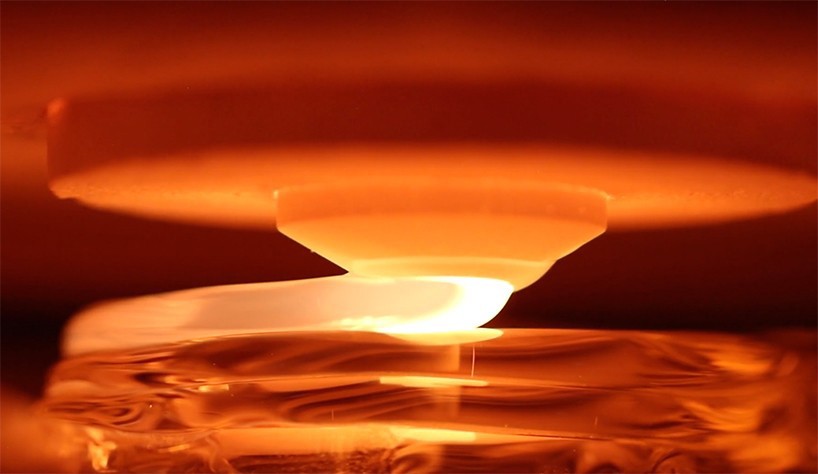 image courtesy of mediate matter group
from core forming processes for bead making in ancient egypt to metal blow pipe glass methods during roman times, mediate matter group at the MIT media lab had to looked back to develop an innovative way to print vases. the process called 'glass 3D printing' (G3DP) is an additive manufacturing platform designed to print optically transparent glass. the geometry and optical change prompted by form, transparency and color alteration can drive notable implications for all things glass.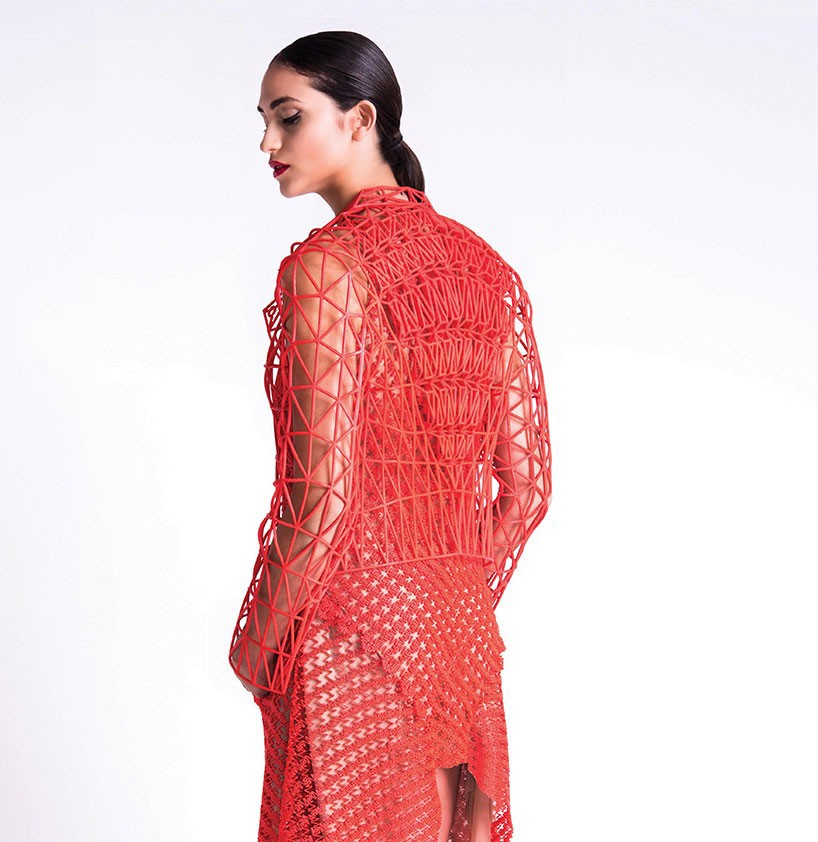 photo courtesy of daria retiner
for her fashion graduate collection at shenkar, danit peleg wanted to do something very different. she skipped the sewing machines and fabrics, and went straight towards 3D printing machines. it was a struggle, because she barely knew anything about the technology, and creating entire dresses from home scale 3D printers hasn't really been done yet. influenced by triangular painting compositions, her first piece was a red jacket. using 3D rendering software called blender, just produced files that danit started experimenting with a variety of materials and printers. alongside the help of 3D printing experts techfactoryplus and XLN, she got her hands a different printers polyactic acid plastics (PLA).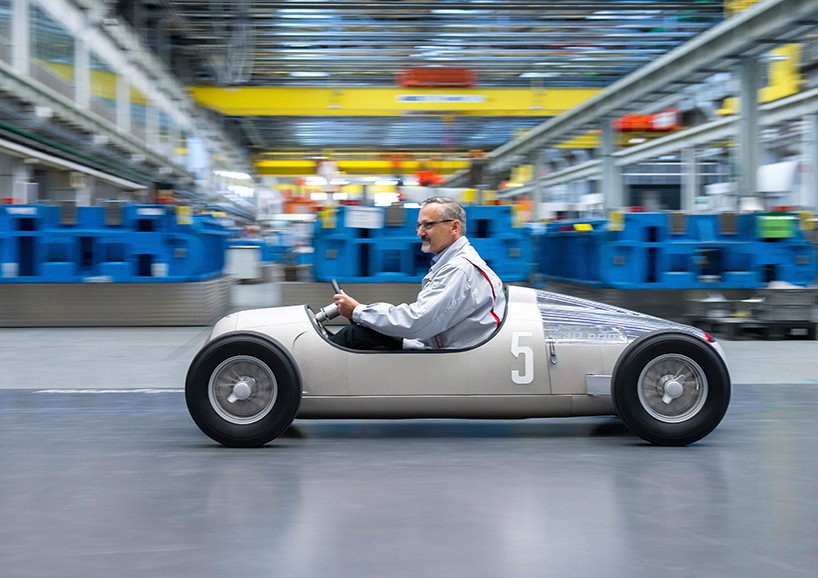 image courtesy of AUDI
to push the limits of their 3D printers, AUDI's toolingmaking branch has produced a model of the historical grand prix sports car 'auto union typ c' from the year 1936. the company is now examining further possible applications of metal printers for the production of complex components.
the focus was the implementation of metallic 3D printing and 3D sand printing methods. the 1:2 scale model of the 'silver arrow' used metal printing to produce all the metallic parts where the process they utilized a selective sintering laser to melt all the layers of powder. it allows the production of components with complex geometries, which with conventional methods could not be produced. within the volkswagen group, there are a totally of 14 toolmaking units in nine countries, which are used to help make more components out of aluminum and steel for a range of different car bodies.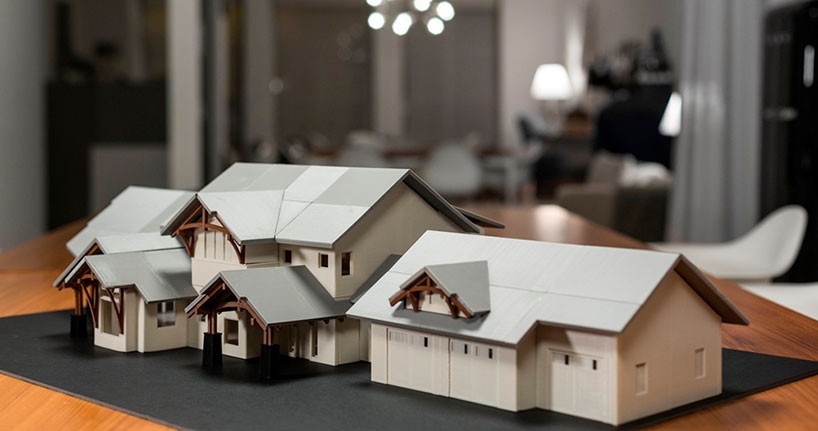 image courtesy of hsbCAD
to fully captivate its audience to their concepts, architects are always in need to visually embody their latest computer-aided drawings into 3D forms. 'hsbLABS', a research and development branch of hsbCAD, refined their software application that now can take those architectural home sketches and form them into 3D printable models, with an added bonus of making them linkable for rapid assembly. the product works seamlessly with 'autodesk architecture', but in 2014 managing director alex vinckier wanted to take an advanced step and evolve it to combine 'autodesk revit' and the 3D printing insurgency.
piotr boruslawski
I designboom
dec 26, 2015
a diverse digital database that acts as a valuable guide in gaining insight and information about a product directly from the manufacturer, and serves as a rich reference point in developing a project or scheme.
designboom will always be there for you
milan, new york, beijing, tokyo

,
since 1999