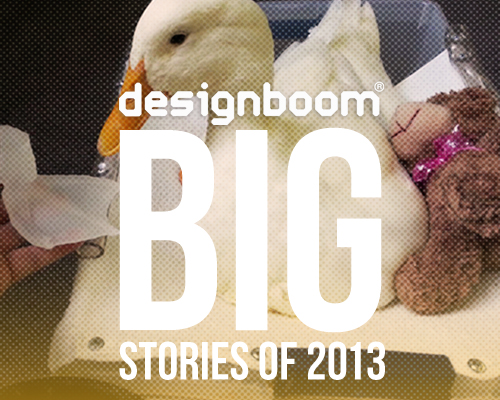 dec 20, 2013
TOP 10 3D printing stories of 2013
TOP 10 3D printing stories of 2013
there's no doubt that 3D printing has been one of the hottest topics in design and manufacturing in 2013. earlier this year, we began to see the rapid evolution of the prototyping technique become a contender as the next catalyst of a new industrial revolution. from growing artificial human organs to human-scale architectural spaces, 3D printing has provided a democratic platform for production and independent creation. to see which projects left a big impression on the public in 2013, see designboom's round up of the most popular stories this year.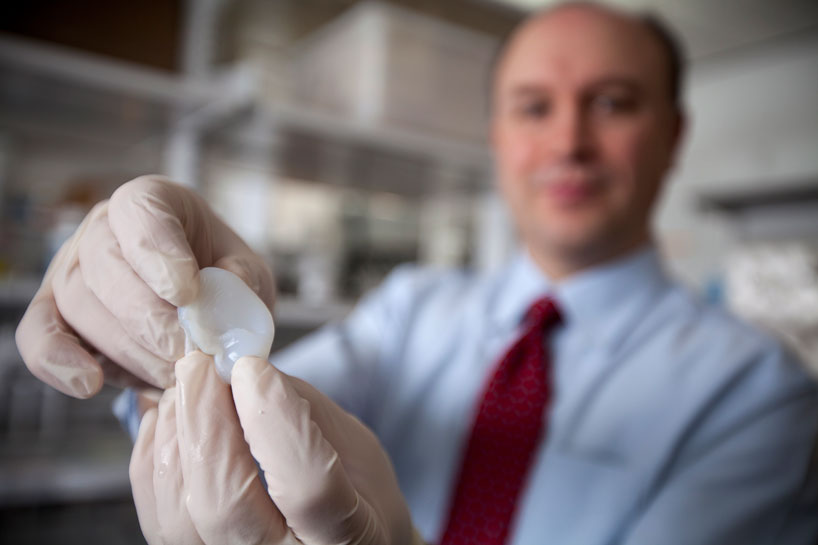 image © lindsay france
in the most recent medical development in artificial organ creation, a team of scientists and physicians from cornell university have engineered 3D printed life-like ears used to treat children born with a congenital deformity called microtia, or help individuals who have lost part or all of their external ear in an accident or from cancer. the artificial body tissue is made by processing additive gels found within living cells – with collagen derived from rat tails and cartilage taken from cow ears.
image courtesy of demetris shammas / achilleas xydis

a fully immersive, human-scale architectural object, created by michael hansmeyer and benjamin dillenburger emerges as the first life-sized construction to be entirely 3D printed out of sandstone. 'digital grotesque' is now a realized space, consisting of two individual halves that form an aggregate volume — the grotto. from the outside, the structure presents itself as a cubical mass, but its interior hides an intricate geometry of millions of design facets. the room's impossible ornamentation and free-form geometries represent a paradigm shift within the field of digital fabrication.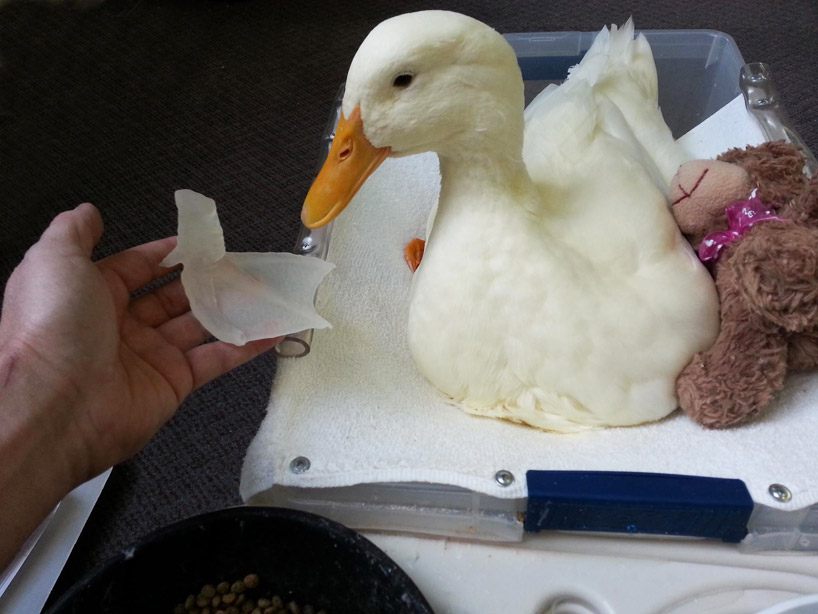 image courtesy facebook

in november 2012, buttercup, a baby duckling hatched in a high school biology lab with a backward left foot. at the time, he probably wouldn't have survived if mike garey, of feathered angels waterfowl sanctuary, didn't reccomend a proper amputation. months after the healing process, engineers at novacopy inc produced a 3D printed prototype for a mold that would be then used to create a prosthetic foot for buttercup.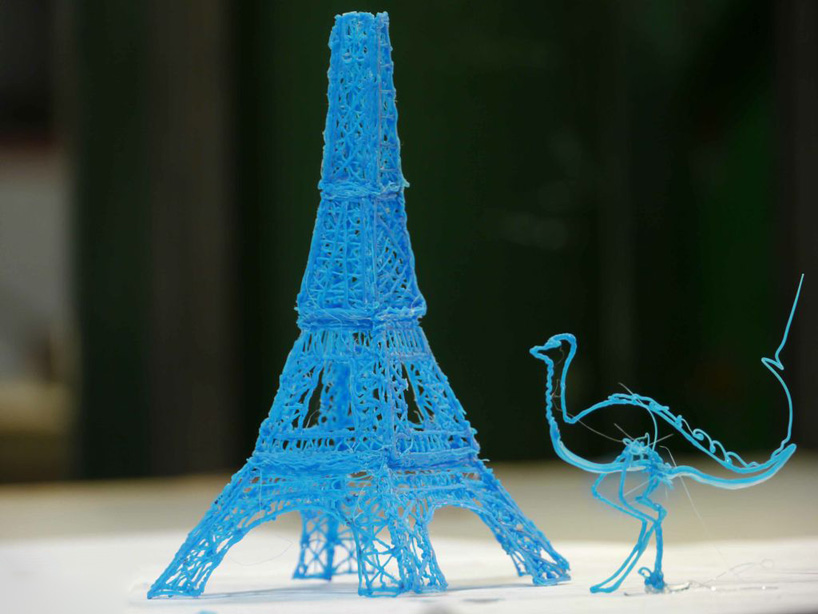 image courtesy wobbleworks
earlier this year, american toy company wobbleworks had developed the '3Doodler' – the world's first 3D printing pen. using ABS plastic, the device creates drawings in the air or on surfaces, requiring no software or computers. it works by extruding heated plastic, which quickly cools and solidifies into a strong stable structure. objects can be created as flat forms and peeled off a piece of paper as freestyle three-dimensional shapes, or in separate parts, ready to be joined together using the pen.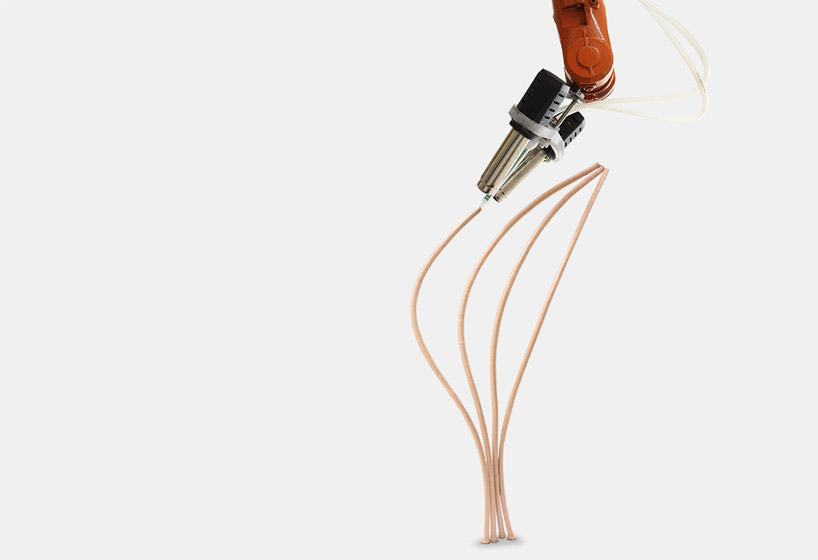 image courtesy mataerial

in a collaborative research effort between petr novikov, saša jokić from the institute for advanced architecture of catalonia and joris laarman studio, 'mataerial', an anti-gravity additive manufacturing process is conceived. the printer allows for creating 3D objects on any given working surface independently of its inclination and smoothness, and without a need of additional support structures. the robotic device utilizes innovative extrusion technologies that neutralize the effect of gravity during the course of the printing process. the approach provides flexibility in creating natural objects by producing three-dimensional curves instead of two-dimensional folds. unlike 2D layers that are ignorant to the structure of the object, the 3D trajectory can follow exact stress lines of a custom shape.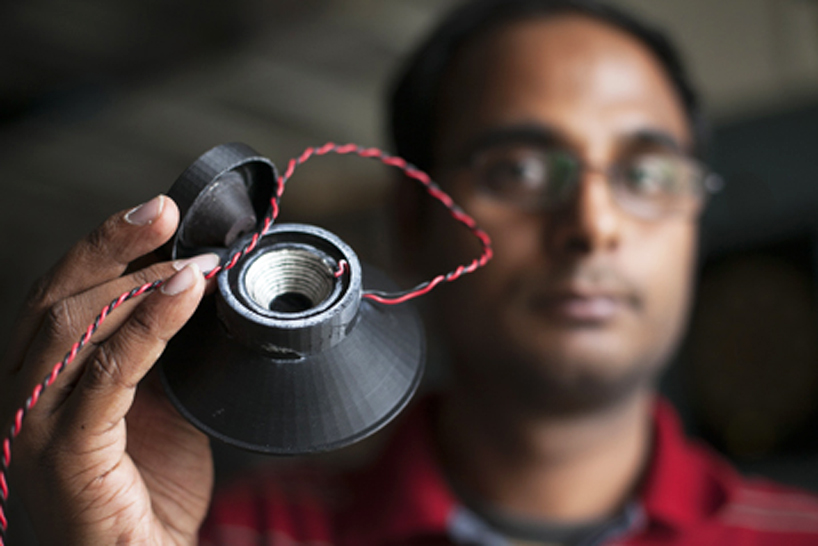 image © jason koski / cornell university

researchers at cornell university have created a fully functioning loudspeaker, seamlessly integrating the plastic, conductive and magnetic parts, using only 3D printers. the piece of audio equipment was developed by apoorva kiran and robert maccurdy, graduate students in mechanical engineering, who are working with hod lipson, an associate professor of mechanical and aerospace engineering.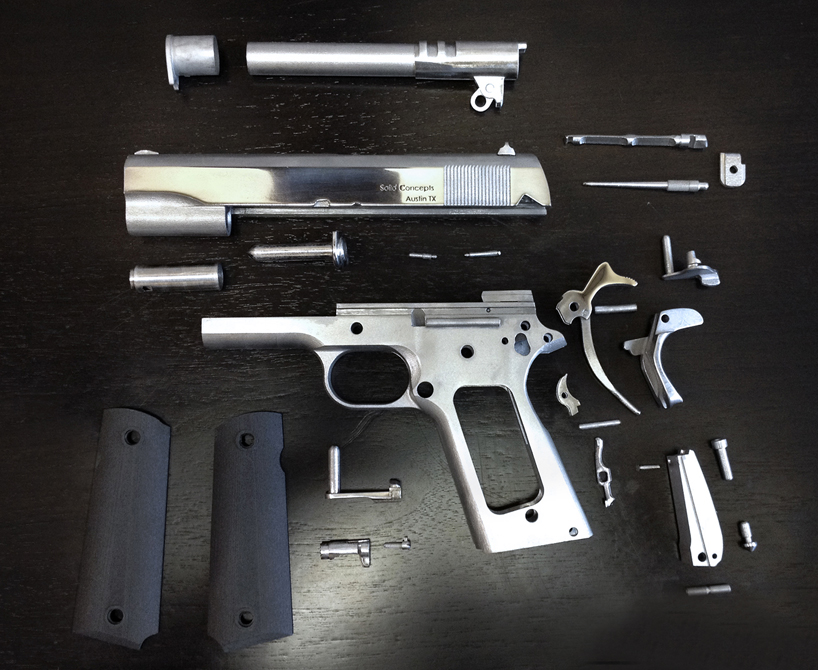 image courtesy solid concepts
3D printing service leader solid concepts has manufactured the world's first 3D printed metal gun using a laser sintering process and powdered metals. the semi-automatic pistol is based off the design of a classic 1911 and has already successfully fired over 50 rounds of bullets without breaking. the fire-weapon is constructed with 33 17-4 stainless steel and inconel 625 components, and features a carbon-fiber filled nylon hand grip.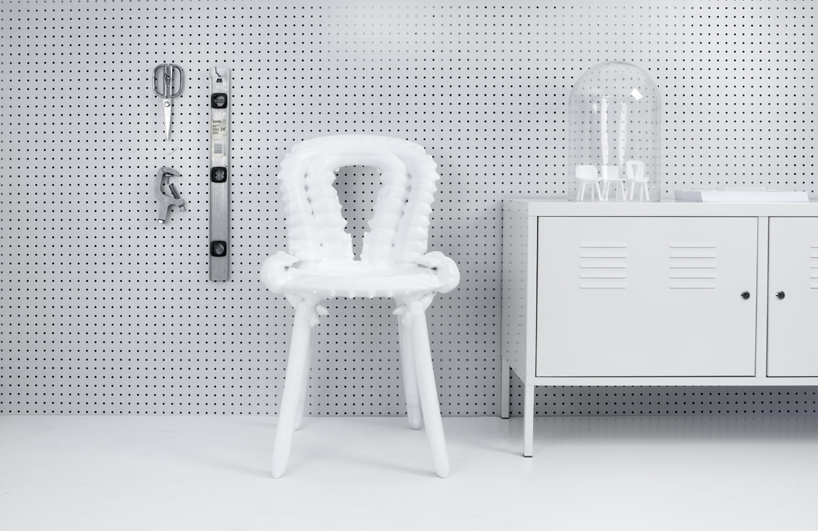 image courtesy formnation
'chairgenics' by formnation
MAD museum, new york city
october 14, 2013 – july 6 2014
in a quest to produce the ultimate chair, designer jan habraken and his team at formnation developed chairgenics as a matter of scientific inquiry: if the chair had DNA, what might its descendants look like; and in a race for survival of the fittest, which combination of elements approaches genetic perfection? could modern technology breed the perfect chair? in setting up parameters for the technical hypothesis, formnation considered the genetic makeup of chairs in terms of ergonomics, durability, construction, costs and aesthetics; assigning a 1-10 value for each piece of furniture. habraken based aesthetic values on internet search popularity on google and yahoo with minimal bias on the design.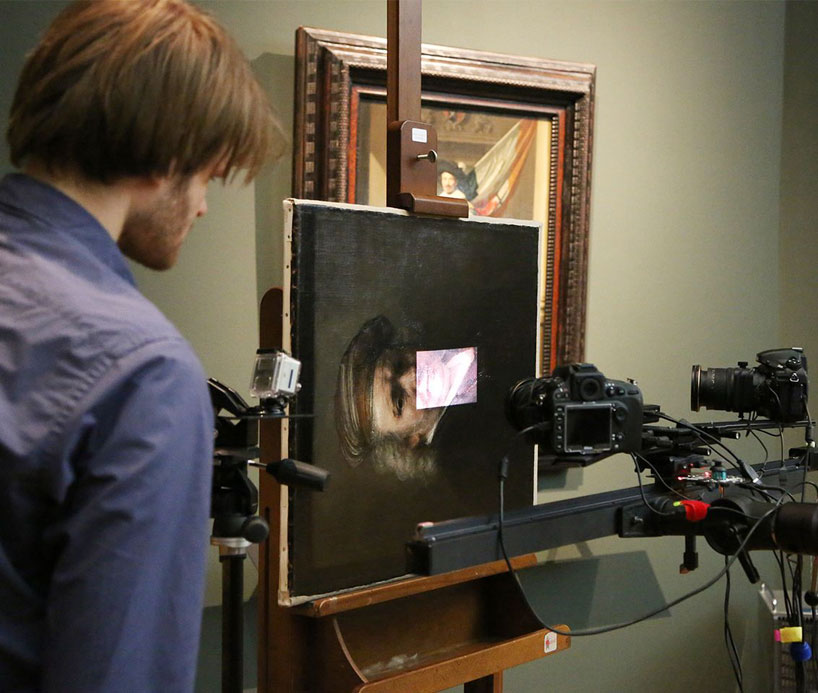 image courtesy of tim zaman
dutch researcher tim zaman designed and built a photographic scanning system which captures high-resolution, three-dimensional images of fine art paintings. through a data-to-print process, canon's océ group, which specializes in large format printing, has translated the scans into identical reproductions of some of the most recognized and renowned master works. the paintings are first imaged as 3-D visualizations through a hybrid scanning system developed by zaman. using two cameras and fringe projection, which allow for unrivaled detail and speed, the process captures 40 million 3D, full color points per shot.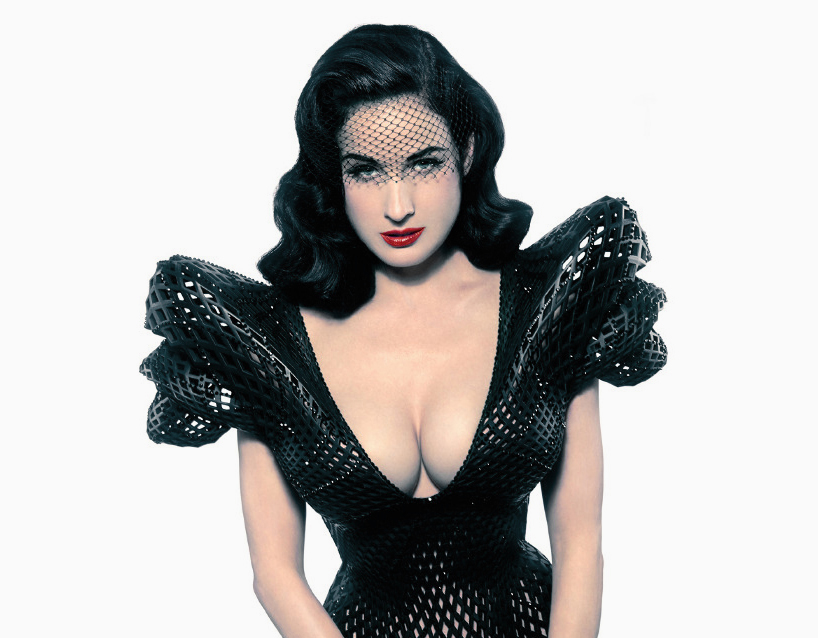 in collaboration with 3D print specialists shapeways, new york designer michael schmidt and architect francis bitonti created the first fully articulated 3D-printed gown tailored specifically for burlesque queen dita von teese. the futuristic black gown was assembled from 17 individual pieces, has nearly 3000 unique articulated joints and is adorned with over 13,000 swarovski crystals. the piece represents the possibility to generate complex, customized fabric-like garments designed to meet the needs of a particular person.
see designboom's other big stories of 2013 here.
jul 29, 2020
jul 29, 2020
jul 27, 2020
jul 27, 2020
jul 27, 2020
jul 27, 2020
jul 15, 2020
jul 15, 2020
jul 07, 2020
jul 07, 2020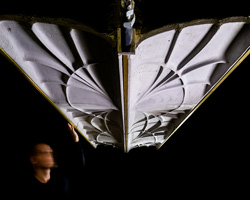 jun 28, 2020
jun 28, 2020
dec 31, 2013
dec 31, 2013
dec 31, 2013
dec 31, 2013
dec 31, 2013
dec 31, 2013
a diverse digital database that acts as a valuable guide in gaining insight and information about a product directly from the manufacturer, and serves as a rich reference point in developing a project or scheme.