dec 03, 2014
TOP 10 3D printing stories of 2014
TOP 10 3D printing stories of 2014
over the past year, 3D printing projects and experiments have continued to develop and expand manufacturing capabilities. ranging from self-initiated experiments displayed at global and local events such as the maker faire, the past 12 months have seen the continuation of independent companies and start-ups exploring new production extents, and the introduction of worldwide-industry brands researching modern possibilities. continuing our annual review of the year's BIG stories, we round up the numerous 3D printing projects that caught our eye in 2014.
NASA and made in space successfully 3D print on the international space station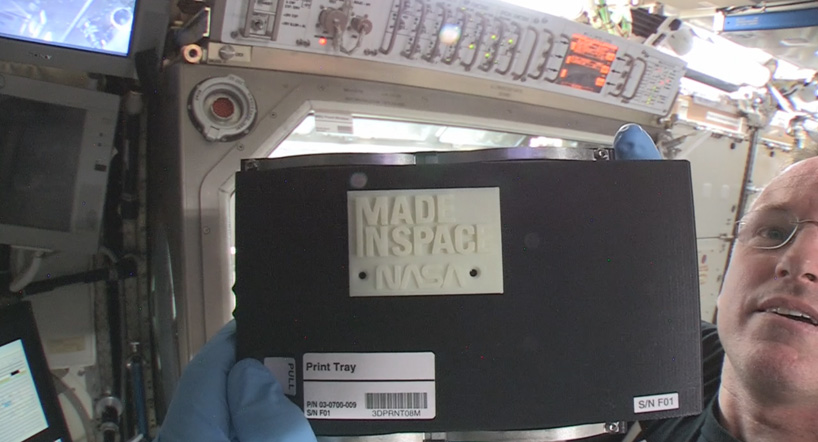 image courtesy of made in space
on-board the international space station (ISS) on november 24th, NASA and made in space created history by successfully 3D printing the first object in space. the hardware, a functional faceplate for the machine's own extruder printhead has been additively manufactured in space, instead of being launched in a rocket from earth. developed in partnership with NASA's marshall space flight center and ames research center, the project takes a step towards commercially and sustainably fabricating objects off of our planet.
full-size and functional 'strati' car by local motors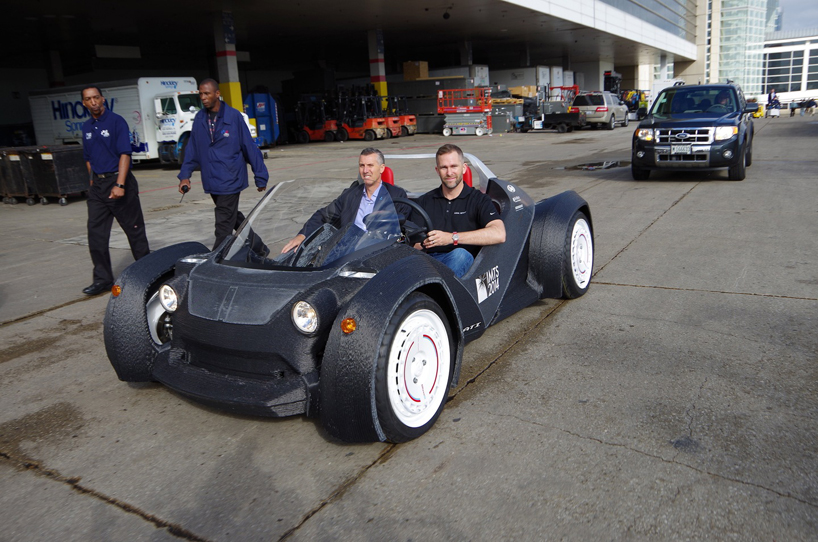 image courtesy of local motors
using direct digital manufacturing (DDM), local motors fabricated and exhibited the world's first 3D printed car, 'the strati', at the international manufacturing technology show (ITMS) in chicago from september 8th to 13th. compiling of 44 hours of printing and two days of assembly, the full-scale and fully functional vehicle is an investigation for the usage capabilities of a hybrid additive/subtractive machine developed at oak ridge national laboratory.
oliver van herpt develops ceramic 3D printing technique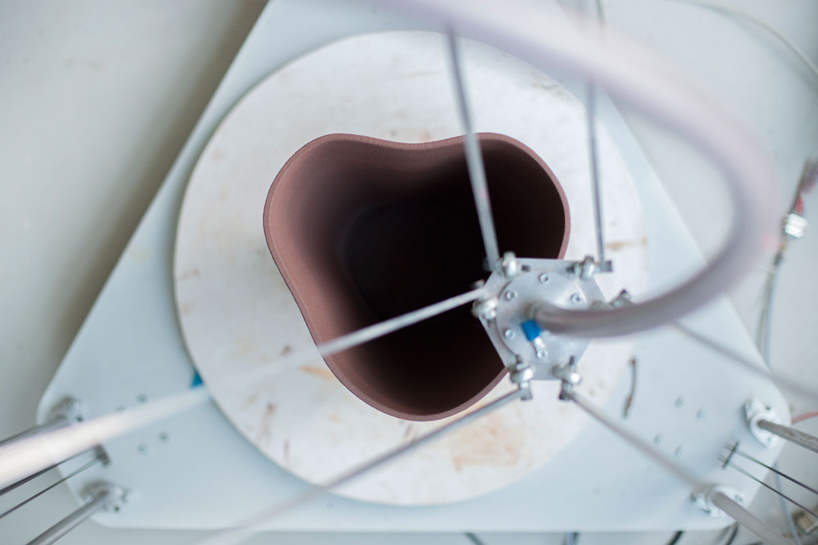 image © olivier van herpt
eindhoven-based artist olivier van herpt developed a new technique for 3D printing ceramics in medium and large scale, as a solution to current rapid prototyping not producing objects at human scale. during his research and experimentation process, he modified and configured an extruding machine able to manufacture objects up to 80 cm in height and with a diameter of 42 cm. by altering the settings of the bespoke 3D printer, van herpt created a series of different clay pieces such as the 3D woven collection and sediment collection, which comprises thin layers of ceramics.
3D photographs for people without vision by pirate 3D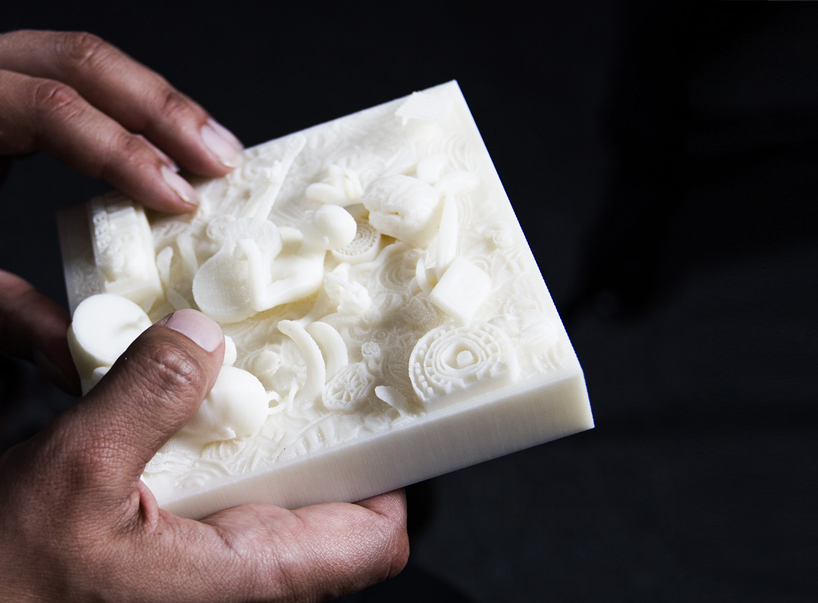 image courtesy of pirate3D
'touchable memories' by pirate3D, turns photographs into 3D-printed objects for people without vision. the social experiment project aims to increase the awareness of the endless possibilities of using technology to improve lives. using an affordable home printer called buccaneer, the visually-impaired can re-experience images by fabricating a tangible scene of it.
A23D letterpress created by chalk studios, new north press and A2-type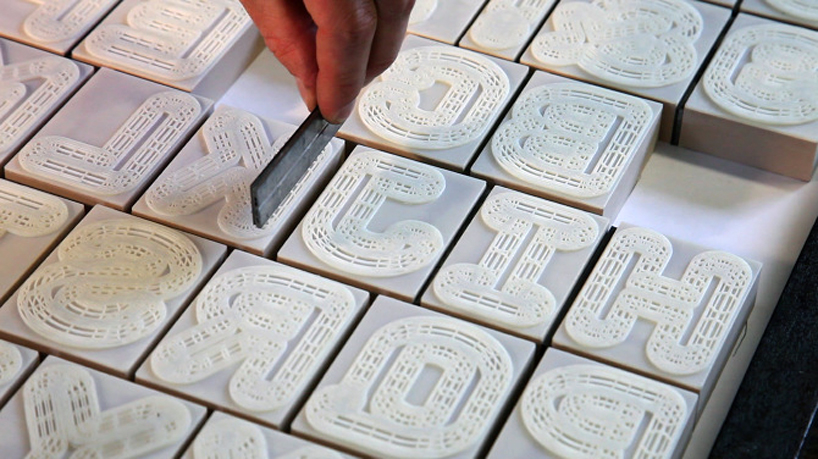 image courtesy of new north press and chalk studios
collaboratively created by new north press, A2-type and chalk studios, the 'A23D' is a 3D-printed letterpress font that was exhibited at the V & A museum as part of london design festival's graphic weekend 2014. the composition connects the newest and oldest forms of press-work by being fabricated using 3D-print technology and pressed in a traditional print studio. the form references the project's manufacturing system's nature with a wireframe mold construction.
andrey rudenko prints concrete castle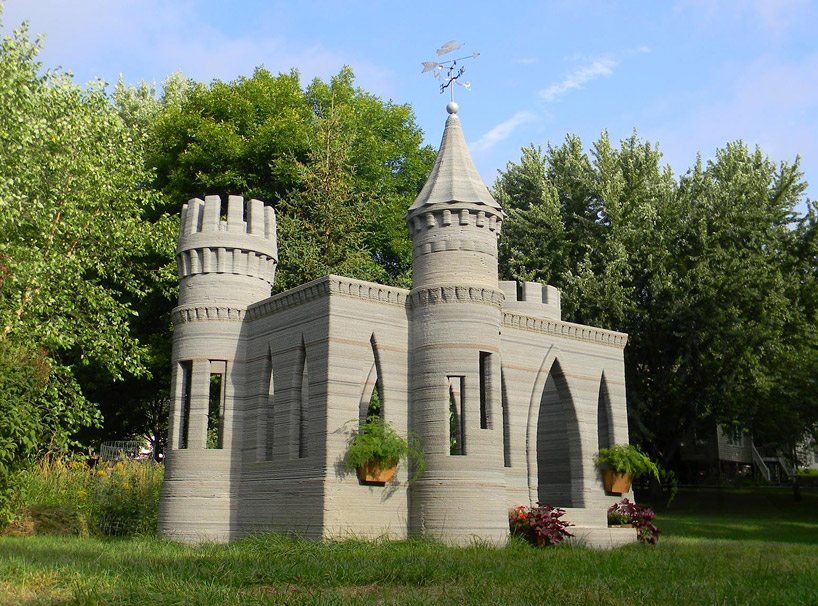 image courtesy of andrey rudenko
following two years of research and development into the capabilities of technology on an architectural scale, minnesota-based engineer andrey rudenko has completed a 3D printed concrete castle, life-sized and capable of habitation. the walls of the small fortress, as well as three tops of the towers, have been fabricated separately and finally assembled and amassed into the single, free-standing structure.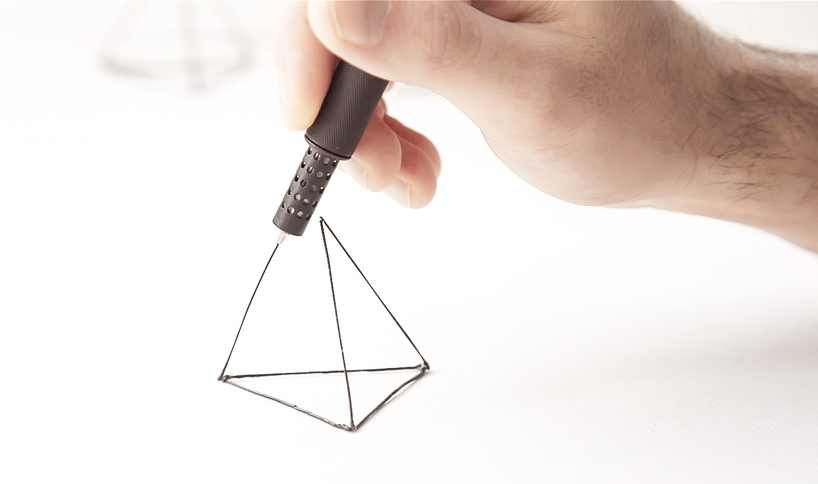 image courtesy of LIX
london-based LIX has created the smallest 3D printing pen in the world, a device that enables users to doodle in the air. milled from aluminum and measuring 164mm x 14mm, it allows users to make objects in just a few seconds, including calligraphy, accessories and one-off prototypes. functioning similarly to 3D printers, the USB port charging LIX pen quickly melts and cools colored plastic, which enables the pen to create rigid and freestanding structures on demand.
adobe 3D printing support for photoshop CC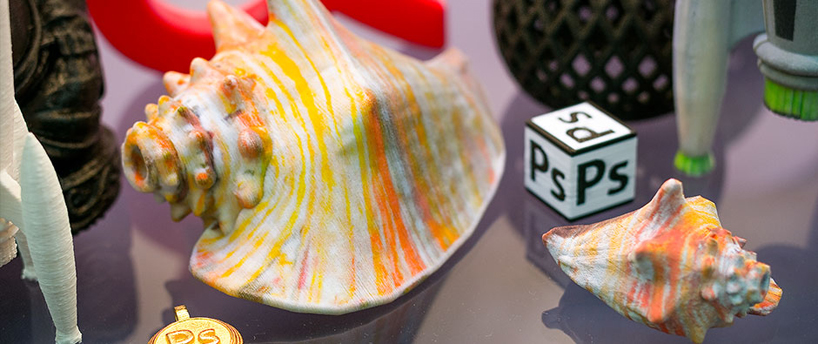 image courtesy of adobe
adobe announced that they will deliver support for 3D printing in photoshop CC for creative cloud in order to enable an accurate and simplified production process. in addition to new features such as perspective warp for manipulating multiple perspectives in an image and linked smart objects for easier reuse of elements, the 3D modeling extension will allow users to create, refine, and preview their designs before sending them directly to a locally connected 3D printer or other online service such as shapeways.
rebento duffel sports bag by NIKE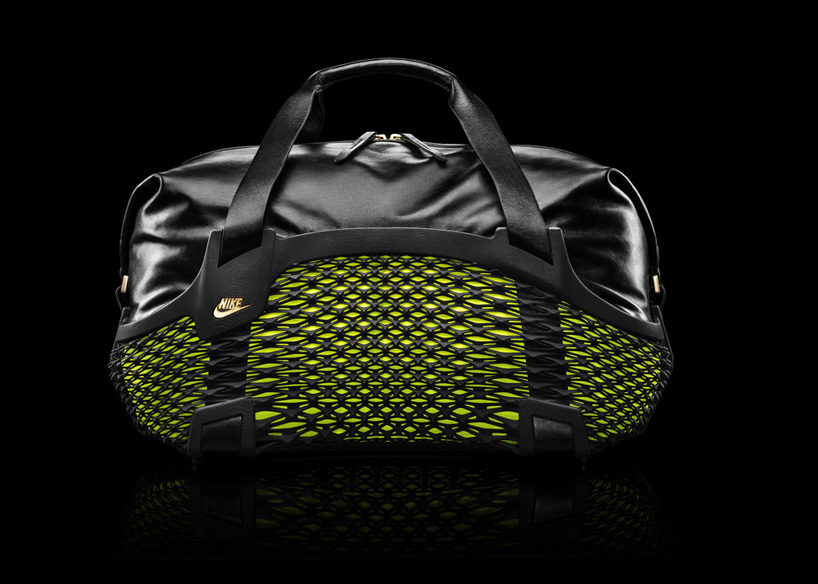 image courtesy NIKE football
for brazil's 2014 FIFA world cup, NIKE football launched the rebento duffel, the first 3D printed performance sports bag. the carry-piece takes styling cues from the sport'company's flyknit pattern of the magista and mercurial, where a laser-sintered nylon creates an intertwined weave. seamlessly fitting into the 3D printed base without the use of glue or adhesive, the premium leather upper and strap construction also gives the body a lightweight, yet durable structure that allows for flex.
artist diemut strebe uses DNA to print van gogh's ear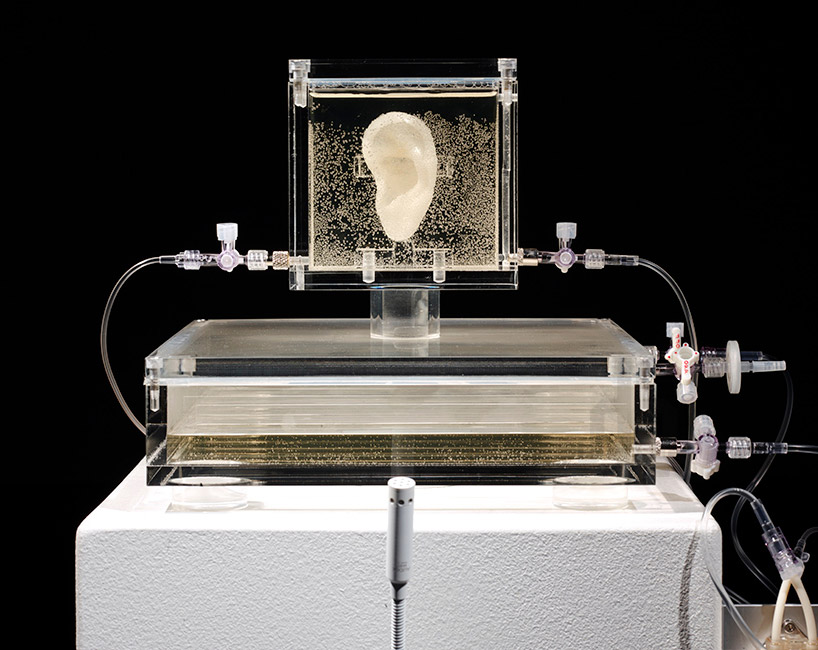 image courtesy of diemut strebe
artist diemut strebe and a team of scientists have grown a living replica of vincent van gogh's ear named 'sugababe', out of tissue-engineered cartilage sourced from the famed dutch artist's relative. using a 3D-printer and computer imaging technology, the cells were molded to be identical in shape to van gogh's ear, which he self-severed during a psychotic episode in 1888. the ear — which is being kept alive inside a case of nutrient solution — was exhibited at ZKM karlsruhe, germany, and could be spoken to by visitors through a microphone system, but never heard in order to outline absence instead of presence.
see designboom's other big stories of 2014 here.
jul 29, 2020
jul 29, 2020
jul 27, 2020
jul 27, 2020
jul 27, 2020
jul 27, 2020
jul 15, 2020
jul 15, 2020
jul 07, 2020
jul 07, 2020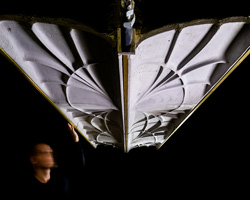 jun 28, 2020
jun 28, 2020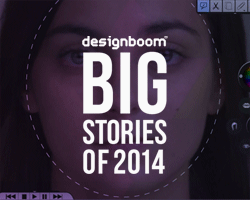 dec 31, 2014
dec 31, 2014
dec 30, 2014
dec 30, 2014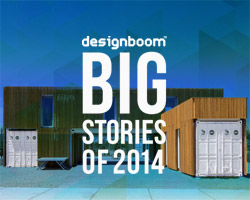 dec 29, 2014
dec 29, 2014
a diverse digital database that acts as a valuable guide in gaining insight and information about a product directly from the manufacturer, and serves as a rich reference point in developing a project or scheme.