see designboom's TOP 10 stories archive:



TOP 10 3D printing stories of 2016
over the past year, 3D printing projects and experiments have continued to develop and expand manufacturing capabilities. 2016 has seen the continuation of independent companies and start-ups exploring new production extents, with worldwide industry brands researching modern possibilities. continuing our annual review of the year's BIG stories, we round up the numerous 3D printing projects that caught our eye in 2016.
DESIGN MIAMI/ 2016 WELCOMING PAVILION BY SHOP ARCHITECTS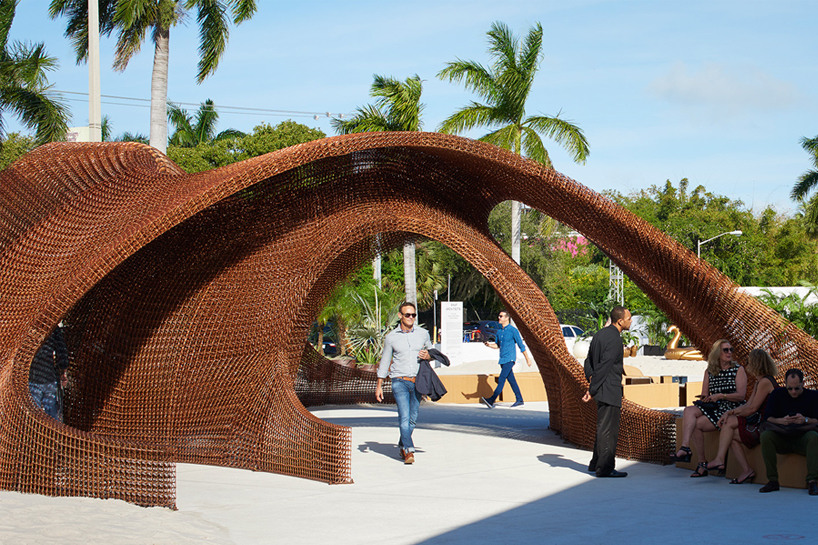 (above and main) image by james harris
SHoP architects realized a monumental 3D printed installation and public plaza at the entrance to this year's design miami/ fair. the firm has been announced as the recipient of the 2016 panerai design miami/ visionary award, which celebrates SHoP's evocative architecture, philanthropic initiatives, and sustainable development. the installation, titled 'flotsam & jetsam', blends miami's playful spirit with its emergence as a capital of creative innovation.
read more about the project on designboom here.
ARC BICYCLE BY TU DELFT STUDENTS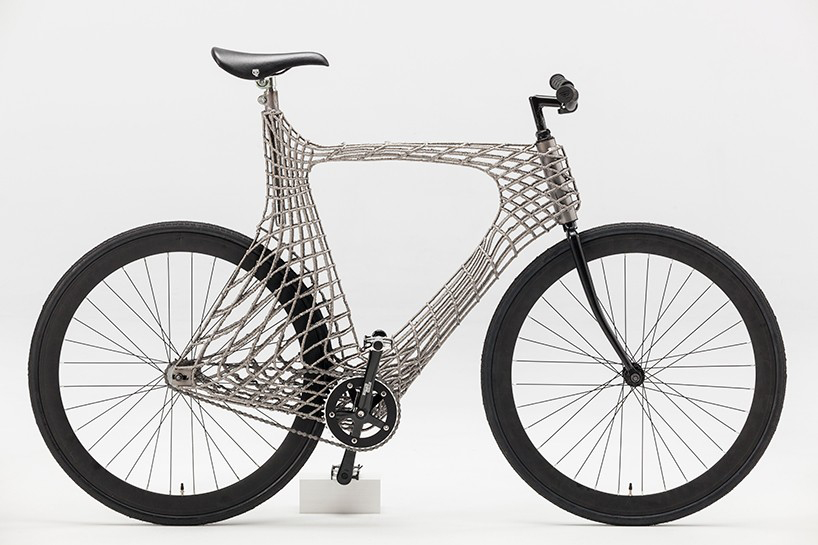 image courtesy of TU delft university
a team of students from TU delft designed and produced a fully functional 'arc' bicycle 3D-printed in stainless steel. the designed frame demonstrates the potential of a new method for 3D printing metal.
'3D printing has exploded in popularity in the last decade but for those wanting to print medium to large scale objects, there are still significant limitations in the technology,' explains team member harry anderson – industrial design student at RMIT university, melbourne. 'this method of 3D printing makes it possible to produce medium to large scale metal objects with almost total form freedom.'
read more about the project on designboom here.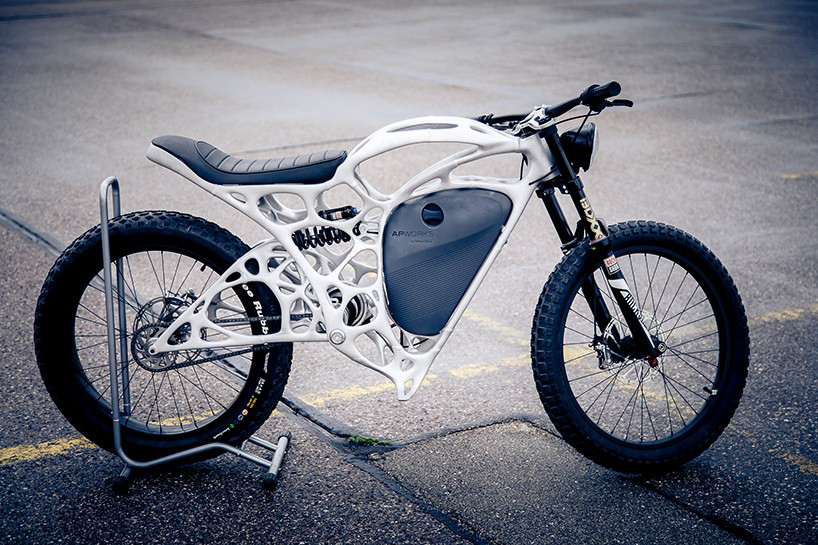 image courtesy of ap works
ap works — a subsidiary of airplane manufacturer airbus — exhibited this year the wide applicability of 3D manufacturing with a ridable electric motorcycle that weighs just 35 kilograms. equipped with a six-kilowatt motor, the bike accelerates in a few seconds to 80 km/h. it was originally produced from billions of particles of special aluminum alloy, which were welded by laser sintering. the main frame was based on theoretical algorithms to create the best structure to accommodate the loads occurring during riding. the result is an organic layout similar to an exoskeleton found in nature.
read more about the project on designboom here.
ALL-ELECTRIC MINI VAN BY HONDA AND KABUKU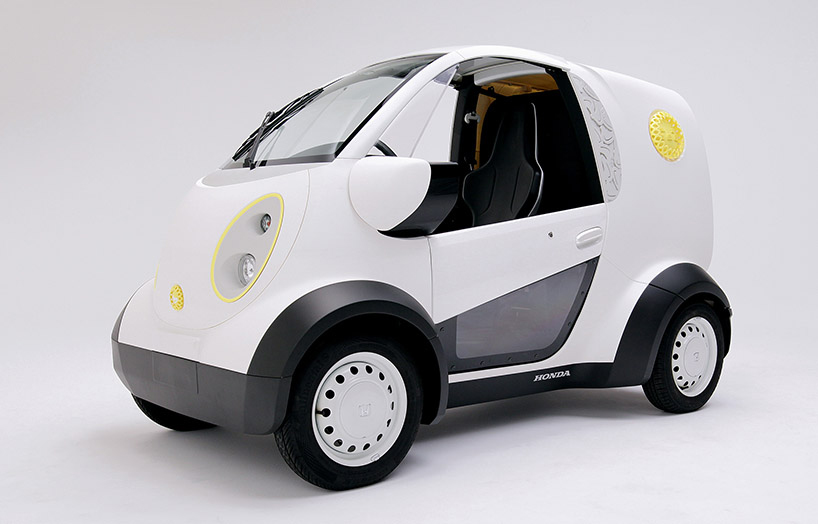 image © honda
honda and kabuku inc. collaborated to unveil one of the largest products produced in japan using 3D printing technology based on the idea of a variable design platform. the result is a minivan that features the japanese-automaker's micro EV technology, used on its ultra-compact electric vehicle called the 'hato sablé' delivery van. hato sablé is japanese dove-shaped shortbread and it is the prime cargo of this 3D-printed tiny EV. the car itself was jointly developed by honda and kabuku inc, based on a variable design platform and unveiled at this year's CEATEC japan show. the chassis itself was built using a lightweight pipe-frame structure, but the body panels and luggage space were all produced using a 3D printer. manufacturing things like this isn't new, of course.
read more about the project on designboom here.
ALUMINUM GRADIENT CHAIR BY JORIS LAARMAN LAB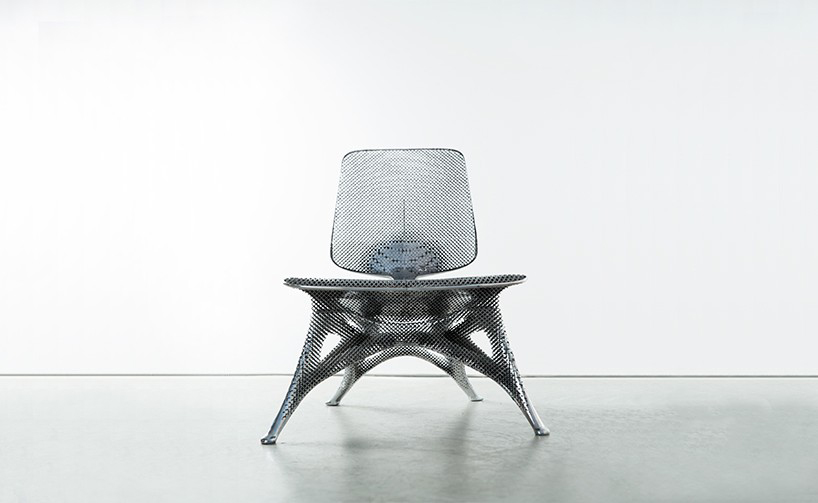 image courtesy of friedman benda gallery
3D printing has been around for quite a while but is rapidly developing due to less expensive printers, increasing building volumes and many new printable durable materials, developing into a production tool for actual products rather than prototypes. joris laarman lab introduced at the beginning of this year, a piece of furniture as an example of the manufacturing potential through a 3D printed an 'aluminum gradient chair'. first displayed at friedman benda gallery in new york city as part of the studio's 'bits and crafts' exhibition, the chair was one of three in a series researching microstructures for furniture.
read more about the project on designboom here.
WORLD'S FIRST FREEFORM 3D PRINTED HOUSE BY WATG

image by daniel caven, WATG chicago urban architecture studio
architecture firm WATG won first prize in a competition to conceive the world's first freeform 3D printed house. the challenge invited architects, designers, engineers, and artists from around the world to participate in an investigation of how 3D printing technologies can improve the built environment. commissioned by branch technology, the brief called for a 600-800 square-foot single-family home that reconsiders traditional architectural aesthetics, ergonomics, construction, and building systems.
read more about the project on designboom here.
FULLY FUNCTIONAL 35MM FILM CAMERA BY AMOS DUDLEY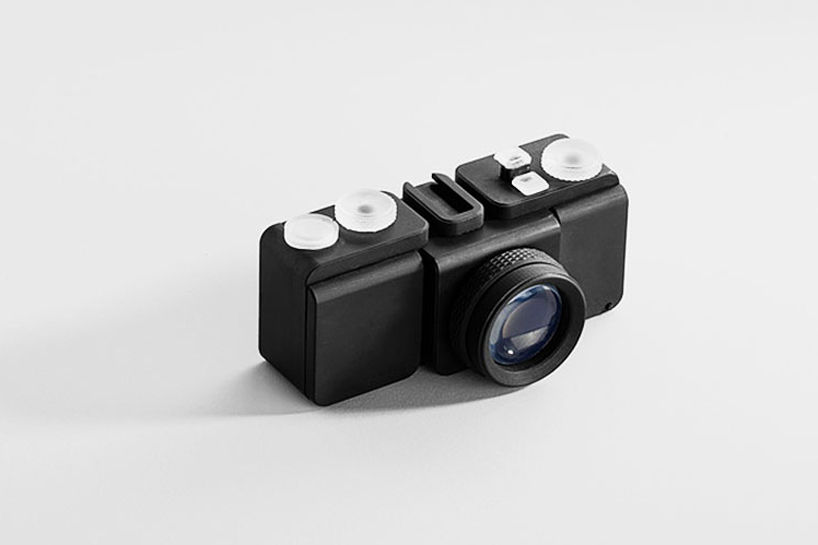 image courtesy of amos dudley
some people take photos to record moments for the future, others take photos to enlarge the present. designer amos dudley has always assumed a camera should be impartial–sharp and bright, lacking consideration or mystery, randomness or error. lately, we're asked to apply a filter and to add a gloss of emotion after the fact. analog photography takes the sense of a moment and turns it into a tangible image. 3D printing turns the content of our thoughts into real shape and form. the designer wanted to know if there's a more authentic photograph to be found at the intersection of design and photography, so he made a fully functional 35mm camera with only a 3D printer.
read more about the project on designboom here.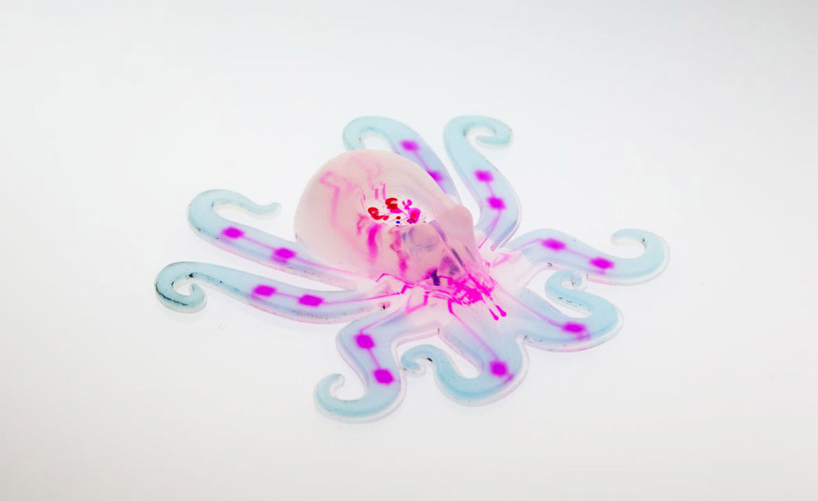 image courtesy of harvard university
a team of harvard university researchers with expertise in 3D printing, mechanical engineering, and microfluidics demonstrated the first autonomous, untethered, entirely soft robot. this small, 3D printed robot — nicknamed the 'octobot' — could pave the way for a new generation of such machines. soft robotics could help revolutionize how humans interact with machines. but researchers have struggled to build entirely compliant robots. electric power and control systems — such as batteries and circuit boards — are rigid, and until now soft-bodied robots have been either tethered to an off-board system or rigged with hard components.
read more about the project on designboom here.
KINEMATIC PETALS DRESS BY NERVOUS SYSTEM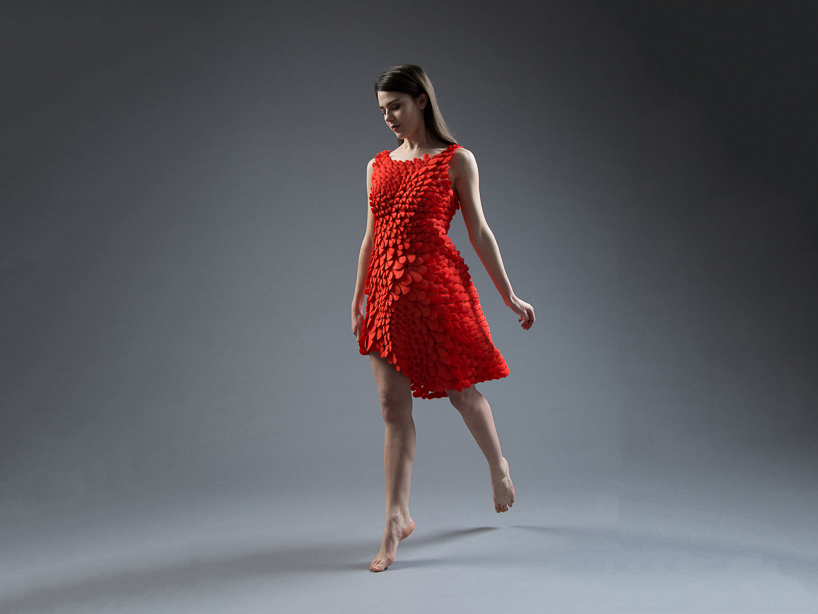 images courtesy of nervous system
the museum of fine arts, boston (MFA) commissioned nervous system to create a new dress for the exhibition #techstyle, which ran from march 6 through july 10, 2016. the show explored the synergy between fashion and technology and how it is not only changing the way designers create but also the way people interact with their clothing. referencing petals, feathers, and scales, nervous system developed a new textile language for their kinematics system, where the interconnected elements are articulated as imbricating shells. like their previous garments, this dress can be customized to the wearer's body through a 3D scan, and additionally, each element is now individually customizable: varying in direction, length, and shape.
read more about the project on designboom here.
LIVING REPLACEMENT TISSUE BY MEDICAL SCIENTISTS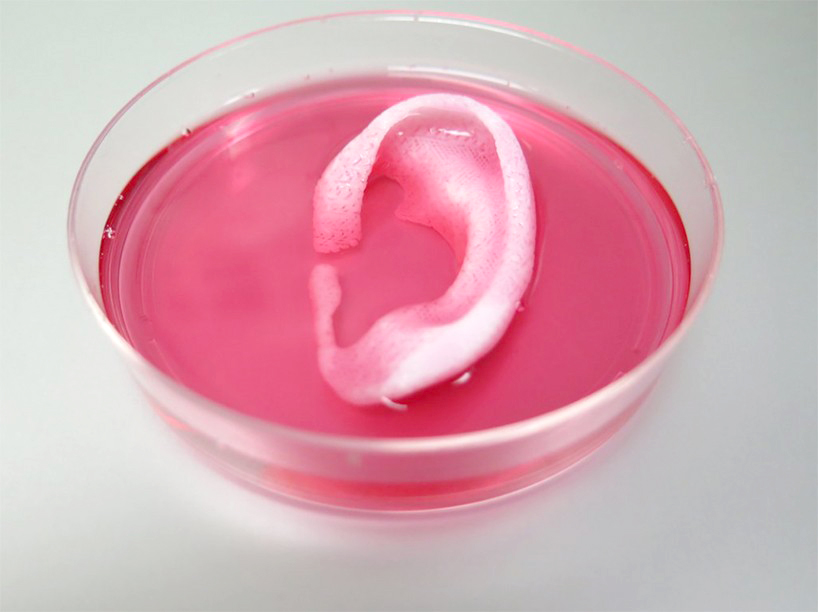 image courtesy of wake forest baptist medical center
using a sophisticated, custom designed 3D printer, regenerative medicine scientists at wake forest baptist medical center in wintson-salem, north carolina, have proved that it is feasible to print living tissue structures to replace injured or diseased tissue in patients. the research began in 2006, with basic material printing tests. the scientists said they printed ear, bone and muscle structures. when implanted, the structures matured into functional tissue and developed a system of blood vessels. most importantly, these early results indicated that the structures have the right size, strength and function for use in humans.
read more about the project on designboom here.
juliana neira
I designboom
dec 09, 2016
a diverse digital database that acts as a valuable guide in gaining insight and information about a product directly from the manufacturer, and serves as a rich reference point in developing a project or scheme.
designboom will always be there for you
milan, new york, beijing, tokyo

,
since 1999