innovations with 3D-printing never seem to slow down. 2017 saw the process being frequently integrated in a wide variety of fields, from manufacturing to medicine and from furniture to footwear design. this trend continued to grow in 2018 with many progressive and diverse projects featuring on designboom and fascinating our readers in turn. even with whimsical accessories, 3D-printing stories all inspire further experimentation that often creates change for the better and, in the instance of space exploration, enables world firsts.
continuing round ups of 2018, we look back at the TOP 10 3D printing stories that grabbed our and, most importantly, designboom readers' attention over the past 12 months.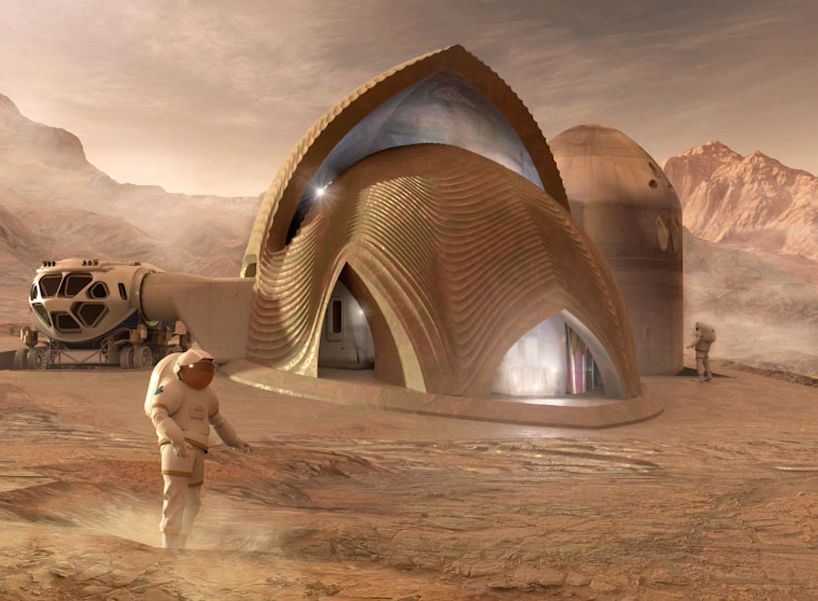 image courtesy of NASA
NASA has selected the five winning designs in the latest stage of its 3D-printed habitat competition, including a pod inspired by the anatomy of a spider and a vertical egg-like container. teams were challenged to come up with a solution that tackled the issues of transporting materials to mars, considering differences in atmosphere and landscape. the shelter had to include a thousand square feet of space, enough to accommodate four astronauts on a mission to the red planet, as well as a room to store the necessary machinery.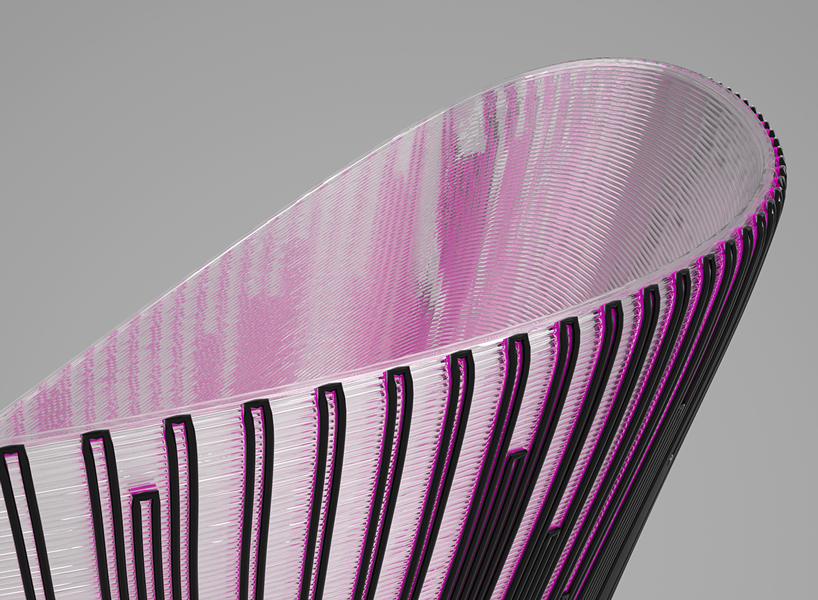 image courtesy of nagami
at milan design week 2018, four avant-garde chairs — pioneered by the new, spanish company, nagami — were revealed. as the first four products ever presented by the brand, they partnered with design veterans to bring the imaginative chairs to life. these include zaha hadid architects' bow and 'rise' chairs, ross lovegrove's 'robotica TM', and daniel widrig's undulating, black 'peeler' design.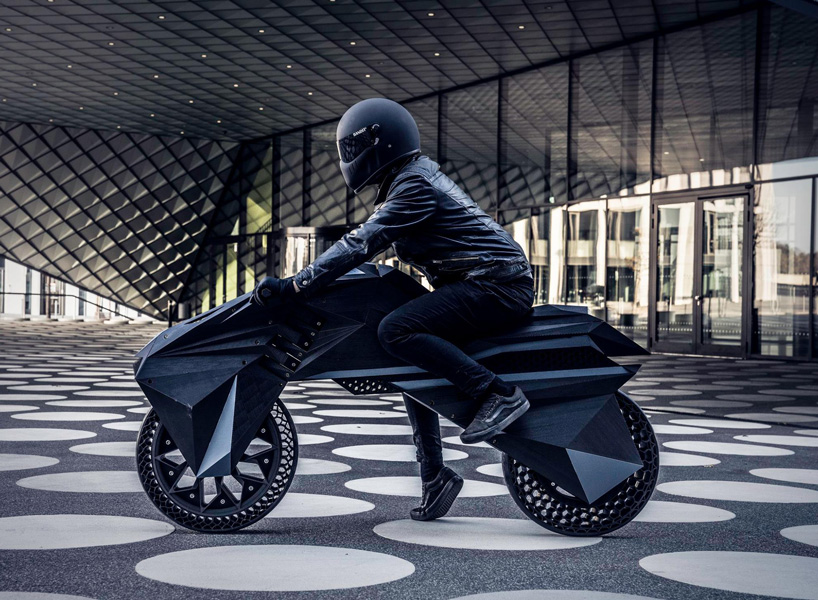 image courtesy of NOWlab / BigRep GmbH
so special it was also included in our TOP 10 motorcycles of 2018, BigRep has revealed the world's first 3D-printed electric motorcycle with ground-breaking additions like airless tires, embedded electronics, and forkless steering. developed by marco mattia cristofori and maximilian sedlak of the manufacturer's innovation lab and consultancy NOWlab, 'nera' features fully 3D-printed parts such as tires, rims, frame, fork, and seat, excluding only electrical components.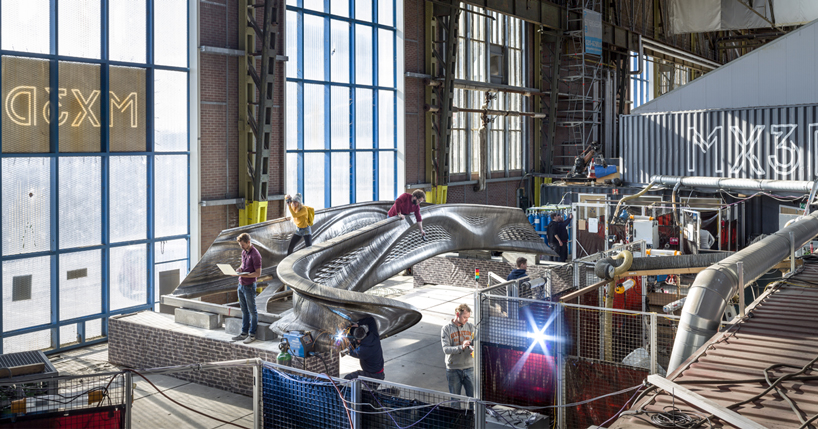 image © thijs wolzak
first announced in june 2015, MX3D's ambitious, fully functional, 3D printed metal bridge is ready for installation in amsterdam following its show at the dutch design week 2018. designed by joris laarman lab, the stainless steel construction hints at its vast size, as well as complex, strong and graceful geometries. the bridge, which is scheduled to be installed in early 2019 will span across oudezijds achterburgwal, one of the oldest and most famous canals of amsterdam, netherlands.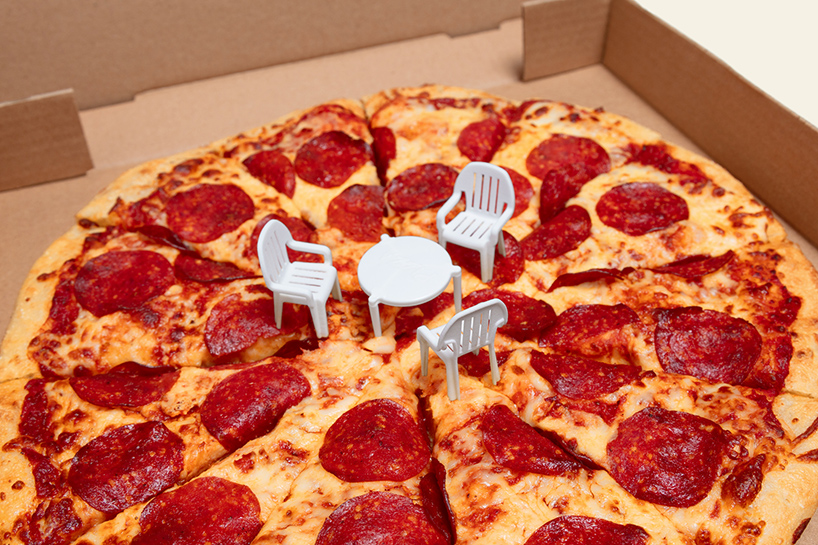 image courtesy of john st.
for a very limited time in july 2018, pizza purchasers in parts of canada opened boxes of steaming hot pies to find the classic plastic pizza 'tables' paired with miniature patio chairs. the tiny seats are precisely scaled-down reproductions of actual outdoor furniture sets, and have been 3D-printed using food safe materials. the initiative is the second time canadian pizza restaurant boston pizza and advertising agency john st. collaborated on a comical pizza campaign — previously they created a box that turned into a tray to let you enjoy your food in bed.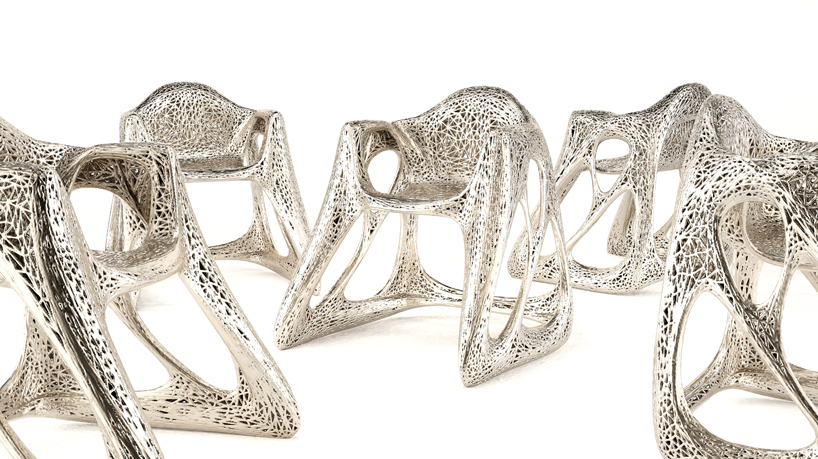 image courtesy of john briscella
using 3D printed metal, john briscella has reimagined the epitomes of the modern design era into an investigative evaluation of emerging production techniques, 'continuum3'. the collection highlights classic forms and dimensions of modern furniture — however, like the mathematic models present in continuum theories — a gradual transition from one condition to another must take place. in this instance, the works of eames, saarinen and more are mathematical constants; in silhouette, their changes are subtle. but at their hearts, they are entirely different, at john briscella's innovative use of materials.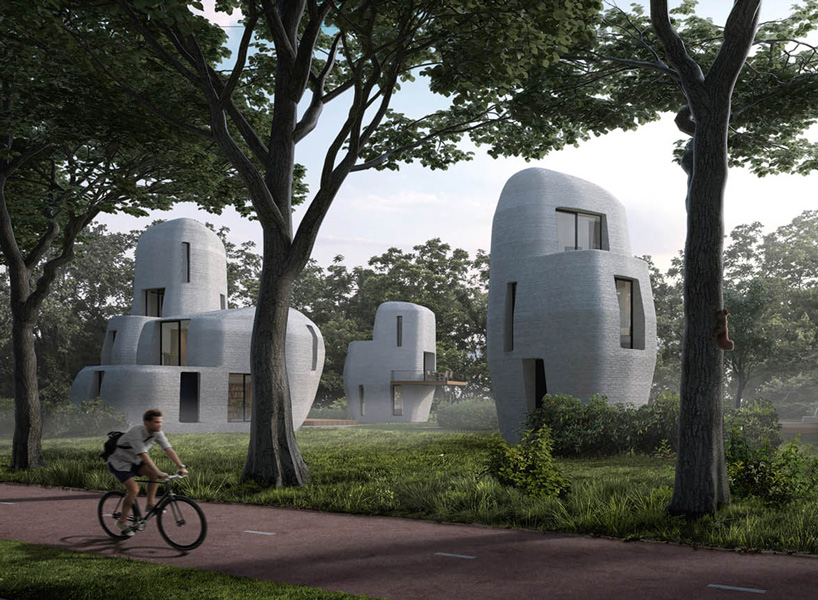 images courtesy of houben/van mierlo architects
announced in mid 2018, the city of eindhoven will see the first 3D-printed concrete houses built in the area of meerhoven in the next five years. with a design based on erratic blocks in a green landscape, the irregularly shaped structures take full advantage of 3D-printing's ability to construct almost any shape. named 'project milestone', it is a world's first as the houses will all be occupied. the first design, which is expected to be ready for occupation in mid 2019, will be a single-floor dwelling while the other four will be multi-story structures and completed later on.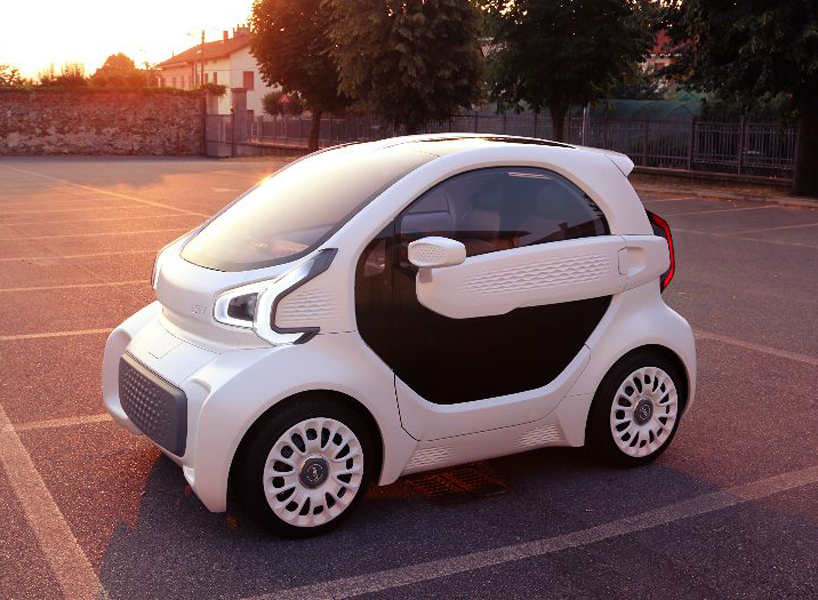 image courtesy of polymaker and XEV
3D printing has just enabled a car company (XEV) and a printing company (polymaker) to manufacture an electric car, called 'LSEV', for $7,500 USD. by 3D printing the city-ready vehicle, the companies have knocked the amount of individual plastic components down from the typically-used 2,000 to 57 parts — excluding mirrors, lights, chassis and such. with 7,000 orders already, it has a top speed of 43 mph and covers a range of 93 miles per charge.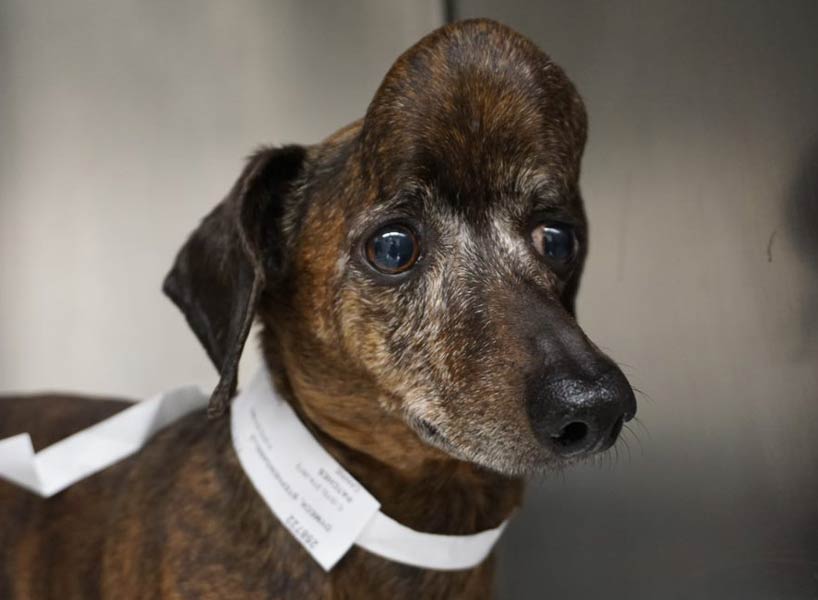 image courtesy of the university of guelph
veterinarians from the ontario veterinary college marked a potential breakthrough in cancer research by successfully 3D-printing a titanium plate for surgery on a dog's skull. a dachshund, named patches, had a large cancerous tumor growing on her skull, which was removed and replaced with a custom implant. led by dr. michelle oblak with dr. galina hayes, they were able to map the tumor's location and size, creating a 3D model of the dog's head and tumor in order to 'virtually' perform the surgery, and see what would be left behind following the growth's removal.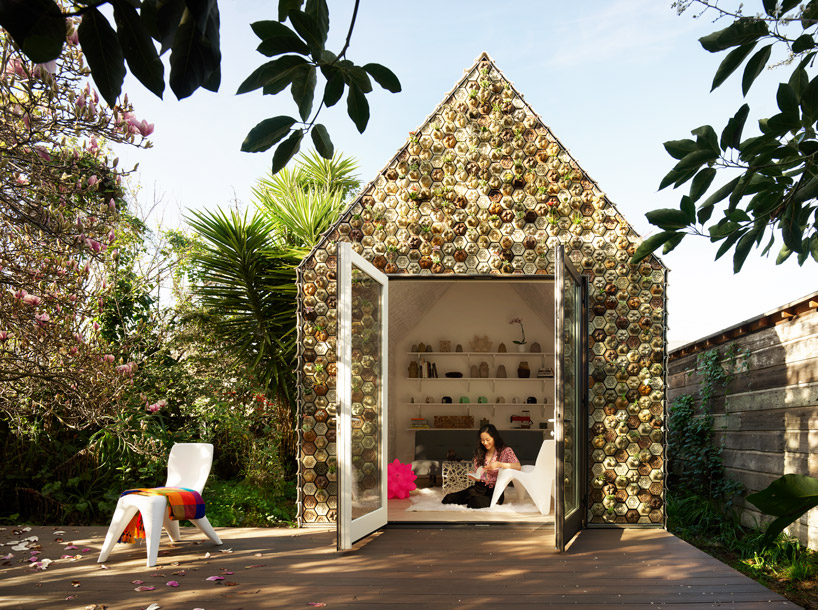 image by matthew millman photography
located in oakland, this 3D-printed cabin by emerging objects breaks new ground in sustainable, custom-made dwellings. founded by ronald rael and virginia san fratello, the california-based studio, specializing in 3D-printing research and design, brought together many of their previous material and software experimentations to explore the possibilities of a weatherproof, freestanding, compact structure. the exterior is clad in a total of 4,500 tiles of two types: 'seed stitch' tiles serve as a rainscreen on the roof and adjacent walls; and 'planter' tiles offer pockets for succulents to grow.
see designboom's TOP 10 stories archive:





jul 07, 2020
jul 07, 2020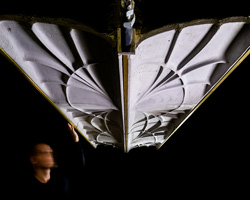 jun 28, 2020
jun 28, 2020
jun 17, 2020
jun 17, 2020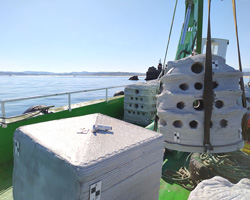 jun 16, 2020
jun 16, 2020
jun 15, 2020
jun 15, 2020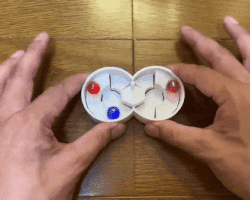 jun 10, 2020
jun 10, 2020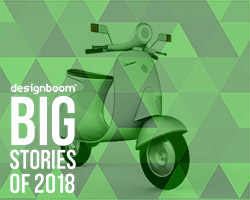 dec 21, 2018
dec 21, 2018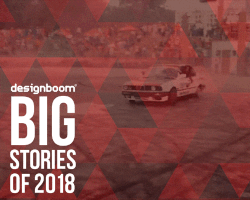 dec 20, 2018
dec 20, 2018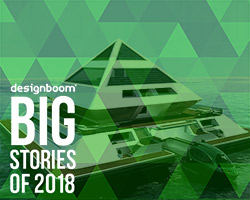 dec 19, 2018
dec 19, 2018
a diverse digital database that acts as a valuable guide in gaining insight and information about a product directly from the manufacturer, and serves as a rich reference point in developing a project or scheme.