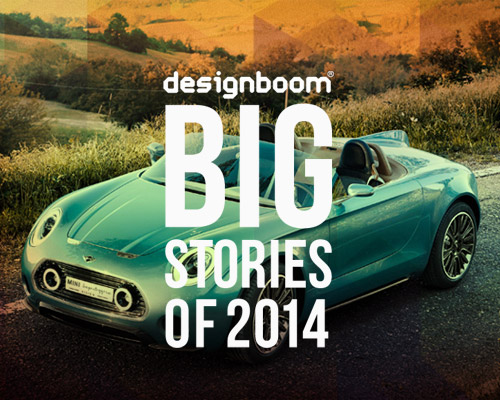 dec 24, 2014
TOP 10 alternative fuel vehicles of 2014
TOP 10 alternative fuel vehicles of 2014
with the numerous motor shows that took place throughout 2014, the world was introduced to many new electric or alternative fuel vehicles as companies aimed to find a solution to the environmental problems created by century-old gas guzzling machines. international brands such as mercedes, toyota and porsche all greeted the automotive community with futuristic developments, and were also joined by custom models that were purposely developed to fix the energy issue. these concepts were often presented at events such as the LA auto show, paris' mondial de l'automobile and the north america international auto show, as well as at the geneva motor show – where designboom were in attendance. continuing our annual review of the TOP stories of 2014, we look back at the 10 alternative fuel vehicle projects which grabbed our attention over the past 12 months.
MINI superleggera vision by MINI and touring superleggera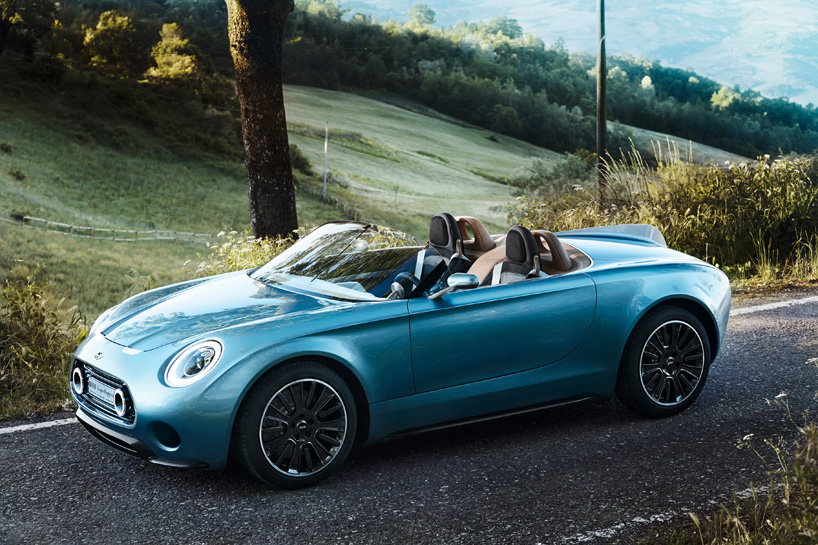 image courtesy of BMW group
BMW group joined the concorso d'eleganza villa d'este 2014 where they unveiled the 'MINI superleggera vision', the interpretation of an open-top two-seater created in collaboration between MINI and touring superleggera – the milan-based traditional coach building house. boasting minimal lines and extracting the emotional style of open-road racing, the automobile captures the essence of a classic roadster, intersecting an electric drive-train to maximize modern driving dynamics. designed and elaborately crafted by hand, the electric-vehicle concept blends the tradition of classic italian coachwork construction with MINI's trademark british aesthetics.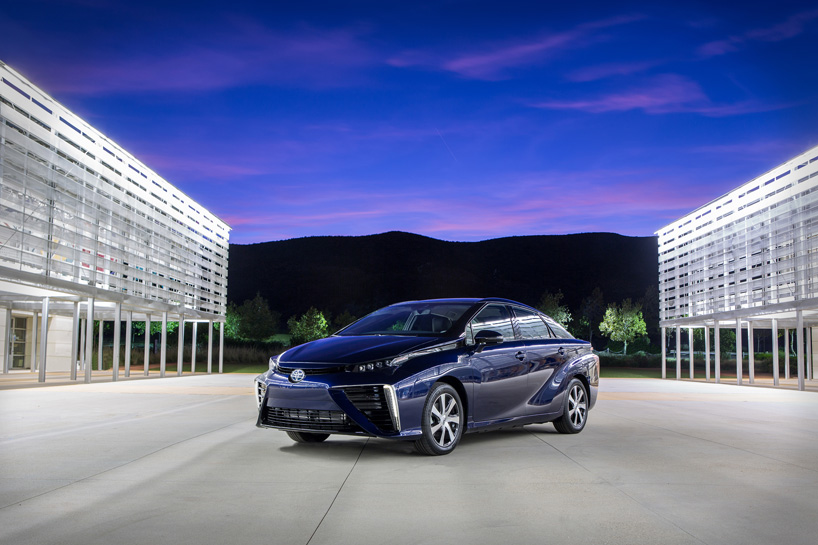 image courtesy of toyota
the toyota 'mirai' hydrogen fuel cell sedan announced the future of automotive transportation with a safer, greener and easier vehicle that will be introduced to the US in 2016. the car manufacturing company's president, akio toyoda revealed the concept's name which translates to future in japanese, prior to the official launch at the LA auto show 2014, in order to represent a turning point in the industry. what makes the sedan significant is how it can travel up to 300 miles on a single tank of hydrogen, refuel in less than five minutes and only emits water vapor.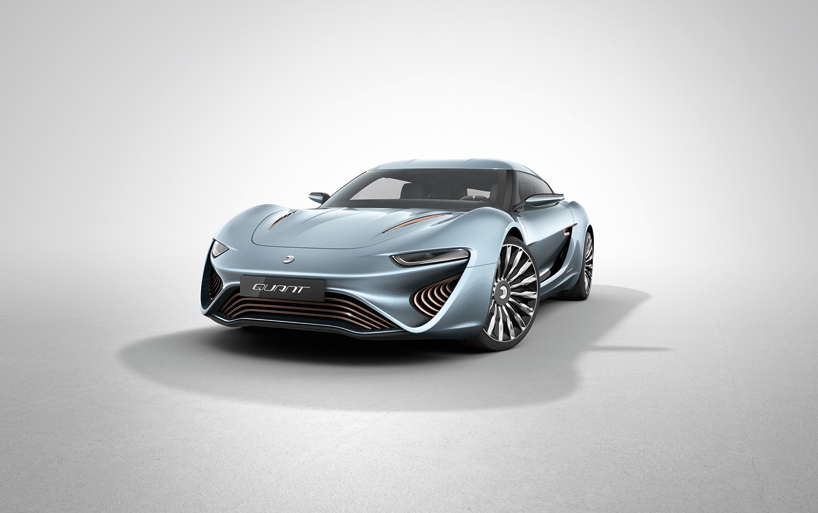 image courtesy of nanoFLOWCELL
built around a monocoque composed of carbon-fibre structures, the intelligent QUANT e-sportlimousine boasts gull-wing doors and features an innovative drive-train concept with four electric motors (one per wheel). it draws power from nanoFLOWcell, an electrolyte flow cell power system that works on the principles of the redox flowcell, which was developed in 1976 for NASA and the american space program. thanks to this technology, the vehicle delivers a driving range of up to 600 km, and is powered exclusively by salt water. packed with a 912 horsepower engine, the EV sportscar also reaches blistering performance figures of 0-100 km/h (62 mph) in 2.8 seconds, and a top speed of 380 km/h.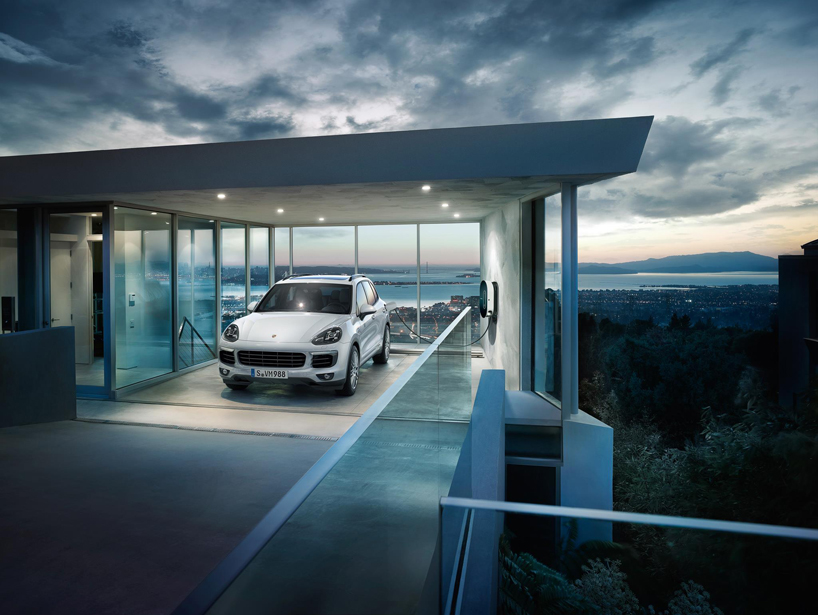 image courtesy of porsche
the 2015 porsche 'cayenne S E-hybrid' is their first plug-in electric SUV which enables pure electric driving. the car has been given a face-lift with an entirely new front end, fenders and hood, and contains a lithium-ion traction battery with energy capacity of 10.8 kwh. the sports utility vehicle offers double the power output than previous models; from 47 to 95 horsepower, meaning it can reach an all-electric top speed of 125 km/h (78 mph). combined with a 333 horsepower 3.0 liter supercharged V6 engine, the hybrid achieves a top speed of 247 km/h (151 mph) and accelerates from zero to 100 km/h (62 mph) in 5.4 seconds.
XchangE autonomous electric vehicle by rinspeed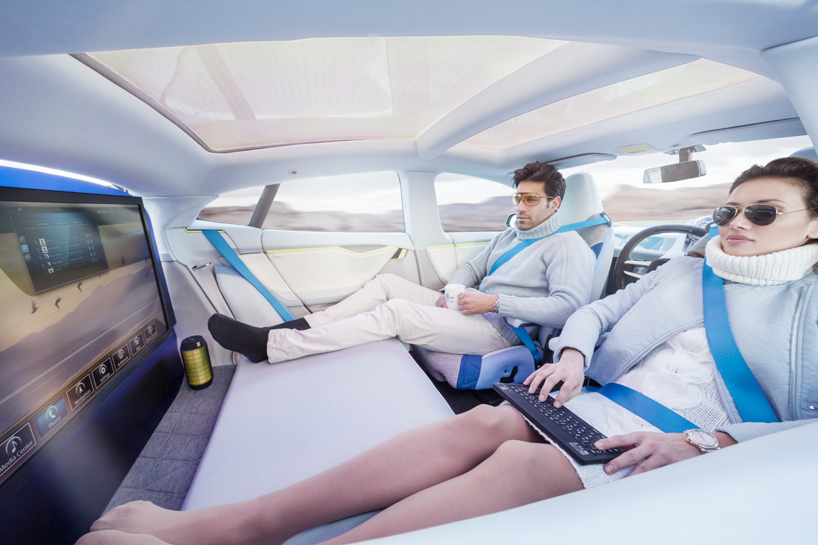 image courtesy of rinspeed
rinspeed presented the 'XchangE', an all-electric autonomous touring sedan based on the exterior styling of the tesla model S, engineered by 4erc and built at esoro, as an automotive study to demonstrate how cars will be used in the not so distant future. dubbed as an 'office and living room on wheels', the fully networked EV provided proof that a completely new operating and display is needed, as passengers will be able to assume virtually any seating or resting position when traveling in forthcoming autonomous vehicles. the new system devises harman's next-generation scalable infotainment platform to provide security protection against hacker attacks, and has a media platform that offers numerous functions for navigation, entertainment, assistance and services displayed across its four screens.
G-Code vision concept by mercedes-benz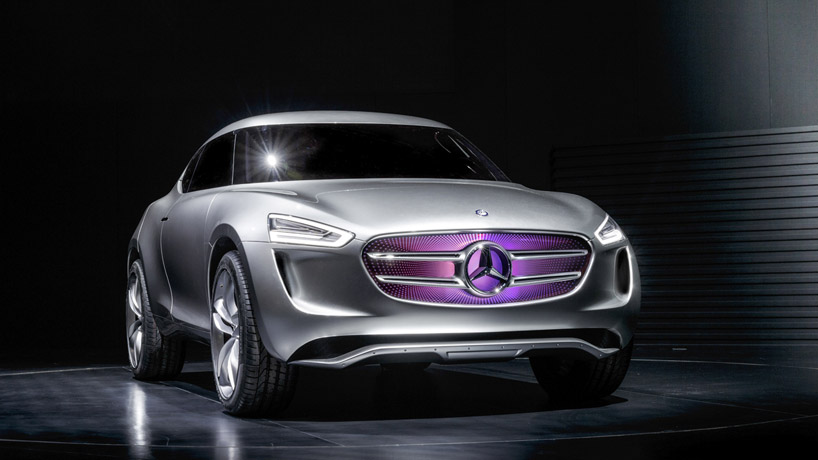 image courtesy of mercedes-benz
using a high-tech 'multi-voltaic' silver paint finish to replenish power supply, mercedes-benz introduced a sports utility coupé for the future: the 'G-Code vision concept'. under the direction of the main office in sindelfingen, the advanced design studio within the daimler product engineering center in beijing created a technology-focused SUC with coupé-like side lines and dynamically flowing greenhouse. the automobile integrates a variable plug-in hybrid drive system with long electric operating range and a turbocharged combustion engine that runs exclusively on hydrogen.
viziv 2 plug-in hybrid by subaru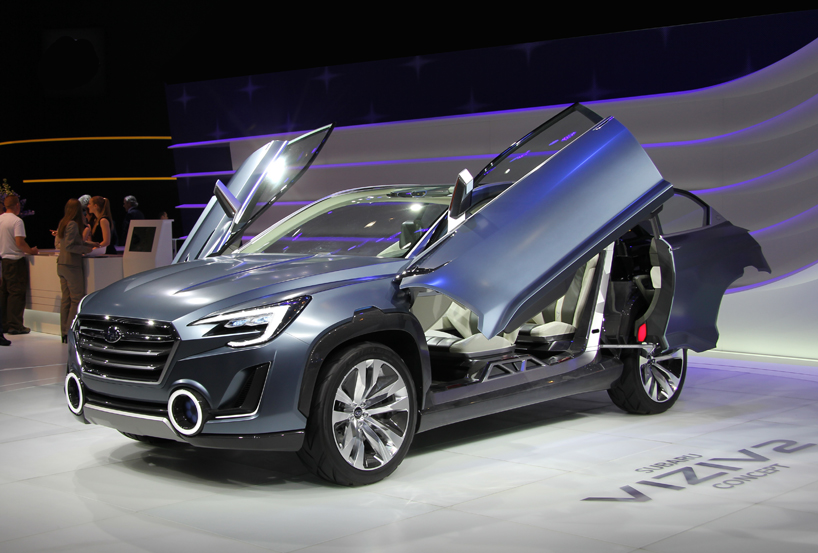 image © designboom
the subaru's 'viziv 2 plug-in hybrid' concept introduced the japanese manufacturer's future vision of innovation and the future direction of the brand. employing a four-door body, the plug-in hybrid boasts a 1.6-liter horizontally-opposed direct injection turbocharged engine, combined with a high-torque-compatible 'lineartronic' system that integrates one front motor and two rear motors. the components for the hybrid system still maintain subaru's unique symmetrical all-wheel drive layout however, delivers superior driveability based on its low center of gravity and weight balance.
asterion LPI 910-4 hybrid by lamborghini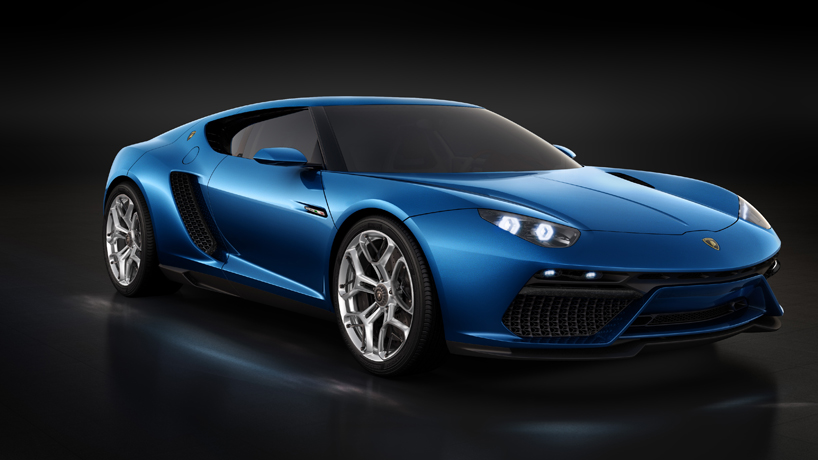 image courtesy of lamborghini
the lamborghini 'asterion LPI 910-4′ marked the company's first plug-in hybrid technology vehicle, with a power system that combines a V10 5.2 naturally aspirated engine with three electric motors to deliver a total of 699 kWh (910 hp). this, as well as the 560 Nm of torque available, enables the supercar to accelerate from 0-100 km/h in 3.0 seconds and to a top speed of 320 km/h. the automobile delivers performance figures that are customary for the italian brand, but it is the CO2 emission reducing technologies that makes it stand out from their previous models. for example; it only releases 98 g/km of carbon dioxide, has a fuel consumption of 4.12 1/100 km combined cycle and a 50 km pure electric range.
link&go 2.0 by AKKA technologies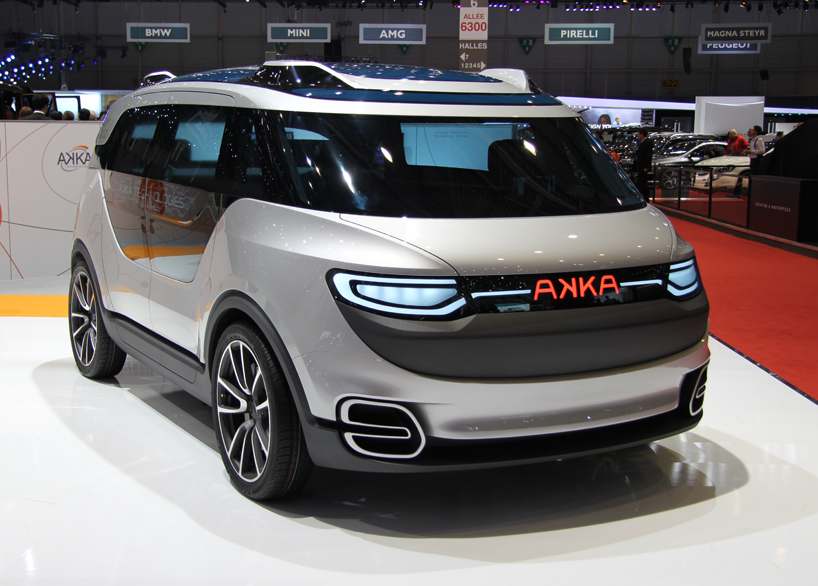 image © designboom
AKKA technologies unveiled the link&go 2.0 concept, a self-driving car created and designed for the city of the future. with a completely integrated electric platform, the car rethinks the urban environment and mobility by linking the inhabitants with other system users, along with the intelligent platform itself. the autonomous vehicle is equipped with several sensors such as cameras and lasers, which analyze the environment in a 360 degree radius to remove any blind spots. complete with a wire control system, it also incorporates four directive and motorized wheels that offer new energy recovery and braking strategies.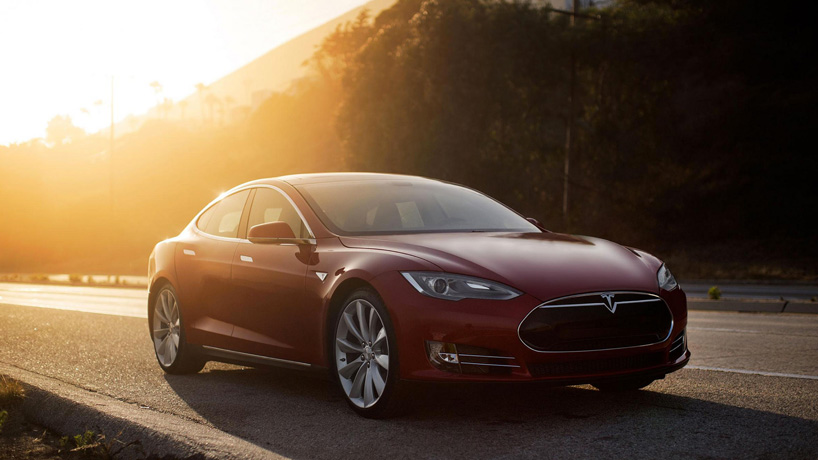 image courtesy of tesla
the tesla 'model S P85D', which comes with either a 60 or 85 kWh battery, is the world's first dual electric motor production car. with a generator on each axle, the front and rear wheels are delivered with digitally and independently controlled torque that helps provide high levels of traction control. true to the company's vision, their sports car's propulsion system increases efficiency by splitting the delivery of current from the battery to each transformer. similar to this, the capability has also improved as it can go from 0 to 60mph in 3.2 seconds.

see designboom's other big stories of 2014 here.
aug 04, 2020
aug 04, 2020
jul 28, 2020
jul 28, 2020
jul 27, 2020
jul 27, 2020
jul 22, 2020
jul 22, 2020
jul 19, 2020
jul 19, 2020
jul 10, 2020
jul 10, 2020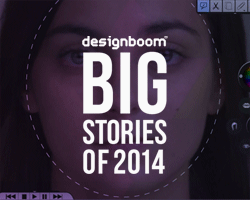 dec 31, 2014
dec 31, 2014
dec 30, 2014
dec 30, 2014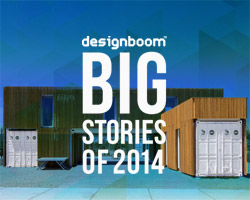 dec 29, 2014
dec 29, 2014
a diverse digital database that acts as a valuable guide in gaining insight and information about a product directly from the manufacturer, and serves as a rich reference point in developing a project or scheme.