see designboom's TOP 10 stories archive:
TOP 10 BIKES AND MOTORBIKES OF 2016
every year we see a great range of beautiful, technology advancing and performance progressive bikes and motorcycles, and 2016 was no different. from custom-made, bespoke motorbikes to traditional bicycles to challenging concept vehicles, designboom covered the most engaging and thought-provoking designs on two-wheels. a common trend for both bicycles and motorbikes has been the integration of electric motors, alongside many other technological advancements. as a continuation of our annual round up, designboom lists the TOP 10 bikes and motorcycle stories of 2016.

image courtesy of yamaha
yamaha's '04GEN' scooter concept looks to flowing materials found on fashion runways as a design theme to showcase the interior structure. through moveable exterior panels with semi-transparent trapezoidal details and long, low silhouette, the lines of the scooter were shaped to match a swan. it also contrasts between old and new using authentic real leather and inventive new resins. this is yamaha's fourth concept model based on 'refined dynamism' design philosophy. the series allows the motorcycle company to realize products in an experimental style based on future materials. 
read more about the project on designboom here.

image courtesy of lotus
the lotus C-01 motorcycle combines the most extreme in bike engineering with sophisticated styling typical of the british-automaker. conceived by daniel simon, creator of the futuristic light cycles technology in the movie 'tron: legacy', it appears that the superbike also  has some virtual-reality-styling from the film. an example of the super-rare lotus 'C-01′ from 2014 is set to feature at mecum auctions' monterey sale taking place in california.
read more about the project on designboom here.
CUSTOM ELECTRIC MOTORCYCLES BY NIGHTSHIFT BIKES

image courtesy of nightshift bikes
built from the ground up using traditional combustion bikes as a base, night shift electric motorcycles are both stylish and practical. the company has two builds to date: the first being 'rebel', a modified 1987 honda 'rebel 250′ powered by the guts of a golf cart drivetrain; their second build, the 'leafy savage', is far more advanced. its battery pack was taken from a nissan 'leaf', the frame is donated from a 2003 suzuki 'savage' was used for the frame, and an enertrac motor provides a maximum power output of 40 hp.
read more about the project on designboom here.
SINISTER ELECTRIC CAFE RACER BY MICHAEL COHEN

image courtesy of michael cohen
dubbed the 'sinister electric cafe racer', this retro-futuristic motorcycle concept depicts what the future of electric motorcycles might hold. american designer, michael cohen, has created a number of product renderings in the past, however, this is the first time he turned his hands to a bike. based in oregon, michael has created no less than seven other captivating renderings, which all exhibit clear interpretations of how he envisions product design.
read more about the project on designboom here.

image by jeremy wong 
this is 'EDEN', bandit9's latest creation that comfortably sits between the disciplines of sculpture and motorcycle design. based on a 1967 honda 'supersport', the 'EDEN' has been rebuilt and redesigned from the ground up to fit to the concept of the future. apart from the frame, little else remains from the original 'supersport' design. the pistol-shaped frame is now longer to give the 'EDEN' the proportions and stance of a larger motorcycle.
read more about the project on designboom here.

image courtesy of vanguard
conceived, engineered and built in new york city, vanguard is the brand new, premium motorcycle brand created at the heart of the metropolis. with a unique approach to design, the vanguard 'roadster's' clean lines emerged from refining everything down, then revising needs and solutions: production, form, and function are in perfect harmony. it features a striking, contemporary silhouette, with a frameless structural engine appearing to be 'afloat' as the pièce de résistance.
read more about the project on designboom here.

image courtesy of 2×2
designed to smoothly transport people over rough terrain, TARUS 2×2 motorcycle is a folding bike with two-wheel drive technology. outfitted with a honda GX-210 four-stroke engine that delivers power to both front and back wheels for pushing and pulling power over muddy banks and ploughing through narrow gorges. with a modest 7 horsepower and top speed of 22 miles per hour it will not perform on the racetrack, but thanks to its light weight (192 pounds) and bulbous balloon tires, this amphibious bike can float across rivers just as easily as it can ride it downhill. 
read more about the project on designboom here.

image by ivo ivanov assisted by evgeni chipev
built by the sinroja brothers, the idea behind the R3 was to create a beast of a bike with an overall modern styling  with classic touches. the bike features a wide front end using bespoke machined yokes fitted onto refurbished R1 USD forks with fat classic coker beck tires, classic BMW tank with the thumping airhead engine and exhaust system floating under the seat. the paint scheme was one of the highlights as the resulting flat baby blue with metallic black stripes turned out to be perfect.
read more about the project on designboom here.

image courtesy of agnelli milano bici
luca agnelli founded agnelli milan bike in 2015 to introduce a range of electric mobility for a more traditional rider. showcased at the stone island 'craftworks' exhibition for milan design week 2016, each bicycle is put together with a frame and 1950s tank, and then modified to fit the accessories chosen. first apprenticed as an antique furniture restorer, his bikes resolve technical and aesthetic problems by adapting to continual changes in function and form. 'for me perfection does not exist,' explains luca agnelli. 'I work and create in order to never reach it.' 
read more about the project on designboom here.
VELOCIPEDIA BY GIANLUCA GIMINI

image courtesy of gianluca gimini
bologna-based designer gianluca gimini conducted an experiment by asking friends, family and total strangers, to draw a men's bicycle by heart using just a pen and a sheet of paper. some accurately remembered a bicycle's frame design, but others drastically varied. the designer eventually transformed a select few he found most interesting and rendered them as if they were real.
read more about the project on designboom here.
jul 26, 2017
jul 26, 2017
jul 09, 2017
jul 09, 2017
jul 07, 2017
jul 07, 2017
jul 25, 2017
jul 25, 2017
jul 22, 2017
jul 22, 2017
jul 11, 2017
jul 11, 2017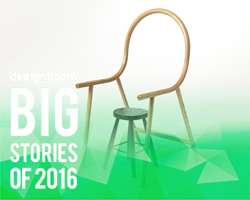 dec 24, 2016
dec 24, 2016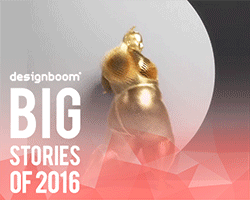 dec 22, 2016
dec 22, 2016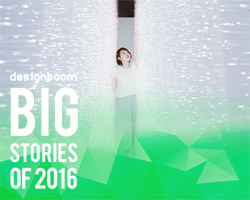 dec 22, 2016
dec 22, 2016