see designboom's TOP 10 stories archive:




international motor trade fairs, historic concours, and private press shows have all witnessed the debuts of many unique, first-of-a-kind concept cars in 2017. these vehicles, often fully autonomous, sometimes quirky but almost always highly beautiful in their own right, typically unveil a brand's new design direction and advancements in technology. however, this year, the automotive world saw a slight shift as the conceptual trend moved from forecasting futuristic visions of self-driving to issues much closer to hand. these include topics such as electric driving, retro-infused styling, and put simply, new and wonderful looking sports cars.
continuing our TOP 10 round ups of 2017, we look back at ten concept car stories that grabbed our and most importantly, designboom readers' attention over the past 12 months.
1 – vision mercedes-maybach 6 cabriolet concept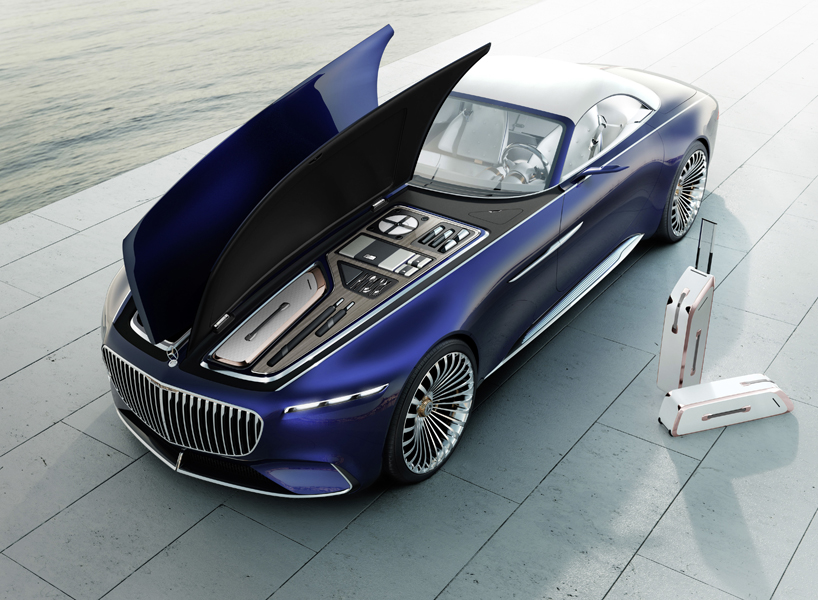 image courtesy of daimler
revealed at the 2017 concours d'elegance at pebble beach, california, the mercedes-maybach '6 cabriolet' concept follows on from the sensational coupé shown in 2016, and showcases luxury in an open top form. the two seater pays homage to the glorious age of aero coupés and consciously carries this tradition forward into the future. the convertible reinterprets classic, emotional design principles, in a styling that blends smooth surfaces with defined yet sculpted lines. measuring almost six meters, the electric automobile has an output of 550 kW (750 hp) with a shallow, underfloor battery that allows a range of over 500 kilometers.
2 – BMW concept 8 series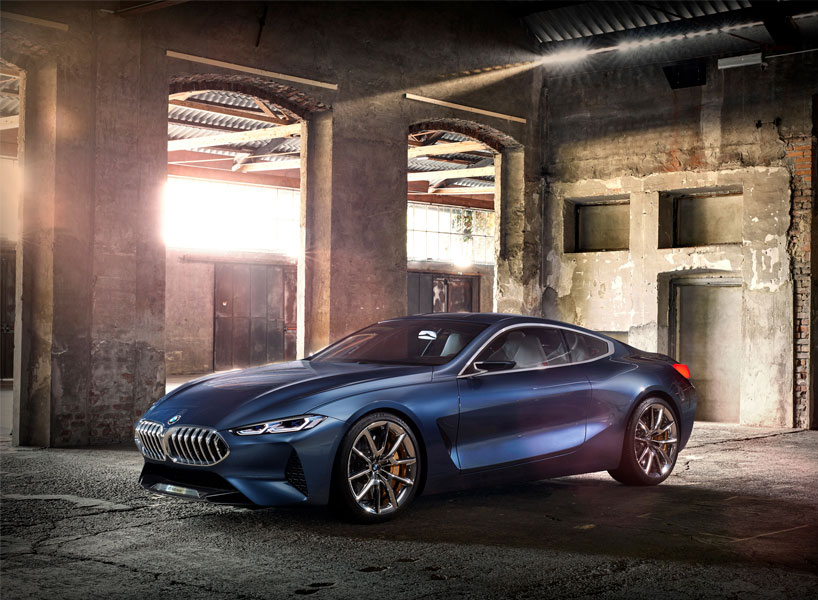 image courtesy of BMW group
on the occasion of the concorso d'eleganza villa d'este 2017, BMW debuted the world premier of the 'concept 8′ series, and with it, introduced a completely new design language for the brand. with a sweeping sculptural form, the concept car exudes a more sophisticated and luxurious style, yet still delivers a strikingly dynamic character. from the reinterpreted 'kidney' grille to the precise lines that flow along the flanks, the automobile is unlike any BMW seen before and will top the brand's model line. at the exclusive presentation, designboom interviewed adrian van hooydonk, senior VP of BMW group design, who discussed the car's more sculptural form, its more emotional character, and its sophisticated design language.
3a – honda sports EV concept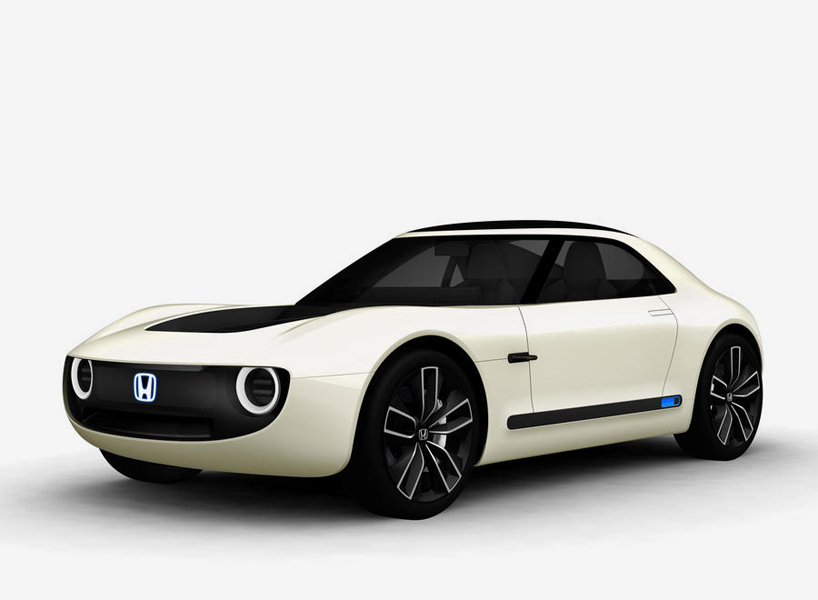 image courtesy of honda
honda unveiled the 'sports EV' concept at the 2017 tokyo motor show, a striking electric sports car with zero emissions. the vehicle is the second model to be previewed on the firm's dedicated electric car platform, after the 'urban EV' city car from the frankfurt motor show 2017. the 'sports EV' concept references the long bonnet of the 'S2000', with proportions of a front-engined, rear-wheel drive electric sports car. it would join the NSX and civic 'type R' as one of the japanese–automaker's performance vehicles.
3b – honda urban EV concept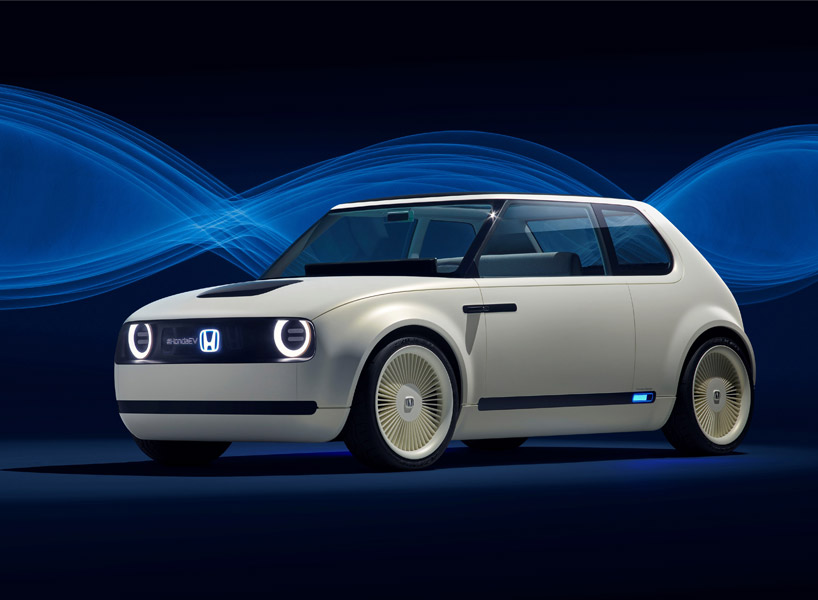 image courtesy of honda
the 2017 frankfurt motor show, the honda 'urban EV' concept was revealed, leading a completely new platform for the japanese automaker. the all-electric vehicle highlights their direction to deliver the technology and design that will appear on future battery-run production models of honda. the concept showcases a simple yet sophisticated design, where its low and wide proportions give it a muscular stance, whilst with an edge of sportiness. at its front, multilingual messages can be displayed between the headlights, including greetings, advice for other drivers on the road, or charging status updates.
4 – INFINITI prototype 9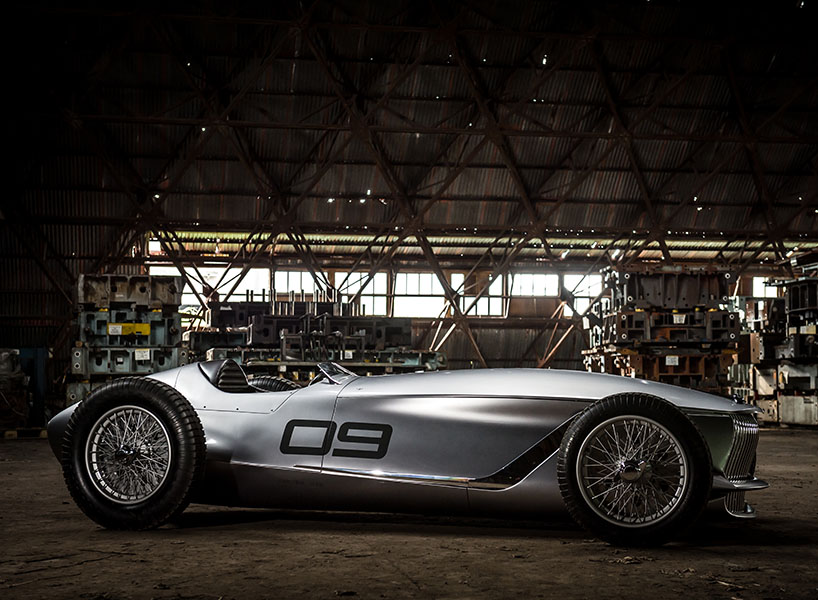 image courtesy of nissan
nissan and INFINITI unveiled a sleek, open-wheeled electric retro-roadster prototype at the 2017 pebble beach concours d'elegance. the car, dubbed 'prototype 9', is a celebration of the hong kong-automaker's ingenuity, artistry and craftsmanship. furthermore, it represents a reimagining of a 1940's race car with time-honoured production techniques, such as a team of 'takumi' hand-beating panels, to realize its retro design.
5 – AUDI aicon concept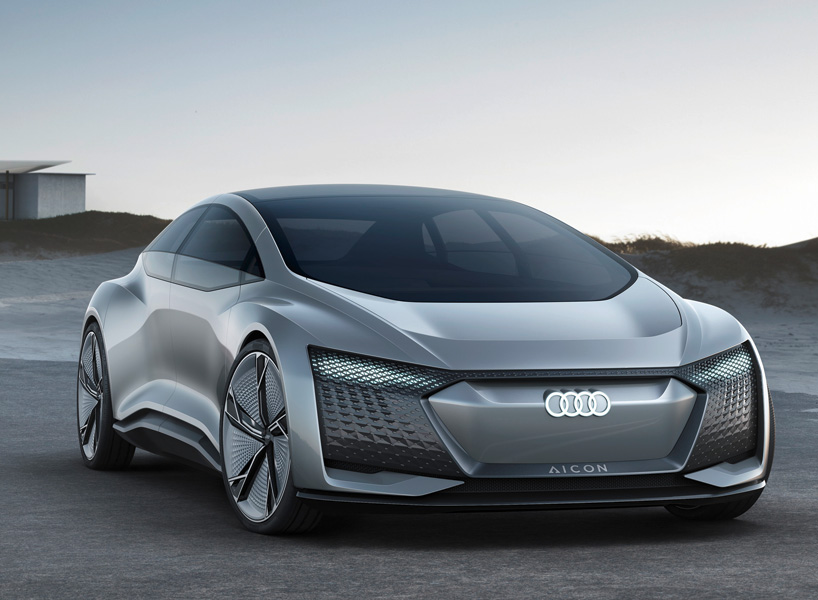 image courtesy of AUDI AG
at the 2017 edition of IAA, better known as the frankfurt motor show, AUDI unveiled its 'aicon' concept car — an all-electric luxury vehicle that can travel up to 800 kilometers (500 miles) on a single charge. according to its designers, the autonomous sedan, which features four doors, but no steering wheel or pedals, combines innovations relating to the drivetrain, suspension, digitalization, and sustainability. rather than a robotic taxi, designed for purely functional purposes, the car seeks to merge the advantages of door-to-door transportation with the ambiance of a first-class airline cabin.
6 – renault SYMBIOZ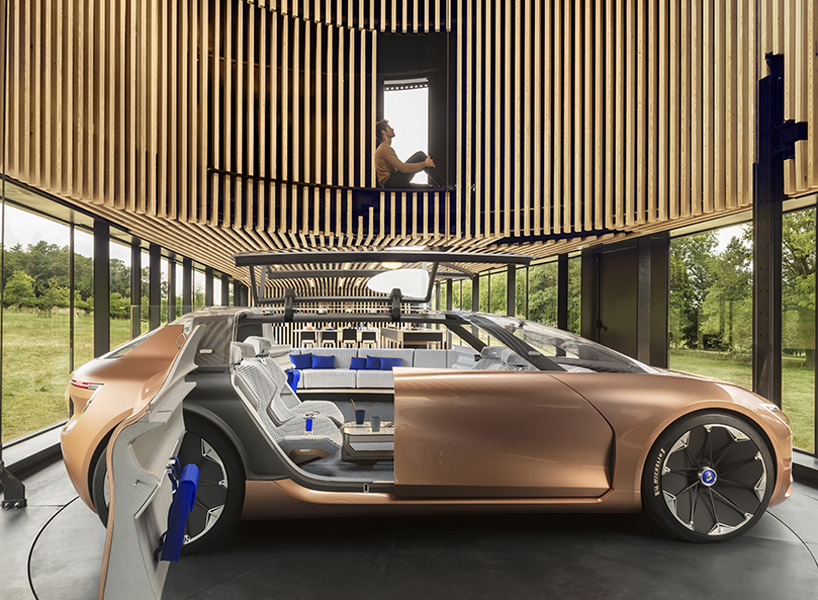 image courtesy of renault
following the notion that the car has become a home away from home, at the 2017 frankfurt motor show, renault takes this concept a step further as it showcases not only a car, but also domestic interior. by being fully autonomous and electric, the 'SYMBIOZ' proposes a change in the way humans interact with their vehicles. this is through maximizing the comforts within the car and allowing it to function as an additional, livable space.
7 – mazda vision coupe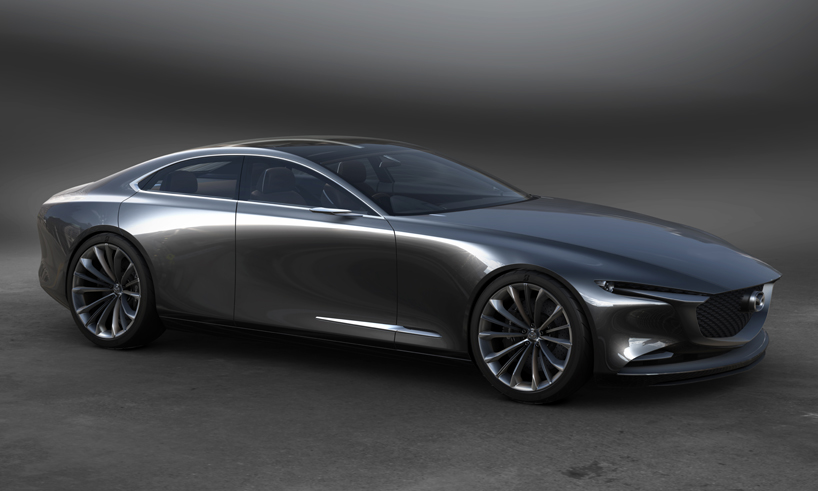 image courtesy of mazda
revealed at the 2017 tokyo motor show, the mazda 'vision coupe' concept expresses a minimalist japanese aesthetic. its highlights include a 'kodo – soul of motion' exterior that embodies an aesthetic of a simple 'one-motion' form, which conveys a sense of speed. the interior applies the concept of ma (literally 'space') from traditional japanese architecture, combining three-dimensional depth with a strong longitudinal axis to produce a relaxed space while maintaining the feeling of motion. the vehicle's name pays homage to the manufacturer's tradition of design elegance represented by coupé models like the 'R360', mazda's first passenger car, and the 'luce rotary', also known as the 'R130'.
8 – volkswagen I.D. BUZZ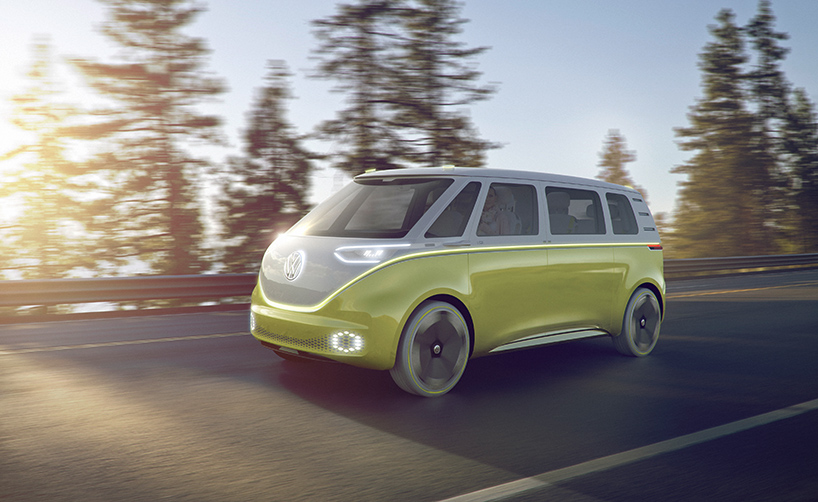 image courtesy of volkswagen / visualizations by tiago aiello
shown at NAIAS 2017 in detroit, USA, the volkswagen 'I.D. BUZZ' concept is a self-driving campervan that exemplifies the brand's new era of electric mobility. the multifunctional vehicle combines nostalgic design cues, such as pure form, honest character and authentic emotionality with innovative technology. with a light press on the VW logo, the electrically retractable steering wheel disappears into the cockpit. laser scanners, ultrasonic, radar sensors and cameras monitor other road users and the surroundings, whilst the driver relaxes. due to the popularity of the concept, volkswagen announced in late 2017 that the 'I.D. BUZZ' will go into production, initially scheduled for a 2022 market date.
9 – MINI electric concept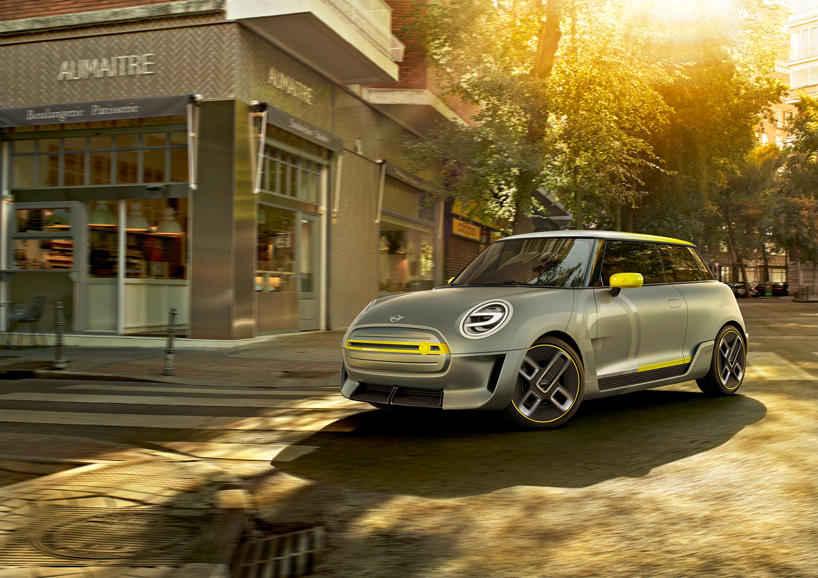 image courtesy of BMW group
again, at the 2017 frankfurt motor show, MINI showcased its latest EV with the simply named 'electric concept'. the vehicle itself embodies a whole new dimension of the brand's characteristic go-kart feeling, whilst combining it with locally emission-free mobility. the powerful drive of the car draws its energy from a lithium-ion battery, ensuring maximum range and typical MINI agility with emission-free mobility. significantly, since the electric motor does not require cooling air, the hexagonal front grille is closed in order to enhance its aerodynamic properties. this, as well as the fiber glass attachment that reduce drag, are finished in a reflective silver and interchangeable yellow, which is reminiscent of the MINI E presented in 2008.
10 – toyota TJ cruiser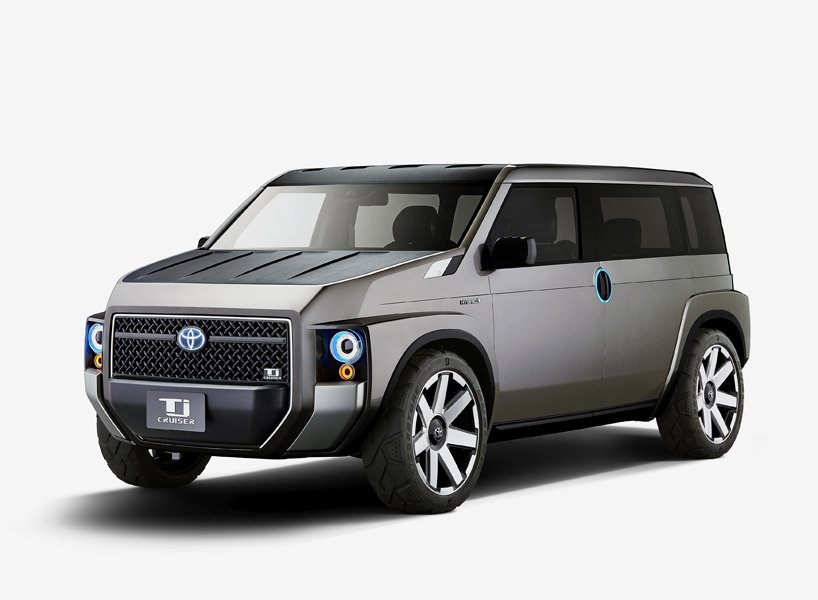 image courtesy of toyota
as a new crossover genre vehicle, the toyota 'TJ cruiser' cruiser debuted at the 45th tokyo motor show 2017. the vehicle represents the harmonious balance between the roominess of a cargo van and the powerful design of an SUV. designed for drivers with lifestyles where work and play intertwine constantly and almost seamlessly, the name's 'T' stands for 'toolbox', alluding to how it can be used like one, whilst the 'J' stands for 'joy' in reference to experiencing new places by car. inside, the passenger seats can be reclined completely flat, allowing the automobile to accommodate extra large items, such as 3 meter long surfboards and bikes.
may 03, 2020
may 03, 2020
apr 22, 2020
apr 22, 2020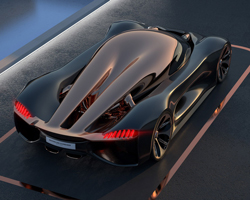 apr 21, 2020
apr 21, 2020
apr 15, 2020
apr 15, 2020
apr 14, 2020
apr 14, 2020
apr 08, 2020
apr 08, 2020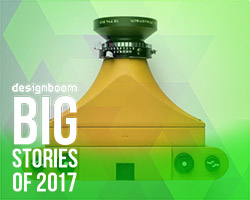 dec 21, 2017
dec 21, 2017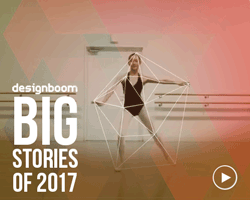 dec 20, 2017
dec 20, 2017
dec 19, 2017
dec 19, 2017
a diverse digital database that acts as a valuable guide in gaining insight and information about a product directly from the manufacturer, and serves as a rich reference point in developing a project or scheme.