as a sign of the times, our TOP 10 concept cars of 2018 are nearly all electric. debuting at trade shows, historic concours and private press viewings, these designs each look towards a future of mobility for their own brand, but what links them all together is a greener vision. the list also features an abundance of technology – whether being car-sharing services, autonomous driving or both – and, as always, includes some stunning looking and performing sports cars.
continuing our round-ups of 2018, we look back at 10 concept car stories that attracted our and, most importantly, designboom readers' attention over the past 12 months.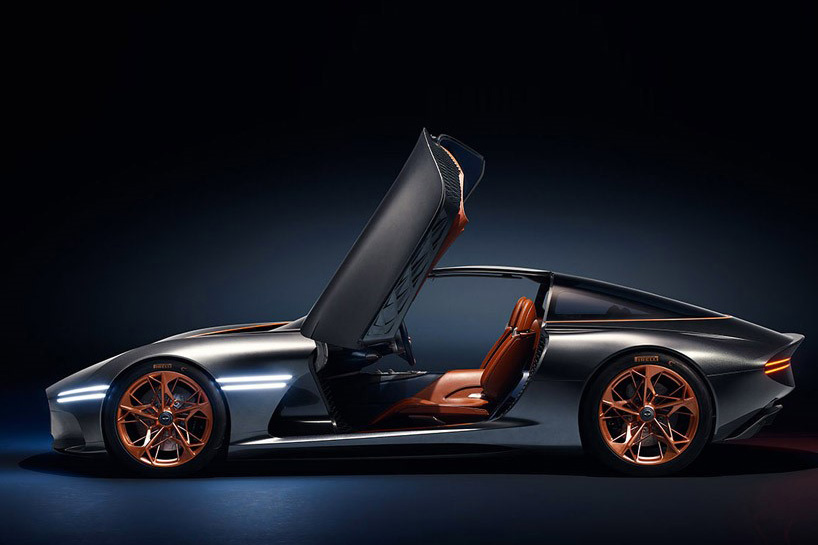 image courtesy of genesis
revealed at the 2018 new york international auto show, genesis has released a new electric sports car prototype, the 'essentia' concept. it is the brand's first battery electric vehicle complete with a custom interior, lightweight carbon fiber frame and robust multi-motor powertrain. with elegance and serenity, the car sources inspiration from the classic grand tourers of the 1960s, with gran turismo proportions, a long bonnet and swept-back cabin — all while updating the style for modern tastes.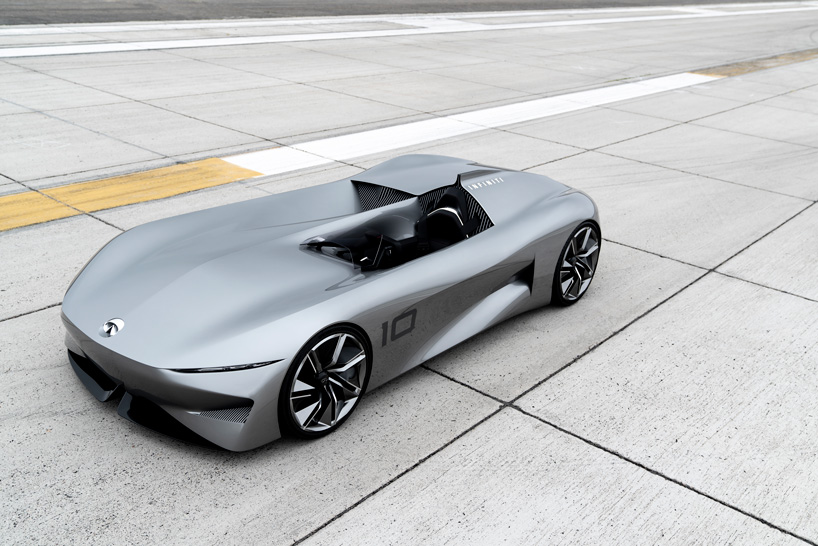 image courtesy of INFINITI
also shown as the concours d'elegance, the INFINITI 'prototype 10' is a single-seat, re-imagined classic speedster with a clean and forward-looking design. the car is a sleek update on 'prototype 9', the retro-looking speedster that the brand presented at pebble beach last year. 'prototype 10' is a physical manifestation of the hong kong motor company's ambitious plans for electrified performance, who has pledged to electrify all of its new production cars from 2021 onwards.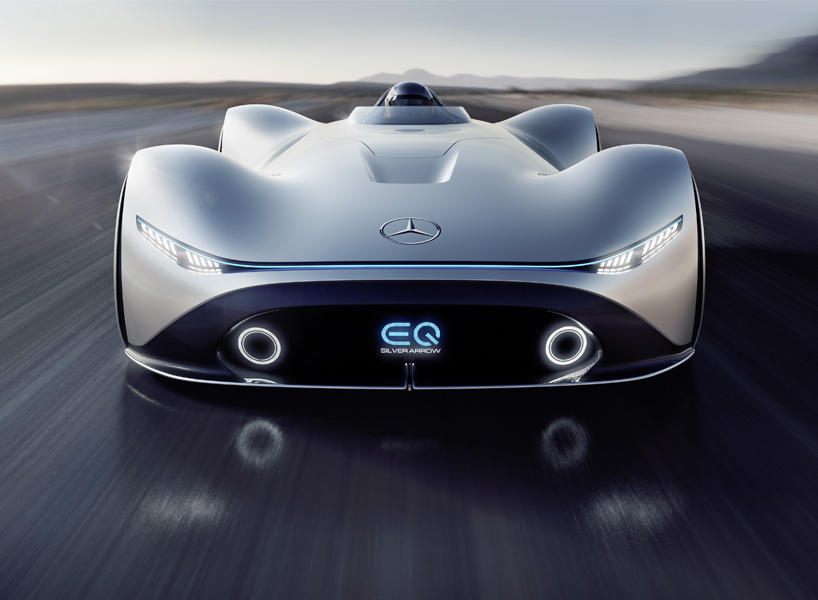 image courtesy of daimler
as another concept car to debut alongside the traditional vintage show at the concours d'elegance, mercedes-benz unveiled an electric vision inspired by their W 125 car from 1937, which, with a speed of 432.7 km/h, held the fastest record on public roads until 2017. this is the 'EQ silver arrow', which, with an avant-garde aesthetic, showcases the EQ brand's progressive luxury take on the design philosophy of sensual purity.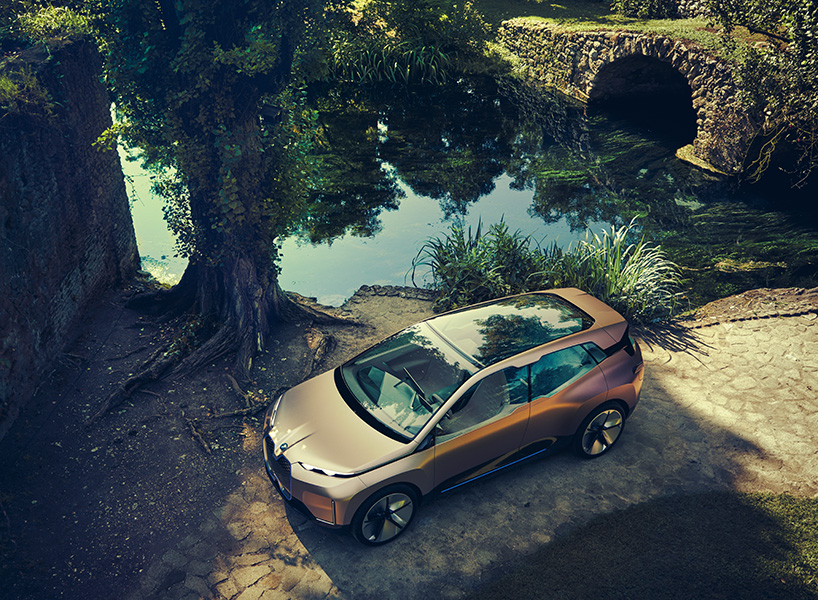 image courtesy of BMW
the BMW 'vision iNEXT' is different to anything we have seen before. the concept car symbolizes the next step for the brand's innovative i series, which will be in production in 2021. however, it also reflects the new challenges facing automotive design such as the changing ideas of personal mobility. shown at the LA auto show 2018, adrian van hooydonk, VP of the BMW group design, details the smooth copper-finished exterior and shy-tech-integrated interior.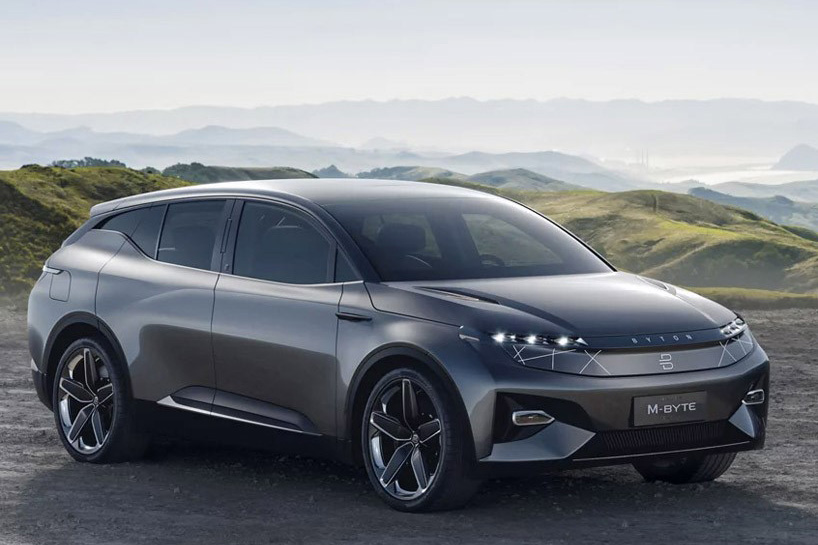 image courtesy of BYTON
with two concept cars revealed in 2018 alone, BYTON is much more than a start-up. they aim to build premium intelligent electric vehicles for the near future, with their first model, the M-byte, set for production at the end of 2019. the cars, seamlessly integrated with an abundance of advanced and enriching technologies, intend on creating a smart, safe, comfortable, fun and eco-friendly mobility experience. however, at the same time, the brand are balancing the age-old traditions, practice and craftsmanship of automotive manufacturing. and at an event where the finest of automotive heritage is merged with concept cars, we travelled to the 2018 pebble beach concours d'elegance to see first hand how BYTON is enriching the mobility experience.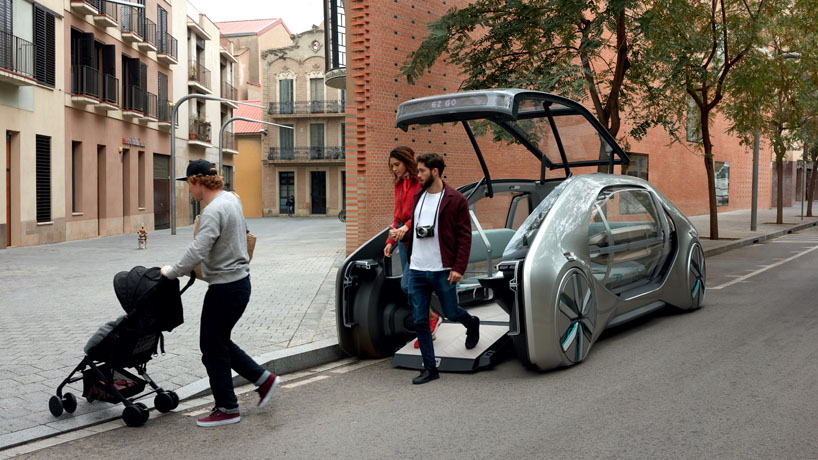 image courtesy renault
unveiled at the genenva motor show 2018, the renault 'EZ-GO' concept is a 'robo-vehicle' – a shared, electric, driverless vehicle. driving in town and the surrounding areas, it is designed to transport up to six passengers simultaneously. it is accompanied by a dedicated station, which blends in with the surrounding environment. the car is both a vehicle and a service, working as an on-demand mobility solution for all – private or public organisations.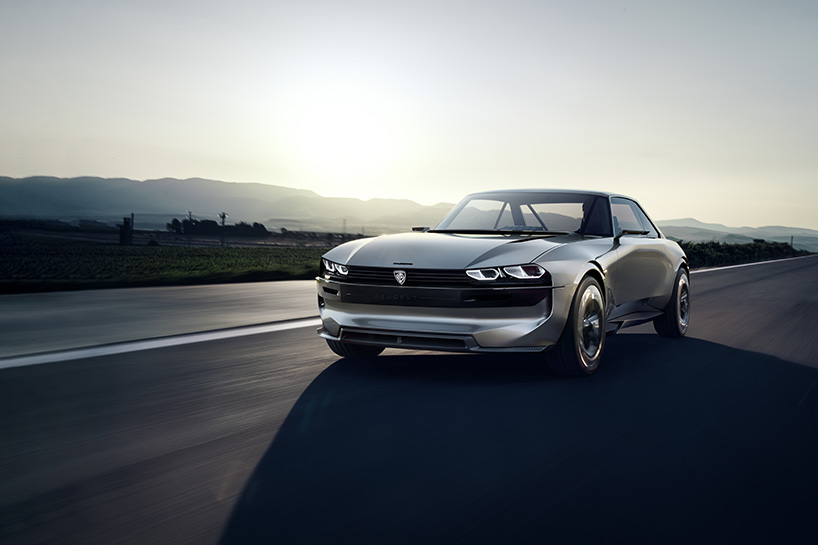 image courtesy of peugeot
at this year's paris motor show, peugeot has unveiled the 'e-LEGEND' — an autonomous, all-electric and fully-connected concept car. embracing a realistic and yet radically modern template, design features a retro styling that carries the DNA of the brand: elegance and a rich heritage. as the french car manufacturer keeps up with today's pace of transitioning from fuel to energy, it still adheres to the belief that these new technologies should not compromise on the driving pleasure for its users.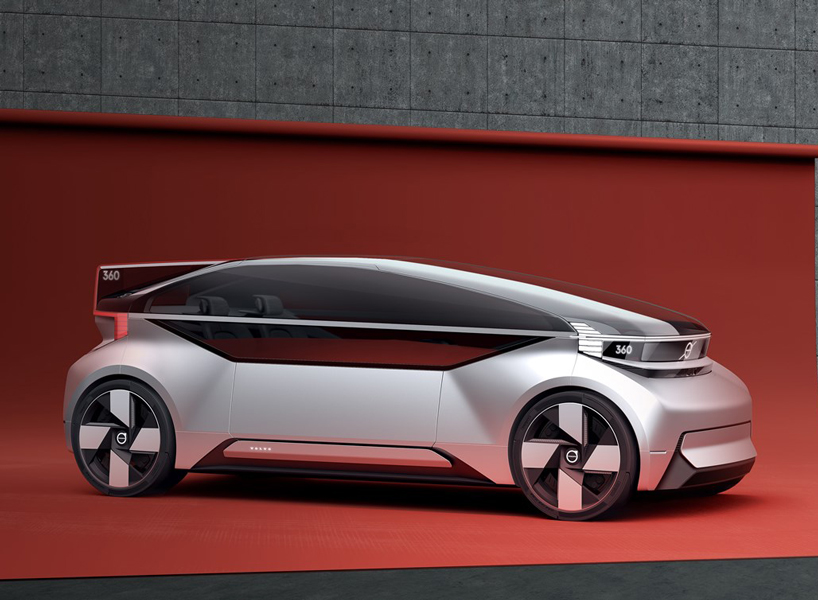 image courtesy of volvo
volvo unveiled its latest concept car, dubbed the '360c', which is an all-electric, autonomous vehicle that could transform the way we travel and commute. the concept has four potential functions envisioned during driving time: as a sleeping environment, mobile office, living room and entertainment space. comprising of a modular interior with a glass dome on wheels, its full mobile connectivity enables relevant information to be projected onto the windows whether that be for entertainment or work.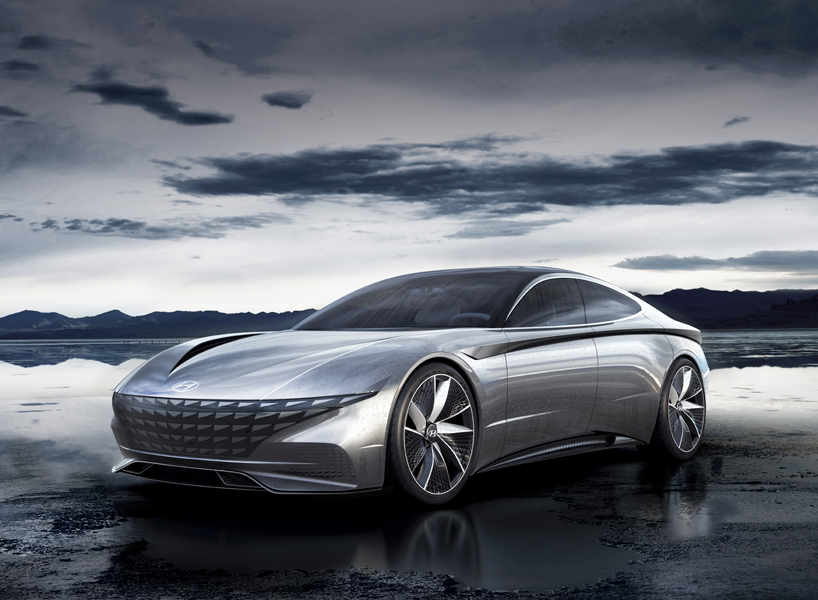 image courtesy of hyundai
called 'le fil rouge', hyundai's new design concept opens a new era for the south korean-automaker's direction with a sensuous sportiness theme. proportion, architecture, styling and technology are harmonized while creating a distinctive and unique look and feel. as its name implies, 'le fil rouge' (english translation: common thread) is a reflection of its belief that the brand's past, present and future designs are all connected.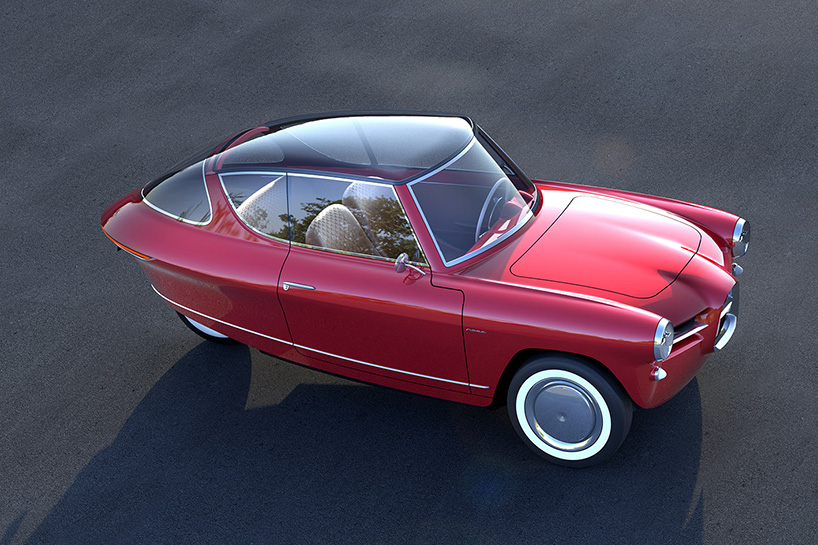 rendering courtesy of nobe
in a bid to make electric cars more stylish, the nobe '100' is a three-wheeled, neo-designed, light electric vehicle, inspired by vintage icons like the 1955 alfa romeo 'giulietta'. built in estonia, the EV's creators have designed it to be an upgradeable and recyclable alternative to disposable cars that instantly start decreasing in value and are eventually scrapped. a vintage look is defined by the car's tapered tail, whitewall tires and thin-rimmed steering wheel.
see designboom's TOP 10 stories archive: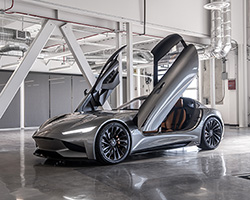 jul 10, 2020
jul 10, 2020
jul 05, 2020
jul 05, 2020
jun 13, 2020
jun 13, 2020
jun 09, 2020
jun 09, 2020
may 03, 2020
may 03, 2020
apr 22, 2020
apr 22, 2020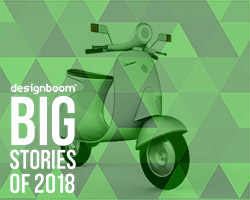 dec 21, 2018
dec 21, 2018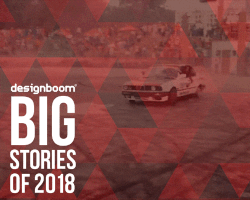 dec 20, 2018
dec 20, 2018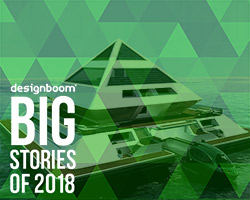 dec 19, 2018
dec 19, 2018
a diverse digital database that acts as a valuable guide in gaining insight and information about a product directly from the manufacturer, and serves as a rich reference point in developing a project or scheme.