in a year of constant, unpredictable and sudden change, concept cars powered by electricity were at least one norm – and a good one at that. following the growing trend in 2018 and 2019, our TOP 10 concept cars of 2020 are fully electric and even hint at a push towards using only renewable sources too. manufacturers revealed these most progressive, exploratory designs at livestreamed presentations as the typical trade shows around the world closed their doors in the face of the pandemic, most notably the geneva motor show in march. the digital debuts unveiled more than just the future of mobility for the big names; entrepreneurial, imaginative and up-and-coming designers all proposed their own concepts. these ranged from extreme survival teslas to autonomous mini-vans.
continuing our TOP 10 round-ups of 2020, we look back at 10 concept car stories that attracted our and, most importantly, designboom readers' attention over the past 12 months.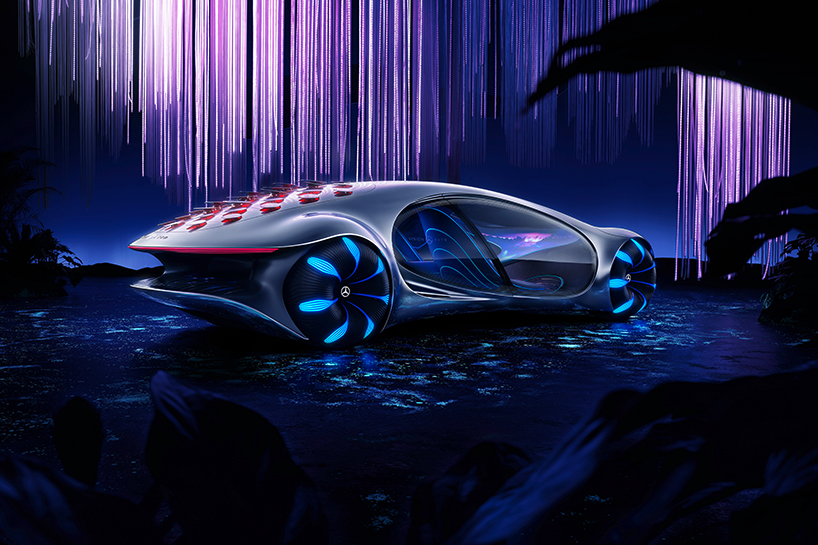 image courtesy of daimler AG
our list of the TOP 10 concept cars of 2020 starts right at the beginning of the year. designboom was live from CES to witness the landing of the mercedes-benz VISION AVTR – a concept for mobility in the distant future. translating to 'advanced vehicle transformation', the VISION AVTR showcases a new interaction between human, machine and nature, and does so by fusing its exterior, interior and user experience. the result distinguishes a distinctive inside-out design that also references several creatures from the film series avatar and its world of pandora. within, the car is powered by organic electric battery technology, which is only manufactured from completely compostable and recycled materials free of rare earths and metals.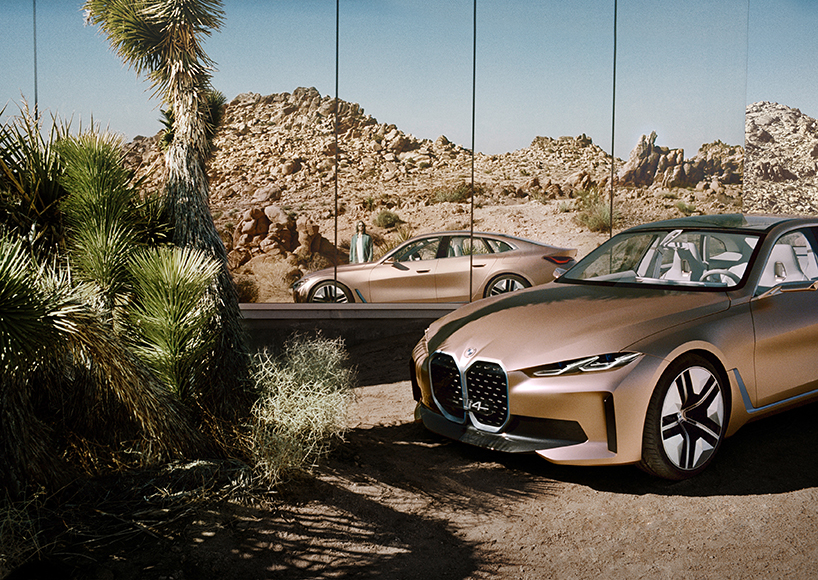 image courtesy of the BMW Group
golden in shape, sportiness and sustainability, the BMW concept i4 debuts to define their first pure-electric gran coupe. with production scheduled to start in 2021, it previews the eagerly awaited i4 as well as a new take of the brand's renowned sheer driving pleasure. it also reveals several unique exterior and interior details that will soon influence – and feature – in BMW's electrically-powered cars in the future. the result is a concept that unites modern, dynamic styling with four-door spaciousness and functionality.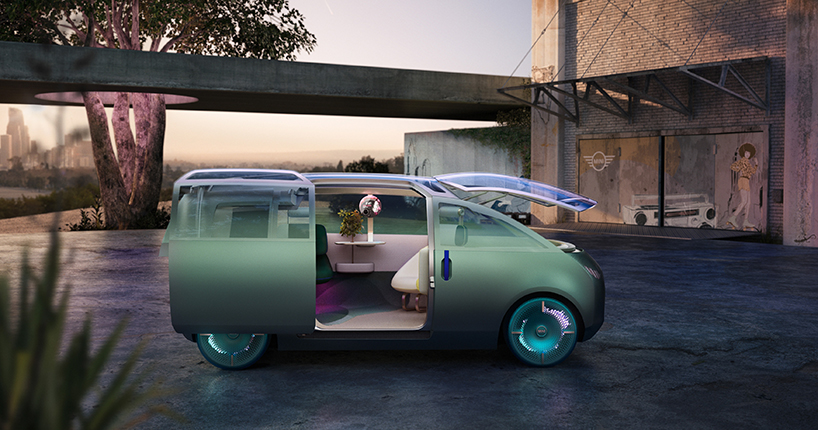 image courtesy of the BMW Group
in an all-digital world exclusive premiere, MINI unveiled the Vision Urbanaut – a vision of space in an all-new form. the interior design of the electric vehicle – at first reminiscent of a living room – literally pushes the boundaries of interior space and versatility on a minimal footprint in combination with a purist mono-volume exterior design. in fact, it showcases a wide range of usage that extend the car beyond driving to focus on where these journeys take you. three MINI moments – chill, wanderlust and vibe – reveal these alternate, highly rich experiences and for this, the vehicle adapts to your personal needs. it creates an urban oasis, a place to relax, work or a place where you can spend quality time with your friends and family.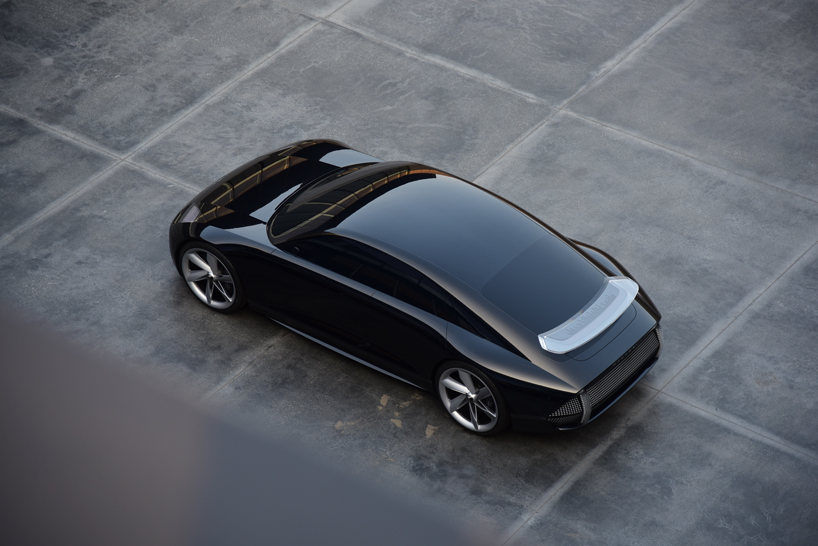 image courtesy of hyundai
hyundai motor's new 'prophecy' concept EV showcases the brand's 'sensuous sportiness' and 'optimistic futurism' design philosophies. it focuses on the emotional link between humans and automobiles. visually, it establishes a new standard for the EV segment with a new architecture defined by pristine surfaces, an extended wheelbase and short overhangs gives the concept an iconic silhouette. the car's headlights and taillights appear to be pixelated and will carry forward in to future models as a signature design element.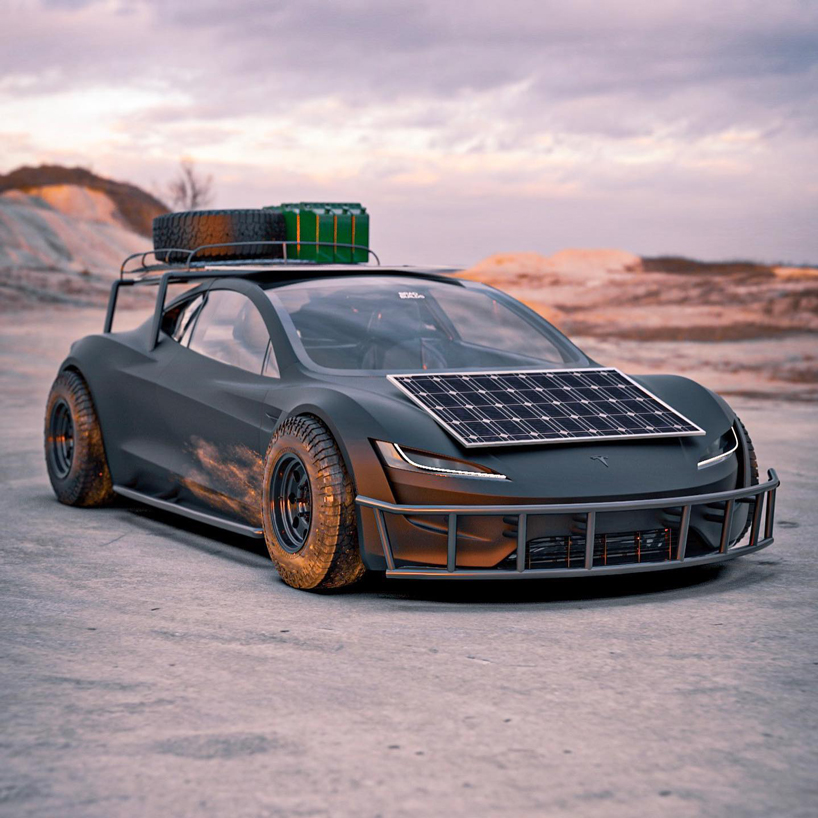 image by bradbuilds
los angeles-based concept artist bradbuilds presents the tesla roadster safari – an ideal form of transportation during an 'apocalypse breakout'. finished in matte black, the electric vehicle features essential modifications required for survival, including a solar panel, heavy duty tires, and grille guards. in appearance, it combines the aesthetic of a porsche 911 safari model with the tesla roadster in his renderings. these are then placed in a desert setting, even seen with realistic dirt marks along the sides of the car.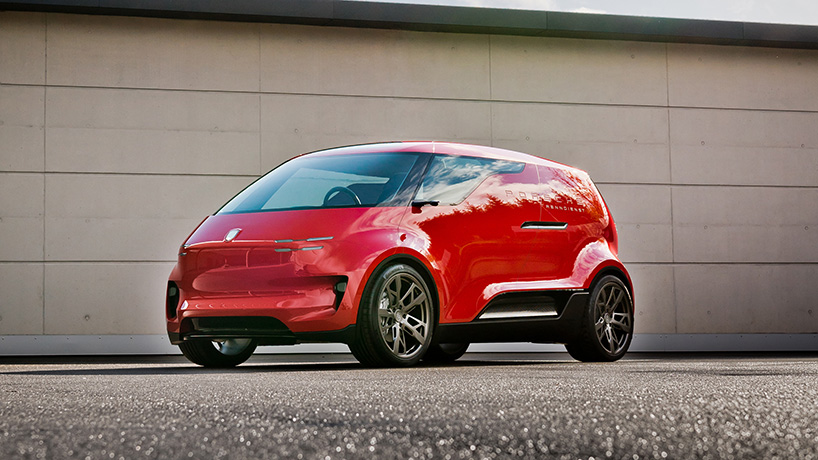 image by porsche
porsche has published a new book dubbed porsche unseen, highlighting design studies from 2005 to 2019. kept under lock and key until november 2020, the sports car manufacturer showcases 15 different visions that offer an exclusive insight into its design process, including drawings and finished models ready for series production. one such vision – the porsche vision renndienst – was created in 2018 as an interpretation of a family-friendly space concept for up to six persons.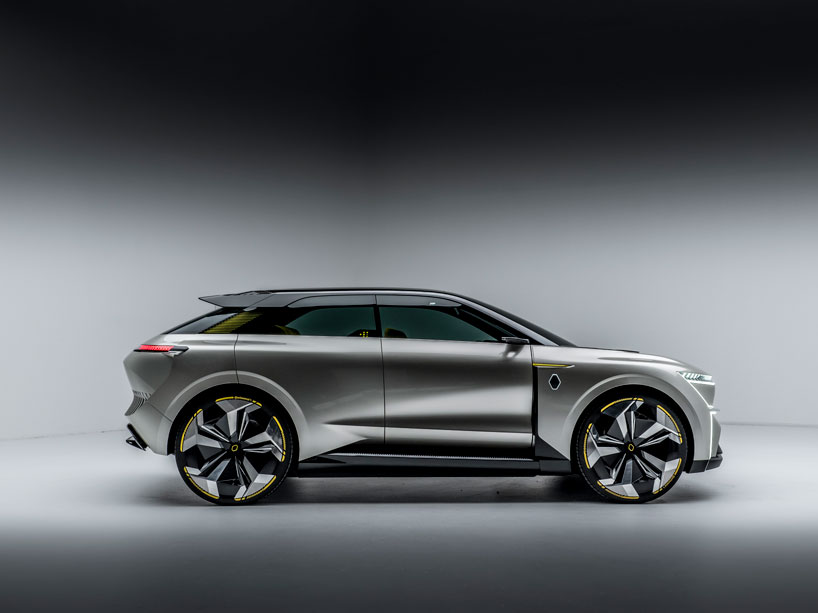 image courtesy of groupe renault
the renault MORPHOZ is the french manufacturer's vision of personal, shareable, electric mobility in the near future. appearing as if a blend of a saloon, SUV and coupe, it presents an innovative ideal for sustainable mobility and smart city ecosystems. as such, it is capable of adapting in size, shape and range based on the different needs of the user. the car does so by transforming into two different modes: city and travel. the former, at 4.40m in length, is most convenient for day-to-day commuting; the latter expands its length to 4.80m to accommodate added capacity for long distance journeys.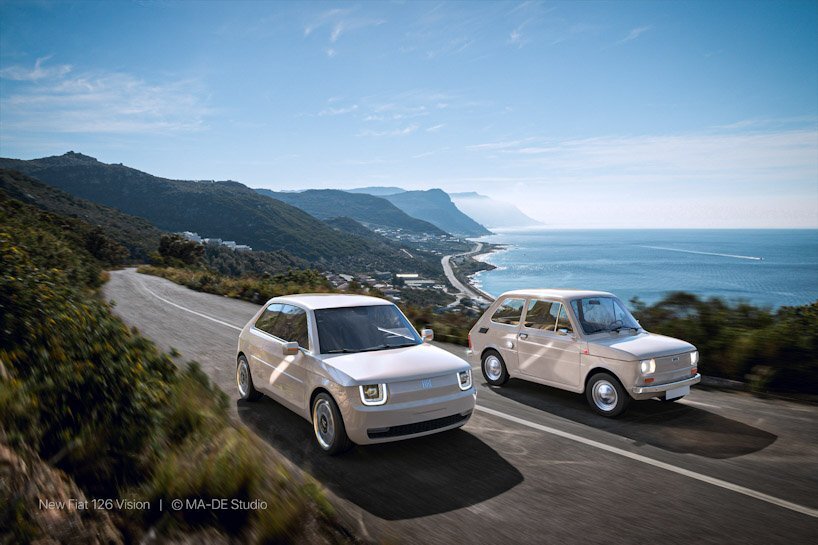 image © MA-DE studio
design studio MA-DE has brought fiat's classic 126 model – first revealed in 1972 – into the 21st century with an all-electric concept. dubbed the 'fiat 126 vision', this reinterpretation preserves the unmistakable shape of the original car but gives it a smooth, rounded update. for example, the recognizable contours remain whilst other unmistakable stylistic elements, like the rear roof tapering and squared headlights, have been strengthened thanks to an accentuated waistline line that surrounds the whole vehicle.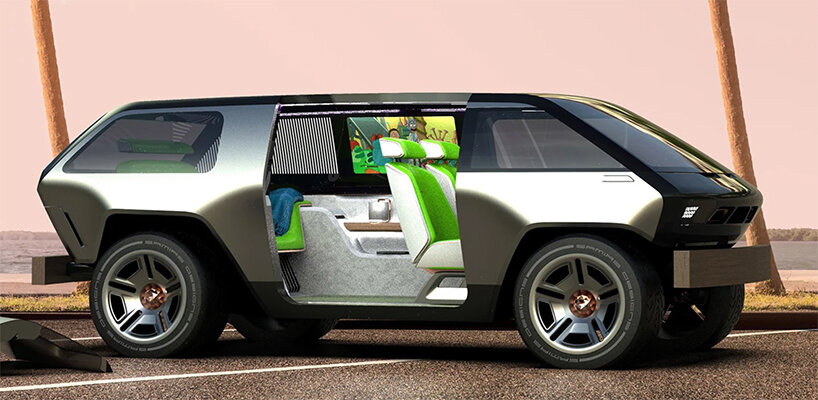 image by samir sadikhov
automotive designer samir sadikhov has reimagined the cybertruck as a minivan inspired by curt brubaker – a celebrated car designer whose work directly influenced this recently unveiled tesla. dubbed the brubaker box, the concept rounds out the slightly sharp, angular, low-poly edges of the cybertruck aesthetic in favor of a softer monocoque. the render envisions a cuboid-shaped minivan configuration with extra capacity added to the rear of the vehicle, which is accessible via a single sliding door. the designers stays true to the original's metallic finish but adds wooden bumpers at the front and rear.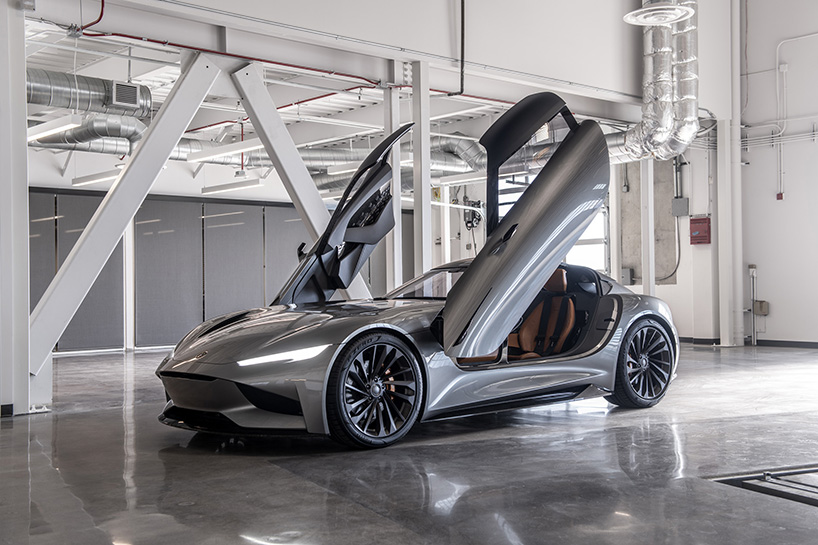 image courtesy of karma automotive
as the final of our TOP 10 concept cars of 2020, the all-electric karma SC2 signals the brand's future design language and technology offerings. the full battery electric vehicle concept delivers an impressive 1,100 hp and races from 0 to 60mph (97 km/h) in under 1.9 seconds. both the front and rear have been mounted with twin electric motors that deliver 800 kW peak power, with 14,000 Nm (10,500 lb.ft) wheel torque. a 120 kWh battery pack complements it by providing a rage of 325 miles (523 km), carbon ceramic brakes, a push-rod operated racing suspension and a karma torque vectoring gearbox.
see designboom's TOP 10 stories archive:
a diverse digital database that acts as a valuable guide in gaining insight and information about a product directly from the manufacturer, and serves as a rich reference point in developing a project or scheme.
designboom will always be there for you
milan, new york, beijing, tokyo

,
since 1999