see designboom's TOP 10 stories archive:




many conceptual, bespoke and production motorcycles and scooters raced into the mainstream in 2017, with many amongst the most popular articles on designboom this year. from slightly absurd to down right gorgeous, our coverage of anything on two-wheels have not only focused on the headline launches, but even the most fanatical visions of future bikes. furthermore, over the past year, custom-building and the integration of electric motors – a continuation of 2016 – have been the most apparent trends.
continuing our TOP 10 round ups of 2017, we look back at ten motorycle stories that grabbed our and most importantly, designboom readers' attention over the past 12 months.
1 – BMW motorrad concept link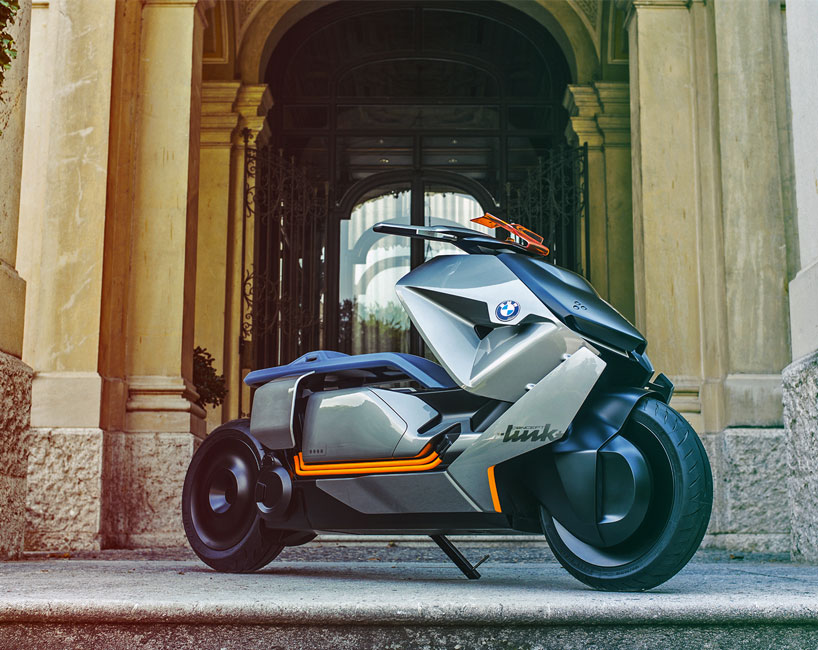 image © hermann koepf
during the concorso d'eleganza villa d'este 2017, BMW motorrad debuted a zero-emission urban mobility concept, titled 'concept link', which is neither a motorcycle or a scooter. with a low-slung, stretched body and flat seat paired with the diagonally rising front portion, the design takes a very unique appearance. this is further supported by a completely new form language that, over a two color tone body, displays a modern style with clear lines, large surface areas and simple, precise shapes. at the exclusive launch, designboom interviewed edgar heinrich, head of design of BMW motorrad, who provided additional insight into the concept, its trio of connectivity capabilities and completely new design language.
2 – local motors ariel cruiser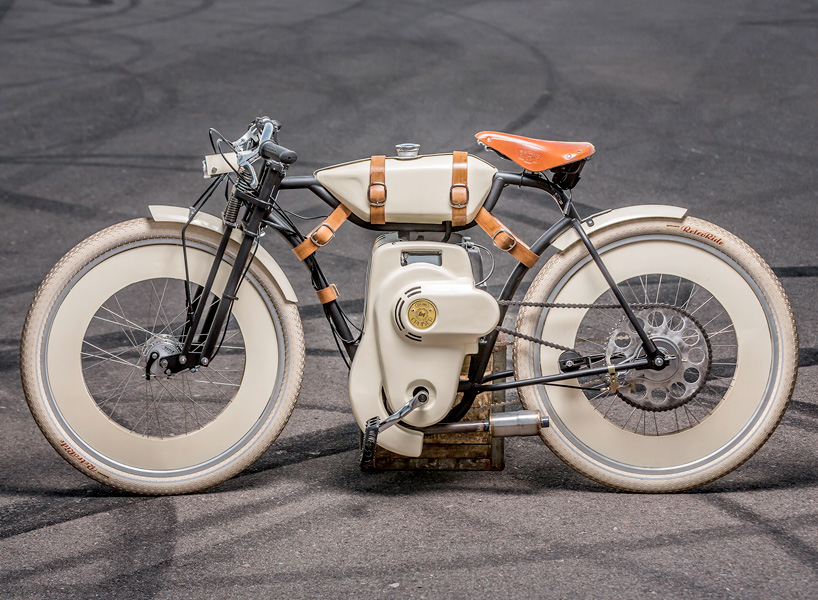 image courtesy of ianis vasilatos and nicolas de peyer
after opening a call-for-entry for a retro-styled, gas powered bike, local motors' team of engineers set about creating a fully-functional prototype of the ' ariel cruiser' by ianis vasilatos'. it takes the aesthetics of a 1920's board track racer and translates them into a modern, motorized bicycle format, which has been produced in both an electric and gas version. the electric ride runs for 20 miles, reaching speeds of up to 27 mph, whilst its gas-powered sibling uses a 50CC honda motor and a 0.6 gallon tank to power up to speeds of 34 mph over a range of 70 miles.
3 – bandit9 dark side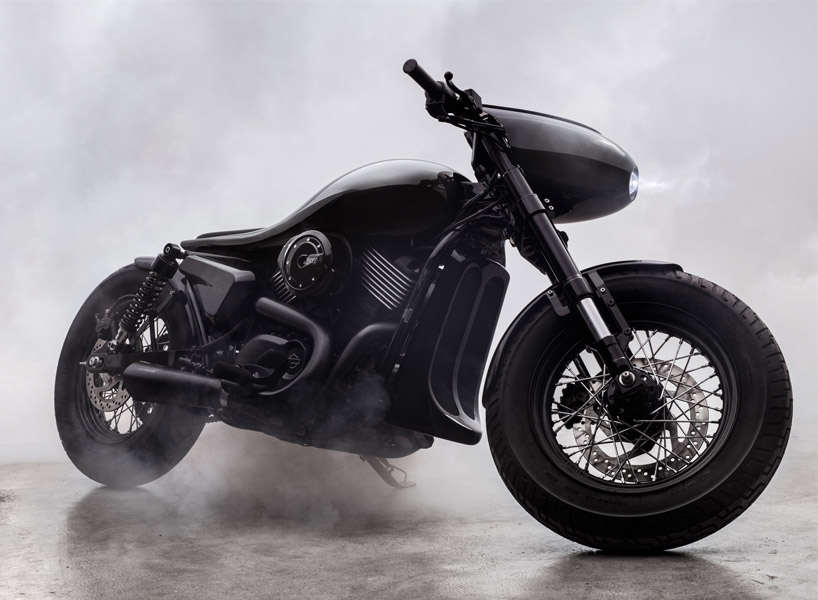 image courtesy of bandit9
as a pitch-black blend of pure capability and elegance, the bandit9 'dark side' motorcycle composes a harmony of the dark, dramatic and beautiful. limited to just nine editions, it is handcrafted to perfection with an understated yet intimidating aesthetic. the bike's profile is an exaggeration of an airplane's aerodynamics – a typical source of influence for the craft shop – where the smooth unibody fuses together the cowl, fuel tank, seat and brake light. this one continuous and curved piece subtly catches different lights, which dramatically creates an elongated, dynamic and mysterious appeal.
4 – great japan samurai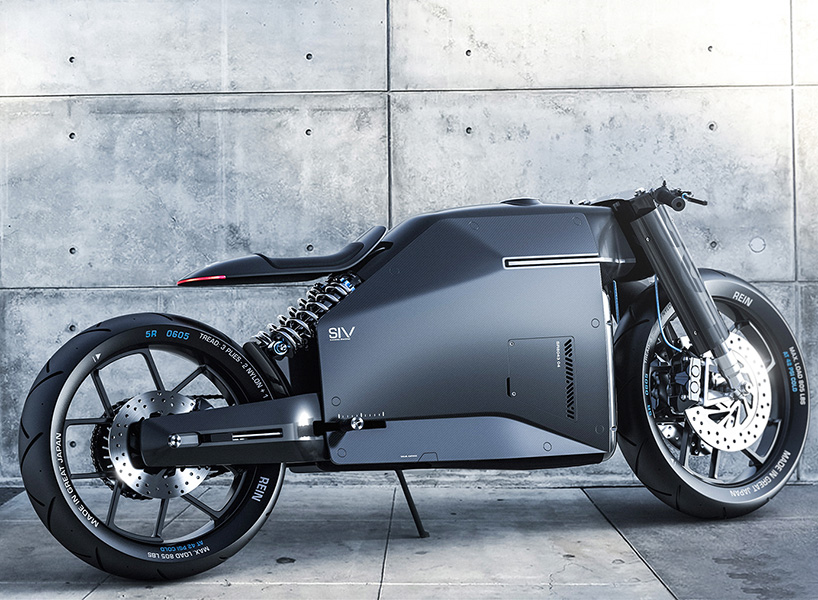 image © artem smirnov / vladimir panchenko
dubbed the 'samurai', this futuristic concept by great japan depicts a time soon to come. borrowing trends from japanese craft, its design fixates upon a foundation of artistic culture with its delicate art of origami, the fighting samurai spirit and celebration of simplicity and space. although conceptual, it would be highly likely that it would offer dramatic performance if ever produced, as hinted by its aggressive title.
5 – urban motor easy like sunday morning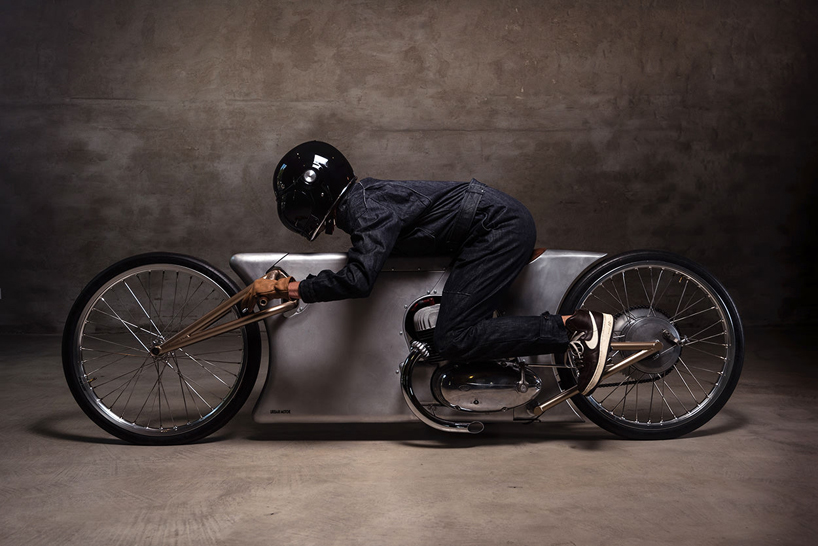 image © urban motor / tim adler
the 'easy like sunday morning' custom motorcycle is an unusual, yet elegant interpretation of the contemporary road bike. for their entry into the glemseck 101 race in leonberg, berlin-based urban motor built the two-wheeler based upon a two-cylinder engine from a 1964 jawa '350', but removed everything apart from the powerplant, before building a whole new chassis from steel tubing. its alloy bodywork was crafted in collaboration with marvin diehl of krt, who also created its unique handlebars with integrated front suspension design, hidden behind the graceful alloy silhouette.
6 – yamaha 03GEN-X'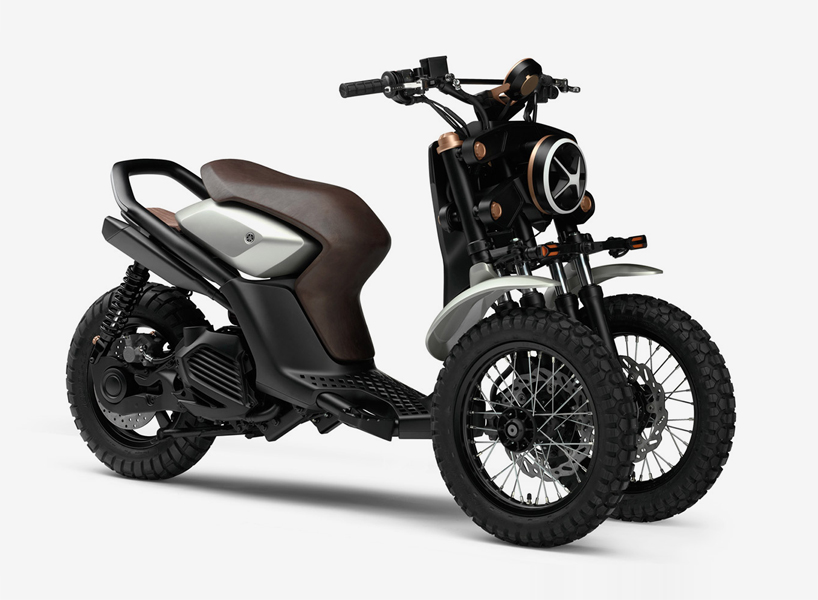 image © yamaha
yamaha unveils a three-wheeled off-road scooter concept, featuring wire spoke wheels, thick knobby tires and a distinct scrambler style to it. the '03GEN-X' is an unusual, futuristic concept designed with off-roading and 'cross' in mind. its sturdy aesthetic include highlight features such as a futuristic front headlight with an X carved into it, a colorful digital display, a rising exhaust, a brown leather seat, and a thick rear frame with the taillight and rear turn signals integrated.
7 – exodyne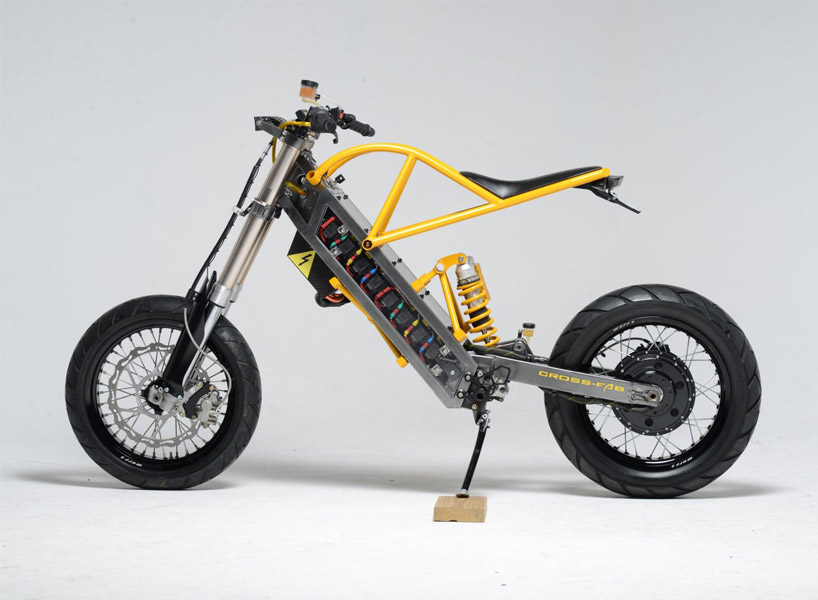 images courtesy of victoria velvet photography
like a jacked-up battery pack connected to two wheels and a handlebar, the 'exodyne' electric motorcycle fuses rapid power with energetic, home-made engineering. created by a veterinarian in atlanta, usa, alan cross' bespoke bike is the result of nine months of research, design and fabrication work. its center box frame, which houses 48 lithium polymer battery cells in a 100V 32 configuration, connects directly to the head stock with a swing arm pivot point. combined with a rear hub 11 kW motor, it has a top speed of 60 mph and a total range of 20 miles.
8 – maxim burov koenigsegg concept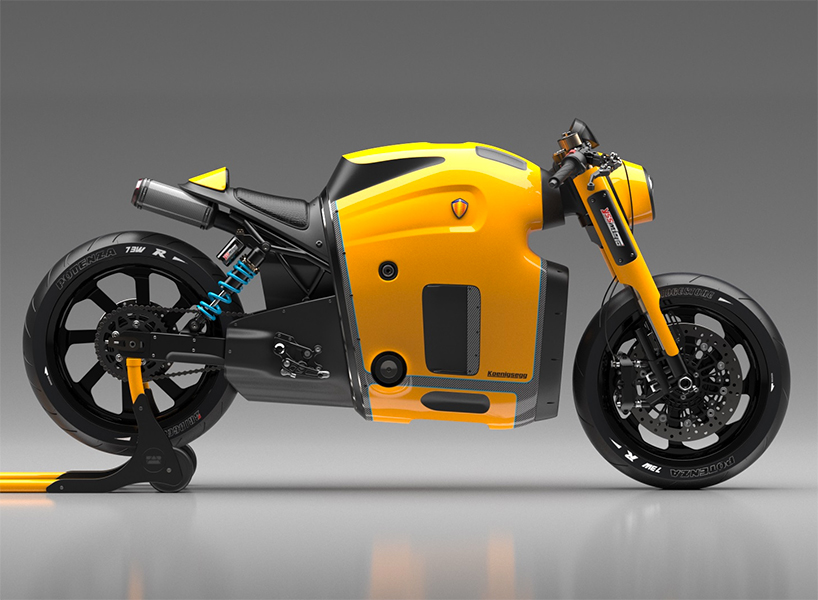 image courtesy of maksim burov
maxim burov has imagined what if the world renowned supercar company koenigsegg designed a motorcycle. in a series of renders, the moscow based artist envisions a two-wheeler following the brand's ability to produce quality machines that marry style and substance. with its distinguish color choice, the concept would arguably perform just as brilliantly as the automobiles themselves, although it looks like we may never know this for sure.
9 – pablo baranoff dorn and alex guliyants model electric cafe racer 1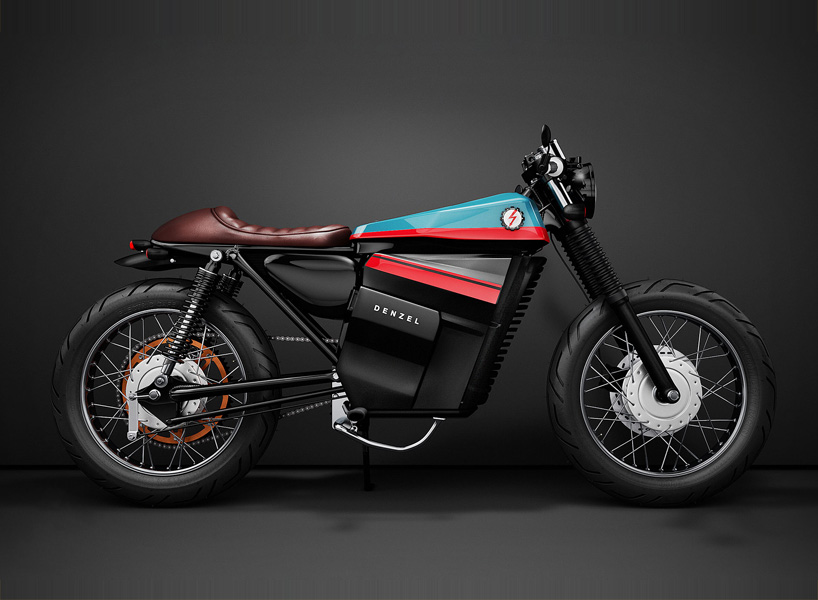 image © pablo baranoff dorn / alex guliyants
dubbed the 'model electric cafe racer 1', this futuristic concept depicts what the future of motorcycles might hold for honda. created by spanish and russian designers, pablo baranoff dorn and alex guliyants, it has been completely designed from scratch, including the seat, frame, tires, front + rear suspension, rims, lights, front lamp and hubs. however, built over a honda 125 cc café racer with an electric motor, the bike has a second alternative body, built from steel or aluminum. the team built a three-part structure; the front grille is larger and more aggressive with the air intake in mind, whilst the sides showcase an alternate idea of a second air intake to offer riders the possibility of additional technical features.
10 – urban drivestyle MOKE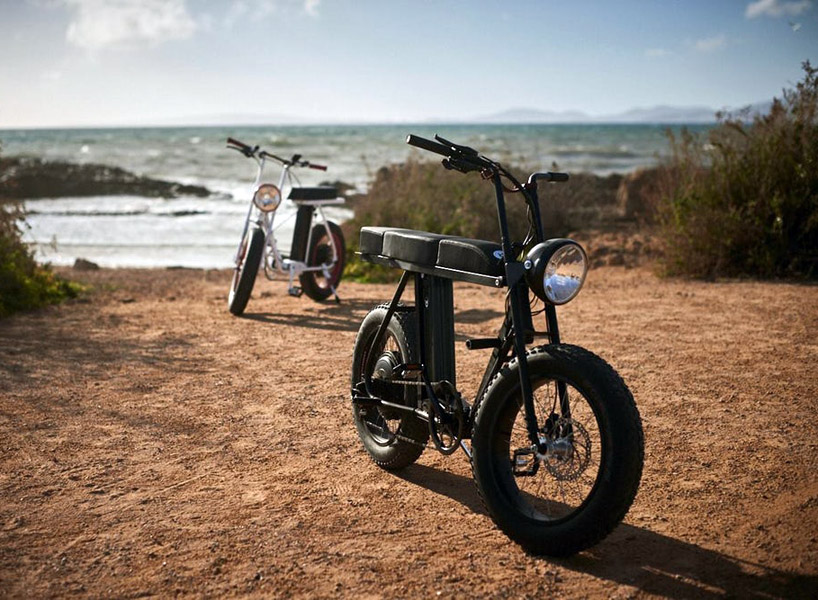 image © MOKE
the 'MOKE' from urban drivestyle is an unusually framed e-bike designed to carry extra cargo. the island of mallora-based company calls its seat the longest ever of its kind, and it can be segmented into three cushions that can be swapped with accessories, like child seats and cargo racks. furthermore, the compact utility bike doesn't ride like a conventional electric two-wheeler either, as it reaches a maximum speed of up to 28 mph (45 km/h).
may 13, 2020
may 13, 2020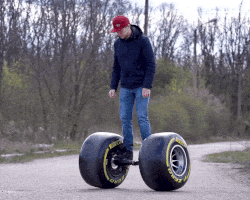 may 10, 2020
may 10, 2020
may 08, 2020
may 08, 2020
may 07, 2020
may 07, 2020
may 05, 2020
may 05, 2020
apr 28, 2020
apr 28, 2020
may 24, 2020
may 24, 2020
may 22, 2020
may 22, 2020
may 16, 2020
may 16, 2020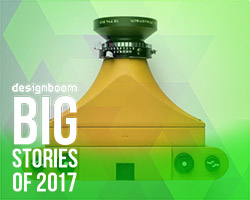 dec 21, 2017
dec 21, 2017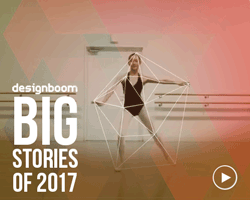 dec 20, 2017
dec 20, 2017
dec 19, 2017
dec 19, 2017
a diverse digital database that acts as a valuable guide in gaining insight and information about a product directly from the manufacturer, and serves as a rich reference point in developing a project or scheme.