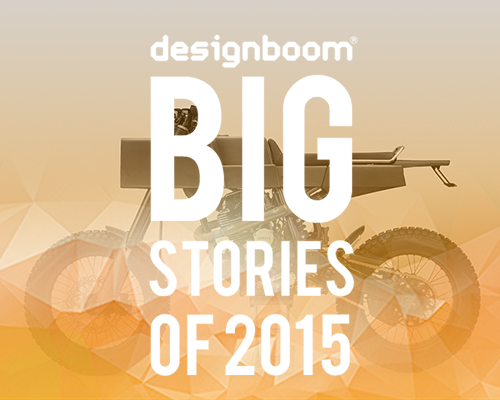 dec 16, 2015
TOP 10 motorcycles of 2015
TOP 10 motorcycles of 2015
custom motorcycles moved from a niche market into a full blown mainstream domain. major bike brands have collaborated with independent builders, modifying models by BMW, yamaha and ducati – each tuned with numerous eye-catching details and performance parts. as a continuation of our annual round up, designboom lists the TOP 10 motorcycle stories of 2015.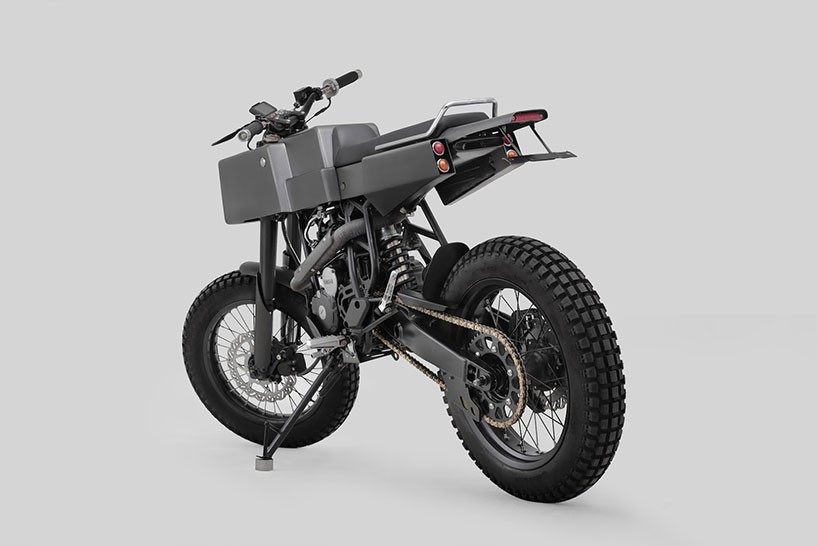 image courtesy of thrive motorcycles
designed and built for a graphic designer, thrive motorcycles created the unique squarish shape 't 005 cross'. based on the 2008 yamaha 'scorpio', the shop constructed a whole new sub frame to engineer a clean look under the seat and maximize the horizontal body frame. constructed from brushed aluminum plates, the 't 005 cross' is a complete custom job with a stainless steel exhaust, and distinctive handlebar layout.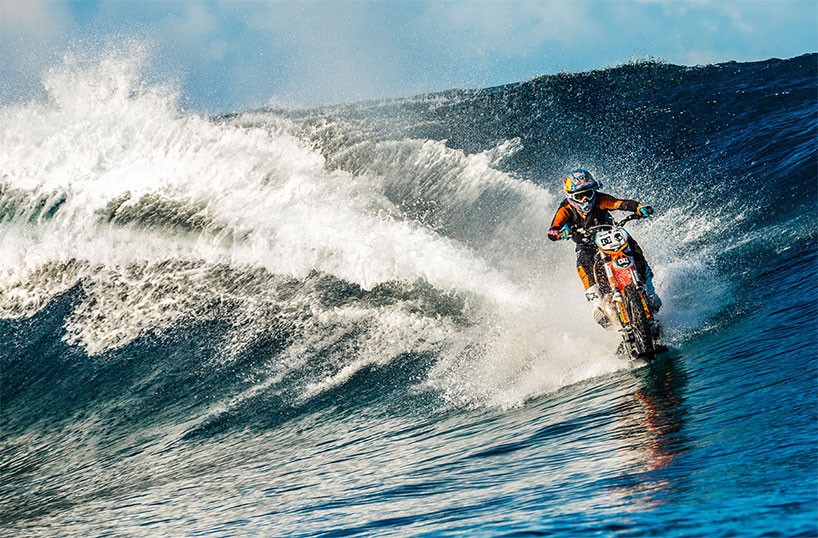 image courtesy of DC shoes
motocross athlete robbie maddison and DC shoes, set out to blur the lines of what's been done before and what's only been dreamt of, in an attempt to fulfill a three year long 'pipe dream.' his team spent days testing and building fins, waterproof sealed engines and different rear tire designs to accomplished a hydroplaning dirt bike. once completed, robbie dressed with his helmet, motocross boots and gloves, took the bike to the iconic waves of tahiti and managed to ride the unchartered saltwater waves of the pacific ocean like a pro surfer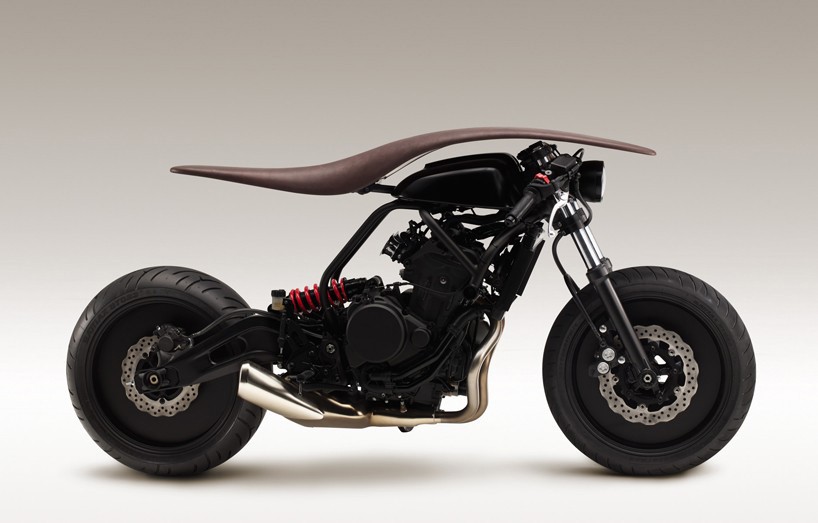 image courtesy of yamaha
exhibited at the 2015 saint etienne biennale, yamaha's 'project AH A MAY' switches the roles of their designers and places them in a seemingly opposite field. the 'root' motorcycle removes all meters and instrument panels from the rider's view, enabling him or her to feel as if they are part of the passing scenery. the saddle's form was crafted to flow from the front to the fuel tank, taking its influence from a horse motif. this provides a sense of unity among people, nature and the vehicle.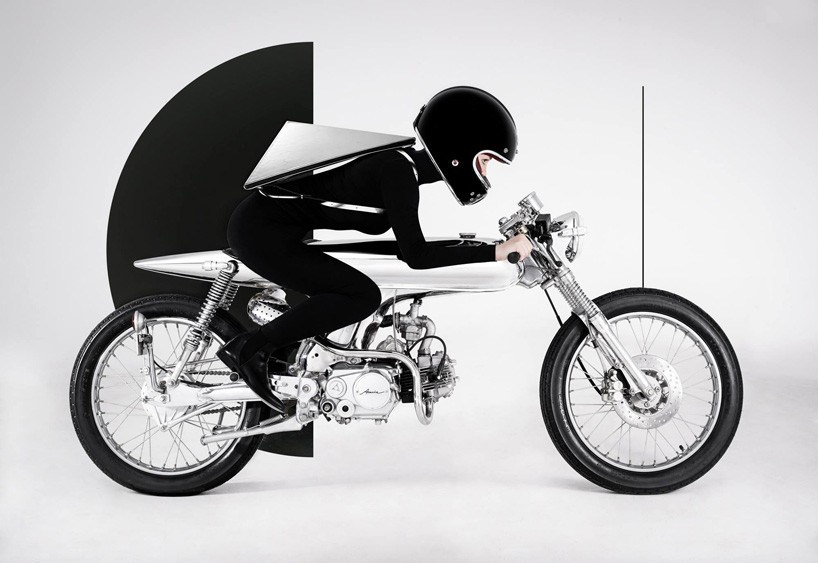 images courtesy of bandit9
the bandit9 'EVE' motorcycle is a custom-made model, boasting either a 90cc or 125 cc engine, that was developed upon the basis of a 1967 honda 'SS' bike. with a chrome-finished steel unibody which has bronze accents, the two-wheeler is stripped back to display its powerful mechanical parts such as the exposed suspension, and to further illustrate its sculptured form. these latest images captured by wing chan, showcases the beautiful 'EVE' product in a collaborative project with ukrainian fashion designer konstantin kofta, which, together, creates an almost sci-fi environment.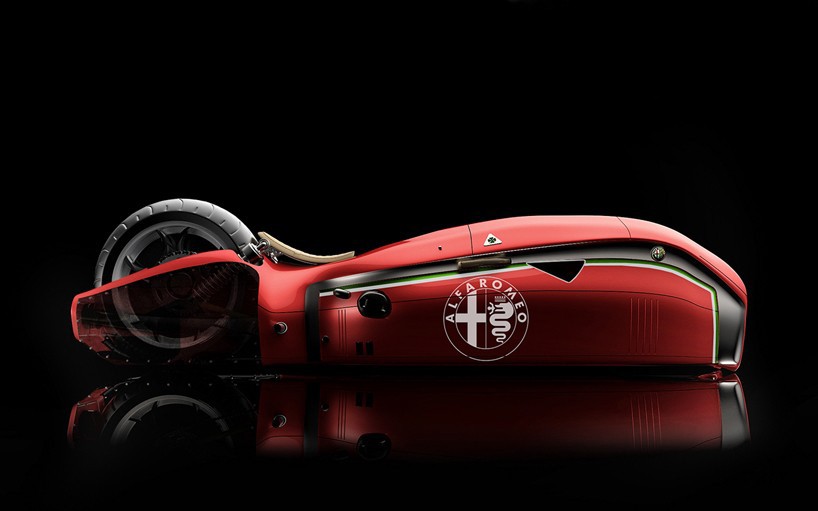 image courtesy of mehmet doruk erdem
reflecting the italian spirit and their customs, designer mehmet doruk erdem visualizes the alfa romeo 'spirito' motorcycle concept. following on from his previous BMW 'apollo streamliner' project, its front and side grilles illustrate the power of the brand's design and characteristics. it features a long nose that minimizes wind resistance and provides suitable space for the powerful engine. at its rear, the motorbike has a stylish and beautifully crafted brown leather seat, exposed shocks, and transparent parts that show off the machine's mechanics. decorated in the automotive company's recognizable red color, the 'spirito' reflects alfa's traditions through its styling, performance and personality.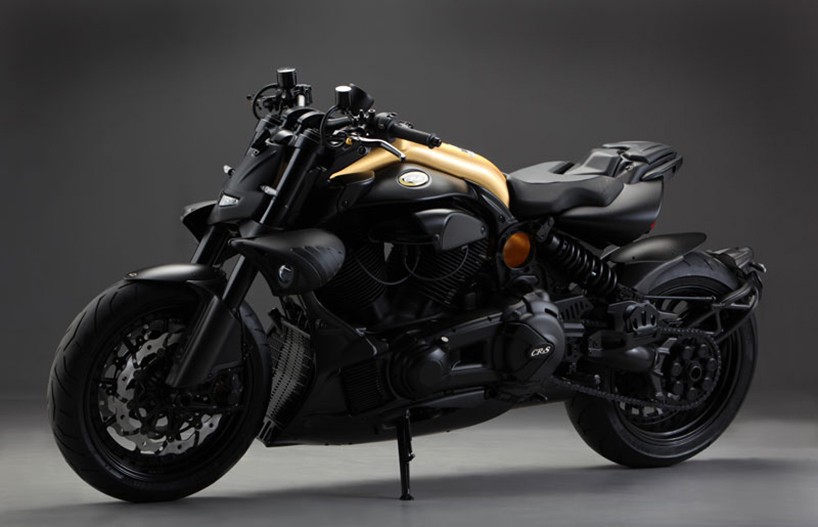 image courtesy of CRS
CRS produces high-quality motorcycles built with the latest available materials and premium performance parts. their latest 'duu' series focuses on a completely customizable frame where clients can change according to their needs, colors, and styles. both aesthetic configuration and mechanical components can be chosen. the basic frame is a totally stainless steel main structure made with big section tubes. the chassis' components are machined bended, and hand welded to reinforce the engine's cradle and holder. the 'duu' comes standard with a five-speed transmission or an optional six-speed, accompanied by a wet multitask clutch with hydraulic controls.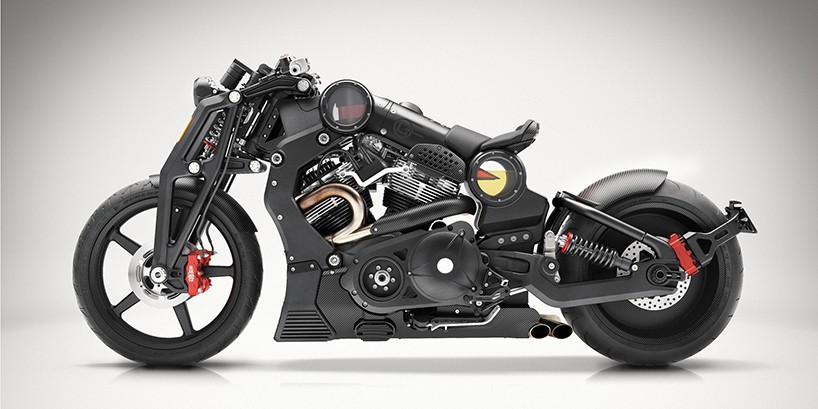 image courtesy of confederate
on a mission to symbolize an american rebellion in the form of a motorcycle, confederate designed the 'G2 P51 combat' concept. entirely made from lightweight aluminum, this muscle bike has machined fuselage plates located near the bulkheads that stiffen the proprietary monocoque. the new model incorporates a chassis with an intake box that ties directly into a CNC aluminum downdraft intake manifold. the fuel tank meant to bridge to the induction system where the swing arm pivot machined into the engine case.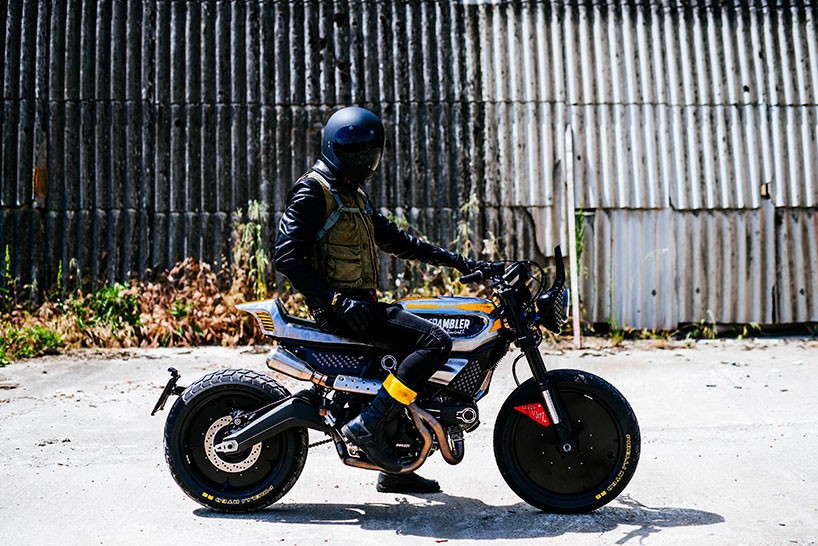 image courtesy of ducati
to convey the strong bond between ducati and pirelli, the two italian companies decide to collaborate on an artistic motorcycle with vibrazioni art design. the result is dubbed the 'SC-rumble', a specially made, drastically altered ducati 'scrambler' that is equipped with pirelli 'MT 60 RS' tires. the stock chassis was shortened in the back and all the original lids were removed in favor of a monocoque made of sheets recovered from industrial bins, which were hammered and shaped by hand.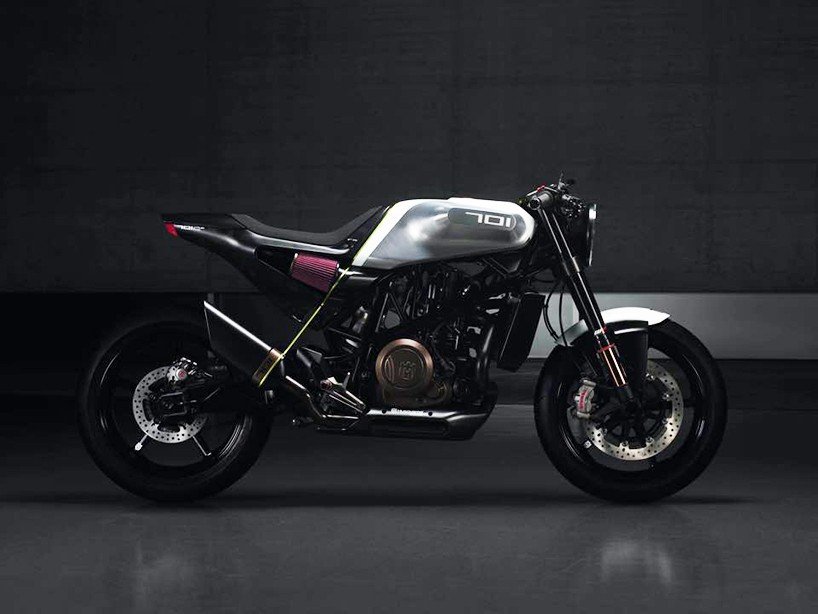 image courtesy of husqvarna
revealed at EICMA 2015, swedish motorcycle company husqvarna celebrates 112 years of heritage by extending their model range with the 'vitpilen 701' street bike concept. the new addition has a minimalistic layout and is powered by a large displacement single-cylinder engine. riders will notice the little details such as the monocoque rear fender piece, as well as the exposed air filter and '701' headlight. the paint scheme is very simple, with a blacked out engine cover and single bright yellow line following through the frame.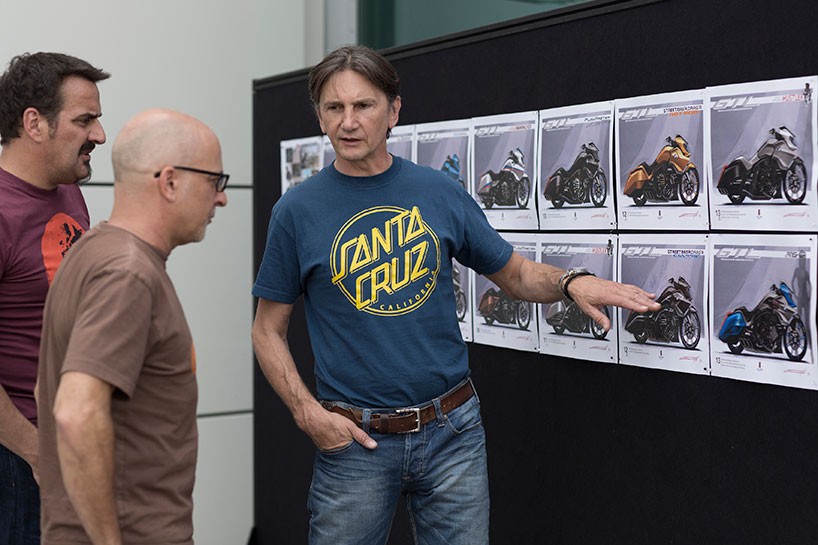 image courtesy of BMW
at the 2015 concorso d'eleganza in villa d'este designboom caught up with head of BMW motorrad design edgar heinrich to talk about the 'motorrad concept 101′, and the direction of BMW motorcycles to come.
aug 02, 2020
aug 02, 2020
jul 31, 2020
jul 31, 2020
jul 30, 2020
jul 30, 2020
jul 08, 2020
jul 08, 2020
jul 05, 2020
jul 05, 2020
jun 26, 2020
jun 26, 2020
dec 31, 2015
dec 31, 2015
dec 29, 2015
dec 29, 2015
dec 29, 2015
dec 29, 2015
a diverse digital database that acts as a valuable guide in gaining insight and information about a product directly from the manufacturer, and serves as a rich reference point in developing a project or scheme.