see designboom's TOP 10 stories archive:



TOP 10 PUBLIC TRANSPORTATION STORIES OF 2016
concerned with sustainability, confronting environmental challenges and generating faster ways to travel, 2016 was a year that saw innovative public transportation projects and visions. from elon musk's hyperloop proposals by BIG in the UAE to self-driving buses and human-powered gym boats, we continue with our annual roundup with designboom's TOP 10 stories of public transportation in 2016.
HYPERLOOP BY BIG, ARUP AND AECOM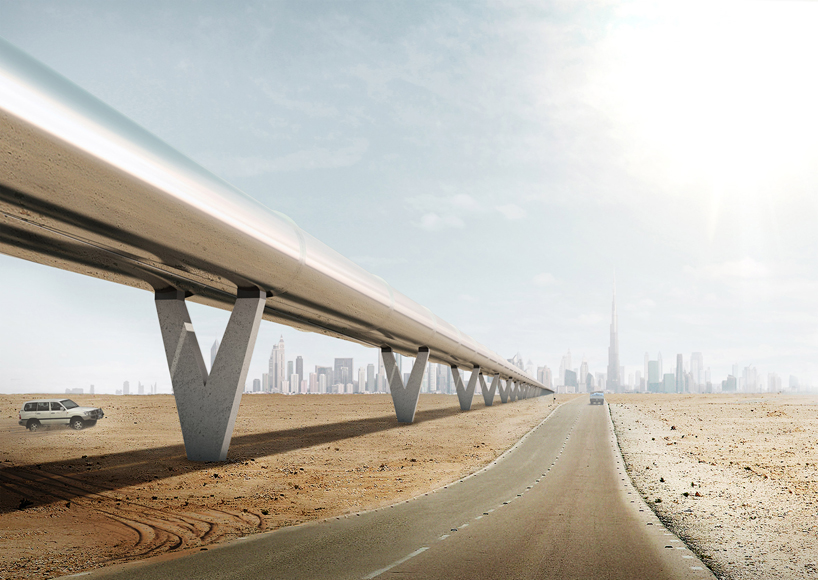 image courtesy of BIG / hyperloop one
in november, bjarke ingels group revealed more details about its hyperloop transportation system, which would connect the UAE cities of dubai and abu dhabi in just 12 minutes. current connections between the two urban centers range from train travel, which takes over an hour, to a public bus that takes more than two hours. according to the design team, the scheme is based on a study of how an urban and inter-city transport network could and should integrate with existing infrastructure. the reveal coincides with the announcement of major deal between hyperloop one and dubai roads and transport authority.
the hyperloop is a conceptual high-speed transportation system proposed by entrepreneur elon musk, incorporating reduced-pressure tubes in which pressurized capsules ride on an air cushion driven by linear induction motors and air compressors. hyperloop technology has been explicitly open-sourced by musk and spacex, and others have been encouraged to take the ideas and further develop them. to that end, several companies have been formed, and dozens of interdisciplinary student-led teams are working to advance the technology.
read more about the project on designboom here.
HYPERLOOP BY WESTON WILLIAMSON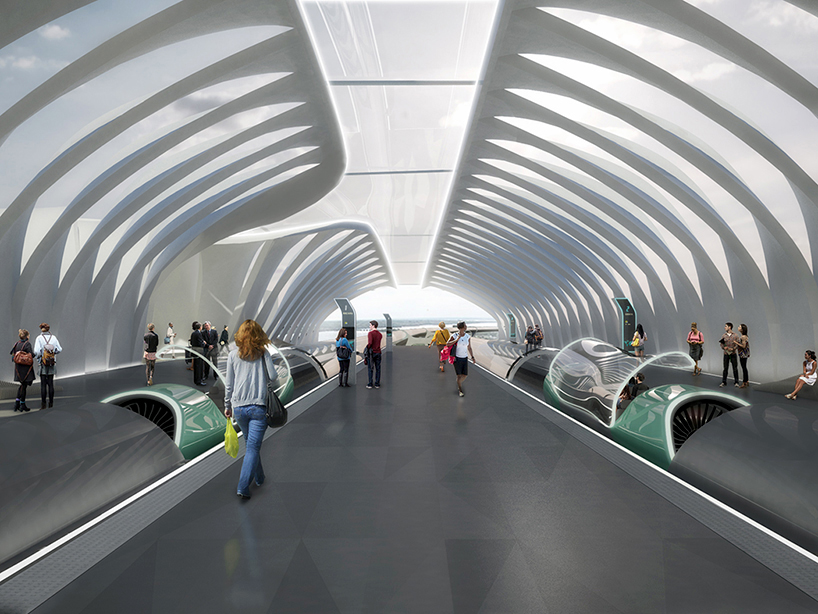 image courtesy of weston williamson
weston williamson's proposal takes advantage of australia's specific development typology – large commercial urban centers with clear routes between them – and proposes a hyperloop scheme running between adelaide, melbourne, canberra, sydney and brisbane. potentially, the scheme would cut journey times from melbourne to brisbane from a train journey of a day and a half to just 90 minutes. the proposal aims to revolutionize commuter travel, boost the nation's economy and significantly impact its climate change targets.
read more about the project on designboom here.
CHICAGO AERIAL CABLE CAR BY DAVIS BRODY BOND AND MARKS BARFIELD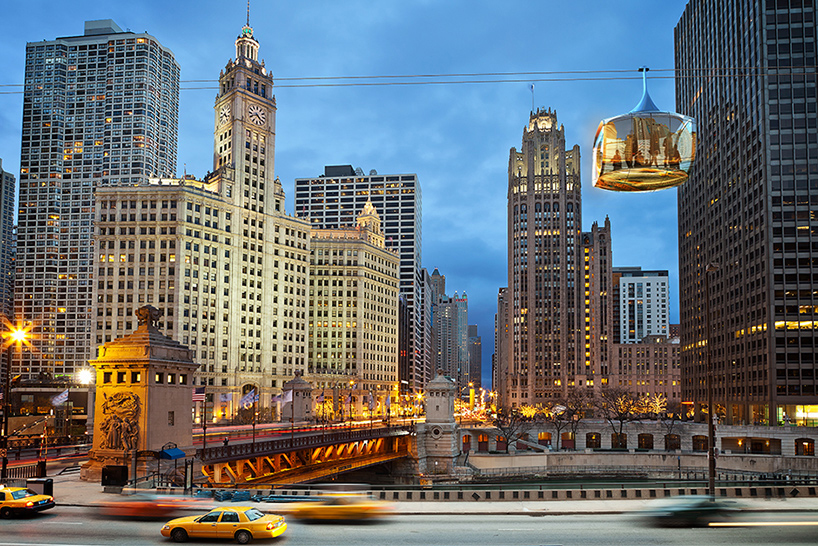 image by F10 studios
initial plans for a network of cable cars connecting chicago's city center were unveiled. designed by architecture firms davis brody bond and marks barfield, the 'chicago skyline' forms an aerial tourist attraction linking navy pier, the chicago lakefront, and the riverwalk, with downtown chicago. the project is being backed by local business leaders laurence geller, chairman and CEO of geller capital partners, and lou raizin, founder of broadway in chicago. designed to showcase the city's rich architectural heritage, the system would have stations positioned near to millennium park and michigan avenue, encouraging visitors to explore the city without the use of cars.
read more about the project on designboom here.
HUMAN-POWERED GYM BOAT BY CARLO RATTI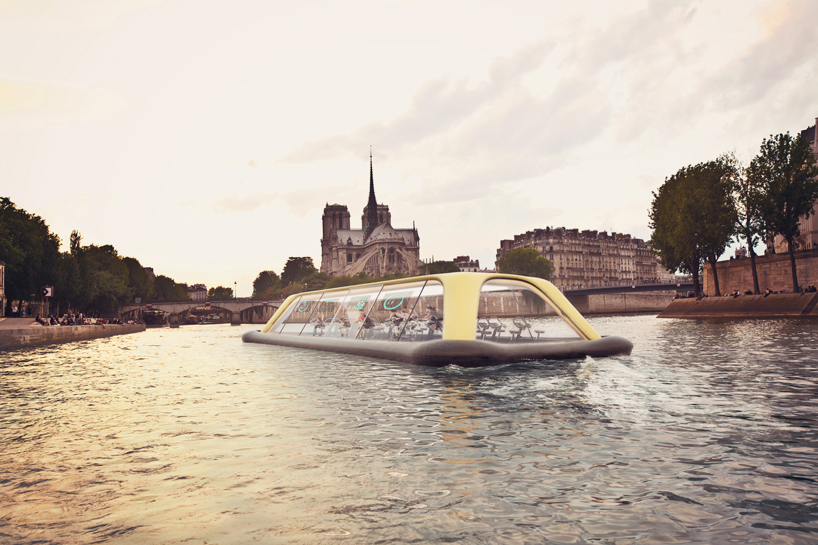 image courtesy of carlo ratti associati
carlo ratti associati revealed in november the paris navigating gym project, an exclusive human-powered boat that sails along the seine river in paris. developed as a collaborative initiative, the proposal responds to the locals' demand concerning the urban and public infrastructure. the boat is a 20-meter long 'fitness vessel' that can easily accommodate 45 individuals and features a distinct series of ARTIS fitness equipments — provided by technogym — which harness the energy produced during workout sessions and ultimately power the cruising vehicle. in addition, fitness enthusiasts can keep track of their energy data and the outdoor conditions via an augmented reality screen that displays real-time information.
read more about the project on designboom here.
ROBOAT BY AMS INSTITUTE IN COLLABORATION WITH MIT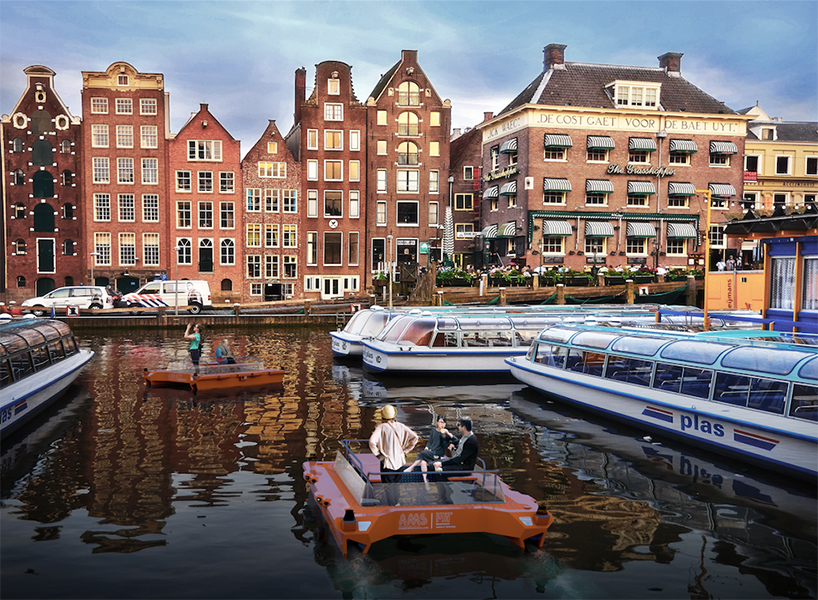 image courtesy of MIT
while the first prototypes of self-driving cars are taking to the road, amsterdam ushers in a new chapter in the international push for autonomous vehicles. roboat is the world's first large-scale research that explores and tests the rich set of possibilities for autonomous systems on water.
'imagine a fleet of autonomous boats for the transportation of goods and people,' says carlo ratti, professor at MIT and principal investigator in the roboat-program, 'but also think of dynamic and temporary floating infrastructure like on-demand bridges and stages, that can be assembled or disassembled in a matter of hours.'
read more about the project on designboom here.
SELF-DRIVING CITY BUS BY MERCEDES-BENZ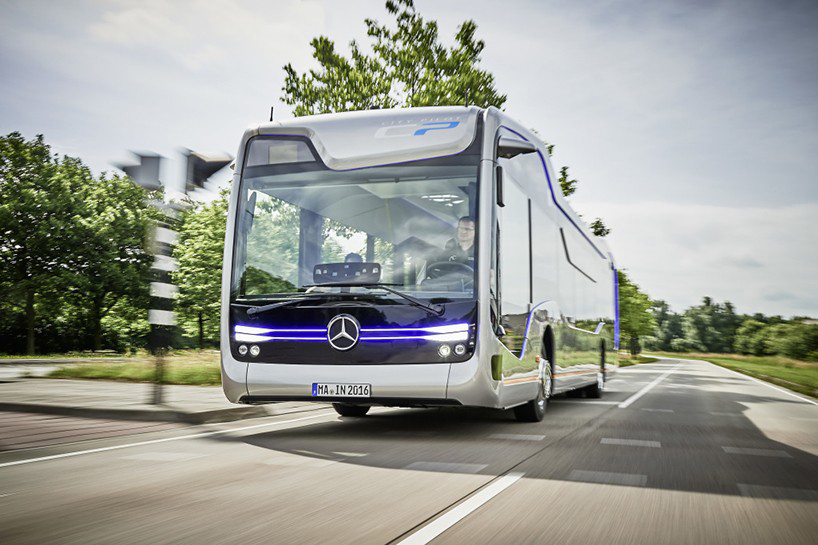 image courtesy of mercedes-benz
the mercedes-benz future bus with citypilot enhances the attractiveness of the city bus as a means of transport. this above all applies to passengers, but also to drivers and bus operators. all three groups benefit from a revolutionary design and trailblazing technology. the bus becomes one with its environment, both in terms of its exterior and interior design and of the technology employed as it moves along its dedicated line and communicates with its surroundings.
read more about the project on designboom here.
CHINA'S ELEVATED BUS BY TEB TECHNOLOGY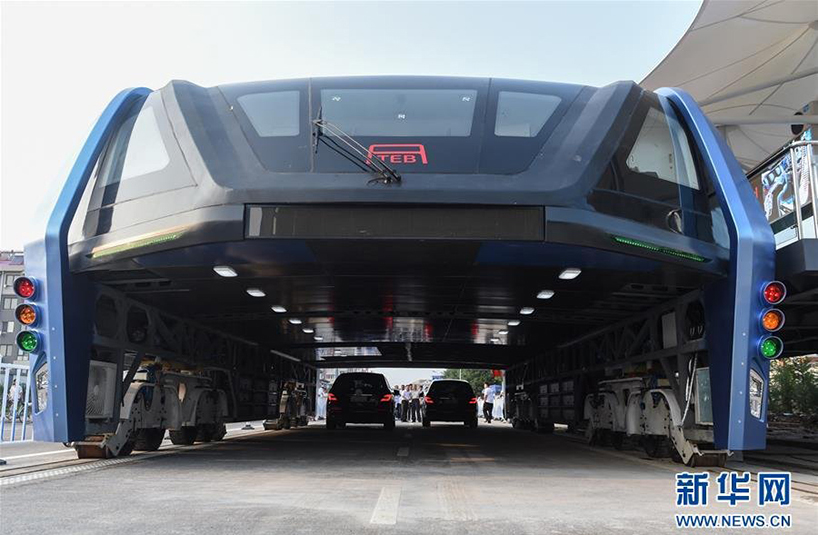 image courtesy of TEB / xinhua news agency
the world's first elevated bus took in august its first test drive in china's qinhuangdao, hebei province. the giant vehicle spans 22 meters long, nearly 8 meters wide, and reaches almost 5 meters above the tops of cars, soaring over traffic, decreasing gridlock, and speeding up ordinary vehicular travel. accommodating more than 300 passengers, the bus straddles the road, allowing personal vehicles to pass safely underneath.
UPDATE: sources have reported that the project is on hold.
read more about the project on designboom here.
DANCER BUS BY JSC 'VĖJO PROJEKTAI'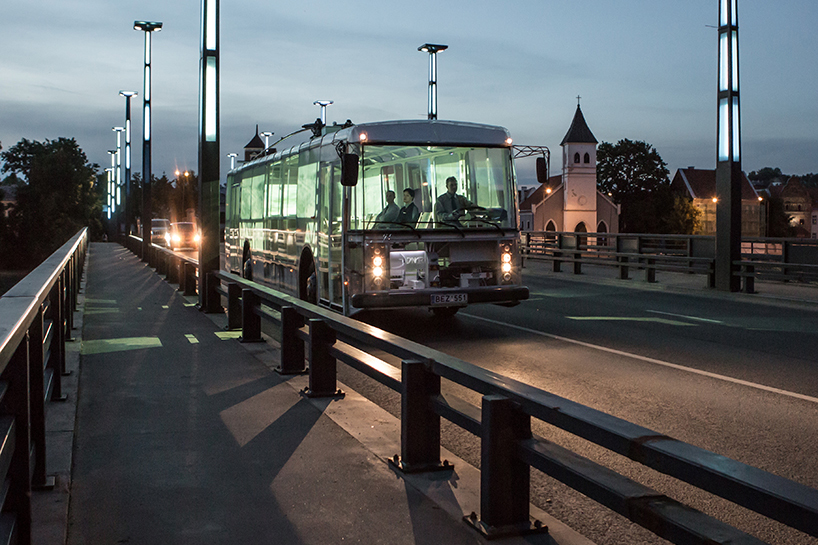 image courtesy of dancer bus / © eglė ščerbinskaitė
'dancer bus' is a project by JSC 'vėjo projektai' that aims to create a new generation of city buses. it is a visionary approach to the automotive industry that seeks to integrate into the public transportation sphere the original concepts used in bus design with new technological materials and wind power usage. 'dancer's' intention is to make public transportation an integral part of lithuanian cities. with this proposal, the creators mix technology, art, industry and society in order to improve the urban environment.
read more about the project on designboom here.
NICE TRAMWAY BY ORA ITO AND ALSTOM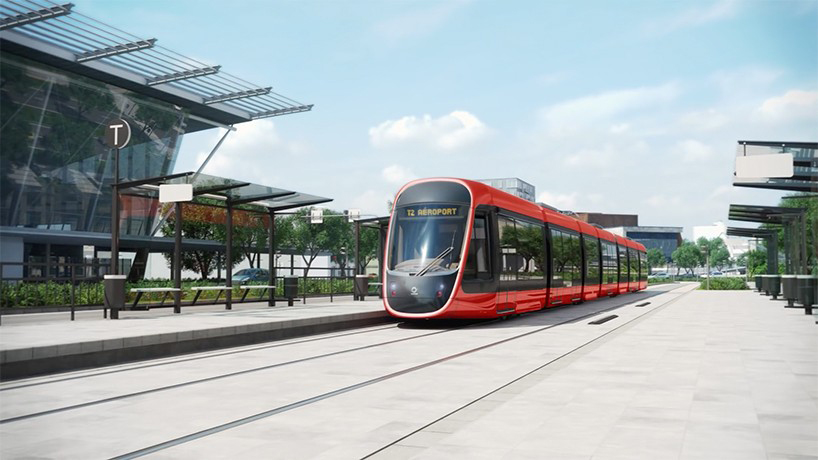 image courtesy of alstom
designer ora ïto and alstom unveiled the tram layout that will fill the streets of nice, france as voted by its inhabitants. the collaboration resulted in an organic and rational tram for the next generation ofalstom 'citadis X05' citywide tramways. the shape is designed to slip through the historical town paving a new wave of contemporary urban infrastructure. to integrate the system seamlessly with the city, the tramway will charge through the ground to avoid prominent overhead contact lines and cables.
read more about the project on designboom here.
GLOW-IN-THE-DARK CYCLE LANE BY TPA Sp. z. o. o.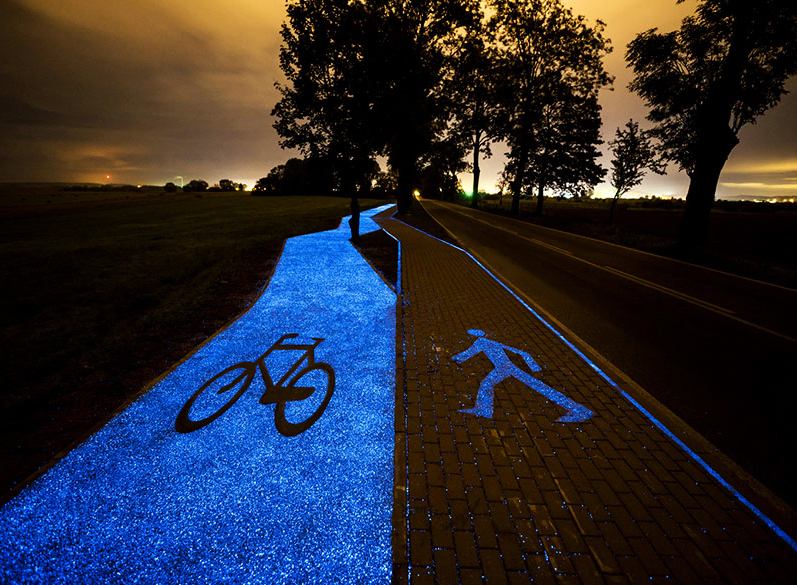 cycling has become a hugely popular activity in poland, thanks to the country's recent investments in biking infrastructure. now, a recently unveiled bike path in the north of poland–near lidzbark warminski in the mazury region–that can light up at night and glow a luminous blue hue, is enhancing cyclists' safety; comfort; and sustainability to the activity. installed by polish construction company,TPA sp. z. o. o. and influenced by the similar dan roosegaarde solar powered 'van gogh' bike path in the netherlands, poland's new bike path offers a completely solar-powered solution.
read more about the project on designboom here.
juliana neira
I designboom
dec 19, 2016
a diverse digital database that acts as a valuable guide in gaining insight and information about a product directly from the manufacturer, and serves as a rich reference point in developing a project or scheme.
designboom will always be there for you
milan, new york, beijing, tokyo

,
since 1999