see designboom's TOP 10 stories archive:



TOP 10 VEHICLE CONCEPTS OF 2016
world automotive shows, collector competitions, and exclusive press launches have all been the locations for unique, first-of-a-kind vehicle concepts to be presented to the globe in 2016. often showcasing a brand's new design philosophy, these advanced cars provide an intriguing insight into the potential appearance, technology and functions of transport in the future. a common feature among these vehicles has been the integration of autonomous driving, and how that will dramatically change the traveling experience. no more is this apparent than in the BMW, MINI and rolls royce 'VISION NEXT 100' concepts, where the german automotive giant has marked its centenary anniversary by presenting its visualization for the next 100 years.
continuing our annual review of the TOP stories of 2016, we look back at the 10 vehicle concepts which grabbed our attention over the past 12 months.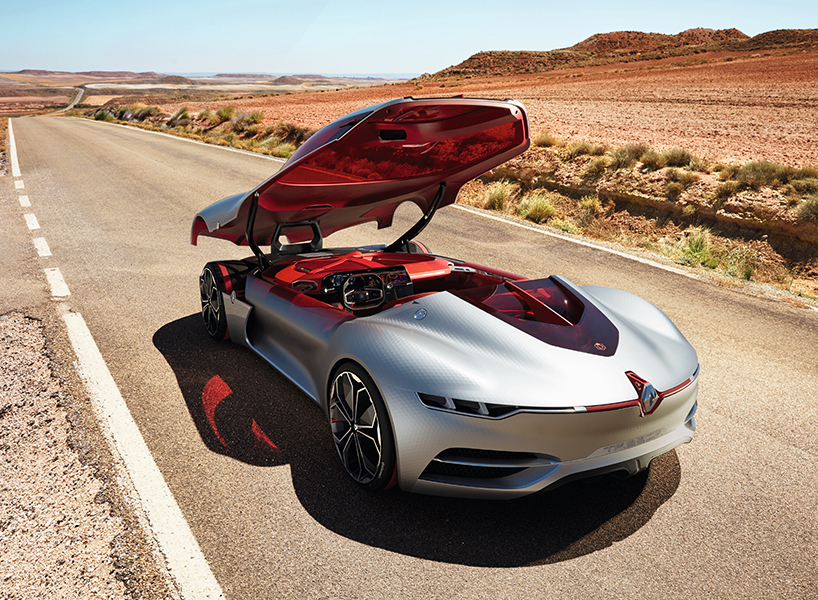 image courtesy of renault
embodying their new design philosophy, renault presented the two-seater electric coupé concept 'trezor'. symbolizing feelings of maturity and commitment, the vehicle focuses on a design strategy based on the cycle of life and more specifically, the act of falling in love. the electric coupé heralds the french brand's new styling cues, featuring warm, simple and sensual lines. a clearly-defined family face and C-shaped lighting signature leads to a smooth body that mirrors the car's dynamic character. at the rear, hexagonal panels underline the concept's sporting temperament and advanced technology. finally, the futuristic car is covered in a metallic finish that conveys its sleek, ultra-modern and progressive image.
read more about this project on designboom here.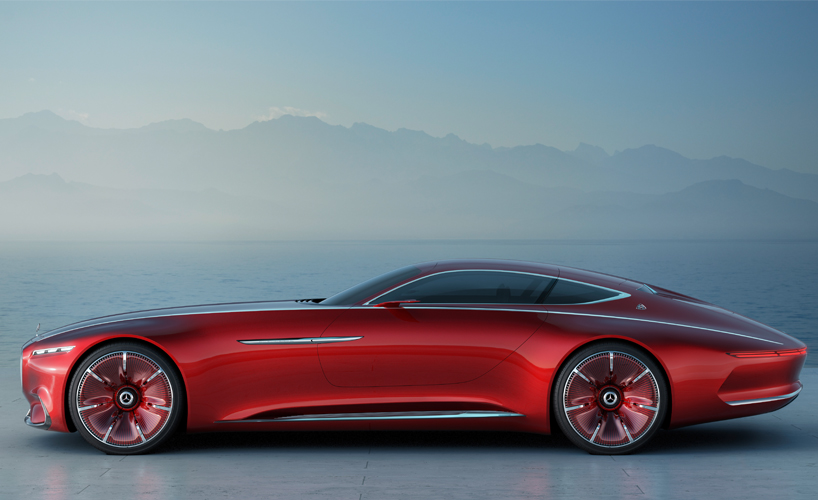 image courtesy of daimler AG
at the concours d'elégance in pebble beach, california, and the monterey car week, mercedes-benz showcased their exclusive 'vision mercedes-maybach 6′, a sensational luxury-class coupé. the 2 + 2 seater is a homage to the glorious age of the aero coupés and consciously carries this tradition forward into the future. the coupé concept reinterprets classic, emotional design principles in an extreme way, measuring almost six meters in length and designed as an electric automobile. producing an output of 550 kw (750 hp), the shallow underfloor battery allows a range of over 500 kilometers.
read more about the project on designboom here.
BMW VISION NEXT 100 CONCEPT CAR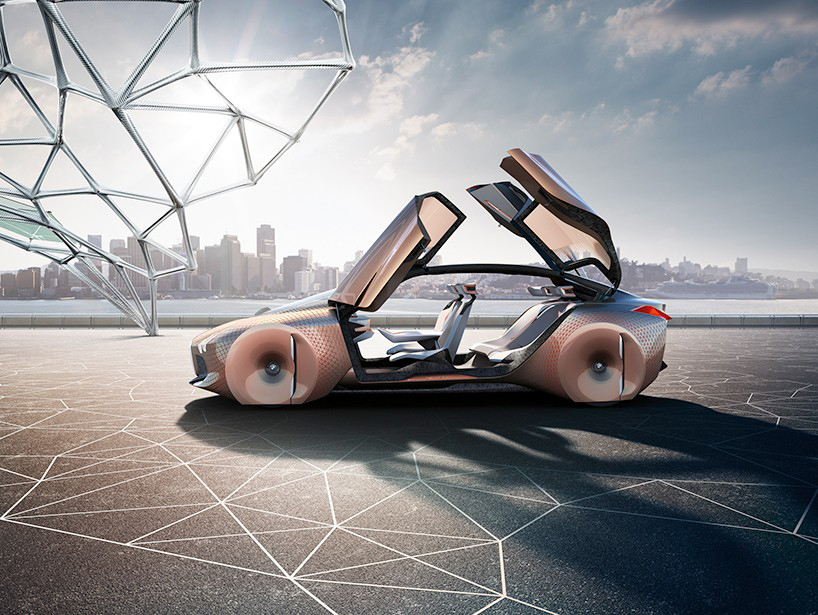 image courtesy of the BMW group
to help visualize plans for the future, BMW uncovered the 'VISION NEXT 100' concept to celebrate the automotive brand's 100 year anniversary. the vehicle combines a sporty coupé with the functionality of a sedan, and integrates autonomous technology that is customizable to the driver's changing needs. the car's interactions are managed by different modes that offer a choice of driver-controlled or vehicle-controlled operations. in 'boost', the entire vehicle focuses on the driver, offering the support needed to maximize the riding experience by indicating the ideal driving line, steering points and speed. 'ease' mode sees the interior retract all controls, and transform the seats into a lounge accommodation for passengers to interact face-to-face.
read more about this project on designboom here.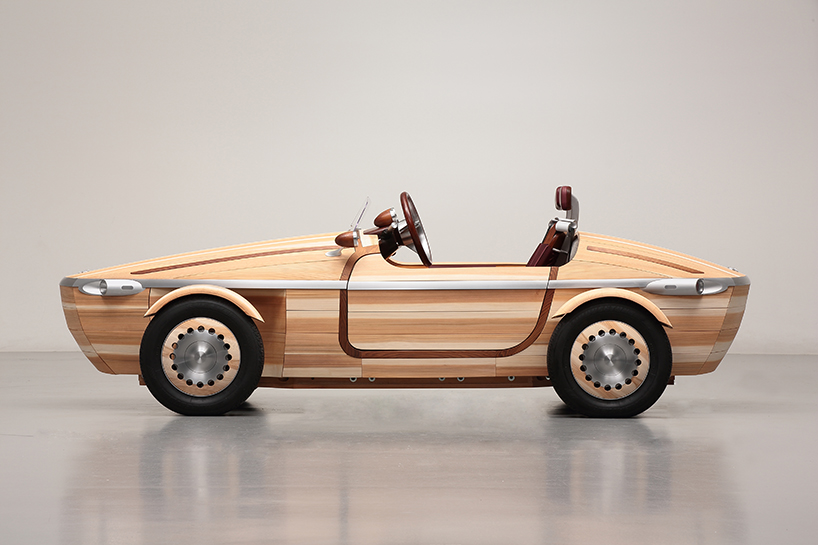 image courtesy of toyota
shown at the milan design week 2016, toyota's 'setsuna' concept defies the notion that cars should always be seen as technological marvels with the latest gadgets. the unique wooden roadster was conceived to embody the affection owners grow to feel for their cars, and to show how automobiles continue to change and offer real value over time. toyota engineer kenji tsuji and his team, used wood that responds directly to longevity with color changes that can be passed on from generation to generation. despite being a concept, the 'setsuna' offers basic vehicular performance and is able to drive, turn and stop. to achieve this, each type of timber was selected for a specific application.
read more about this project on designboom here.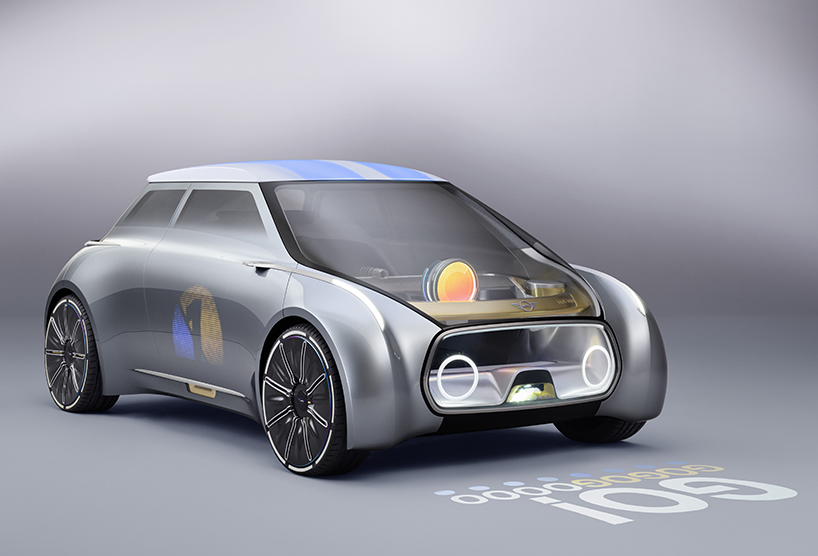 image courtesy of the BMW group
at an exclusive event at the roundhouse in london, MINI unveiled the 'VISION NEXT 100'; their answer to the future of mobility covering several key questions on urban mobility over the years ahead. the vehicle is wrapped in silver skin, which acts as a completely blank canvas for various purposes according to the individual user, their mood and the situations they encounter. following the very popular trend of car-sharing, users of the brand will be able to call on a MINI tailored to their personal requirements wherever they are, day or night. autonomous technology plays an important role in the vision, allowing the car to travel occupant-free to a charing station, cleaning service, parking space or the next user. to switch from autonomous driving to driving themselves, the user simply moves the steering wheel from the central area to between themselves and the front passenger.
read more about this project on designboom here, and read our interviews on the concept with MINI's head of design anders warming, here, and their head of exterior design christopher weil, here.
ROLLS ROYCE VISION NEXT 100 CONCEPT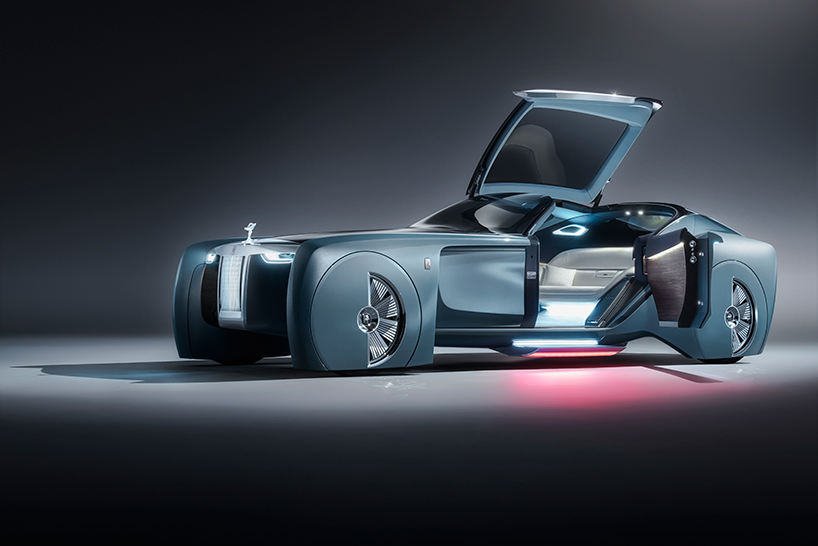 image courtesy of the BMW group
as a continuation of BMW's 100 birthday celebration, british luxury subsidiary rolls royce has visualized the future of their prestigious 112-year marquee, with the 'VISION NEXT 100' concept. over the next few decades, the company plans to offer vast scopes of personalization, which will become even more extensive, with customers being able to commission a genuine one-off piece. the concept is based on an advanced lightweight platform equipped with a zero-emissions electric drive system, and is controlled by a virtual intelligence called 'eleanor thornton', which fulfills the passenger's every need. continuing along these technologically-advanced lines, the rolls is fully autonomous, removing the standard driver seating, instruments and machinery to enable the passengers with an unopposed view of the 'grand journey'.

read more about this project on designboom here.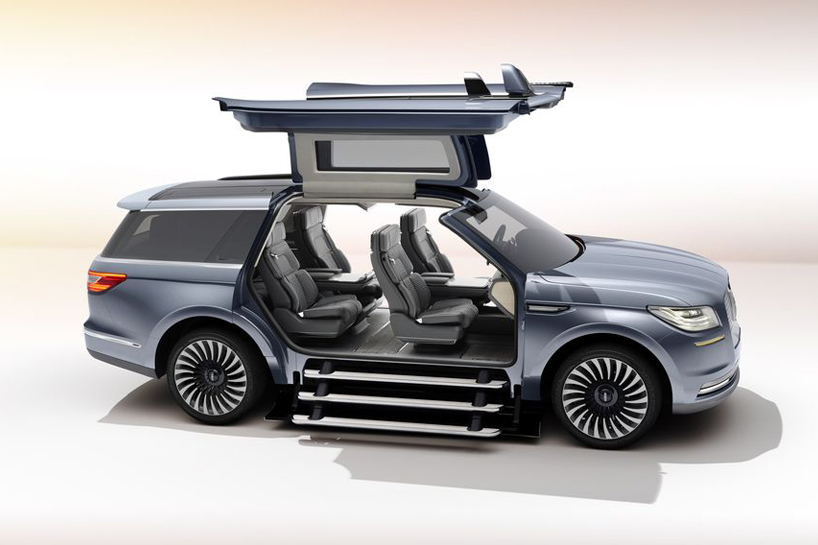 image courtesy of lincoln
american automaker lincoln redefined the large luxury SUV market in 1997 with the 'navigator', and for the 2016 new york auto show, reanimated it with a concept for clients interested in better performance, more space and the latest gullwing door trend. the design team drew influences from luxury sailboats and yachts when creating the concept. this impacted everything from clean – contemporary lines and 'storm blue' paint on the exterior that mimics the grays and blues of sea and sky, to the teak finish custom closet found in the trunk.
read more about the project on designboom here.
BMW VISION NEXT 100 MOTORCYCLE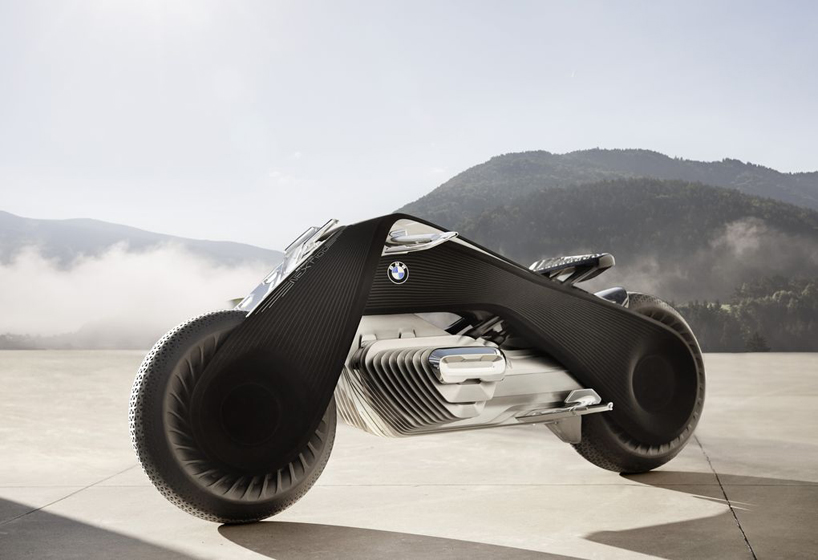 image courtesy of BMW
referencing their origins, the BMW VISION NEXT 100 concept features a black frame triangle that was influenced by their 'R32' motorcycle, which was made in 1923. its design has been reinterpreted as more of a functional sculpture that links the front and rear wheels with a dynamic sweep. this single, flowing frame is a clean surface, without any visible bearings and joints, and helps create a naked bike form from its side view. named 'flexframe', the construction aids steering by allowing light changing of direction and high rigidity when at top speeds.
read more about the project on designboom here.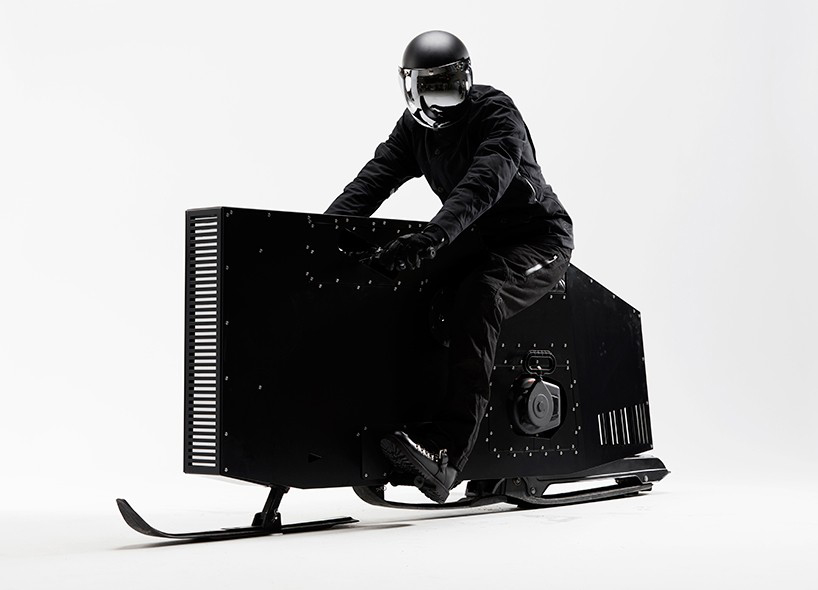 image courtesy of dean van dis
'snoped' is a great example of jruiter studio's design process. taking a 1980s chrysler 'sno-runner' and blending it to form a whole new level of winter travel. with a lightweight chassis and a motorcycle stance, the piece of work re-establishes what a snowmobile should look like. powered by a 90cc engine, the 'snoped' is almost two meters long. the body is made of aluminum and composite plastics with a front grille completely filled with headlights. influenced by some of their favorite winter apparel brands, this bike/snowmobile extends riding on top of the snow even further.
read more about this project and our interview with the studio on designboom here.
MK. 1C PERSONAL SUBMARINE BY ORTEGA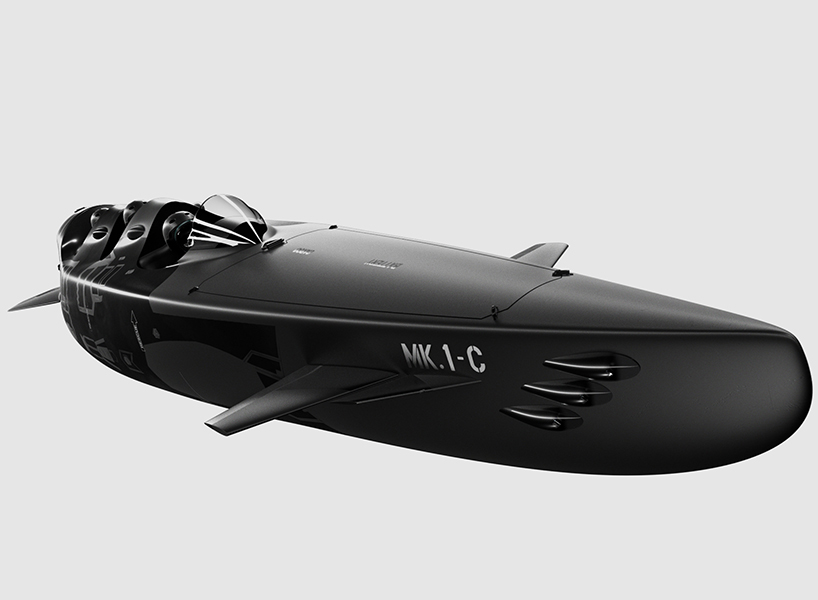 image courtesy of ortega
dutch company ortega submersibles has created a revolutionary way of underwater travel by using highly advanced naval technology. its most recent submersible vehicle is the 'mk. 1C', a three-seater fully-submersible boat that can carry people both above and underwater. powered by two high-power, electric motors and constructed for both over and underwater activity, it comes fully equipped with a trimming tank; on-board breathing apparatus; and HUD navigation system.
read more about the project on designboom here.
a diverse digital database that acts as a valuable guide in gaining insight and information about a product directly from the manufacturer, and serves as a rich reference point in developing a project or scheme.
designboom will always be there for you
milan, new york, beijing, tokyo

,
since 1999