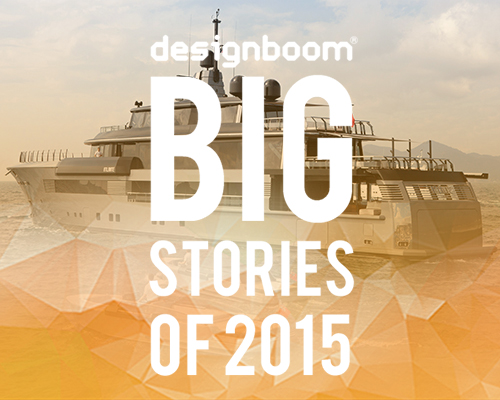 dec 02, 2015
TOP 10 yacht stories of 2015
TOP 10 yacht stories of 2015
from ocean cruisers to floating islands, 2015 has been packed with new boats and watercrafts that have embraced innovative technologies to create redesigned forms of transport. continuing our annual review of the year's BIG stories, we highlight the multiple boat and watercraft projects that have grabbed our attention over the past 12 months.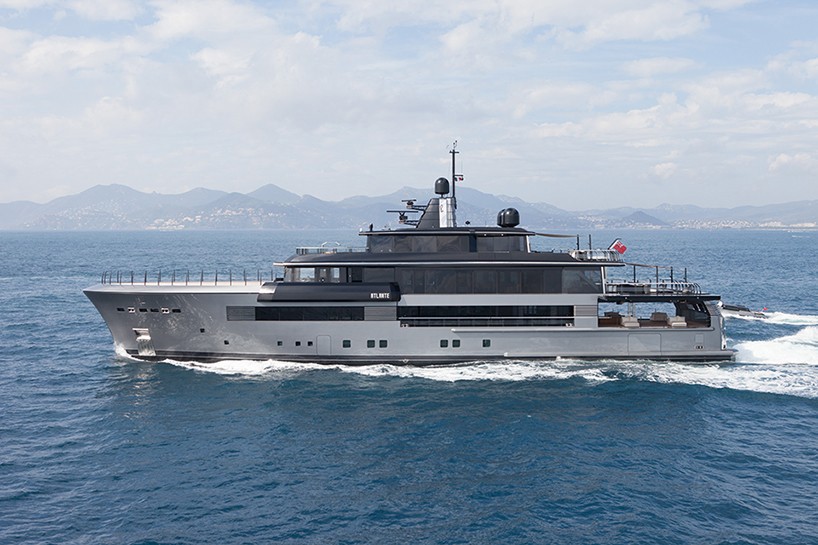 the yacht is 55 meters long and 11 meters wide
image courtesy of CRN
ferretti group's specialized 50 to 90-meter custom shipbuilder CRN, formally announced their experimental new megayacht – the 55m 'atlante'. this yacht is the result of work by the CRN's technical office, which oversaw the naval design, in partnership with studio nuvolari lenard, which was responsible for the exterior silhouette and studio gilles and boissier interior design which developed the interiors. while visiting the CRN shipyard in ancona italy, designboom witnessed the complex construction of the 'atlante', where dozens of workers were hand-building every aspect of the yacht.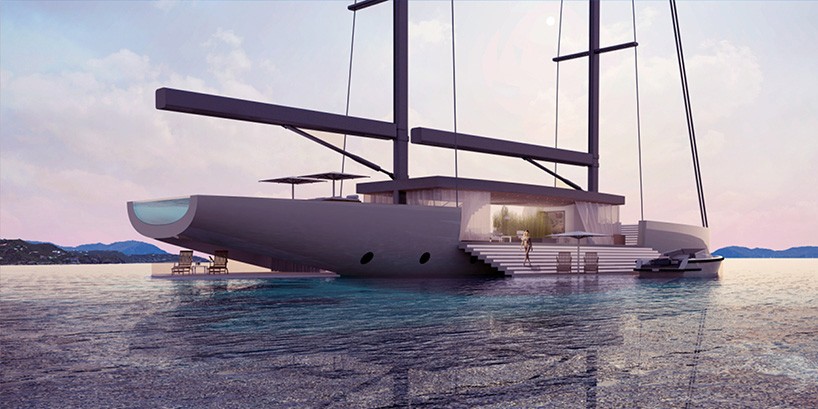 glass superstructure performs as a structural element
image courtesy of lujac desautel
freelance architecture and yacht designer lujac desautel, well known for his nomination for the 2014 young designer of the year award by the boat international media, unveils the luxurious 'SALT' yacht to follow the 'glass' concept, envisioned in 2014. designed to provide passengers with a flexible, transparent and honest life aboard, its framework enables people to transform and engage the watercraft with the sea. its steps that fold down to the water, glass facade that slides open like a curtain, and its rear beach club, puts people at water-level and looks as if its built up from the ocean. it measures 55 meters in length which is the same height as its main mast, and accommodates three dining rooms, five cabins and multiple crew sleeping areas.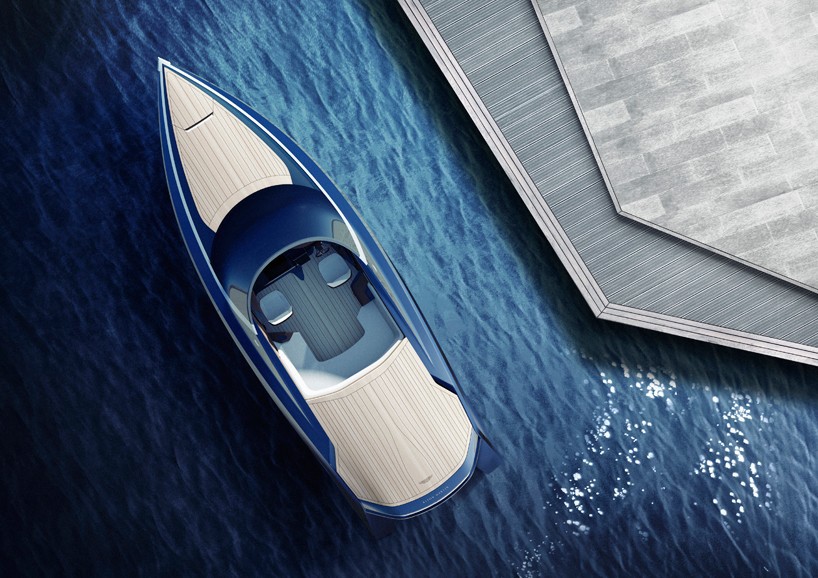 images courtesy of quintessence yachts
quintessence yachts with aston martin, announces the luxurious and high performance 'AM37′ powerboat. providing a tantalizing glimpse of the first model, it is set to become the foundation for a range of collaborative water crafts. the 37-foot vessel has a high-technology composite structure, which is paired with sports car-like handling, performance and comfort. furthermore, the aston martin-on-the-sea features an interactive voice control and activation, fully HD-integrated touch screen, and remote controlled functions.
mariella mengozzi, CEO at quintessence yachts, said: 'we are sure that the aston martin ethos of 'power, beauty and soul' can be successfully translated into the yachting environment in a very special way.since the license agreement was signed, the aston martin design department has been working seamlessly with the quintessence R&D unit and naval architect mulder design in amsterdam to achieve a true example of design purity'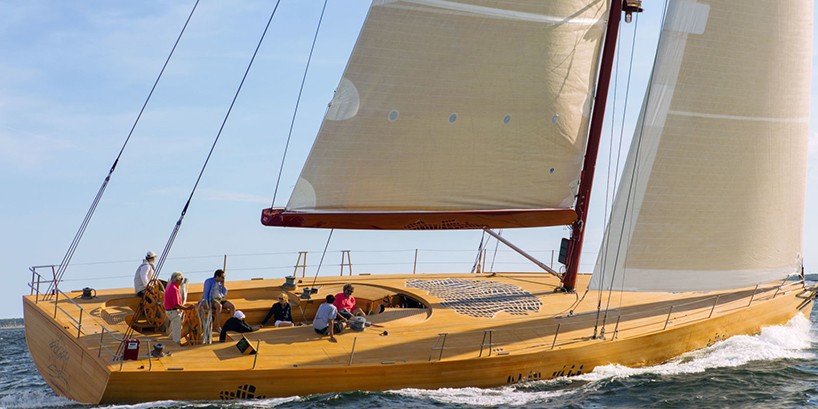 image courtesy of todd eberle
in collaboration with argentinian naval architect germán frers and developer richard cohen, frank gehry designed his first sailboat – the 'foggy'.after some discussion and research, the team made a compromise and utilized a cold molding process which involves sandwiching wood around a high-tech core. the robust material is lightweight assisting the boat's speed and manoeuvrability, yet offers a warm, traditional feel, which gehry appreciates. to compliment the timber structure, titanium details and distinctive patterns can be found in and around the main cabin.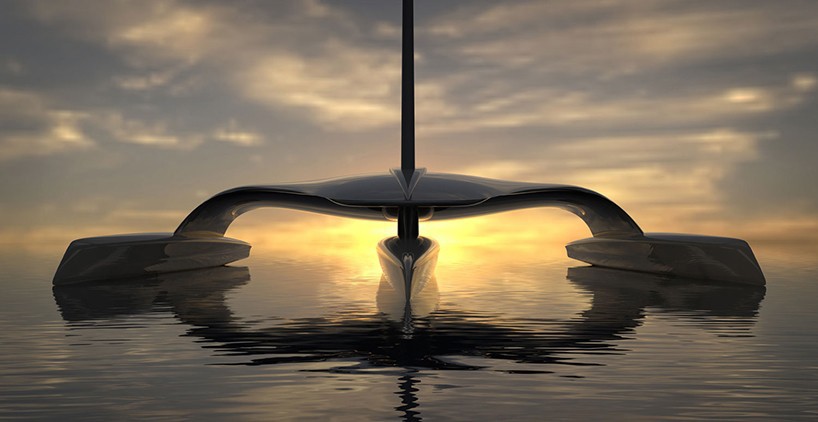 image courtesy of shuttleworth design
at over 100 feet in length, the 'mayflower autonomous research ship' or 'MARS' for short, will be a fully autonomous unmanned sail ship with solar technology enabling an unlimited range. the comprehensive design by shuttleworth, will carry a variety of drones through which it will conduct experiments during its voyage.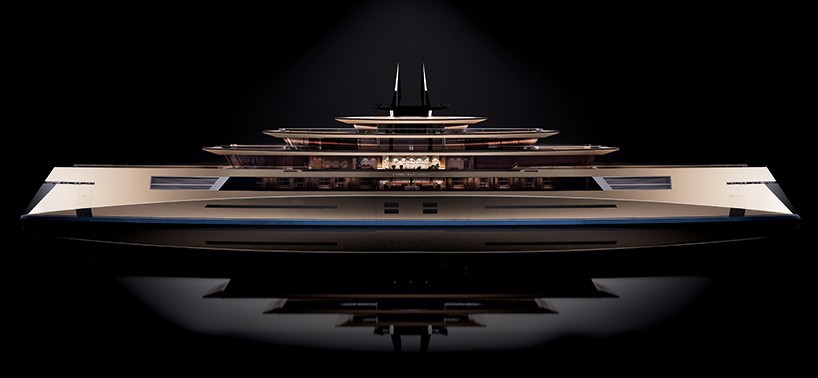 image courtesy of SEYD
dutch yacht firm sinot exclusive yacht design (SEYD) presented at the 2015 monaco yacht show, a bi-directional maneuverable concept yacht, 'symmetry'. the layout of the megayacht works from the center outwards, which has advantages over a traditional linear setup. the spacious, balanced and symmetrical concept is a showcase of the future of yacht design to come.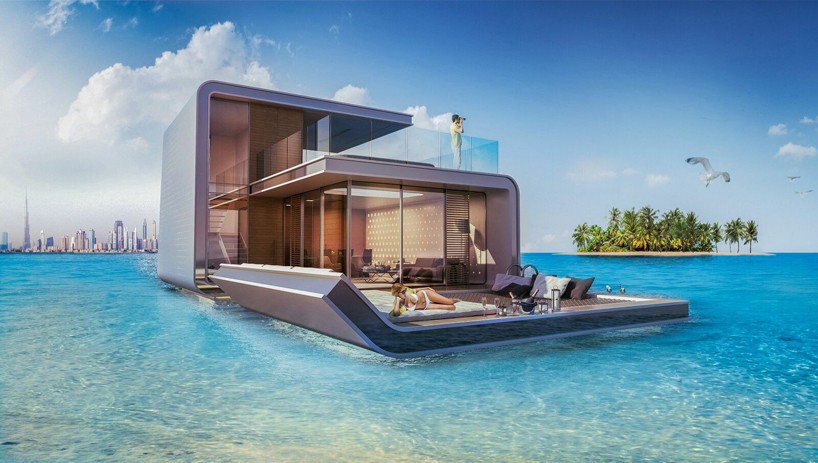 image courtesy of kleindienst group
launched at the dubai international boat show, kleindienst group's 'floating seahorse' is a contemporary marine yacht that boasts underwater rooms with breathtaking views. intelligently designed, engineered and developed in dubai, the unique concept will be limited to just 42 units. the aquatic style retreat's master bedroom and bathroom will be totally submerged in the clear sea, delivering pictures of the surrounding coral reef and ocean life.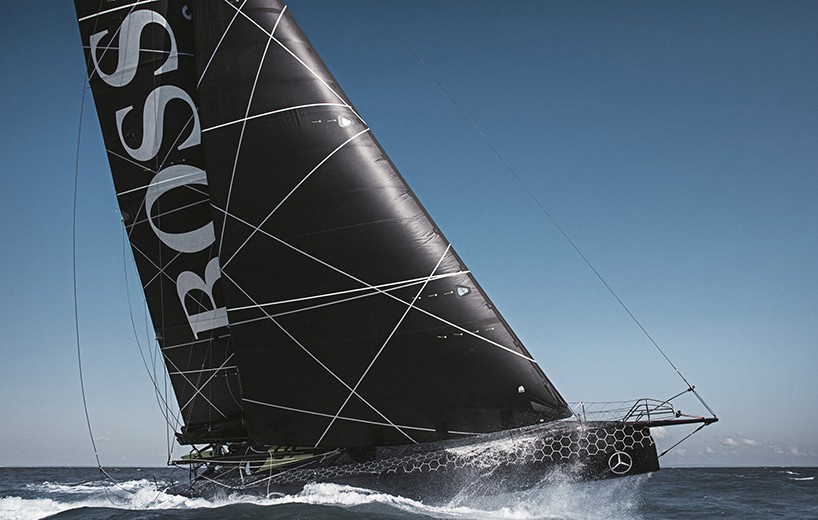 image courtesy of mark lloyd
as the first all-back hugo boss yacht, the hull is in a honeycomb pattern designed by renowned industrial designer konstanin grcic. this new version is the second yacht built by the alex thomson racing team and is custom made for alex thomson. grcic worked to create the black aesthetic design and also assisted in the ergonomic interior design of the yacht, focusing on the navigation and sleeping area to ensure a maximum amount of comfort without sacrificing speed and weight.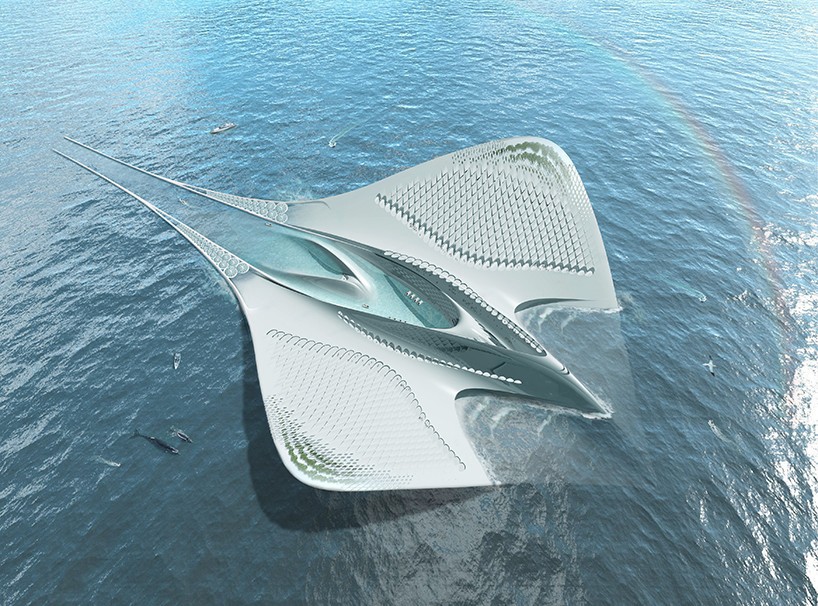 image courtesy of jacques rougerie architecture
'city of meriens' is a bionic concept which is shaped liked a real manta ray created by jacques rougerie architecture.with a total length of 900 meters and a width of 500 meters, this mobile city can accommodate in its interior lagoon research vessels of different sizes (up to 90 meters long), as well as seaorbiters which would act as a hive that a number of marine and submarine vehicles and air navigation devices would use as a point of departure.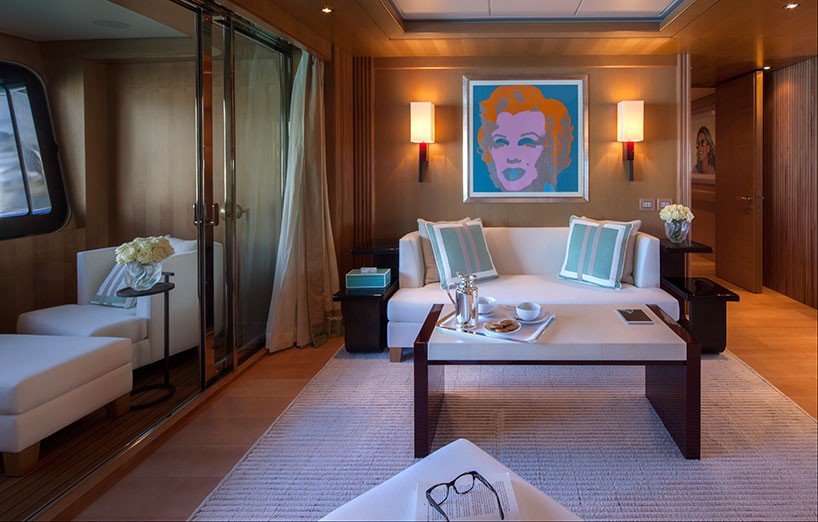 image courtesy of CRN
in the almost 80,000 square meter CRN facility, there is an office filled with fabric samples and interior renderings that is home to an outgoing and companionable woman named costanza pazzi. she is the head of interior designs at CRN, and she is known as the dream weaver. well that's because the word 'no', is not in her vocabulary when she's receiving requests from powerful and wealthy owners. she listens, and makes magic happen in a world where industry regulations, budgets, and unforeseeable changes are met at every corner. designboom interviewed mrs. costanza pazzi, who told us about her background, the details of designing lavish yacht interiors and what the future of yachts really depend on.
dec 31, 2015
dec 31, 2015
dec 29, 2015
dec 29, 2015
dec 29, 2015
dec 29, 2015
dec 28, 2015
dec 28, 2015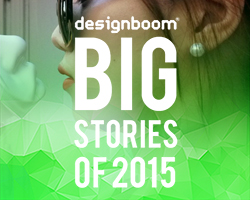 dec 27, 2015
dec 27, 2015
dec 26, 2015
dec 26, 2015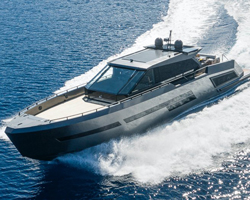 jul 29, 2020
jul 29, 2020
jul 13, 2020
jul 13, 2020
jul 08, 2020
jul 08, 2020
a diverse digital database that acts as a valuable guide in gaining insight and information about a product directly from the manufacturer, and serves as a rich reference point in developing a project or scheme.