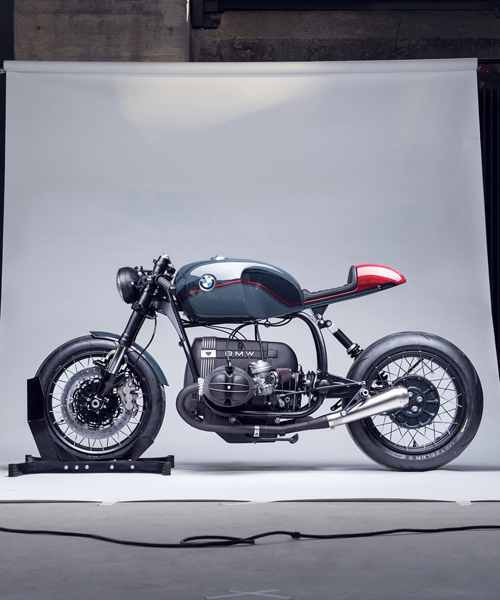 apr 05, 2017
TOP five custom motorcycles of march 2017
a custom motorcycle is a bike with stylistic, structural, or functional changes to the 'standard' mass-produced machines offered by the BMW's and ducati's of this world. since riders have been altering the aesthetics of their machines from the early days, the first 'custom' motorcycles broke onto the scene towards the late 1950's, around the same time the term was applied to 'custom' cars. celebrating the speed that these bikes move in-and-out of garages, designboom has teamed up with bike EXIF to bring you march's TOP five custom motorcycles.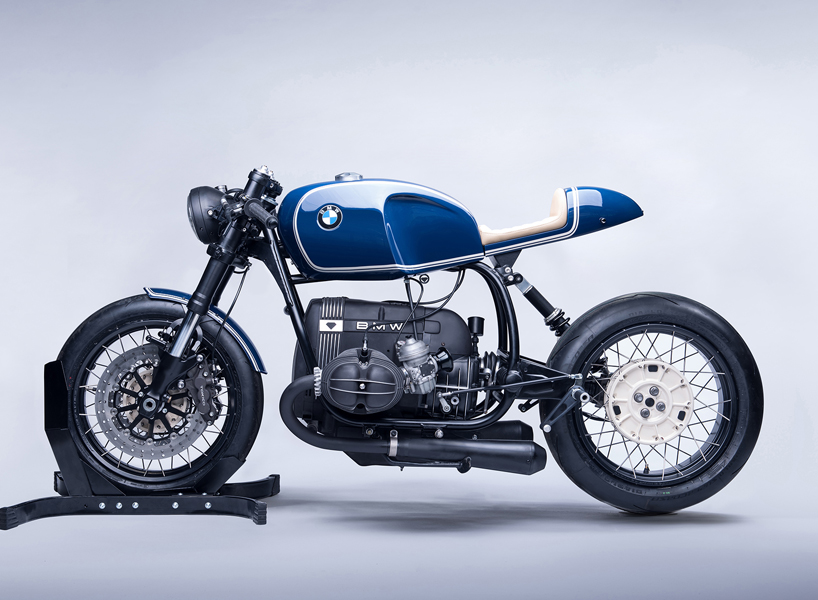 a series of BMW mk.ii custom motorcycles
image © diamond atelier / lukas magerl
munich's diamond atelier produces a limited production run of captivating BMW café racers called the 'mark ii' series. each 'mark ii' starts out as the classic 'R-series', then each bike is given new bodywork plus a whole host modifications. most notably, the workshop takes unique approach: rather than build everything from scratch for every individual bike, it has followed the process of designing and prototyping each individual part for production. the stunning 'mark ii' can be ordered in any personalized color, or livery, at the rider's request.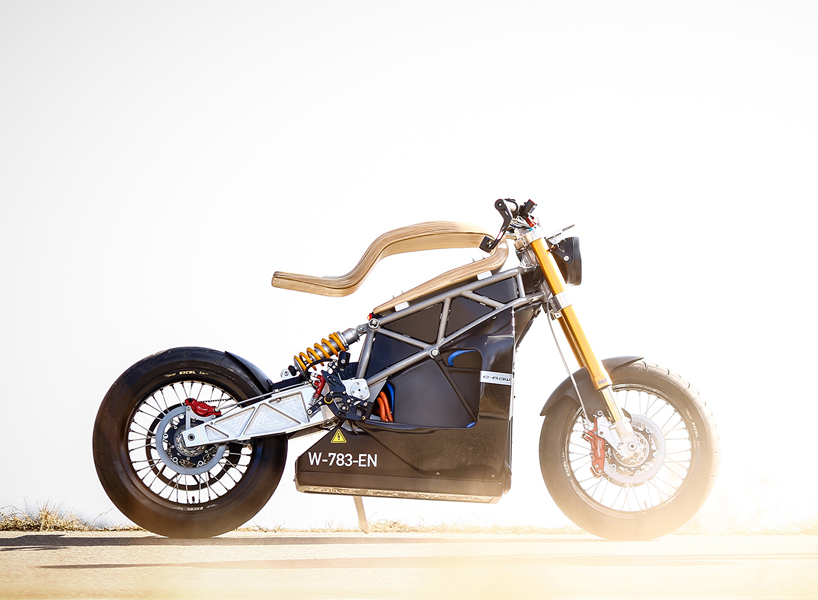 the essence 'e-raw' electric motorcycle
image © essence motorcycles
essence motorcycles founder martin hulin starting working on the 'e-raw' electric bike concept two years ago. since then, he has brought together a group of craftsmen, who fused the bike's wood and metal together with an eco-friendly approach. his objective is to return to the 'essence of motorcycling', through simplicity and authenticity, keeping it raw, pure, and intense. its scultural wooden seat, made of plywood using traditional surfboard shaping techniques, outlines the silhouette of a traditional motorcycle while drawing attention to the complete absence of a fuel tank.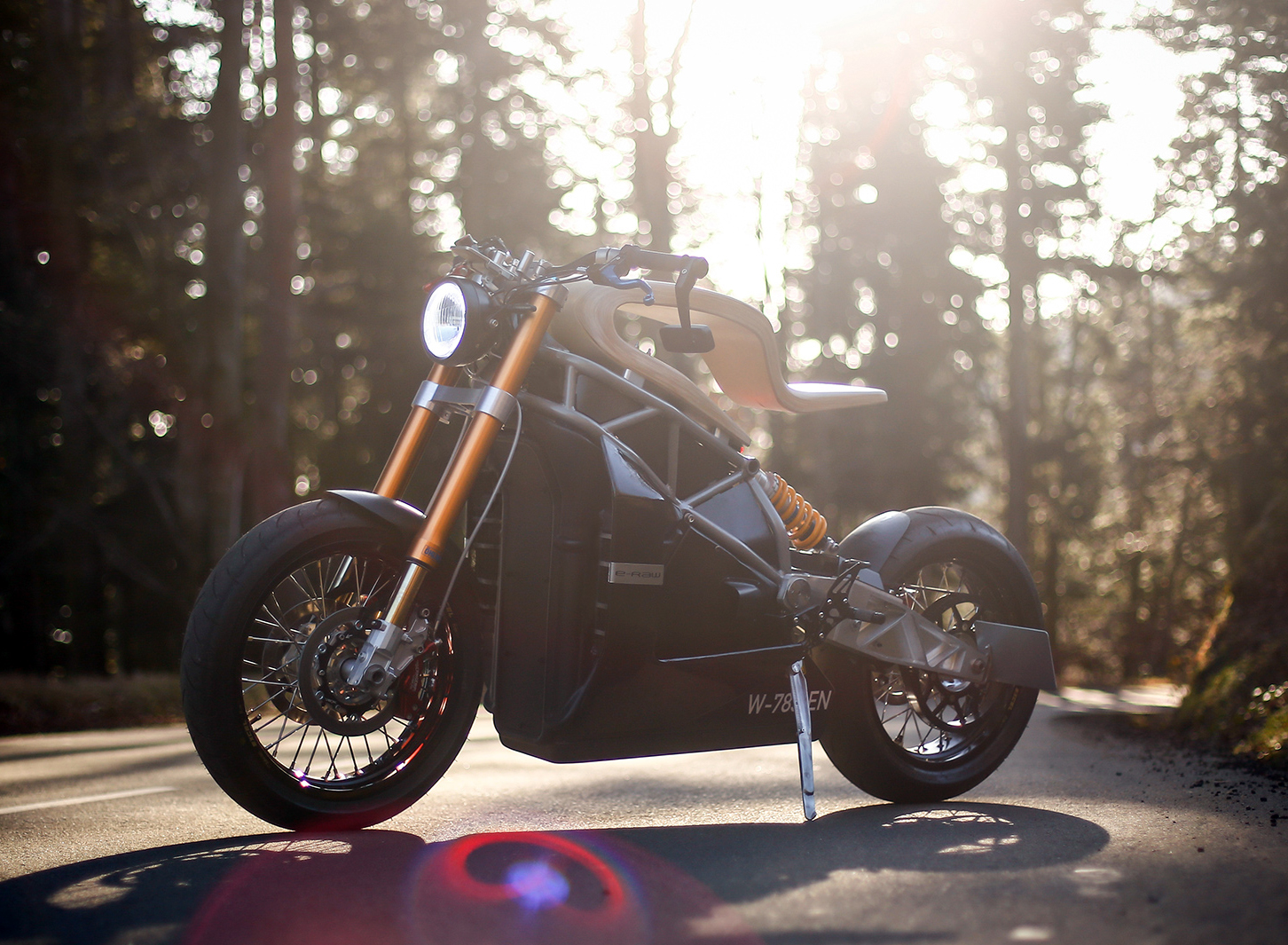 image © essence motorcycles
the 'e-raw's' electric motor is from pymco, while the battery pack is an in-house design and makes use of a CCS quick charging system. this fully charges the battery to in just half an hour, covering a range of 185 km. the 'e-raw's' battery capacity is 10.1 kWh, power peaks at 80kW, and has torque is 180 Nm. it tips the scales at 167 kilos (368 pounds), with a top speed  155 km/h (96 mph) and can accelerate to 100 km/h in under 3.5 seconds.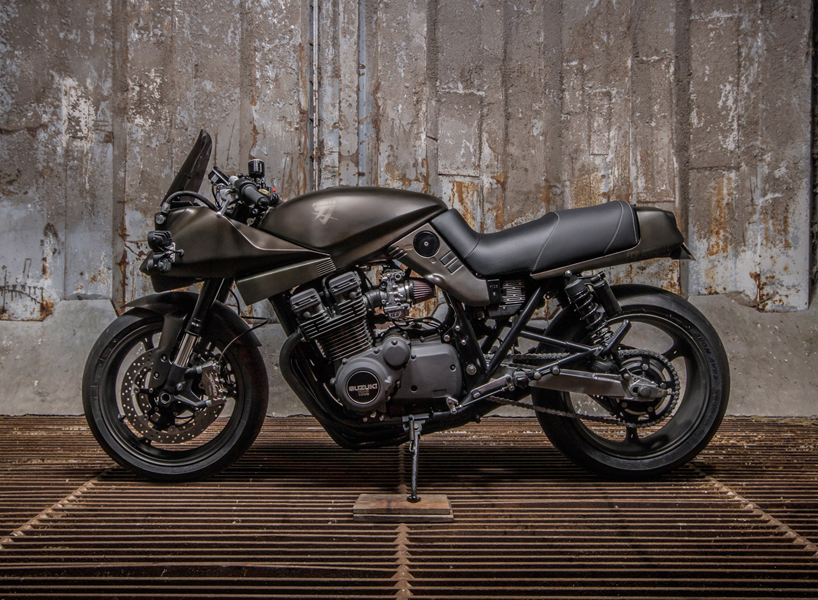 the suzuki katana 'furiosa' custom motorcycle by FCR original
image © FCR original
in the late 1970's suzuki collaborated with hans muth, BMW's former chief of styling, and his target design consultancy to create the 'katana'. this custom model named 'furiosa' is the latest release from french motorcycle expert FCR original. the muscular angles and creases were the defining points of the original 'katana', and features a luxurious 'dark bronze' finish, with stealthy black paint on the engine.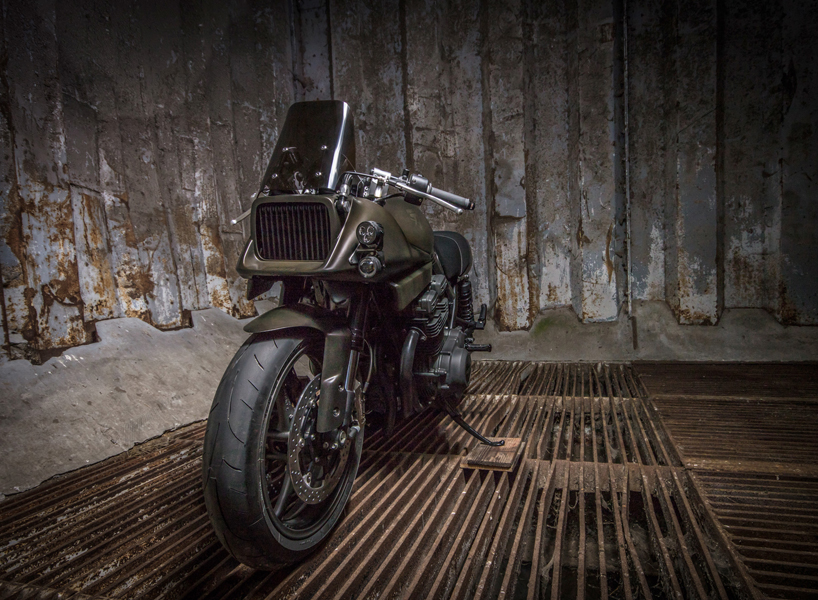 image © FCR original
the transverse four-cylinder engine has been boosted out to 1166 cubic centimeters and has improved circulation from mikuni RS flat side carburettors. there are minor modifications to the tail section and rear subframe, while its comfortable seat is brand new and looks particularly plush considering modern-custom-standards. the rider is also treated to LSL handlebar clip-ons and daytona gauges, with discreet bar-end turn signals from motogadget.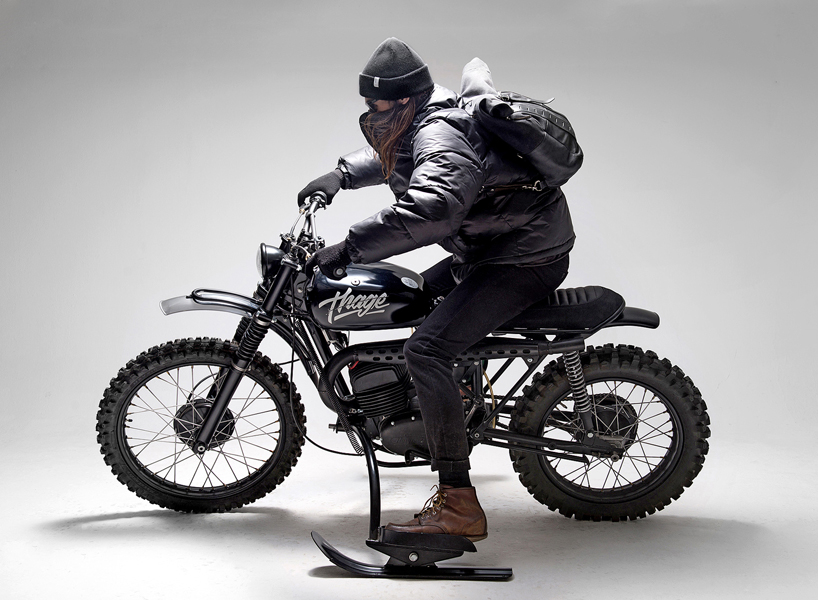 the ex-military husqvarna '256' with skis by 6/5/4 motors
image © 6/5/4 motors / johannes helje
johan nordin of 6/5/4 motors got hold of something super-rare and quirky: the husqvarna '256' — a bike developed in 1968 specifically for the swedish defence force, while just a thousand were manufactured and they were completely sold-out by the early 1980s. 
he names the bike 'thage', after his father, 'I built this bike because my dad had one when he did his compulsory military service in the early 1970s and I've heard a lot of great stories of his winter adventures on the little bike with skis. now I want to experience the same adventures.'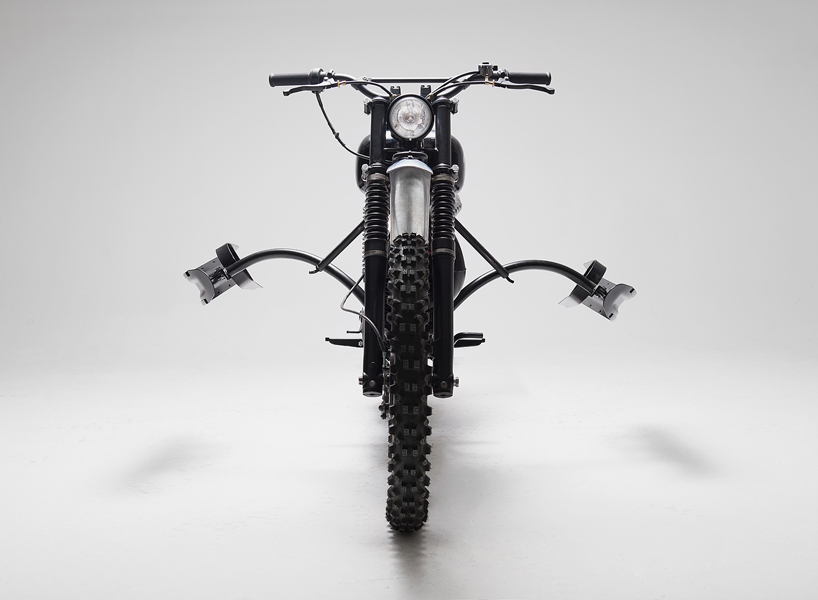 image © 6/5/4 motors / johannes helje
the '256's' two-stroke engine produces an impressive 15.4 horsepower, paired with a four-speed box. in true winter fashion it comes with a set of skis, however controlling them isn't for the faint at heart: they automatically spring up if they are not pushed down by the rider's feet, making gear changes tricky. to counteract this, 654 has attached a new lever that can be controlled by hand. the gear lever is located on the righthand side while the rear brake is on the left, allowing ski-riders to use the clutch with their left hand, and shift gears with their right.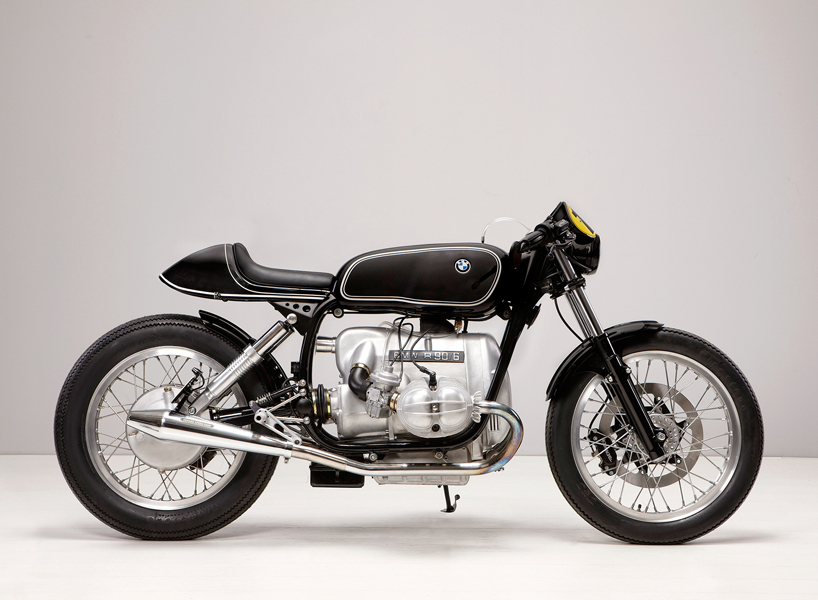 the BMW R90/6 café racer custom motorcycle by renard speedshop
image © renard speedshop
renard speedshop's BMW 'R90/6' custom motorcycle is a striking build that combines a traditional figure with modern, sporty refinements. based upon the classic bavarian 'R90/6′, it is now redressed in hand-made bodywork with a slick matte 'black' finish. created by andres uibomäe, owner of the estonia-based workshop, it now has the same minimalist stance, timeless finish, and performance capability that have grown to be signature of his company.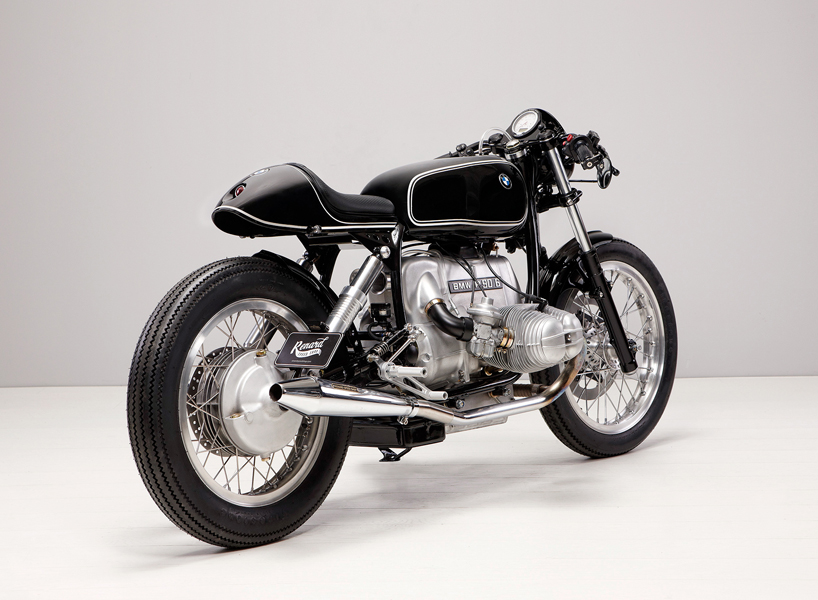 see the project in detail on designboom here
image © renard speedshop
renard speedshop first received an original BMW 'R 906′ in a good working condition, then stripped it back to the bare bones. it revives a fuel tank from a classic moto guzzi 'V7′ special, stretching it into an elegant form. at the motorcycle's rear, it refines the subframe to complement the low-profile tank. the rider's seat pad is finished in black perforated leather.
this article is curated in collaboration with our friends at Bike EXIF, who are passionate about everything elegant on two wheels.
mar 15, 2018
mar 15, 2018
mar 09, 2018
mar 09, 2018
feb 28, 2018
feb 28, 2018
feb 25, 2018
feb 25, 2018
feb 21, 2018
feb 21, 2018
feb 16, 2018
feb 16, 2018
a diverse digital database that acts as a valuable guide in gaining insight and information about a product directly from the manufacturer, and serves as a rich reference point in developing a project or scheme.