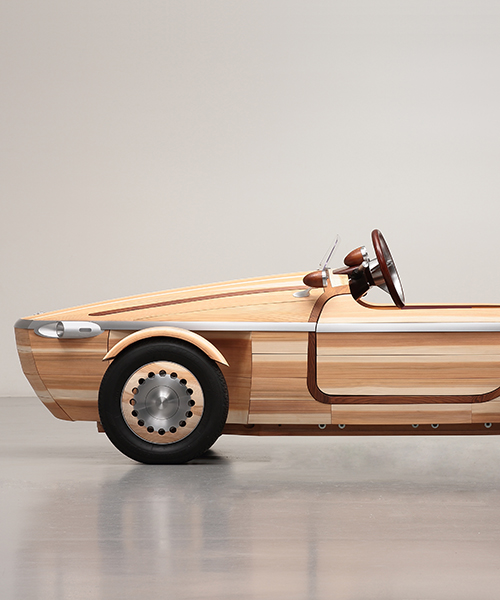 mar 31, 2016
toyota uses traditional japanese wood joinery to assemble setsuna concept vehicle
toyota uses traditional japanese wood joinery to assemble setsuna concept vehicle
all images courtesy of toyota
scheduled to debut at milan design week 2016, toyota's 'setsuna' concept defies the notion that cars should always be seen technological marvels with the latest gadgets. the unique wooden roadster was conceived to embody the affection owners grow to feel for their cars and to show how cars continue to change and offer real value over time.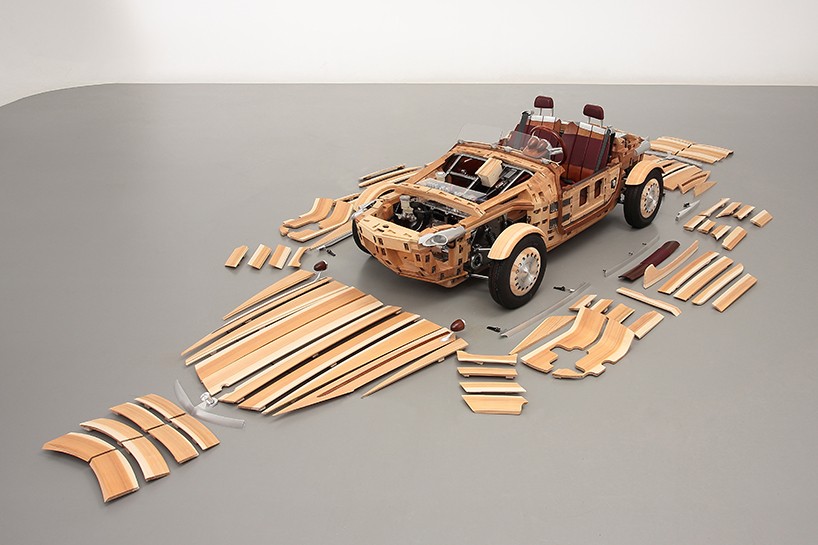 the body is made from 86 wooden panels
toyota engineer kenji tsuji and his team used wood that responds directly to longevity with color changes that can be passed on from generation to generation. despite being a concept, the 'setsuna' offers basic vehicular performance and is able to drive, turn and stop. to achieve this, each type of wood was selected for a specific application.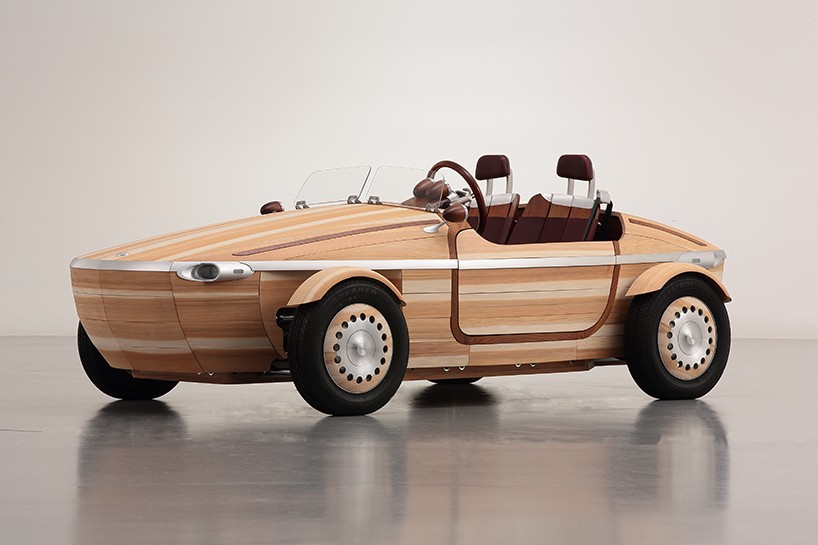 the toyota 'setsuna' concept is a fully functional car
the body is composed of 86 handmade panels. considerable thought was given to the design and creation of each panel from the outset, and eventually, when repairs become necessary, individual panels can be replaced rather than needing to replace the entire body. looking at a panel that has been repaired, owners will be able to see the traces of where work has been done by hand, and sense the memories that have been passed down.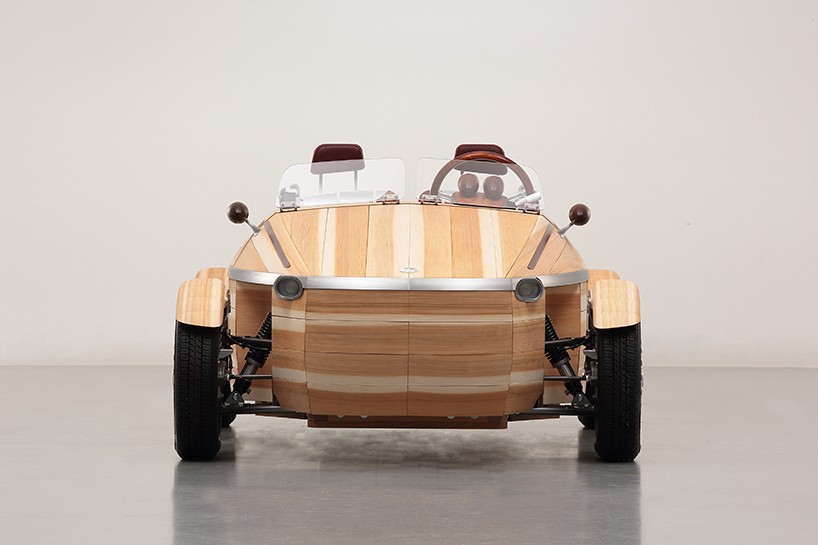 the front view
for the exterior, japanese cedar was selected for the refinement of its wood grain and its flexibility as a material. for the chassis, japanese birch was selected for its strong rigidit. for the floor, japanese zelkova was selected for its strength and excellent durability, and for the seats, the smooth-textured castor aralia was chosen.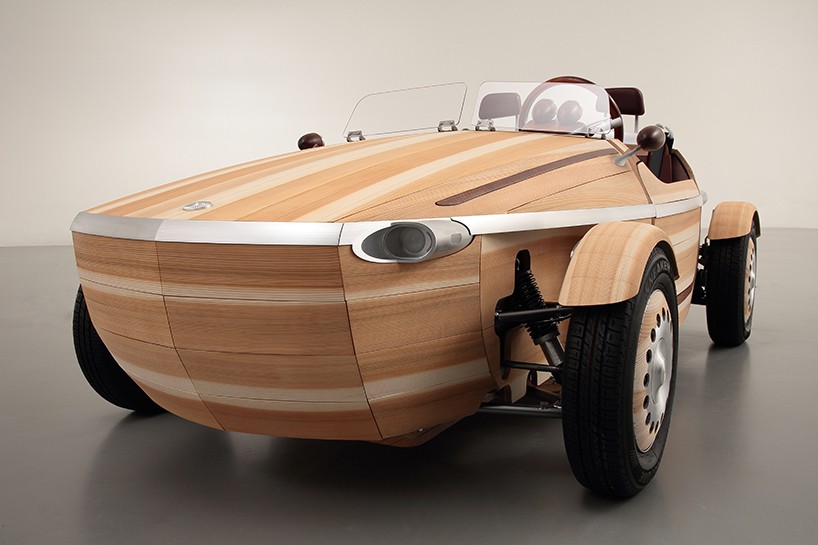 two different grain patterns were used for the 'setsuna'
two forms of cedar can be seen to making up the exterior panels of the 'setsuna'. these patterns are the straight grain, cut toward the center of the logs, and the cross grain, cut at an appropriate distance from the center of the logs. the straight grain gives a formal impression with the grain showing sharply and evenly. in contrast, the cross grain is softer and more irregular, with different types of grain visible in each piece of wood, creating a quaint and friendly impression.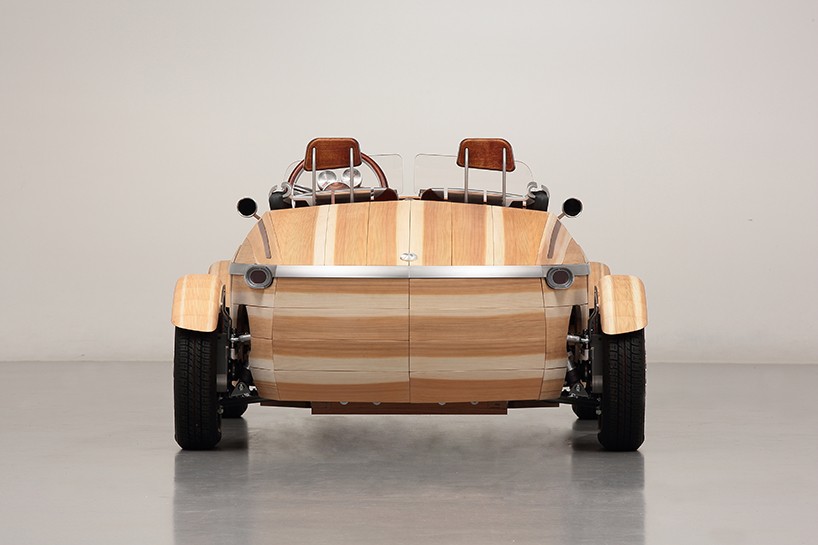 the rear view
the team used traditional japanese techniques such as 'okuriari' and 'kusabi' so that the wood could be joined without nails or screws. 'okuriari', which allows the exterior panels to be fitted and taken off without using any nails, not only increases the strength of joints but also makes it possible to make partial changes to dovetailing and mortise joints if the fastenings have worn down.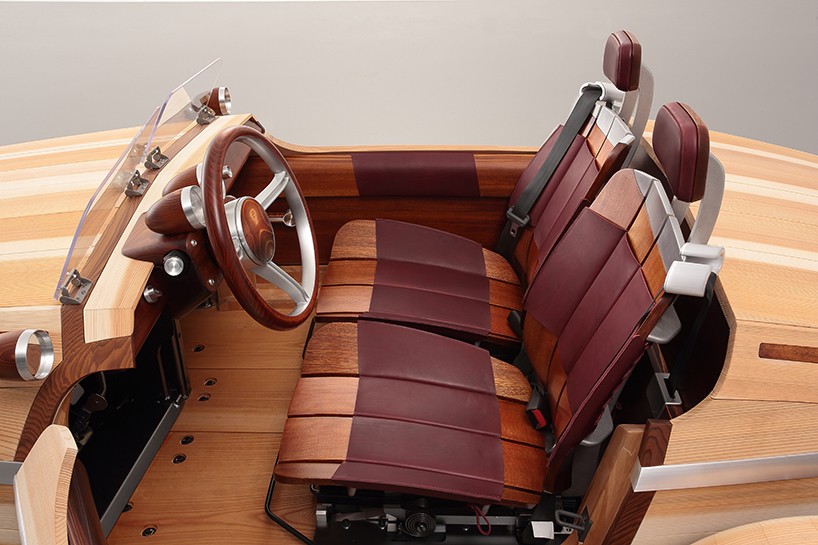 the interior cabin is also made of wood
'when we created the setsuna, we envisaged a family pouring its love into it over generations so that the car gains an irreplaceable value,' explains kenji tsuji. 'continuous development is possible in the form of bonds between the car and the family, like the growth rings of a tree. to proceed with the development of a car utilizing the appeal of wood, we directly spoke with experts with wide-ranging knowledge, including carpenters specializing in temple and shrine construction and ship's carpenters.'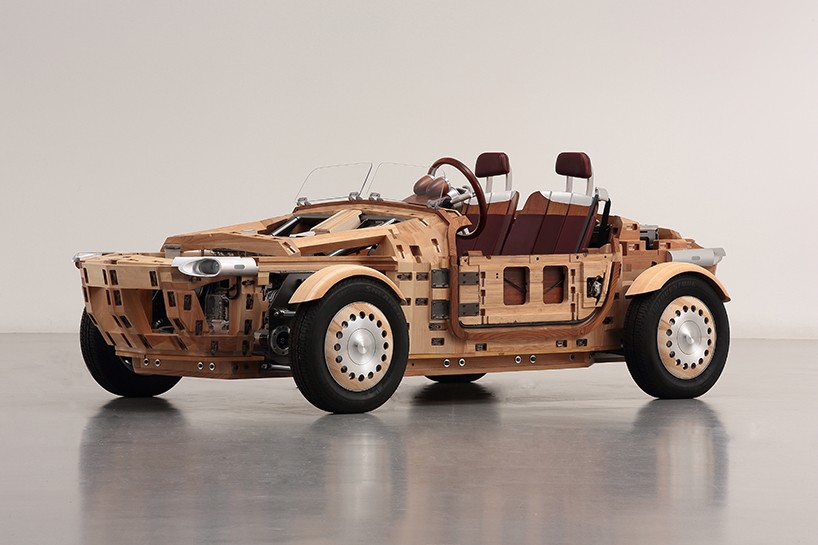 two types of japense joinery were used to keep the car together
'furthermore, during this project, sumitomo forestry, a company that fully understands our concept, shared their knowledge of wood construction with us, and together we engaged in various types of joint development from the early stages, including wood selection and proposals for processing techniques and assembly methods. while we used wood as the main material, we also poured lots of time and passion into the car itself with our colleagues, creating a prototype and evaluating it so that the car would offer basic performance in the form of driving feel and comfort.'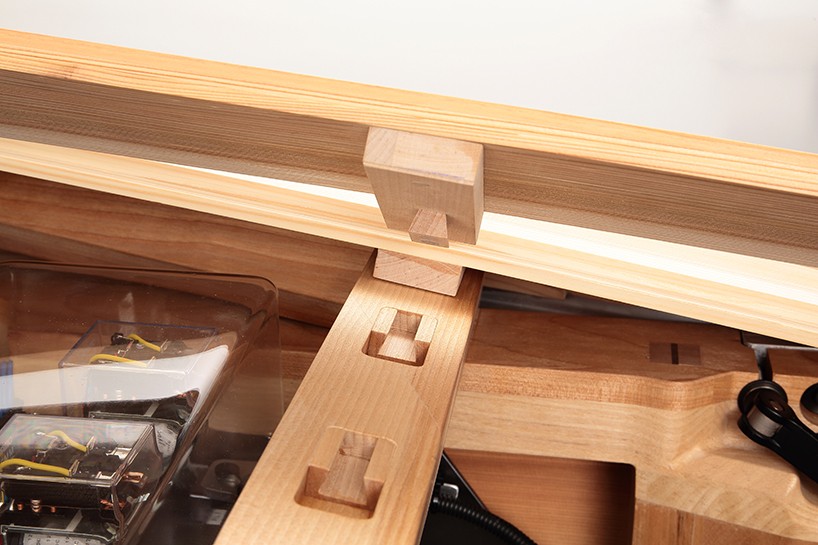 no screws or nails were used to assemble the car
'by displaying the setsuna, which was created with these hopes in mind and receiving a wide range of opinions, we believe that we can further improve this concept. one piece of feedback that we received in particular was the hope that we would incorporate this concept into car manufacturing in the future.'

video courtesy of toyota
see designboom's instagram coverage @milan.design.week
may 17, 2020
may 17, 2020
may 09, 2020
may 09, 2020
may 03, 2020
may 03, 2020
apr 14, 2020
apr 14, 2020
apr 12, 2020
apr 12, 2020
apr 03, 2020
apr 03, 2020
may 03, 2020
may 03, 2020
apr 22, 2020
apr 22, 2020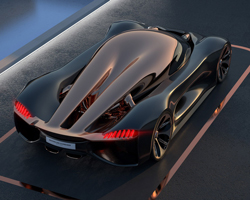 apr 21, 2020
apr 21, 2020
jul 27, 2016
jul 27, 2016
jul 05, 2016
jul 05, 2016
jul 02, 2016
jul 02, 2016
toyota
(51 articles)
apr 25, 2020
apr 25, 2020
jan 07, 2020
jan 07, 2020
oct 18, 2019
oct 18, 2019
a diverse digital database that acts as a valuable guide in gaining insight and information about a product directly from the manufacturer, and serves as a rich reference point in developing a project or scheme.