jul 10, 2012
wacom cintiq 24HD touch tablet
the wacom 'cintiq 24HD touch'
new to the wacom family, the 'cintiq 24HD touch' combines a 24 inch wide-screen high definition LCD with industry-leading pen input
capabilities, all within a traditional desktop display. the integration of multi-touch controls directly on the 'cintiq' screen, will give
users a hands-on creative experience as they work digitally on the tablet. the new fully adjustable tablet conforms to different heights
and also incorporates LED backlighting, offering high-fidelity color performance at one billions colors through the new screen.
tailored for photographers, designers, artists and other creative professionals, the integration of wacom's pen technology is capable of
detecting pen pressure and pen tilt for ultimate detailing precision.
the tablet will become available in august 2012, starting at 3699 USD.
user context
screen detail
USB capabilities
control detail
back view
3/4 back view


wacom cintiq trailer
aug 08, 2017
aug 08, 2017
apr 11, 2017
apr 11, 2017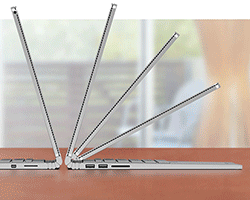 oct 07, 2015
oct 07, 2015