mar 01, 2009
wearable computers
examples of a wearable computer headsets by prof. m.asahiko tsukamoto at kobe university (source)
since the dawn of the computer age, people have dreamed of wearable computers directly integrated with our bodies. in these scenarios, the computer would no longer sit on our desks, but be incorporated into our clothing or worn on the body like a pair of glasses. these wearable computers would help us with daily tasks with their technological power, as if they were a sixth sense. proponents of this idea have even gone so far as to suggest embedding computers directly into people, fusing man and machine to create cyborgs. while these dreams may sound far fetched, they are slowly turning into a reality thanks in part to research, technological advances and the public's fascination with computer-augmented humans.
what defines a wearable computer is a specific topic of discussion. you may ask, 'I have a brand new smartphone I carry with me everyday, isn't that a wearable computer?'. the answer is yes and no. while your smartphone and other mobile devices are technically mobile computers, they do not fit the formal definition of a true wearable computer.
l: wearable audio navigation for the visually impaired r: xybernaut corp.'s lightweight head mounted display & the kitty, or keyboard independent touch typing, data input glove (photo: chuck taylor)
to define what a wearable computer is, we look to dr. steve mann, one of the field's leading researchers. dr. mann believes a wearable computer 'facilitates a new form of human-computer interaction' that isn't possible with even today's most sophisticated devices. he identifies 'always on' capability and continual accessibility as the two key characteristics of wearable computers. this means that the computer is always with the user and always interacting, completely intertwined with the user. in dr. mann's view, a wearable computer should be a continuation of its user, working like a natural part of the body, not an external apparatus. in these terms we can see the difference between a mobile smartphone and a wearable computer.
l: dr. steve mann in one of his wearable computers (source) r: a wearable computer for journalists (source)
while a smartphone may not be a true wearable computer, it is one example of an incremental step toward one. despite the rapid evolution and development of technology, a true wearable computer still only exists in the prototype phase. most examples are  highly technical, not something you would see at your local electronics shop. however, small elements of a wearable computer are becoming more ubiquitous. the smartphone is a key indicator of this. new phones now commonly feature wifi, gps and cameras, things that would have been unconceivable not long ago. so while examples of wearable computers exist in labs around the world, their evidence in the marketplace is only visible in pieces. despite this, the rate of evolution in wearable computer research gives us a good indication that true wearable computers are not so far away.
the evolution of dr. steve mann's wearable computers (source)
while the wearable computer field is very diverse and complex, its evolution is perhaps best summarized through the work of dr. steve mann. while, dr. mann is the field's most eminent researcher, he wasn't the first. the field of wearable computing began in its early form sometime in 1960's. early versions of wearable computers included card counters, calculator watches and a vest which transferred images into a tactile grid for the visually impaired. these examples were not true wearable computers according to dr. mann's definition, but they did establish the advantages of linking technology and the body.
as computer technology advanced and became more mainstream, researchers began creating wearable computers to perform a variety of more advanced single tasks. dr. mann was among this first crop of researchers working on task-specific wearable devices. some of his first designs were created to be 'photographer's assistants' helping him create rich photographic images through multiple exposures to light. however, while these devices represented major steps forward, they were bulky, complicated and hindered the user as often as they helped.
steve mann is one of his more recent wearable computer prototypes (source)
dr. mann persisted and continued to develop wearable computers based on the general principles of his first iteration. with each step he added more functionality and improved its design. along the way mann developed essential elements for the ideal wearable computer like smart clothing embedded with wires and buttons to help make his computer easier to put and more comfortable. as technology became smaller and more affordable, mann followed suit, altering his designs to take advantage of these new circumstances. mann's design eventually evolved into an apparatus suitable for daily living, overlaying graphics onto specially designed glasses to create a form of 'mediated reality'. by minimizing the size of his device and developing new ways of interacting with the computer, mann has developed a wearable computer which points to future possibilities.
dr. steve mann is his current wearable computer which appears like an ordinary pair of eyeglasses. (source)
mann now uses an ultra compact computer, which is hooked up to a special pair of eyeglasses that captures audio and video and can display things to him like a computer monitor. mann can interact with the computer through voice commands and it is with him at all times to make his interaction as fluid as possible. while his first creations were large machines hanging off his body and head, his latest model is completely hidden from view and only consists of  a small computer and the specially-design glasses. mann has proven that a wearable computer can be made unobtrusive and useful to its user, however we will have to wait and see how long it will be until the market catches up.
examples
star-trek
science fiction has always been fertile field for wearable computing. as one of the genre's most popular programs, star trek has featured a number of examples of wearable computing. the borg character is one example which blends technology and humans in new ways. more than just a simple wearable computer, the borg featured computer technology interwoven with the human to create what is best known as a cyborg. the popular character geordi laforge also featured a wearable computer. because laforge was visually impaired, his special visor allowed him to see by capturing visuals and sending them directly to his brain.
minority report
made in 2002, this science fiction film is loosely based on stories by author philip k. dick and set in the near future. the film includes a variety of futuristic technology, including a number of examples
resembling wearable computers. the most obvious example is the glove controlled interface that the actor tom cruise manipulates in the film. using a special pair of gloves, cruise can control a large screen in front of him, moving digital objects.
MIT
MIT media lab is one of the key researchers in the field of wearable computers. this video demonstrates one of their most recent prototypes, which combines a number of elements such as digital gloves,
head-mounted camera and a projector all hooked up to a mobile phone. the device can take input via the camera or the user through the gloves and display information through the projector. like dr. mann's work, this MIT device aims to create a wearable computer that is like a 'sixth-sense'.
soldier with wearable computer and military zypad wr1100 wrist wearable computer
military
outside of academic research, one of the primary fields using wearable computing is the military. the military has always been one of the most advanced technological organizations in many countries and they are no different when it comes to wearable computing. soldiers commonly carry many devices used to monitor themselves and the field. while their needs are very different from the everyday person, many of the technology they use is paving the way for consumer-focused products.
common examples of military wearable computers include wrist-worn pcs and full armor computers.
zypad wrist wearable computer
commercial devices
you can't go out and buy a wearable computer like dr. mann's, but there area few examples of wrist-work computers which are available. these devices are by no means fully-fledged wearable computers, but they do provide their users with capabilities to help them with their work or specific job tasks.
l: teamawear uniform display by mitchell page r: keyboard and mouse jeans by erik de nijs
smart clothing special clothing embedded with technology is now widely available. jackets with controls for your mp3 player built-in or jeans with their own keyboard are now a reality. these clothes are not really computers at all but they are a key element in wearable computers and pave the way for more advanced product in the future.
more examples
this video, taken during the international symposium on wearable computers , demonstrates a variety of devices that are elements of, or fully formed wearable computers that are commercial products and diy projects.
jul 23, 2019
jul 23, 2019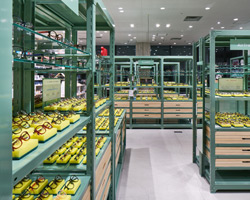 jul 12, 2019
jul 12, 2019
may 30, 2019
may 30, 2019
may 15, 2019
may 15, 2019
mar 19, 2019
mar 19, 2019
mar 11, 2019
mar 11, 2019
a diverse digital database that acts as a valuable guide in gaining insight and information about a product directly from the manufacturer, and serves as a rich reference point in developing a project or scheme.