those who have been to the netherlands know that bicycles are sacred — for every person there are 1.3 bikes. utrecht, a rapidly growing city, has over 100,00 cyclists riding to work, school, university, public transport or home each day. with the aim of being the most bike-friendly city in the world they have just opened the world's largest bike parking garage. the 17,100 square meter space can store 6,000 cycles right now, and aims for another 6,500 by the end of next year.

located in utrecht, the world's largest bike parking garage encompasses a total of 17,100 square meters
all images by CU 2030
located under utrecht's central station, the bicycle parking aims to have 33,000 spaces by 2020. but even if they took the title from tokyo's kasai underground station, seems like the dutch authorities are still not very convinced says the guardian. the discontent is born from the numbers that show that even though it's a huge space, soon the parking will not be enough. the continue by saying that 43% of journeys under 7.5km are done by bike and that five years ago it was 40%, showing how fast this transport method is growing.

right now there is space for a total of 6,000
martijn van es, spokesman for the dutch cycling organization fietsersbond told the guardian: 'to quote john lennon, 'life is what happens while you are busy making other plans. by the time the politicians have made their decisions, and by the time things are built, there are more people cycling.'

by 2018, 6,500 more spaces will be available, adding to a total of 12,500

the bike parking garage has taken the title from tokyo's kasai underground station

in the netherlands there are 1.3 bikes for every person

each day, 100,000 cyclists use bikes to move around utrecht

entrance to the world's largest bike parking garage in utrecht
aug 08, 2017
aug 08, 2017
jun 28, 2017
jun 28, 2017
may 29, 2017
may 29, 2017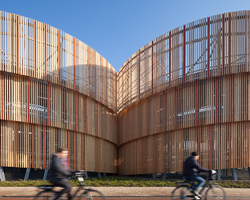 mar 07, 2017
mar 07, 2017
dec 27, 2016
dec 27, 2016
oct 28, 2016
oct 28, 2016