jan 06, 2016
kodak + yves béhar update the classic super 8 camera to energize next wave of filmmakers
kodak + yves béhar update the classic super 8 camera to energize next wave of filmmakers 
image courtesy of kodak
on the heels of celebrating 50 years of manufacturing 'super 8' film, kodak at CES 2016 kicked off a new campaign with a revised version of the camera in collaboration with design entrepreneur and fuseproject founder yves béhar. the camera combines classic features of a 'super 8' with digital functionality as an initiative aimed to put it into hands of a new generation of filmmakers. 

the camera with 'super 8' film cartridge
image courtesy of fuseproject
'kodak has always represented an innovation that is approachable while delivering the craft of filmmaking. our design aspires to express both these ideals. we are designing the kodak super 8 camera with robust materials and new ergonomic features to serve the needs of Super 8 fans, whether shooting action or static scenes,' explains yves béhar. 

the camera will still be made of machined metal 
image courtesy of kodak
the 'super 8' camera has an integrated microphone that can be removed and updated with change technologies. it includes a digital viewfinder hat has also been designed to allow creators to take full advantage of the new top handle style. leather accents have been added into the top handle and pistol grip for reinforced comfort. each camera will be made of machined metal finished in 'midnight black' and 'bone china'.

the kodak camera will record in both analogue and digital formats 
image courtesy of kodak
at the rear, the camera connects to an ecosystem of other devices to make it easy to create, share and archive. inside the 'super 8' still delivers analogue options with a slot for film cartridges kodak is still making. when users purchase the film, the company will offer processing and digital transfer along with it. the lab will send the developed film back and email the creator a password to retrieve digital scans from the cloud for editing and sharing in any way.

a slot will fit 'super 8' film 
image courtesy of kodak
'the news that kodak is enabling the next generation of filmmakers with access to an upgraded and enhanced version of the same analog technology that first made me fall in love with cinematic storytelling is unbelievably exciting,' said director and producer christopher nolan.

the sliding panel
image courtesy of fuseproject
as one of the first american companies to recognize the value of industrial design. the collaboration ensured that the new kodak 'super 8' camera design echoes the look and feel of the original, introduced in 1965, while adding a modern sensibility.

the slim profile of the 'super 8' 
image courtesy of kodak

the rear panel includes a SD card, and latest connector capabilities
image courtesy of kodak

the pivoting digital viewfinder 
image courtesy of kodak

the detachable pistol grip
image courtesy of kodak 

the rounded version of the kodak 'super 8'  
image courtesy of kodak

the cameras will come in both 'midnight black' and 'bone china' 
image courtesy of kodak

the removable microphone 
image courtesy of kodak
jan 12, 2016
jan 12, 2016
jan 11, 2016
jan 11, 2016
jan 10, 2016
jan 10, 2016
mar 14, 2017
mar 14, 2017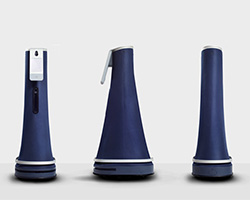 mar 01, 2017
mar 01, 2017
jan 27, 2017
jan 27, 2017