as part of an ongoing collaboration with samsung, yves béhar thinks about the television not as a consumer electronics product, but as part of our home and of our daily life. 'the frame' TV is an entry into home décor and art – allowing people to build a personal collection in an accessible manner. it shifts the paradigm of what a television can be; 'on' or 'off', it adds value to interior walls. yvés behar and samsung believe that the 'flat black box' on a wall can be transformed into personal style and daily inspirations.

all images © samsung
the 'frame' TV by yves béhar + samsung is an attractive display designed to bring walls to life whether it is in use or not. when someone turns entertainment TV off, rather than going to black, the display goes into 'art mode' — an art platform with internationally recognized artists, allowing the display to become a virtual museum in the home. the 'frame' television is the first sensor-based display that can adapt to the environment throughout the day with automated brightness and presence capabilities. it can also be customized from natural materials chosen by the owner, making the display to blend in seamlessly the home décor.
while the idea of a display showing artwork is not new, the difference with the 'frame' is that art is at the core of its design and experience — samsung has partnered with renowned artists to show their work in a digital gallery exclusive for the TV. each artwork is converted to a digital media through the highest scanning standards, creating the impression that real pieces decorate their interior surroundings. in addition, the brightness sensor adjusts the image based on the room lighting, making artworks closely resemble the original. the result is art that blends in the environment in the same way that printed photography or a painted canvas would look.
to ensure the display doesn't waste power unnecessarily, the sensors detect movement in the room and turn the display off if no one is present. its sensors are located on the bottom, hidden inside to see 100 degrees of movement.  if someone approaches from any angle, it can still sense them, and turn back on. the sensors are also light sensitive — depending on the lighting in the room, the backlighting from the display will change to make the art look as real as possible. 
subtle details of the 'frame's' industrial design build a clean and minimal overall aesthetic. it can be hung or mounted from the wall, plus a detachable stand to allows it to be freestanding with a  minimal and understated aesthetic. its physical bezel is customizable, with 'white', 'black', and 'wood veneer', while the smooth visual transition from 'art mode' to the entertainment 16:9 aspect ratio, is an elegant and unique moment in the 'frame' experience.
oct 27, 2017
oct 27, 2017
oct 11, 2017
oct 11, 2017
oct 04, 2017
oct 04, 2017
aug 03, 2017
aug 03, 2017
may 15, 2017
may 15, 2017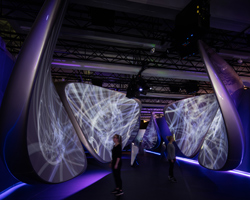 apr 05, 2017
apr 05, 2017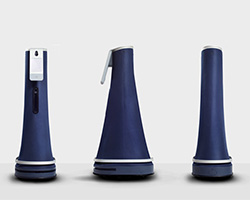 mar 01, 2017
mar 01, 2017
jan 27, 2017
jan 27, 2017
jan 11, 2017
jan 11, 2017
oct 13, 2016
oct 13, 2016
oct 11, 2016
oct 11, 2016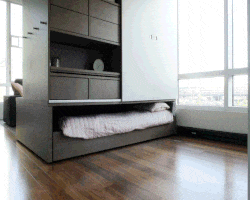 jul 11, 2016
jul 11, 2016