THE DESIGN PRIZE has become an institution of the city of milan. on april 9th, 2019, the award ceremony will be hosted at triennale milano under the patronage of the municipality of milan. the highly-anticipated event cements its status as a democratic, free and participatory design award, which calls on the international creative community for nominations.
among the 10 categories, the SOCIAL IMPACT prize recognizes improvements in the public realm, and the process of honoring those individuals whose 2018 contribution made the biggest impact needs you to determine the winner.
learn more about each of the 3 nominees and cast your vote by sunday, march 24th, 2019. 
don't forget to share your selection and invite your friends to have their say.
OCEAN CLEANUP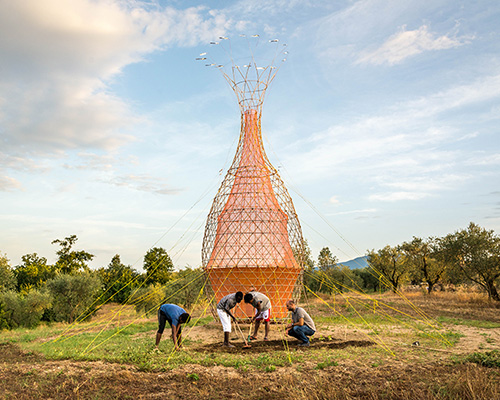 WARKA WATER
FORENSIC ARCHITECTURE
OCEAN CLEANUP by BOYAN SLAT (NL)
the world's first OCEAN CLEANUP system, using a curved, 2,000-foot-long plastic tube could be tested on the water surface in the north pacific, halfway between hawaii and california. ocean garbage patches are not solid islands of trash. rather, the plastic is dispersed, forming massive debris fields. after 273 scale model tests, six at-sea prototypes, a comprehensive mapping with 30 vessels and an airplane, the system 001, dubbed 'wilson' has been installed in its U-shape.
the essential idea behind the ocean cleanup project is to use the natural currents in the oceans to let them clean themselves. the technology consists of a curved network of long floating barriers that act like an artificial coastline, enabling the natural ocean currents to concentrate the plastic in a central point. from here, it can be extracted and shipped to shore for recycling. the nonprofit foundation estimates to remove half the great pacific garbage patch in just five years, and at a fraction of the cost and based on the current results, the activists are positive to be close to making it work.
https://www.theoceancleanup.com
WARKA WATER BY ARTURO VITTORI (ITALY/ USA)
every drop counts and warka water presents an innovative solution to the lack of potable water in ethiopia, haiti, togo & cameroon. inhabitants of the local rural communities still collect water for drinking from the river, which is potentially polluted by livestock that uses the same water, human waste and chemicals left behind from laundry activities.
to collect potable water from the air, the team has developed several structural concepts and constructed 12 full-scale prototypes to test different materials within varying environmental conditions. dubbed warka tree, the vertical structure collects rain, harvests fog and dew and delivers 40 to 80 liters (10 to 20 gallons) of drinking water every day. 
FORENSIC ARCHITECTURE (UK)
Centre for Research Architecture at the Goldsmiths University of London
forensic architecture is an independent multidisciplinary research group, led by architect eyal weizman. the team of investigators includes architects, scholars, artists, filmmakers, software developers, investigative journalists, archaeologists, lawyers, and scientists and uses new evidentiary architectural techniques and media technologies to investigate cases of state violence and violations of human rights around the world.
the agency routinely works in partnership with international prosecutors, human rights organisations and political and environmental justice groups. FA's evidence files, taking the shape of models, drawings, maps, web-based interactive cartographies, films, and animations have also been exhibited in leading cultural and art institutions.
https://www.forensic-architecture.org/
the third edition of the international award celebrating design excellence inaugurates milan design week 2019. the unique program, curated by designboom, recognizes both the extraordinary achievements and little sparks of beauty and delight that have emerged over the past 12 months.
in total, more than 900 projects have been selected by the scientific committee, composed of more than 200 creative professionals, among them -
3XN/kim herforth nielsen, tatiana bilbao, ronan & erwan bouroullec, fernando & humberto campana, cheungvogl architects, rachaporn choochuey, claesson koivisto rune, vincenzo de cotiis, michele de lucchi, didier faustino, berengo foundation, prada foundation, formafantasma, form us with love, massimiliano and doriana fuksas, richard hutten, ross lovegrove, andrea maffei, philippe malouin, alberto meda, studio mk27 marcio kogan, mischer'traxler, jasper morrison, muller van severen, luca nichetto, fabio novembre, carlo ratti, alice rawsthorn, fernando romero, daan roosegaarde, matteo thun, patricia urquiola, yabu pushelberg, tokujin yoshioka, michael young…
the 10 categories that comprise THE DESIGN PRIZE embrace the most fundamental aspects of the design world: social impact honors cultural, public projects. distribution is dedicated to aspects related to retail, such as shops, signage, and packaging; communication is linked to brand identity, advertising campaigns and editorial projects; in the artistic realm encompasses limited edition projects and installations, where the boundary between design and art dissolves; exhibition focuses on exhibition layout and spatial design; experimentation is dedicated to research and education; design curator & design critic celebrates the figures which engage in institutional curation; best design newcomer recognizes the emerging names in the field; best designer honors the established protagonists in the sector; lifetime achievement is a career-spanning award.
THE DESIGN PRIZE is energised by edison
edison, one of the largest energy companies in italy, has been a partner and promoter of the initiative since its inception in 2017. this year, edison continues its collaboration with THE DESIGN PRIZE, the international award dedicated to project culture, which is also a virtuous expression of co-planning based on the efficient use of resources for the construction of a sustainable future. edison brings its unique experience, know-how, and 130-year-long history in the energy sector to the design prize, helping foster a horizontal approach to design. together with the leading professionals and architects, edison proposes intelligent solutions for cities and people in favor of a more evolved and sustainable lifestyle.