throughout 2018, designboom has highlighted many projects in the fields of architecture, art, design and technology, presented via the format of moving image. from elon musk's animation of the spaceX falcon on route to mars to a musical instrument made up of 44 singing furbys, these short films offer a dynamic look at creative work through animated, documentary and digital formats. our TOP 10 recalls the most memorable videos we featured in 2018.
continuing our TOP 10 round ups of 2018, we look back at 10 videos that grabbed our and, more importantly, designboom readers' imagination over the past 12 months.
award-winning british filmmaker leo maguire was invited into this world five years ago, after being approached to direct a short film documenting the cultural phenomenon. this project took him to soweto, where he would eventually meet 'nghamshi', and where spinning shares its roots with the people that live there. spinning was a product of the ever-tightening apartheid regime in south africa that involved appropriation of cars, status symbols of white supremacy, and performing stunts with them as an act of defiance. during the 1980s it was both reaction and ritual to spin at funerals in honor of those activists who had passed.
supported by manchester city football club, all arquitectura presented the 'la doce' project located in the municipality of valle de chalco. the design returned a living space to the community in one of the areas with the highest marginality and one of the highest rates of violence in the outskirts of mexico city. conceived as a coordinated effort between designers, architects, artists, civil organizations, and neighbors, the project comprised of two independent spaces — sports court and pavilion — that beyond being isolated experiences, were linked through the activities they contain.
with spaceX and their CEO elon musk, their almost constant and astronomically ambitious aims to further explore the unknown seemed to be the only active thing in space during 2018 (apart from the aliens, right?). towards the end of 2017, the entrepreneur announced that he was planning to send his personal tesla roadster into orbit, with a dummy sitting in the driving seat donning the spaceX spacesuit. well, in an animation that blares out david bowie's 'life on mars?', in actual fact, the car did not just ride in any test flight but rather in the highly anticipated launch of the 'falcon heavy' rocket.
after unveiling new adverts in july criticising the speed of the iphone X, samsung expanded upon its 'ingenius' campaign with three videos mocking apple and the apparent downfalls when it comes to the iPhone X. titled dongle, fast charger, and camera, each advert depicted an apple store employee having a conversation with a customer, attempting to justify the iPhone compared to the galaxy S9.
artist and underwater choreographer julie gautier performed in the world's deepest pool in her latest work. AMA showed gautier performing for several minutes, holding her breath throughout various part of the routine before rising up to the surface. AMA took its name from the japanese word for 'woman of the sea' and is dedicated by the artist to 'all the women of the world'. it was filmed at Y-40 deep joy, the world's deepest pool near venice, italy. the video was one in a large body of work including beyoncé's music video runnin and an underwater film for a company called les films engloutis. gautier created them with her world champion deep sea diver husband guillaume néry.
after years of dreaming, musician/hacker/inventor, sam battle, finally did it; he combined the creepiest instrument with the creepiest toy: the furby organ. 44 singing furbys (plus one smartly-dressed conductor-furby) comprised battle's eerie-doo-hickey, on his youtube channel, 'look mum no computer.' but as sensational and trending as this was, the entire project was worth serious commending in regards to technical execution.
the drive skate shop in vancouver designed a fully-skateable sandwich board and created posters made from wood veneer to mimic the look of wall ramps. how's that for fun? standing in front of the shop, drive's ad drew the attention of passing-by skateboarders, and they could freely use it as a kicker for skating. the two-sided ramp was supported by a metal structure which allowed for its stability.
a group of car enthusiasts transformed a barbie mini car with life-threatening results. the 'barbie mustang go kart' took four days to build and was upgraded using a 240cc engine from a honda dirt bike.
this year louis poulsen celebrated one of their iconic objects' 60th anniversary. designed by poul henningsen in 1958, PH 5 lamp is never out of style with its colorful and sophisticated shape. frame studio based in copenhagen was challenged to develop a video which would honor the lamp's long-lasting popularity.
prague-based 3D artist miki nemcek has created a short animation that explores iconic designs and colours from the 1950s. the title of the short exploration, good(bye) design, mixes retro-inspired products with playful accented colors or everyday objects, mainly of german manufacturer braun.
see designboom's TOP 10 stories archive: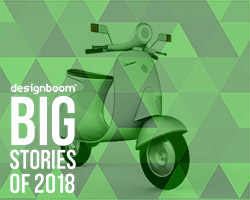 dec 21, 2018
dec 21, 2018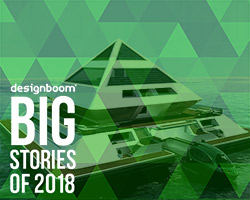 dec 19, 2018
dec 19, 2018
dec 18, 2018
dec 18, 2018
dec 17, 2018
dec 17, 2018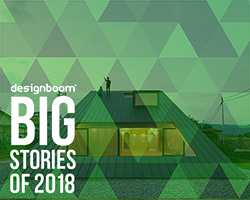 dec 14, 2018
dec 14, 2018
dec 13, 2018
dec 13, 2018
a diverse digital database that acts as a valuable guide in gaining insight and information about a product directly from the manufacturer, and serves as a rich reference point in developing a project or scheme.