a unique handmade bamboo 'majlis' has been built in the gardens of the abbazia di san giorgio maggiore for the 2021 venice architecture biennale. meaning 'council' or 'gathering place', majlis is a word that originated in pre-islamic arabia and is traditionally a place where people come together to discuss local events and issues, exchange news, socialize, and deepen their connection with each other. in venice, the structure designed by acclaimed bamboo architects simón vélez and stefana simic responds directly to the biennale's theme — 'how will we live together?' — by inviting visitors to gather for a variety of workshops, exhibitions, and concerts. 'what we are trying to make is a place for learning — for many people, from many places of the world, and for many different ages,' says vélez.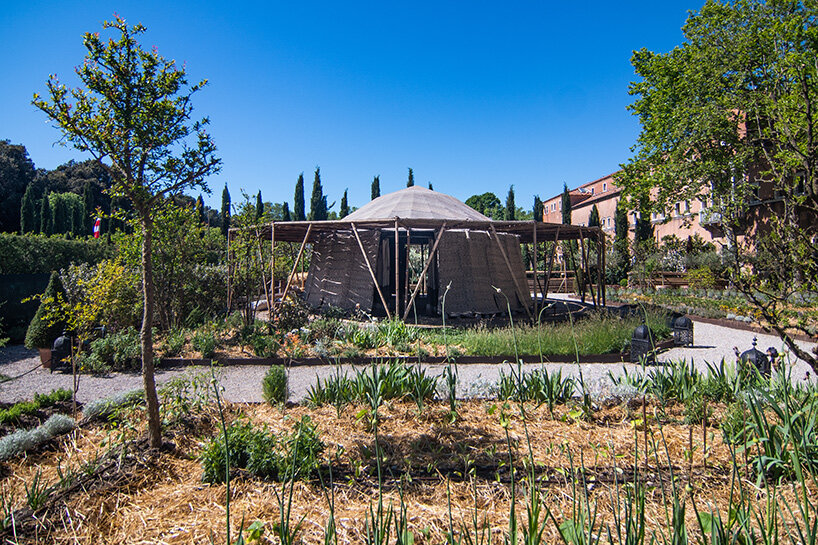 image by simone padovani/awakening/getty images (used with permission) | video courtesy of caravane earth
the majlis embodies the values and mission of caravane earth, the foundation behind the project that champions and preserves craftsmanship and vernacular architecture through carefully sourced materials, ethical production, and community initiatives. the majlis comprises a portable frame, designed by simón vélez and stefana simic, that has been made entirely from bamboo. 'it's 10 meters long and 8 meters wide,' explain the architects. 'all the joinery is meant for easy disassembly.' this includes the floor, which, along with the rest of the structure, has been wrapped in textiles handwoven in the atlas mountains of morocco by a women's collective from ain leuh and ahmed chmiti's boujad tribe cooperative.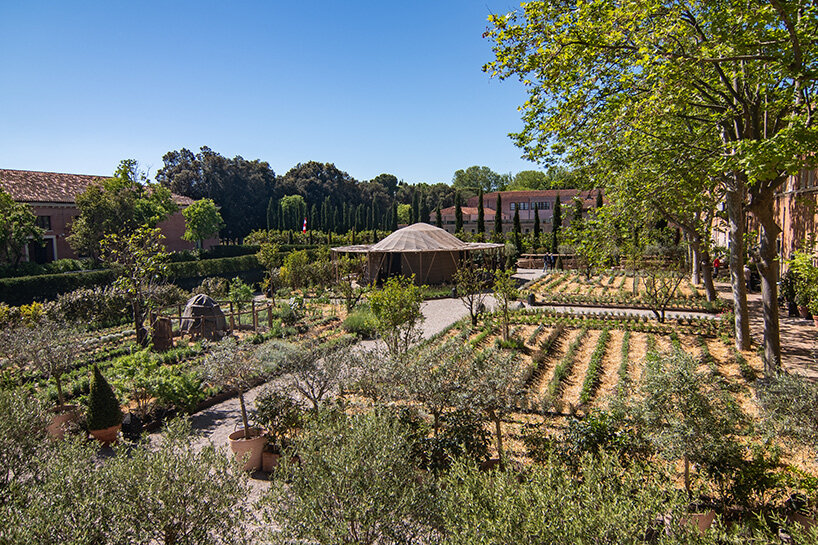 image by simone padovani/awakening/getty images
using bamboo and wool, two of the most renewable materials on earth, the majlis has been handmade on two different continents. however, as the craftspeople that originally produced the majlis could not travel as a result of the pandemic, the construction has been assembled with the involvement of local venetian artisans. in the gardens of the abbazia di san giorgio maggiore, the structure is surrounded by a garden planted by landscape architect todd longstaffe-gowan. here, a natural exhibition of wildflowers from central and mediterranean european regions has been planted under the direction of royal palace gardeners from the united kingdom. once the biennale concludes, the garden will remain in place as a gift to venice.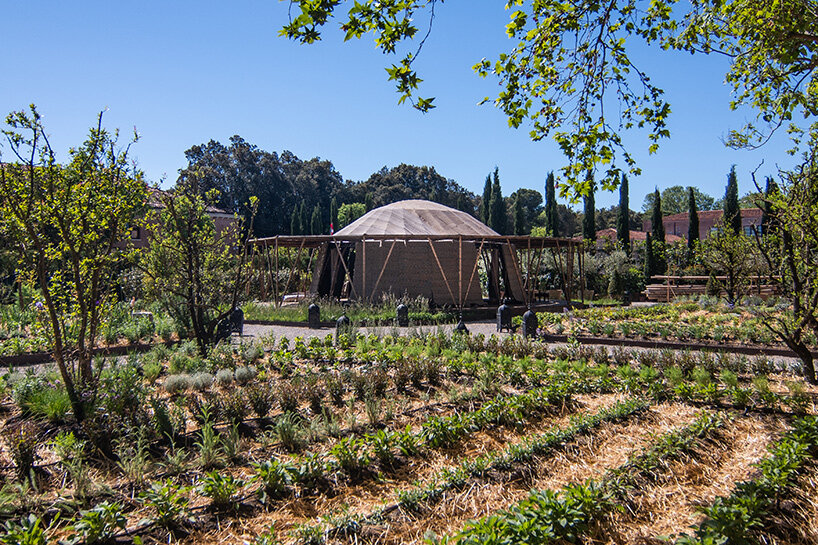 image by simone padovani/awakening/getty images
meanwhile, an exhibition inside the abbey contextualizes the majlis, featuring the people and materials involved in its construction. a wide range of objects and craftsmanship is presented, some associated with nomadic peoples and others highlighting the exchange between east and west. from concept development to harvesting bamboo and processing wool, the monastery's hall displays the resources, raw materials, and innovative steps made in constructing the majlis. meanwhile, a separate room displays a whole village of which the majlis is the first part. featuring the development of caravane's mobile architecture and masterplanning, this 'art village' in the desert is meant to be built, assembled, and dismantled by hand using natural materials.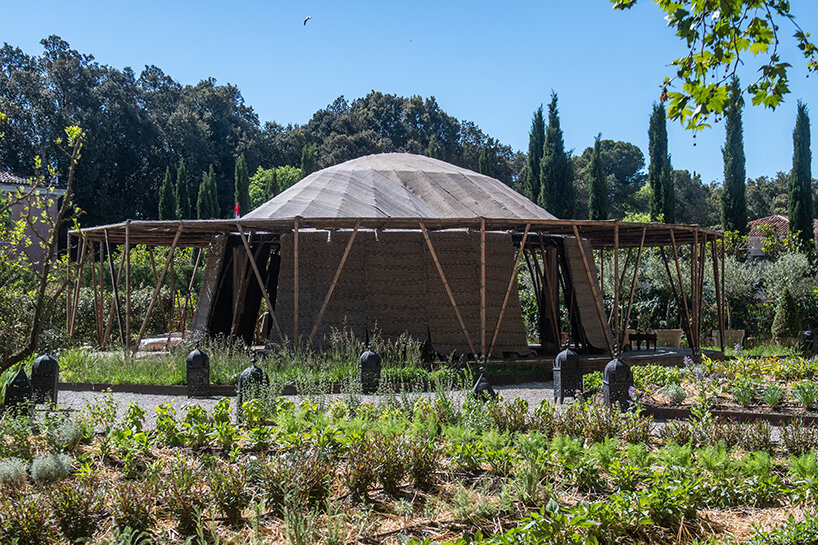 image by simone padovani/awakening/getty images
the exhibition is presented as an investigation into what human beings can do together. it is described as a look into how we can produce common space ethically, and how that space can be filled with meaningful social activity. the team behind the project explains that majlis are more than the sum of their architectural parts, but are crucial locations where culture is passed down from one generation to the next, where leaders counsel on community matters, and where guests are greeted with open hearts. in fact, the majlis was inscribed on UNESCO's list of intangible cultural heritage (ICH) in 2015 as 'a cultural and social space'. this list aims to ensure better protection of important intangible cultural heritages worldwide and the awareness of their significance.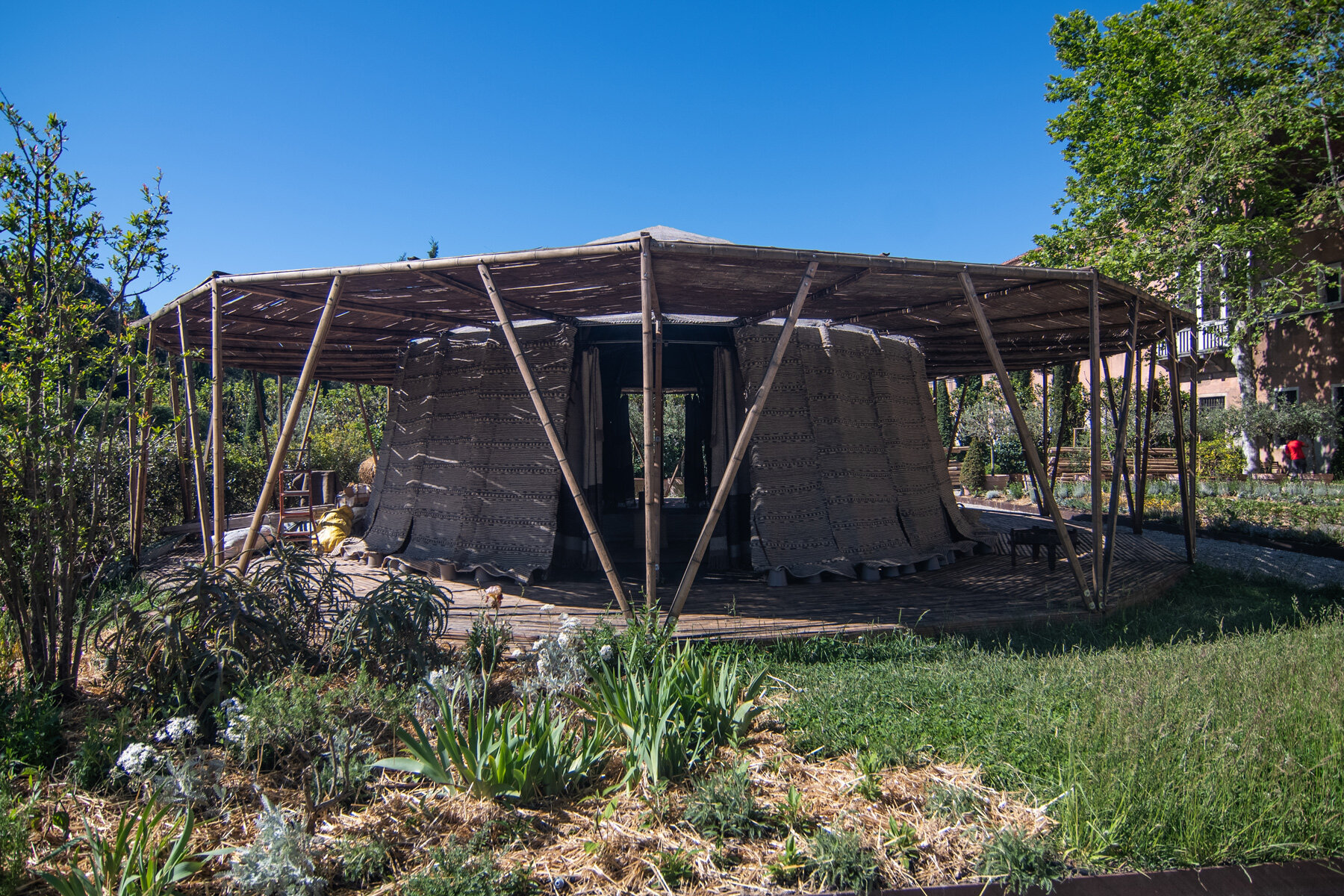 image by simone padovani/awakening/getty images
during its stay in venice, the majlis will serve as a platform for events, with experts from many fields and nations discussing the biennale theme in a world of rapid change and uncertainty. once a week, in the evening hours, artists, scientists, architects, philosophers, and decision makers will gather inside the majlis with guests to share knowledge and empowerment through narrative, poetry recitation, and other wordless forms of storytelling. in addition, educators from st. petersburg's studio DA and a venice-based studio of katia margolis will be offering a series of workshops where children learn craft skills and imaginative ways of applying them. after premiering in venice, the structure will begin a multi-year journey — traveling to countries in the east and west to find answers to the question 'how will we live together?'.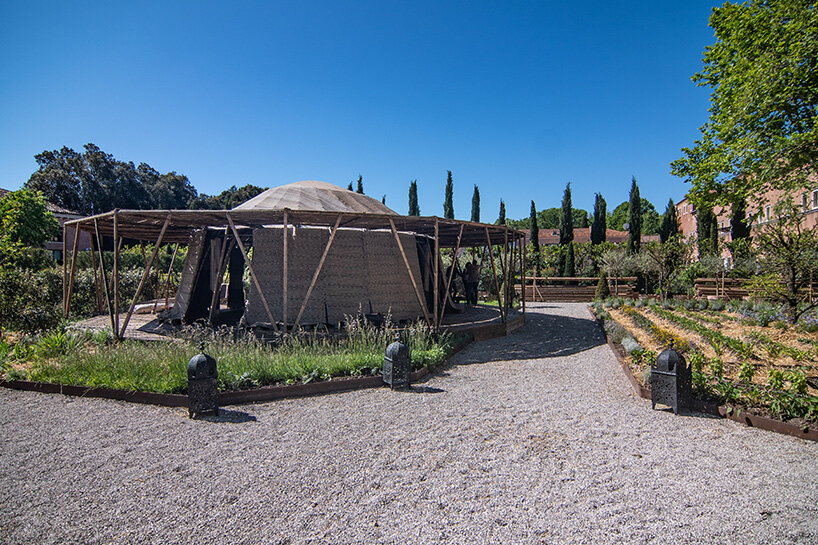 image by simone padovani/awakening/getty images
colombian architect simón vélez is renowned for his work with bamboo, the most sustainable of natural building materials which he calls 'vegetable steel'. working with stefana simic, they strive to widen the use of bamboo in architecture through their design-build firm gigagrass. 'bamboo is not for the rich or for the poor — bamboo is a material for humans,' says vélez, who, with stefana simic, made the first model of the majlis with bamboo from his garden. 'we cut the bamboo, the strips all to scale, and then boiled each piece in a pot of water,' explains simić. 'we forced the bamboo to curve, approximating the way it's done for the large-scale structure. it was the first time our team saw a 3D representation of our design. initially, there were too many reinforcements, we didn't trust the strength of bamboo. but once we prototyped in real life, at real scale, we realized that bamboo is strong enough on its own to hold an 80 square meter building.'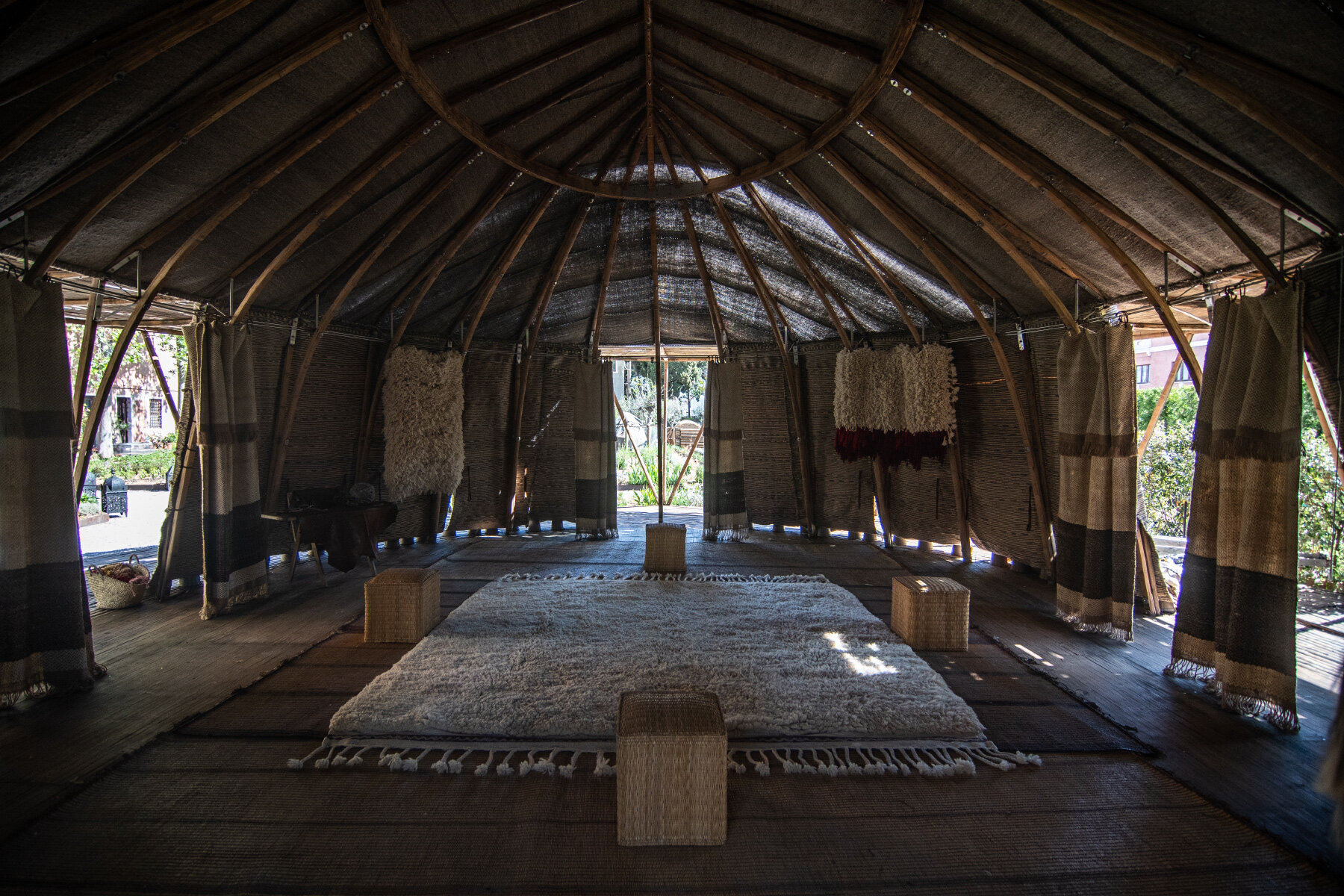 image by simone padovani/awakening/getty images
according to the team, the most tedious part of the process was laminating the elliptical rings. 'we put together layers of thin bamboo one-by-one,' say the organizers. 'the larger ring of the majlis took 14 layers, which comes out to three weeks of work for four experienced bamboo craftsmen. the joinery system was yet another challenge, as our buildings have to be easily assembled and disassembled. we had to fit the curves and geometry with strings first. however, once that work is done, assembly and disassembly can be easily done, giving a structure like the majlis the ability to travel the world.'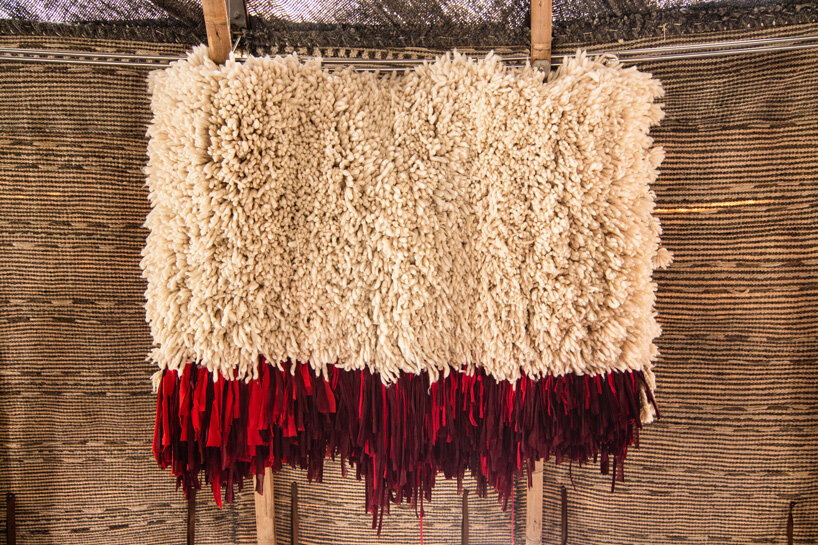 image by simone padovani/awakening/getty images
while designing in colombia, caravane simultaneously traveled to morocco hoping to locate living craft heritage in working with wool. in the boujad region, the foundation came across a surviving practice of herding, shearing, dying with natural pigment and weaving on traditional looms. nina mohammad-galbert introduced caravane to master artisan, ahmed chmiti, who accepted the challenge of covering the majlis bamboo structure and working with a team half-way round the world. using technical drawings provided by vélez, chmiti made a model to determine how he would distribute some 250 kilograms of wool over the building. in the end, a 300 square-meter canvas was produced by the hands of 20 skilled craftswomen over the course of three months.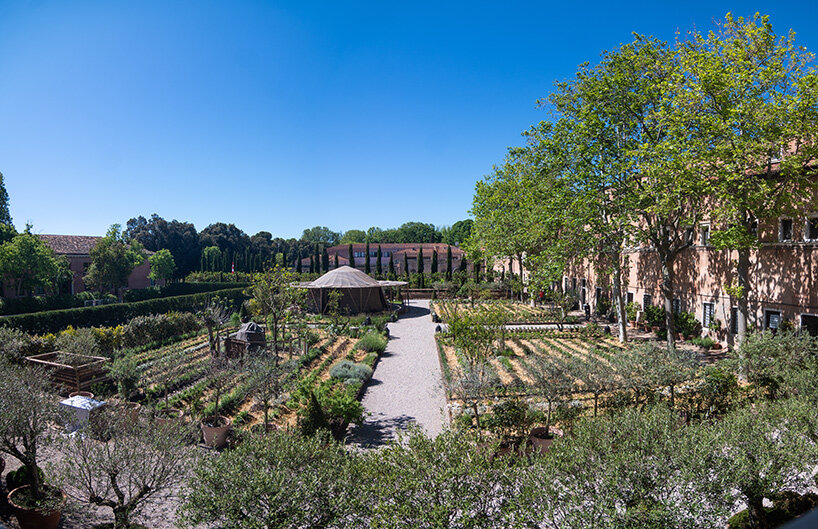 image by simone padovani/awakening/getty images
the majlis, which is the first of eight structures planned for caravane's desert 'art village', is being assembled for the first time at the venice biennale and will remain on view until november 2021. see designboom's ongoing coverage of the event here.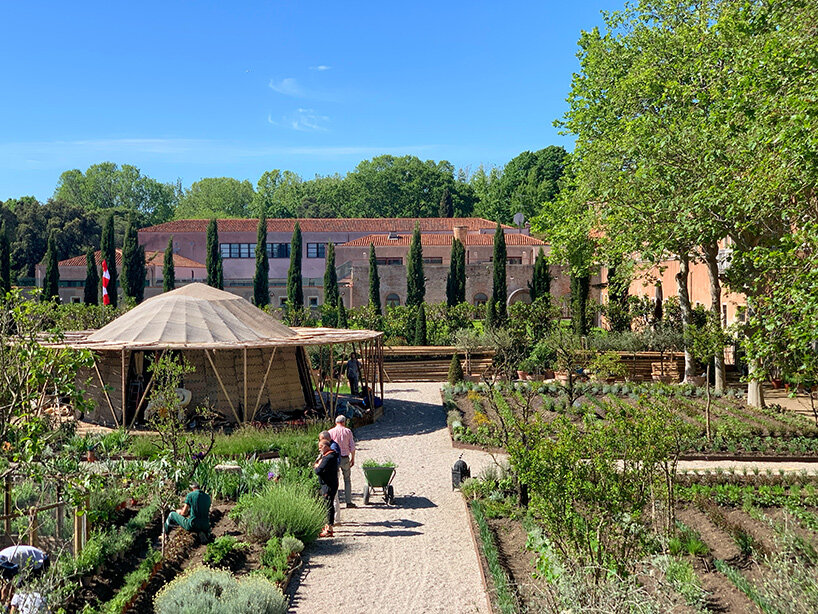 image courtesy of caravane earth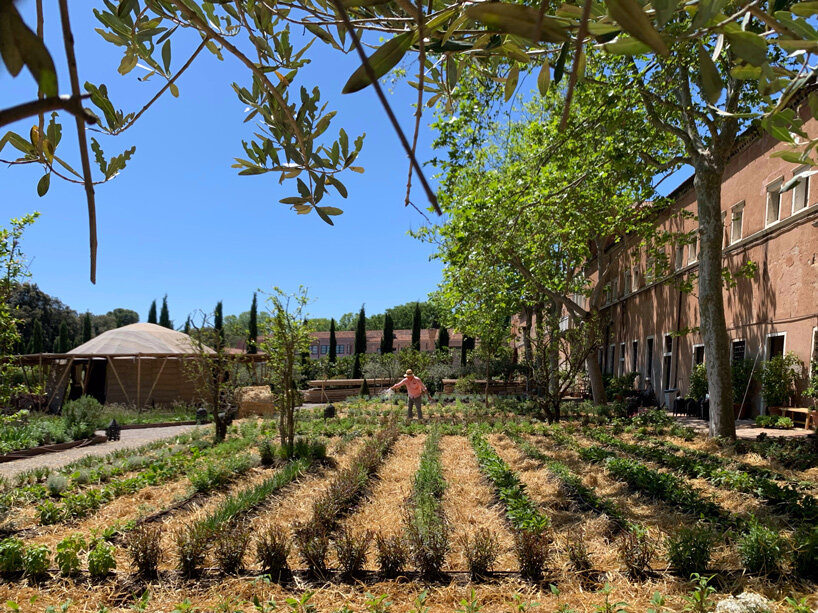 image courtesy of caravane earth
project info:
name: the majlis
location: abbey and garden of san giorgio maggiore
event: 17th international architecture exhibition – la biennale di venezia
dates: may 22 – november 21, 2021
organizers: caravane earth, la biennale, abbazia di san giorgio
curator: dr thierry morel
majlis architects: simón vélez and stefana simić
majlis textile design and production: ahmed chmiti
sourcing partner africa: nina mohammad-galbert
textiles and interiors: prerna saraff
vision and strategy: fahad bin mohammed al attiyah
producer: galya bott
art director: igor garin
designer: galya larina
partnerships and symposia: johnny cornwell
creative programming: stephen ochsner
infrastructure and sustainability: johnann bott
artist: irini gonou
project manager: leif-erik hannikainen
philip stevens
I designboom
may 23, 2021
a diverse digital database that acts as a valuable guide in gaining insight and information about a product directly from the manufacturer, and serves as a rich reference point in developing a project or scheme.
designboom will always be there for you
milan, new york, beijing, tokyo

,
since 1999