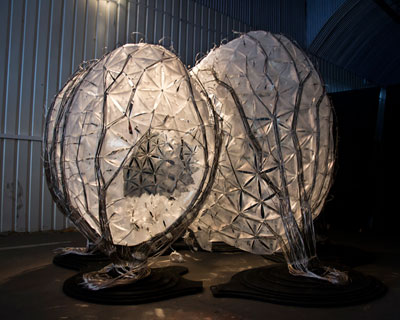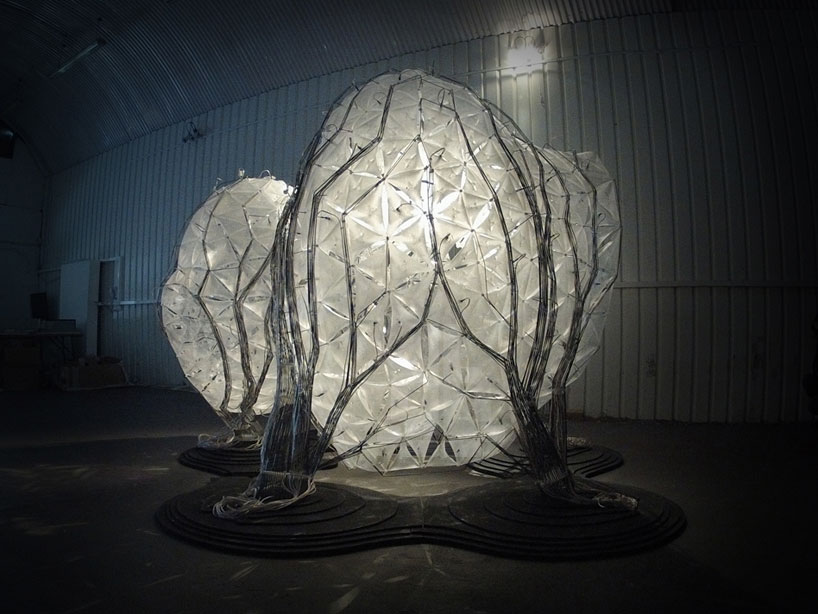 sep 02, 2013
ecologicStudio algorithmically conceive meta-follies
ecologicStudio conceive meta-follies algorithmically
all images courtesy of ecologicStudio
exploring the realm in which architect becomes virtual craftsman, ecologicStudio's 'meta-follies' stands to define new architectural codes by substituting nature as a reference. conceived algorithmically, the pavilion will continue to adapt and change over time, offering a mechanic structure that provides a dynamic form of contextual relationship with its surrounding environment that works through intuitive aesthetic appreciation, as well as behavioural response. the project confronts the artificiality found in today's urban landscape, offering refuge and consolation to a group of urban dwellers who have abandoned their search for green arcadia and instead replacing it with a 'shanty' version of it. exploring the possible convergences between cybernetics and environmental psychology; digital computation design and parametricism; digital craftsmanship and DIY interaction design; radical ecologic thinking and material activism; the london-based studio proposes an architecture that could be an improbable assemblage of 'urban trash' that reveals a new aesthetic, spatial and material milieu–a new form of engineered life.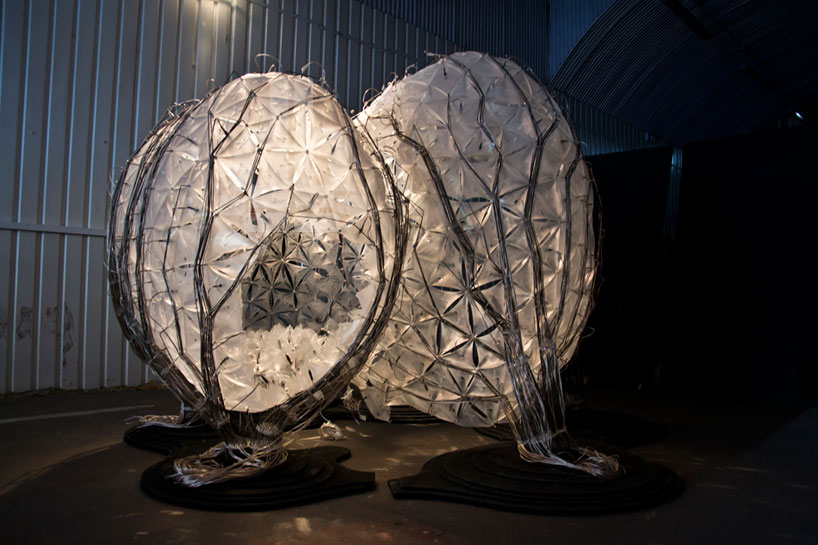 the architectural skin of the pavilion is an improbable assemblage of 'urban trash'
the outcome can be seen as a framework that employs material technologies and fabrication techniques that can be categorized under the umbrella of 'slow-protoyping'. ultimately, a composition of reused and hacked versions of urban waste such as recycled polypropylene, modified sound kits, steel rods, chameleonic nano-flakes, which together define a system of transformations where architecture embodies the object, process and interface.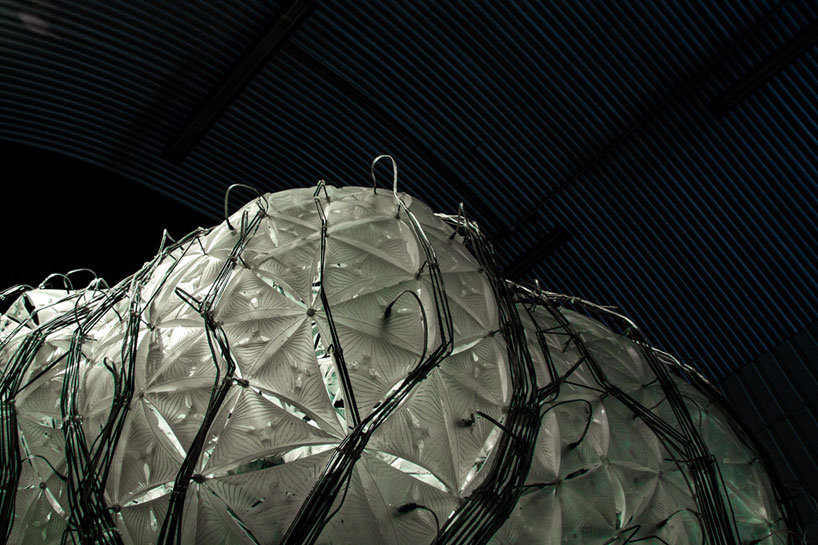 detail of the hacked components
embedded within its architectural skin, a field of digitally materialized sensitivity provokes the growing sounds of 300 piezo-buzzers , analogically modulated in 4 different tones so that collectively they sound like a swarm of crickets, reacting the movements of people around the folly–developing ripples of sound that bounce back and forth until they obliterate each other's noise, synchronization or complete interference. the overall convoluted nature of the geometry produces the emergence of sonic niches to be decoded by human ears within the structure. 'meta-follies' will open to the public at FRAC centre in orleans, france in mid-september. see designboom's coverage of the recently completed FRAC site by jakob + macfarlane here.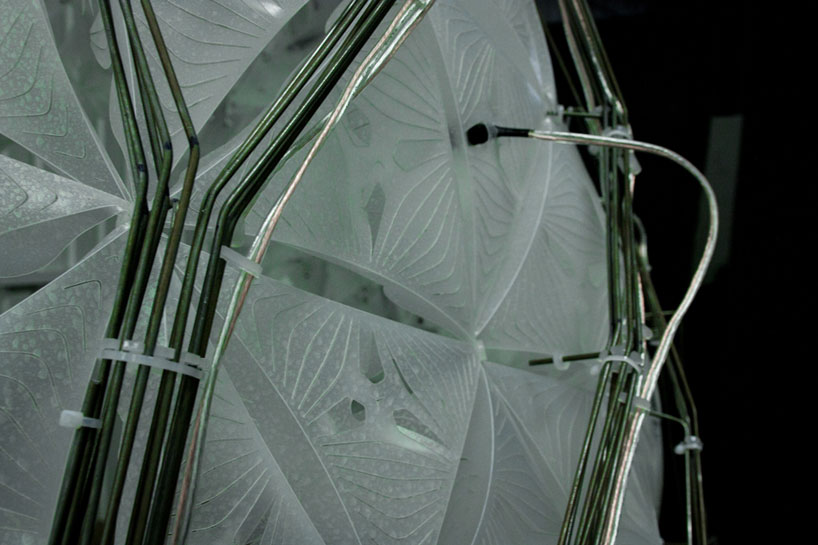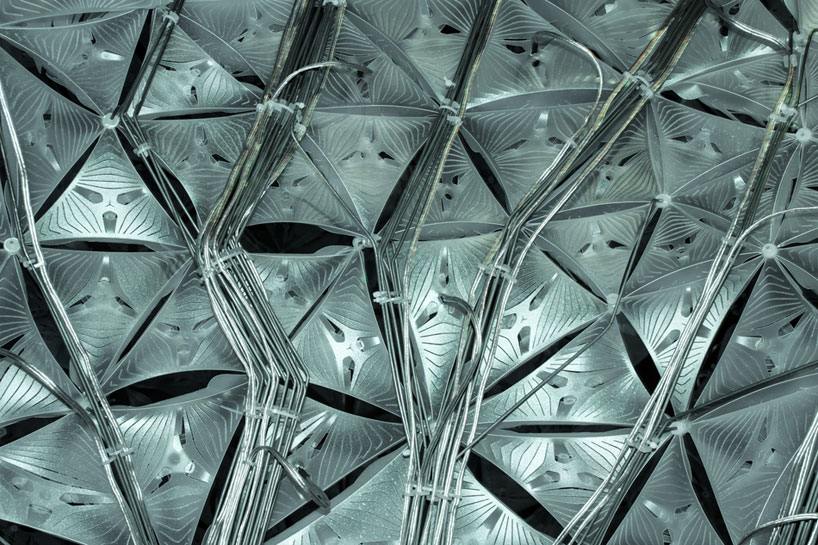 within the architectural skin, a field of digitally materialized sensitivity agitates the sound of 300 piezo-buzzers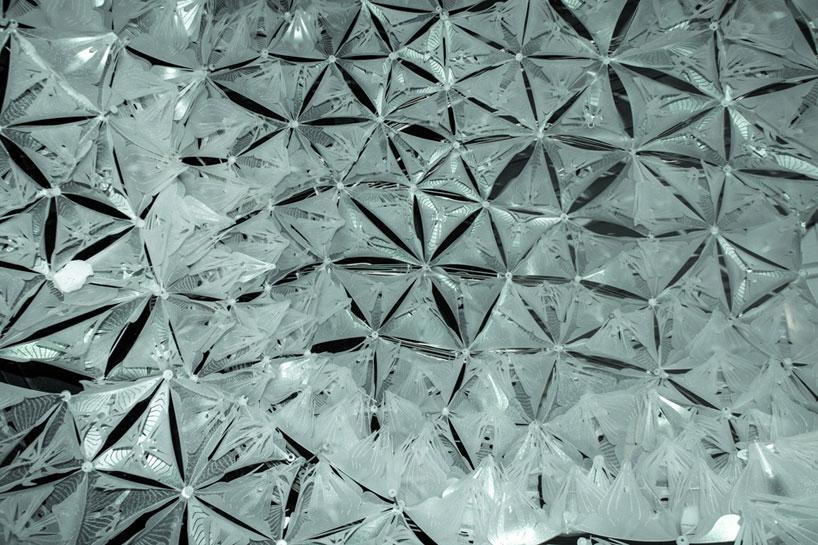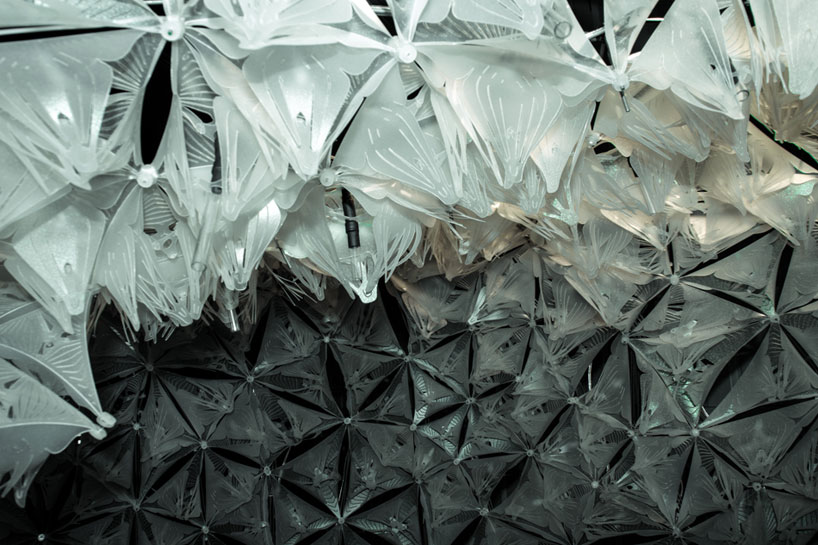 detail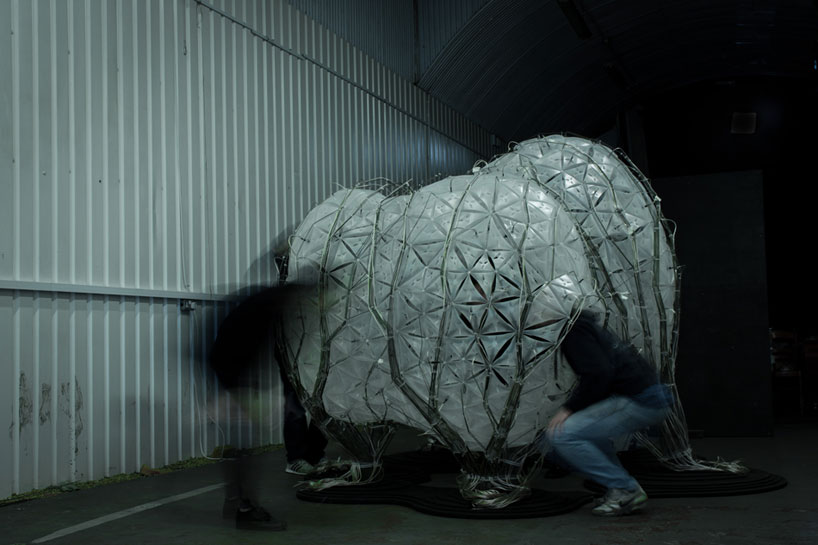 the making of meta-follies by ecologicStudio
video courtesy of ecologicStudio

studies of acoustic interaction
video courtesy of ecologicStudio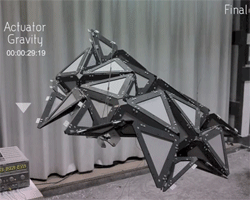 aug 19, 2014
aug 19, 2014
aug 05, 2014
aug 05, 2014
jul 29, 2014
jul 29, 2014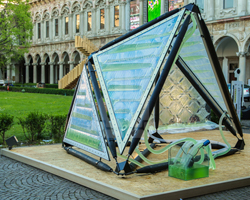 apr 14, 2014
apr 14, 2014
aug 21, 2013
aug 21, 2013