luca missoni on missoni's artistic origins and the italian fashion house's pursuit of color
portrait © designboom
missoni, l'arte, il colore
museo MA*GA, gallarate, italy
on now until november 8th, 2015
'missoni, l'arte, il colore' celebrates the creative and entrepreneurial spirit of missoni — the great italian fashion house founded by ottavio and rosita missoni. hosted by museo MA*GA in gallarate, italy, just outside of milan, the exhibition's location isn't just a coincidence. it is the small town that the couple chose to establish their home and first knitwear atelier back in 1953, less than one kilometer from the museum. designboom met with ottavio and rosita missoni's son, luca missoni at the exhibition, who gave us a personal tour of the show. having once headed the knitwear research and the menswear design of missoni, today, luca has shifted his role to managing the archives and events of the brand, and was very much involved in the development of 'missoni, l'arte, il colore'; collaborating closely with fellow curators luciano caramel, art history professor, and emma zanella, director of museo MA*GA, to bring the exposition to life. together they have put forth an illuminating display reflecting the artistic origins of missoni's work.
missoni has long established itself among the world of fashion and textile design, encompassing the notion of 'made in italy' to its maximum. it has symbolized the value of this expression by demonstrating a high quality of excellence through the materials, colors and shapes delivered through its garments. the mise en scène of 'missoni, l'arte, il colore' is organized with a distinctive layout of spaces that outline these key characteristics of missoni's prowess. it reveals how much the missoni's influences and resources came from the field of visual arts, quoting the impressionable impact of the lyrical abstract art of sonia delaunay, the expressiveness of wassily kandinsky, to the geometric approach of italian futurists such as giacomo balla and gino severini, played on the couple's career.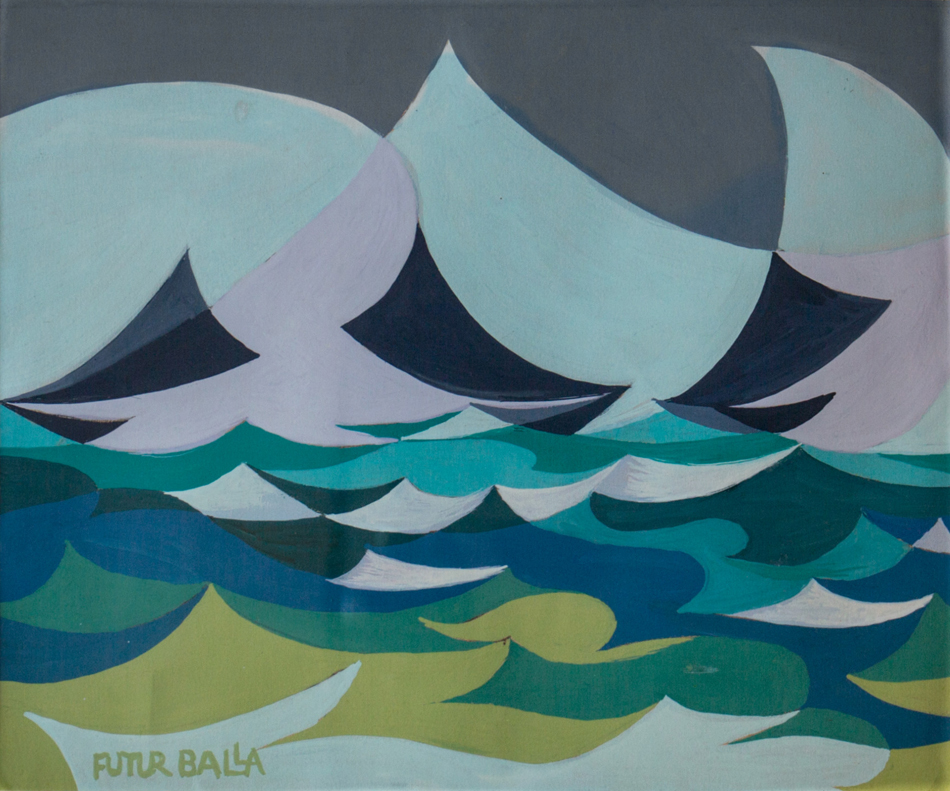 giacomo balla, 'linee forza di mare', 1919, tempera paint on cardboard, 25 x 30 cm, private collection, milan
luca missoni spoke candidly about this parents' artistic practice and what impacted their creative development and innovation throughout the more than five decades that they actively worked alongside one another. 'the heart of the project with the museum, was to show, to bring to light the kind of inspirational work that the modern art of the 20s, 30s and 40s had as an effect on my parents, and their foray into fashion', luca told us. 'it is a six-month long exhibition and we're very glad that they could put together such a nice selection. it's a very good example of what european art was between the 20s and 40s, and nicely expresses the avant-garde work of color and shapes, and their relation with figurative space and the color, that inspired the work of my parents in the beginning', he continued.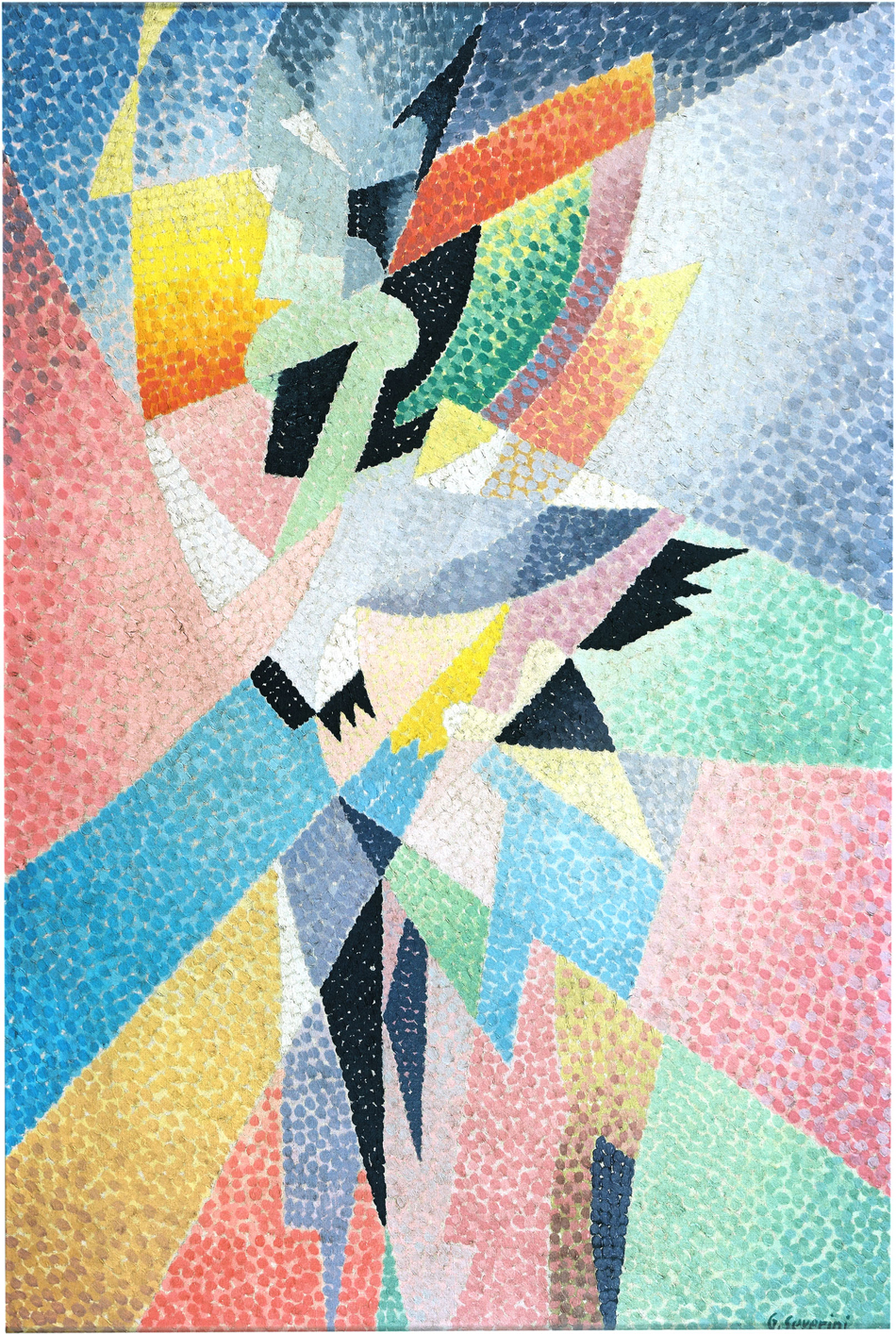 gino severini, 'ballerina', ca. 1957, oil on canvas, 81 x 59 cm, private collection
the curated selection of artworks sets the stage for a tapestry that hangs at the back of the space — the largest of its kind by ottavio missoni — delivering a glimpse into the future of the italian fashion house; and its artistic vision moving forward. its placement suspended over a large staircase, allows the visitor to experience the details of the patchwork piece, and 'walk through the work' as they climb to the next room. luca recounts the journey of the exhibition, and how his father's tapestry, hanging at the end of the gallery of influential prints and paintings is a projection of what was to happen when his father solidified his artistic vision.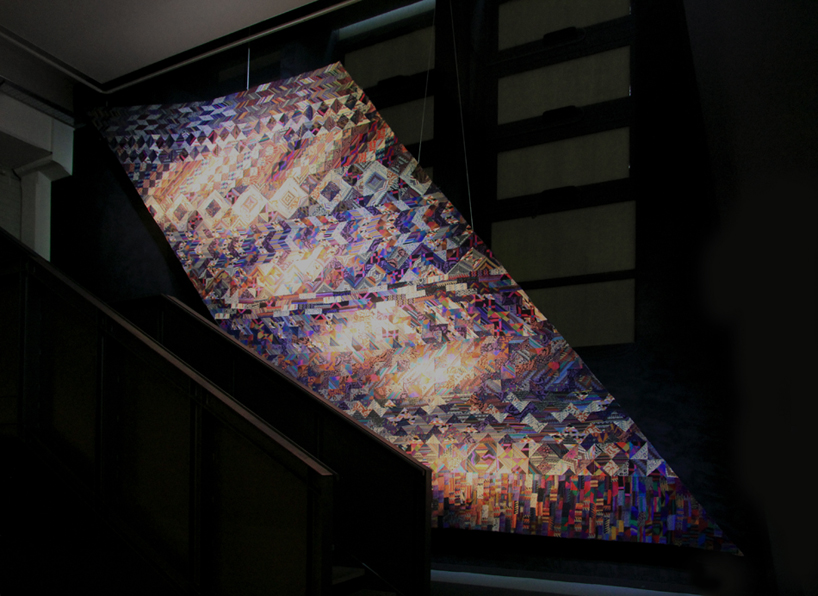 ottavio missoni's largest knit patchwork tapestry hangs at the end of the exhibition's first gallery
image © designboom
as we make our way up the steps, luca delves into the reasons for why missoni decided to bring forth this curated show:
'this exhibition stands to present my father as an artist and the work of art that he achieved to do. in order to do this, they [my parents] had to create fabrics first. if he didn't have to study and design knitwear and textiles for their own uses for fashion garments, they wouldn't have had these materials. in the end, they started making patchworks for fashion and he developed that into his own artwork. all of these little pieces were originally a textile, a knitwear, a knitting sample, a knit piece that we used to make clothing. he had piles and piles of these leftover materials and textiles that were produced for the mens and womens collection at the time; and these off-cuts became his artistic medium. that was his way of using the matter, as he called it. and as we go through the exhibition, we're going to see how all this was possible. how missoni came about, or they came about creating these kinds of artworks, looking at the development of the process from this origin of the colorful medium, which is wool, and transforming it into fashion'.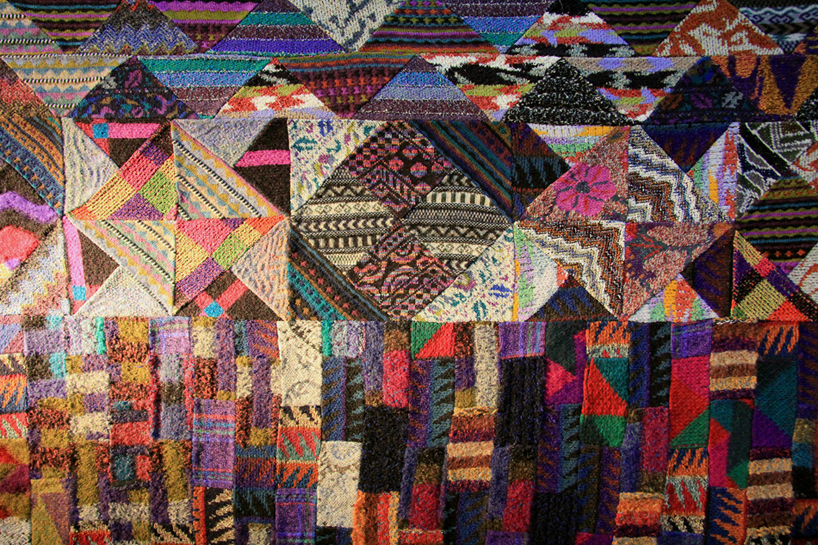 detail of the knit patchwork made from off-cuts of missoni fabrics
image © designboom
at the top of the stairs, we enter 'colour, material, form' — a series of installations designed by luca and his cousin angelo jelmini which highlights missoni's chosen medium of wool, and how it was transformed from an original matter into a textile. we are welcomed by large bundles of vibrantly hued yarn — the basic threads of any missoni garment — and guided through a colourful forest of floor to ceiling striped 'trees' until we reach a clearing where there are delicately organized vitrines with samples of missoni's collections from the 80s. these displays give an in depth look at the italian fashion house's process work of making their own fabrics, which they still do today. 'it's a peculiarity of our work, to make our own knits, our own textiles, to design or own patterns', says luca missoni. 'every season they change of course, and it is a constant and obsessive way of doing one's work, but we need new materials, patterns and textiles every season, so that's what we do. instead of buying them already made, we make them ourselves,' he continues.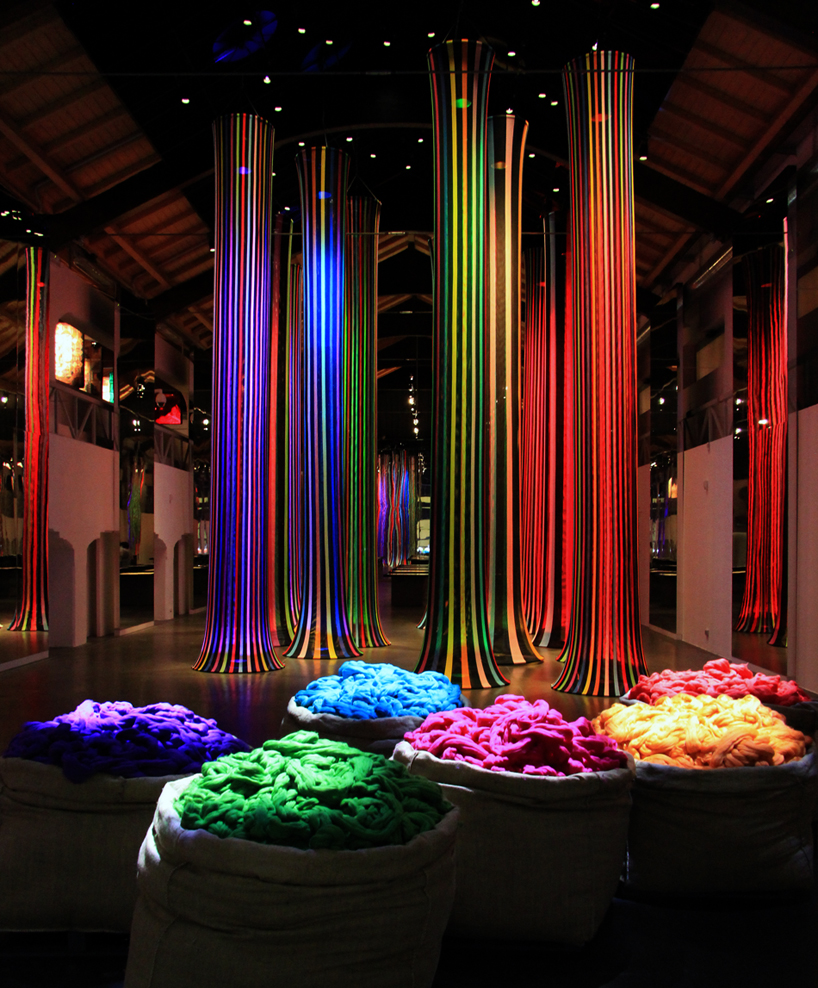 'colour, material, form' is a special installation which highlights missoni's medium of choice – wool
image © designboom
when asked how many people there actually were on the creative side of missoni's creations. he humbly replied saying, 'the creative team doesn't need to be large. you just need some time. we have a year of work to do, so with just a few people you can manage. you need a lot of people on the work floor to handle the machines, to knit all the samples, and you need to have a nice workshop. our company was designed to do that, so we have not just a production plant, but a research plant in that sense'. he went on to describe the fabrication of missoni's material and pigment choices: 'our colors can be put together in different types of materials and textiles to create a harmony of tones that work together, which was the basic concept of my parents — to make fashion from different materials that could work together in varying shades and tones, but be very different in pattern and shape and weight.'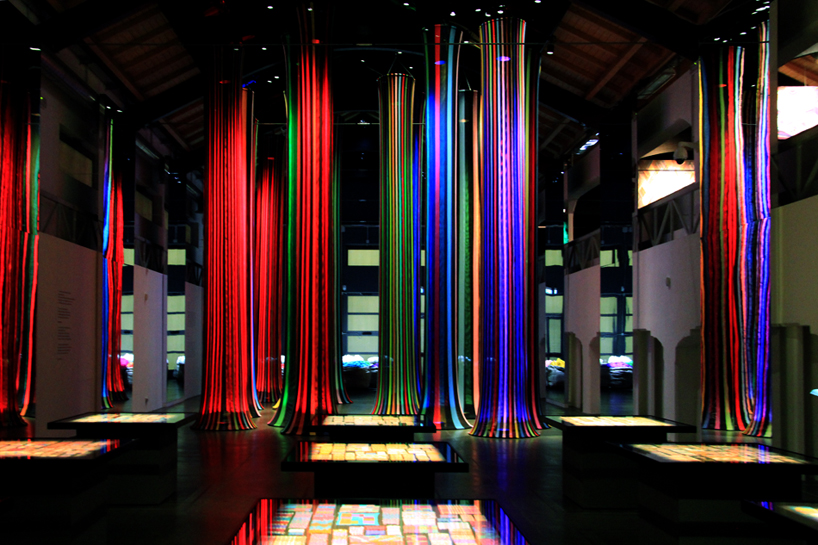 the installation of 'missoni trees' was conceived by luca missoni and his cousin angelo jelmini
image © designboom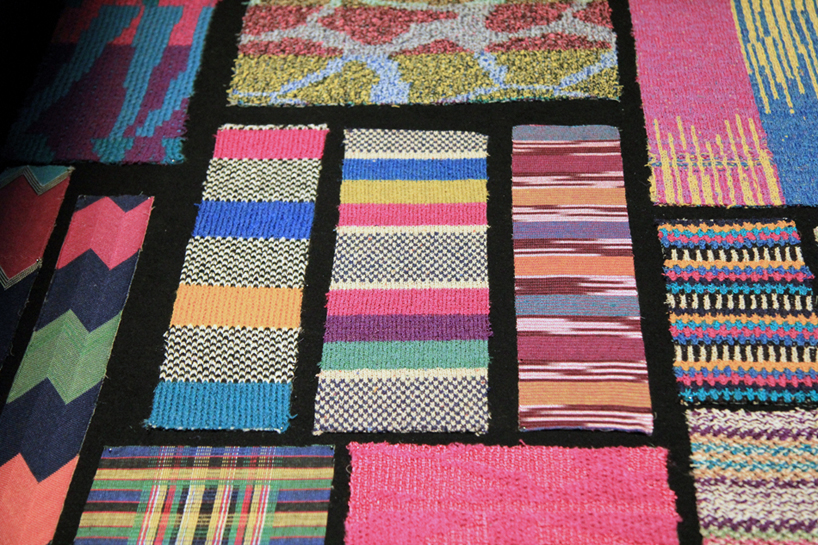 vitrines display a vast range of missoni knit samples from the 1980s
image © designboom


the display showcases the diversity in color, pattern and textures of missoni's fabrics
image © designboom
the layout of the exhibition guides visitors through a very logical journey and creates interesting missoni experiences and juxtapositions. clear sightlines across the galleries give you the opportunity to see which part of missoni's creative process you were just immersed in, and brings you towards the next steps of its artistic experiences. we make our way from the plethora of textile samples, and enter an airy sun-filled gallery that is protected by a curtained wall — an installation of threads by luca and jelmini that emanates a subtle sense of containment within the open space. the work also pays homage to the countless fibers and threads that missoni has used and turned into art forms, showcasing just how it applies this art of textile making into fashion. within this exhibition room entitled 'the forms of fashion' the life work of missoni to this date is documented by more than one hundred historical garments pulled from the archives. surrounded by the diverse motifs, colorways and shapes, one is given a full understanding of the elasticity of the knit material, and missoni's pursuit of color; painting a true picture of the maison's principal stylistic features.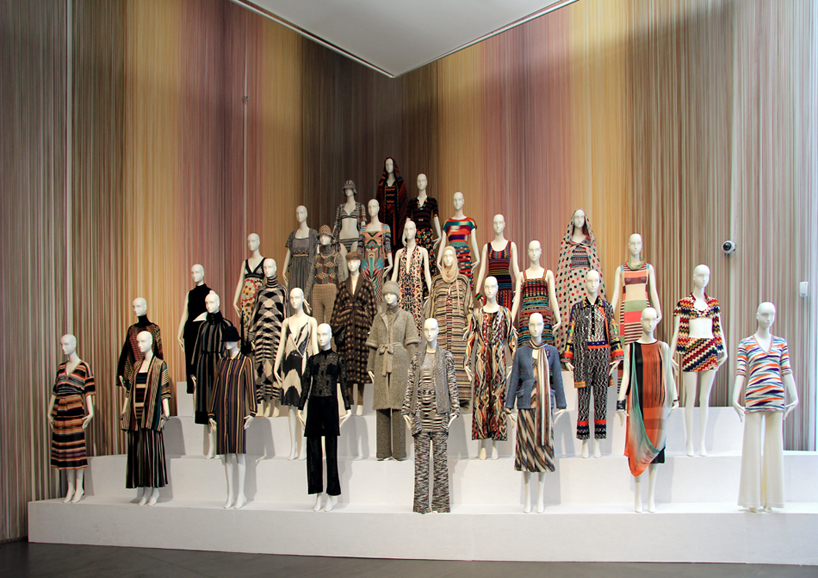 more than 100 garments from missoni's archives are displayed
image © designboom
a fashion collection for either men or women is typically comprised of 30 or 40 types of textiles. because of missoni's in-house knitting production they often produce 50, sometimes 60 different types of materials for the same season. this affords missoni to focus on both the patterns and the colorways, and select the type of yarn to be used in a particular knit which is evidenced in the selection of knitwear on display. 'this is the room where we present the fashion, which is actually our applied art. it's a selection of about 100 pieces spanning from as far back as 1958, all the way to contemporary pieces. so, there are more than 50 years of work presented. it's not divided by a particular chronological point of view, because in a way I considered that a bit of a discrimination; and did not want to indicate a vintage or contemporary look, but an overall view of the language of the missoni style,' luca tells us about the space.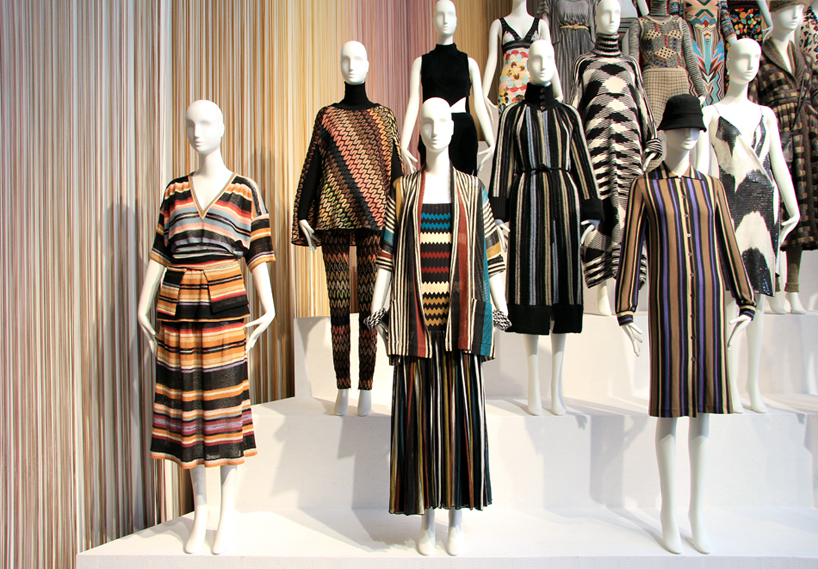 pieces spanning from 1958 to the present day are on show, giving a full overview of missoni's artistic development
image © designboom
when we asked him how missoni went about selecting these particular garments, he said with a smile:
'I would say this was a hard process cause we have not an infinite, but quite a vast range of collections in the archives; and we have more than 15 000 pieces, that we could put together — two to three thousand looks and outfits. it was an interesting phase that we went through. we photographed the archives for a year and a half and then there was a moment when we just choose. some are more evidence, some others are things we wouldn't go without, others we must have and some they just fit well together with the others; because in the end, we had to create a harmony in the presentation. with the consultation of angelo figus, fashion curator, we found this way of organizing them more or less by color, and giving a certain range of tones so they look as if they are all mixed and harmoniously put together.
certain outfits were just picked because of the color they have, or the way they stand out for their own coloration; sometimes for the shapes and the looks because they are interesting, and in the end it worked like that. I mean it was let's say a long process with a lot of minds involved. in the end we went through this many times with my sister angela, today's creative director, and my mother rosita, and we all had our own opinions on what should be included. but, the museum is as large as it is and in the end we thought that one hundred pieces was already a lot of concepts to put out. we didn't want it to become like a clash or a mish mash of things, but that it should be a harmonious vision. a bit patchwork tapestry itself, and this is how we think it came out.'

rather than chronologically, the garments are loosely organized by color
image © designboom

being in the presence of so many historic missoni pieces, it's hard not to look back on the brand's impact on italian fashion. reflecting on the garments he curated with his mother and sister, luca shared his insights on what he felt set missoni apart from the other italian fashion houses:



luca missoni on what sets missoni apart from other italian fashion houses
video © designboom

'I think at end, the visual aspect is very, very strong. the language that our parents created was a possibility for certain colors and patterns to be used in fashion, and not just for decoration of a home or for a painting. they actually found a way to transpose those concepts into clothing and in the end it makes this fashion stand out from others — mostly for the use of color. which is in the end, as my parents underlined, they wouldn't be able to live without color, and that's why they made their own life about it.' – luca missoni on what missoni's success can be attributed to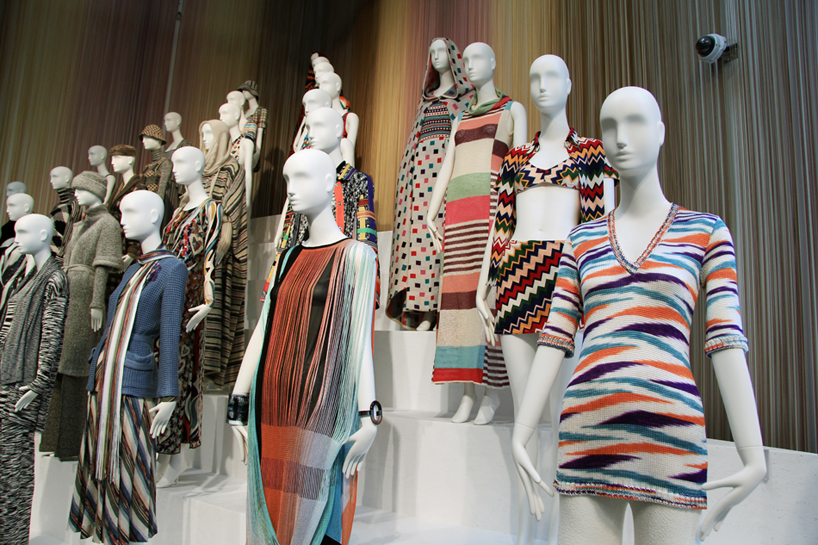 the knitwear gives a look at just how diverse but cohesive missoni's collections are
image © designboom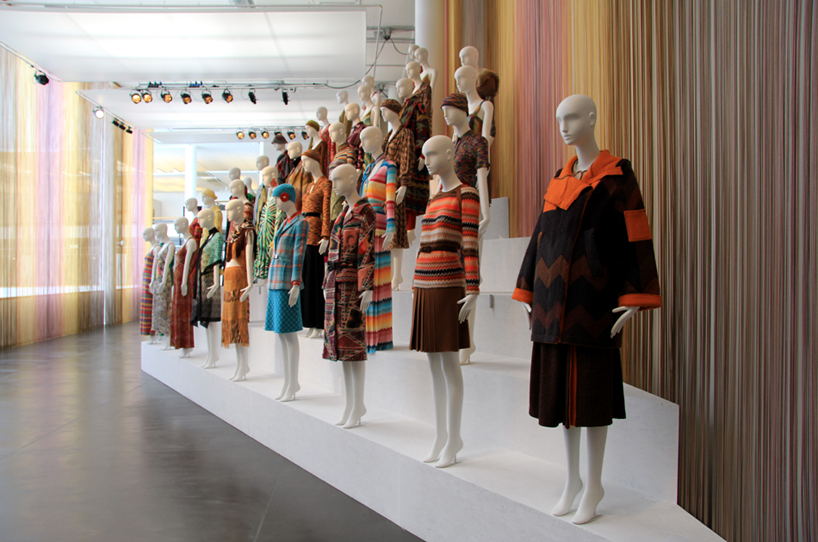 the display is surrounded by a curtained wall, an installation by luca missoni and angelo jelmini
image © designboom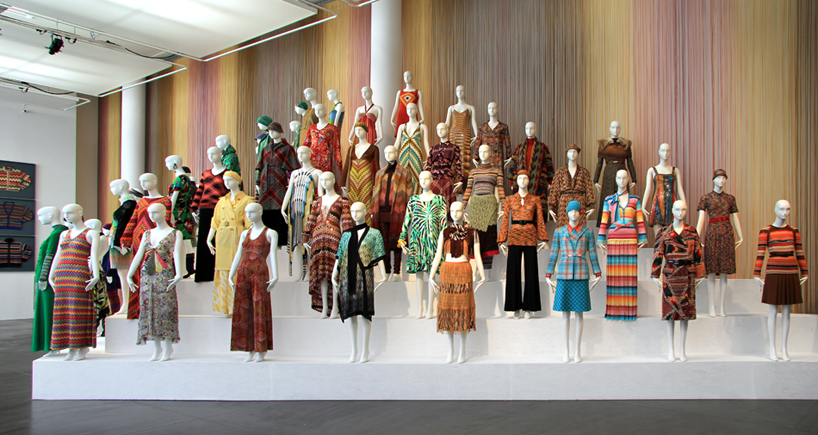 color spectrum of missoni garments
image © designboom

from the late 80s to 2008, luca missoni was the menswear designer for the maison, and while the 'missoni, l'arte, il colore' focuses its display primarily on the brand's womenswear collections, a small selection of menswear hangs on the wall, framed as if they are art pieces — as if you would just put them up in your room as decoration. we were intrigued to find out what particularly influenced luca's creative approach to designing menswear for missoni:


luca missoni on what influenced him as a meanswear designer for missoni
video © designboom

'I was more concerned with the experimentation part of the textiles, of the knit. for me it was always like, 'let's see what kind of material, what kind of shapes or knit or color combination we can put together that you would love to wear. and then, the idea for a shape for men is much more simplified than for women. so, we could concentrate more on the development of the textiles which at the time, when we started in the late 70s was really revolutionary to create certain things and to dare to wear them, but we were used to it. I remember going to school when I was 12, 14 with certain sweaters that our parents were crafting and were more than unusual for the time… but we loved them.' – luca missoni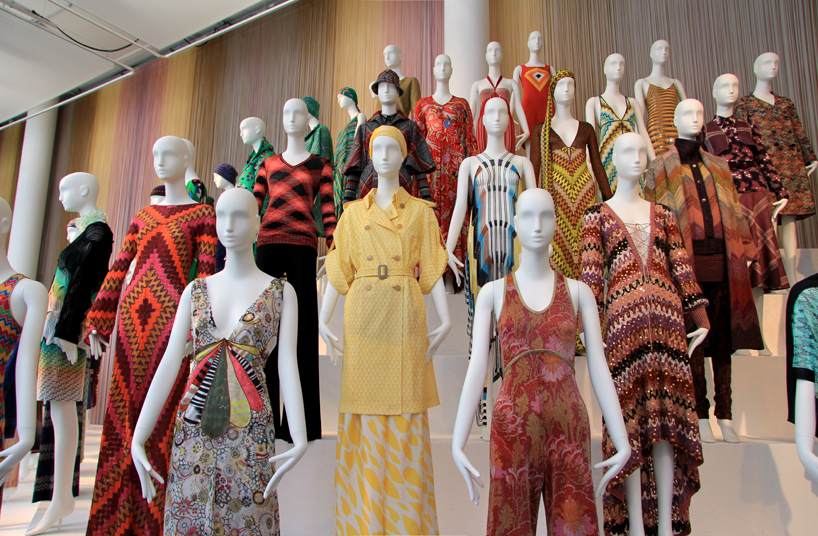 from plaids to stripes to florals to geometric patterns
image © designboom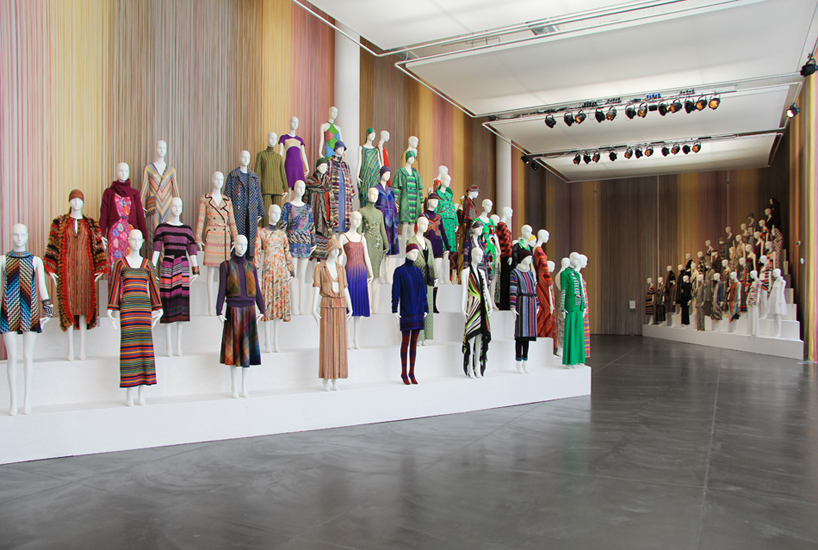 general view of the more ca. 100 missoni garments selected for show in 'missoni, l'arte, il colore'
image © designboom

throughout the interview, luca gazed admiringly at the numerous fashion pieces worn by the mannequins, with a twinkle in his eye, seeming to recount growing up amongst the iconic dresses, sweaters and hats his parents designed. of course it is to be expected that as someone who has been immersed in the fashion industry since birth, he would have a few personal opinions about what he preferred in terms of how men and women dressed:


luca missoni on his preferences of how men and women dress
video © designboom

'we learn to see fashion as costumes in a way, so when you see I am always attracted by the way we have been taught let's say by my mother and my father on experiencing the clothing as a personal choice of wearing things and in costumes, folklore costumes and ethnic costumes, there's a lot of interesting discoveries to make, and which become more like signatures of ethnicity and culture. and that is always a very interesting reference. which is very difficult today to appreciate on the way people dress because we don't use that as a cultural signature, message from where we belong, or where we are, which kind of country or culture we come from, and so today is more of a different approach to that. but, we still refer when we think or design a collection, we do a lot of reference to the traditional past of why certain textiles were made or why certain shapes were used.' – luca missoni on what someone's fashion says about them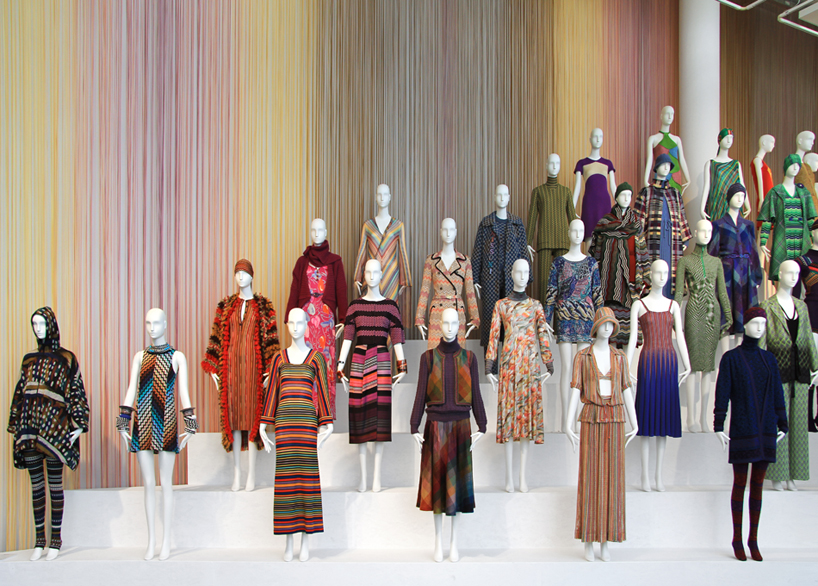 missoni hues of burn orange, aubergine and chartreuse
image © designboom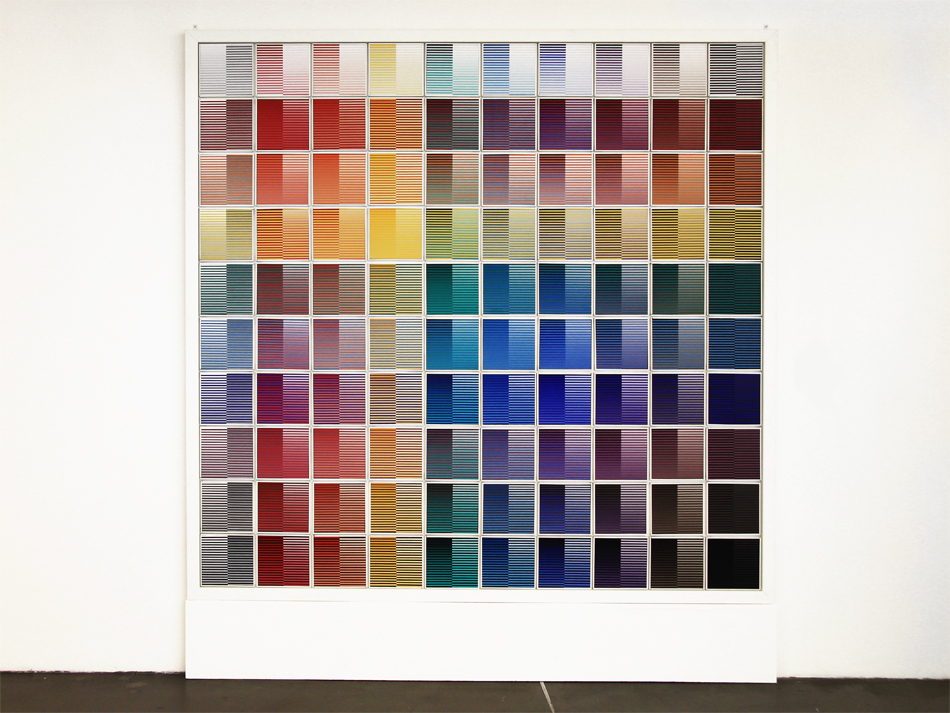 dadamaino, 'la ricerca del colore – 100 elementi' (the search for colour – 100 elements), 1966-68, acrylic on canvas, 20 x 20 cm, contemporary and modern art museum of trento and rovereto
image © designboom
from 'colour, material, form' the world of missoni and all that influenced it, and ultimately encompassed, comes together in 'dialogues' — a sort of concluding conversation that cites the lively activity of ottavio and rosita missoni, in relationship to the broader italian visual culture of the time which was incredibly intense between the 1950s and 1980s. in this final stage, the painting practice of ottavio missoni can be found alongside the great masters of the post second world war italian abstract art movement, including the creators of forma 1 such as piero dorazio and carla accardi, to the MAC (the movement of concrete art) and the work of bruno munari and gilles dorfles; as well as the optical and kinetic experimentations of dadmaino and colombo. this visual exchange enables us to detect how symbols and colour became more obscure and conceptual between the 1970s and 1980s, while also giving offering a completely new perspective of the many studies and sketches drawn out by ottavio missoni.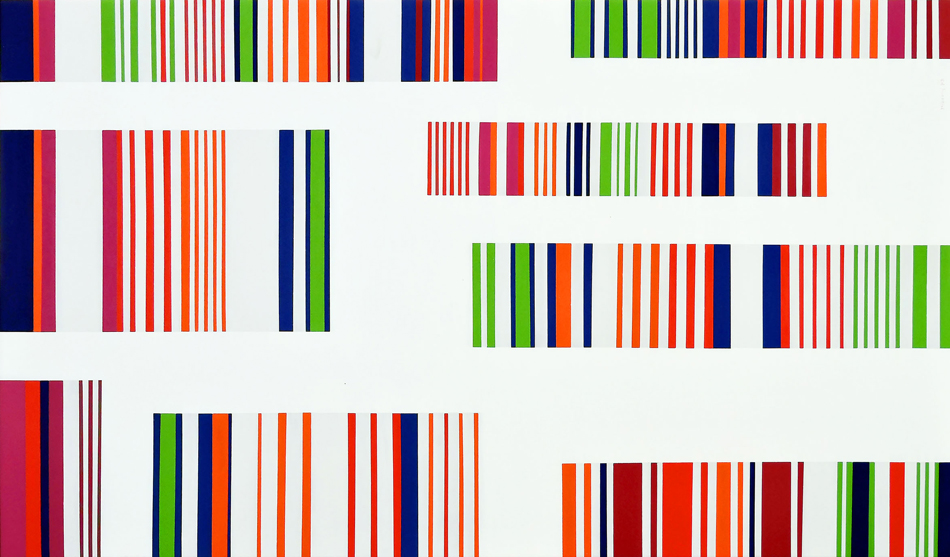 ottavio missoni, 'untitled', 1973, acrylic on board, 98 x 173 cm, private collection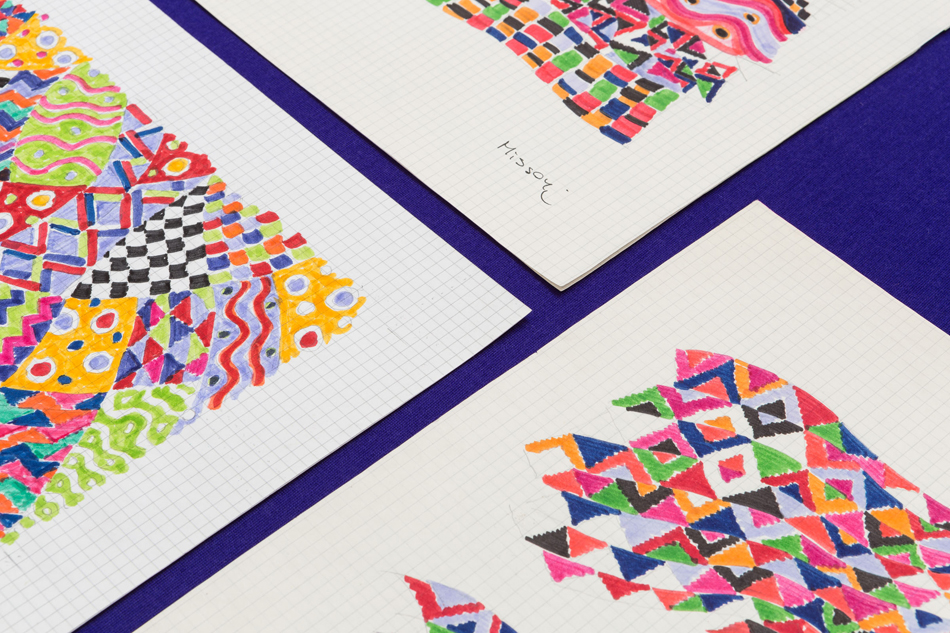 ottavio missoni, 'tapestry studies' (details of installation) S.D., coloured felt pen on graph paper, foundation of ottavio and rosita missoni
photo by marco cappelletti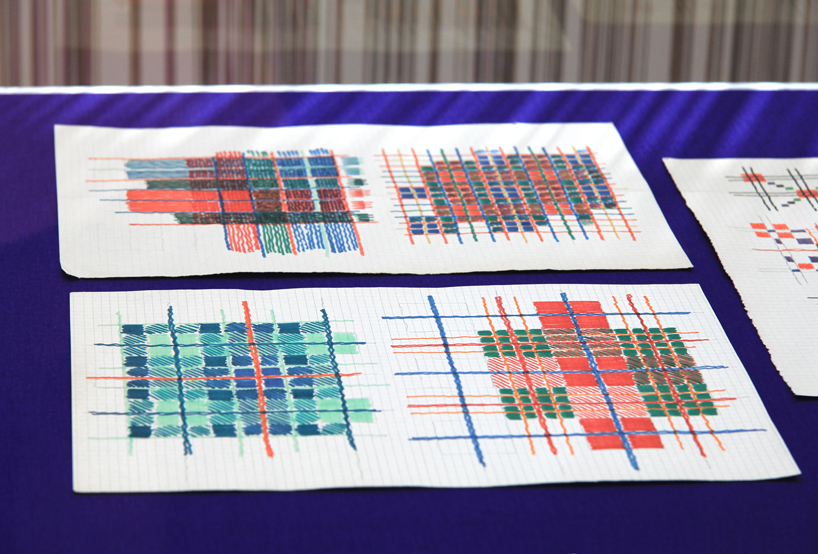 pattern sketches by ottavio missoni
image © designboom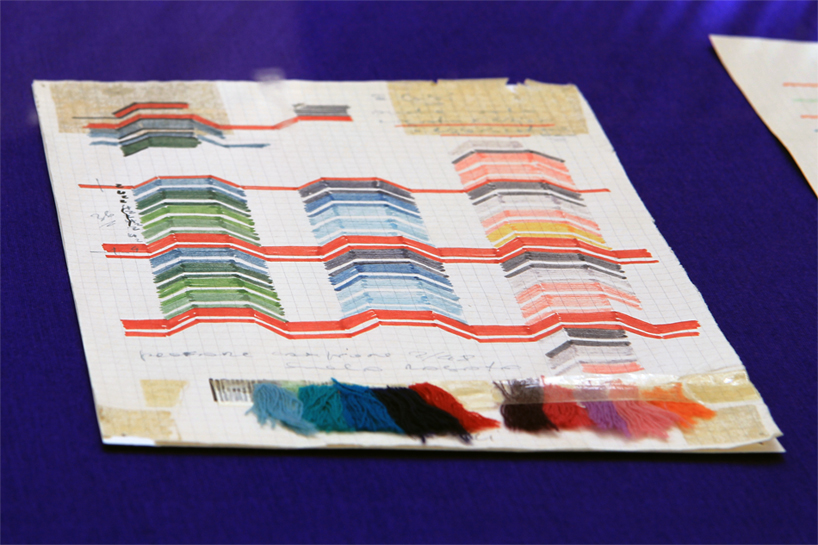 colored patterns and thread samples
image © designboom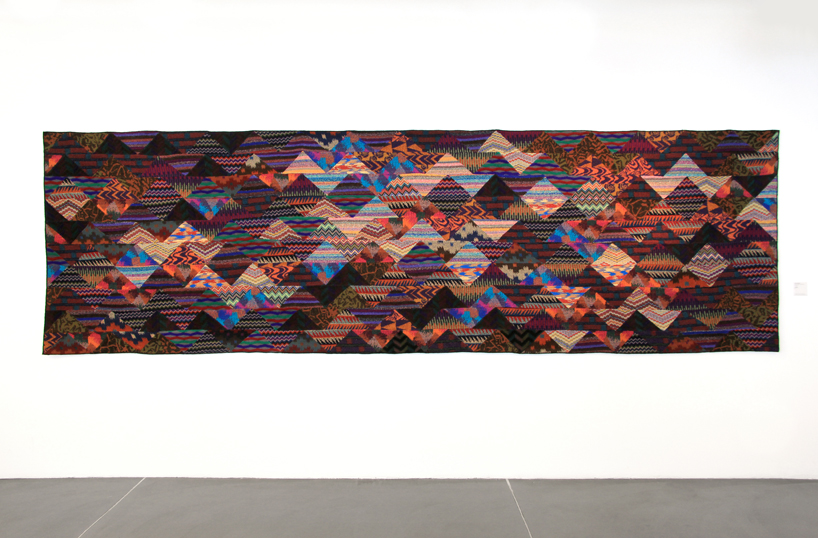 one of the tapestries by ottavio missoni
image © designboom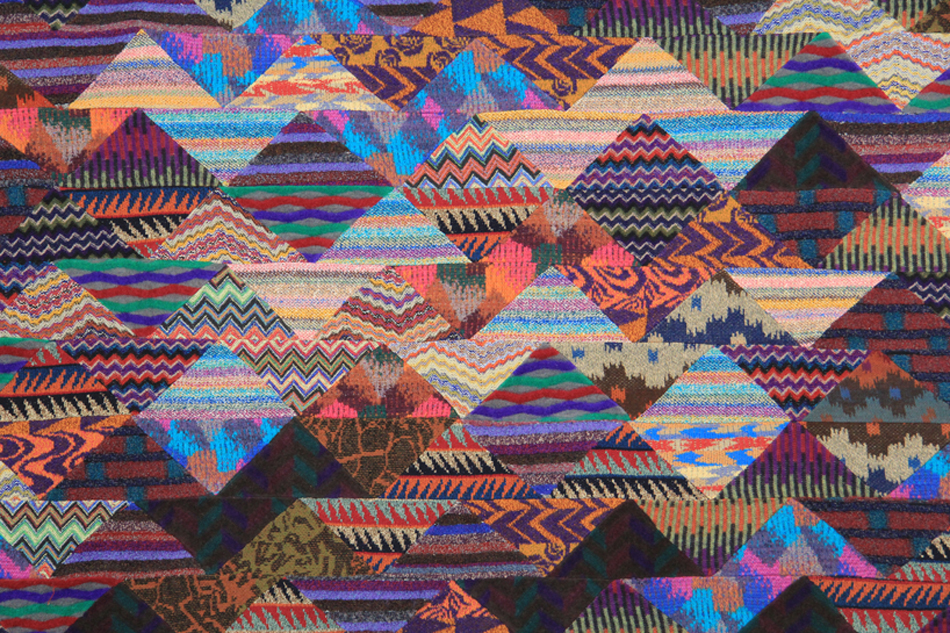 patchwork detail of the tapestry
image © designboom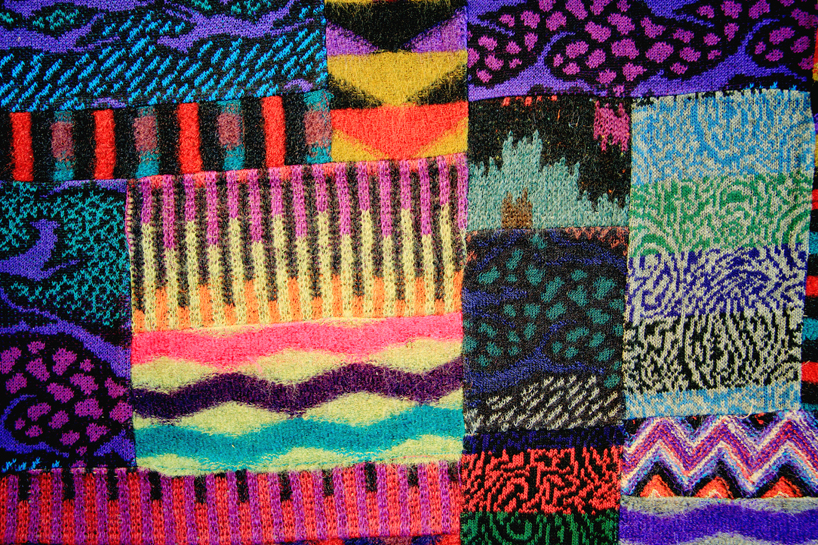 up close look at the knit details and patterns of the off cuts ottavio used to create his tapestries
image © designboom
the epilogue of 'missoni l'arte il colore' is a brand new installation dedicated to ottavio missoni's most significant works — a series of large experimental tapestries which he started making from the mid-70s. conceived by luca missoni and angelo jelmini, the space is envisioned as a traditional tapestry room, in which each of the suspended textile assemblages can be seen from both sides. the knitted patchworks and the way in which they are displayed, underline how important the development of these pieces were for ottavio, who ultimately choose this technique as his sole means of artistic expression for the way in which it provided him a unique way to concentrate his unlimited and wide-ranging interests in material and colour in both fashion and art.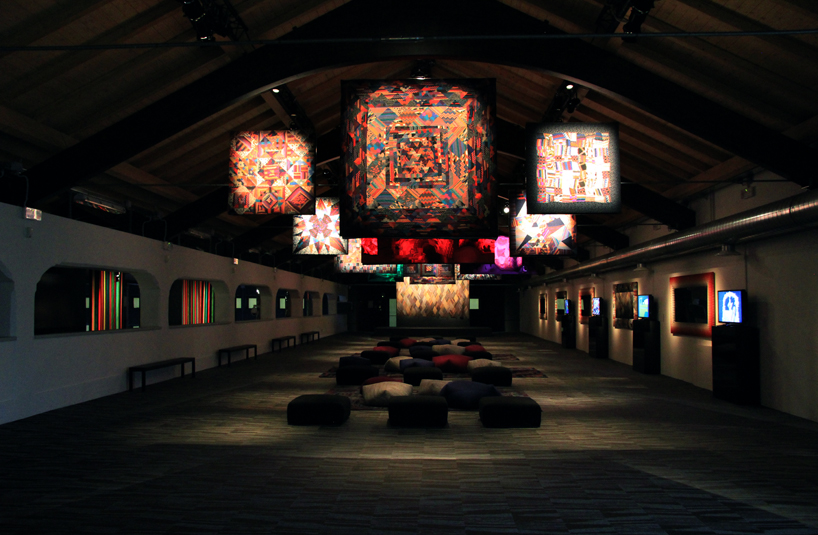 installation view of the tapestry room
image © designboom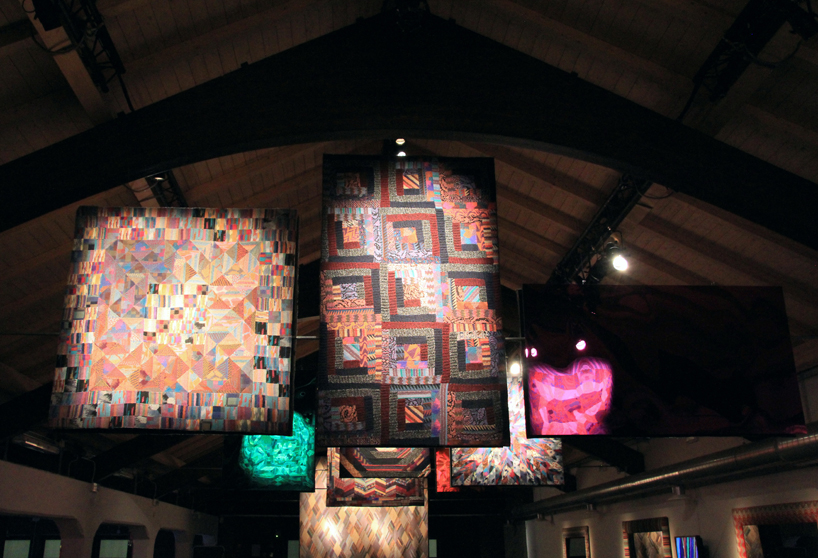 approximately 22 tapestries hang
image © designboom
'missoni, l'arte, il colore' delivers a robust dialogue and survey of the life and work of ottavio and rosita missoni. it deeply conveys the couple's contribution to the world of fashion, and their pursuit for pattern and colour; along with a dedication to combining traditional craftsmanship with contemporary design. the missoni brand is a true label of 'made in italy', and today continues to represent this through their knitwear innovations.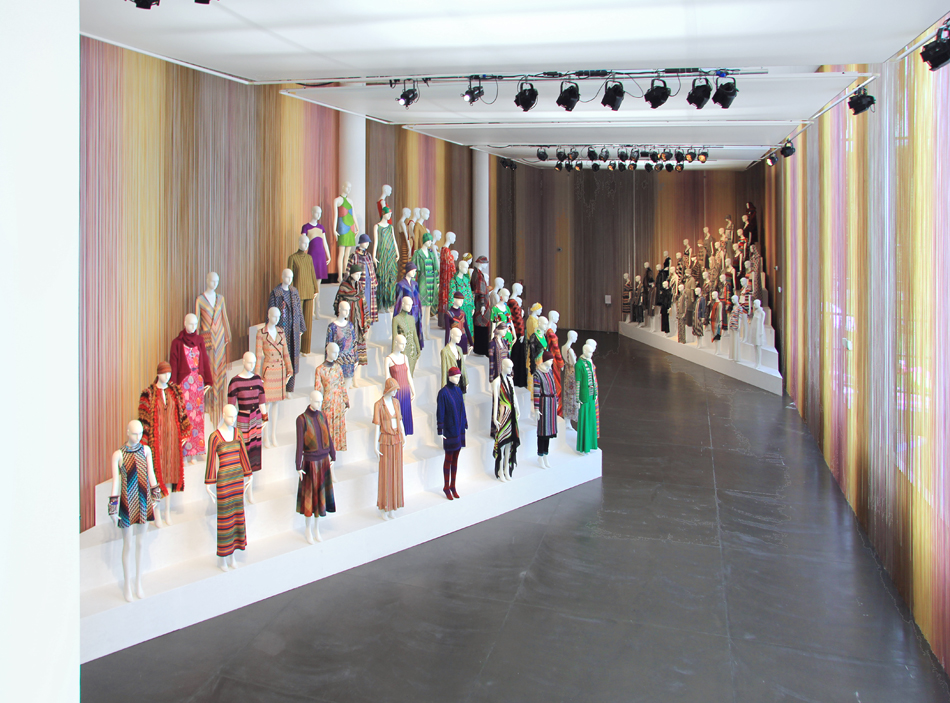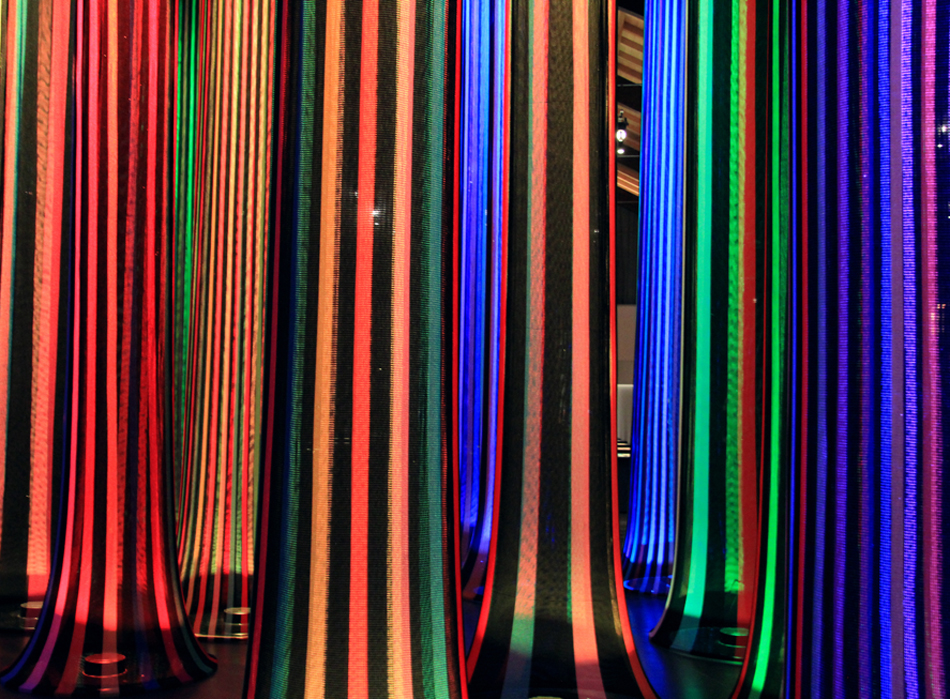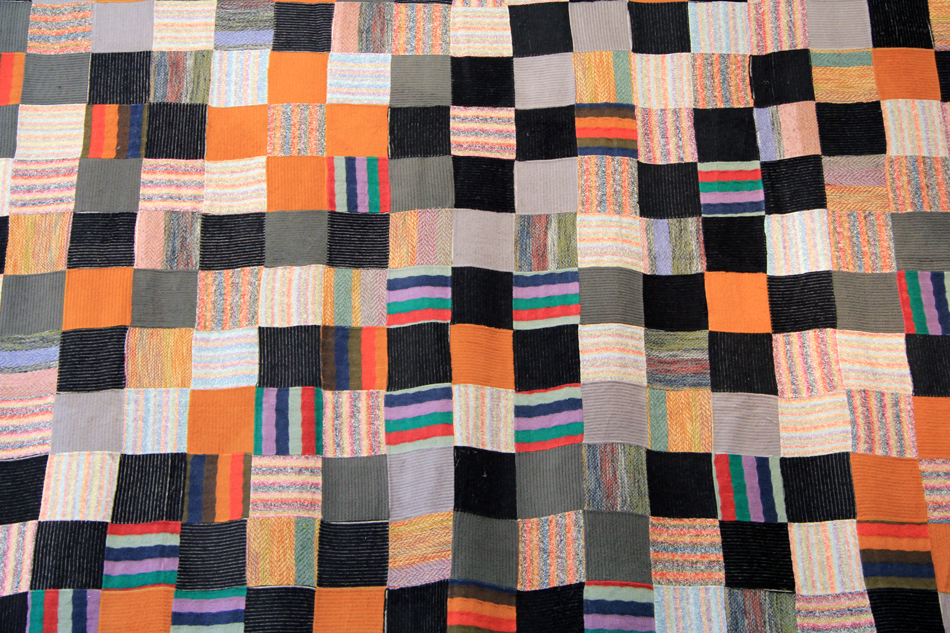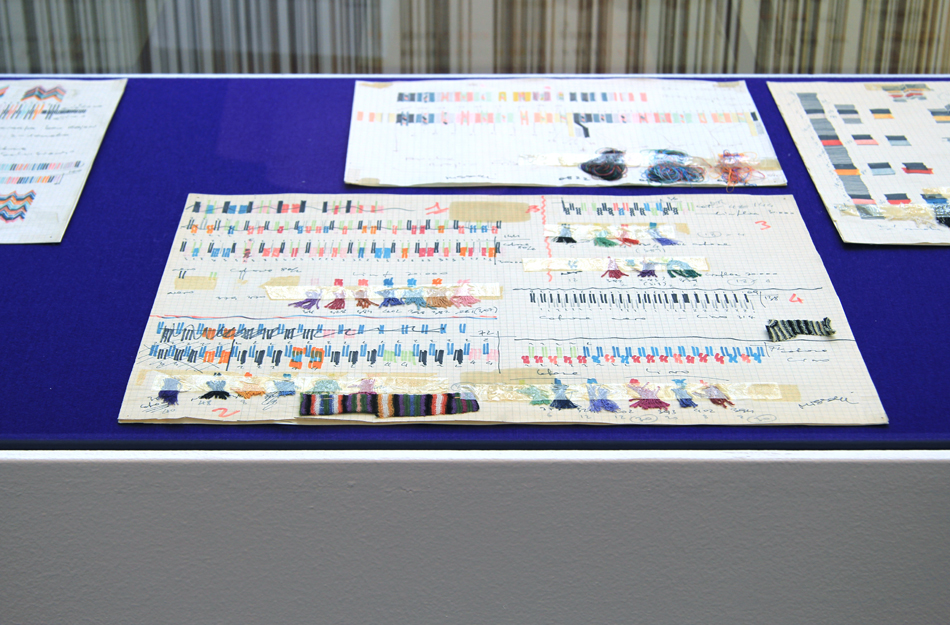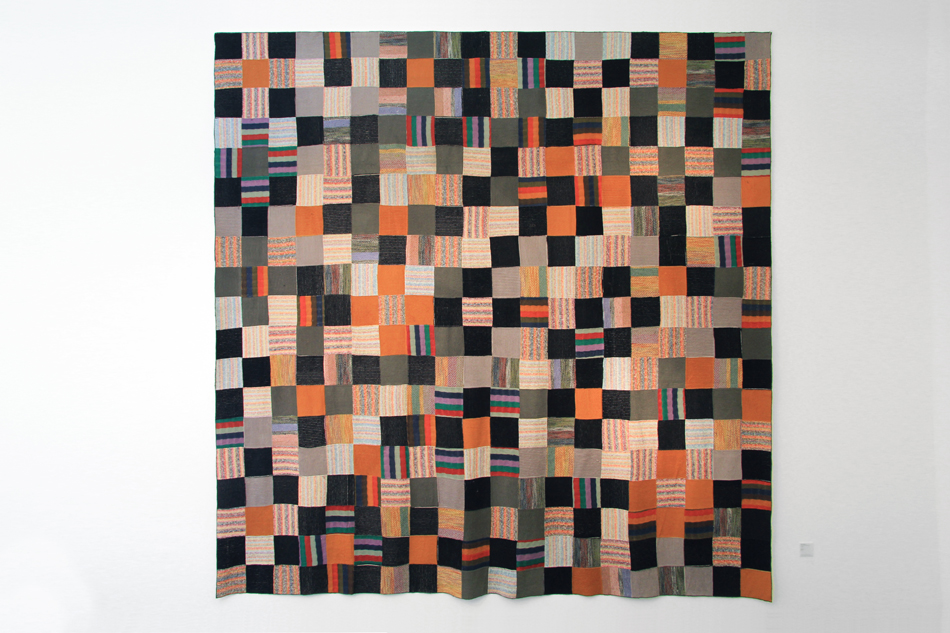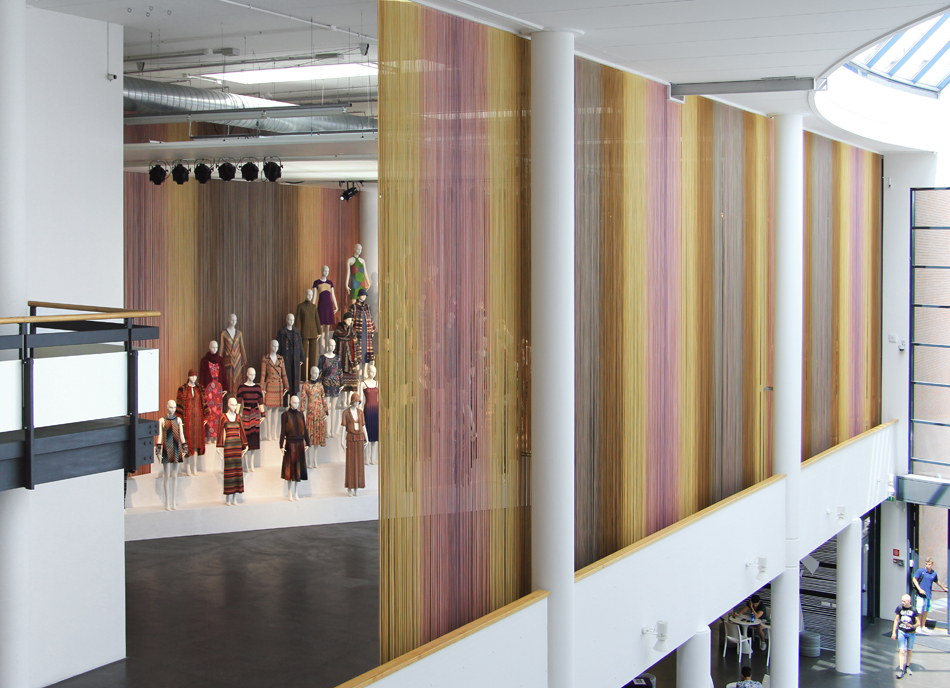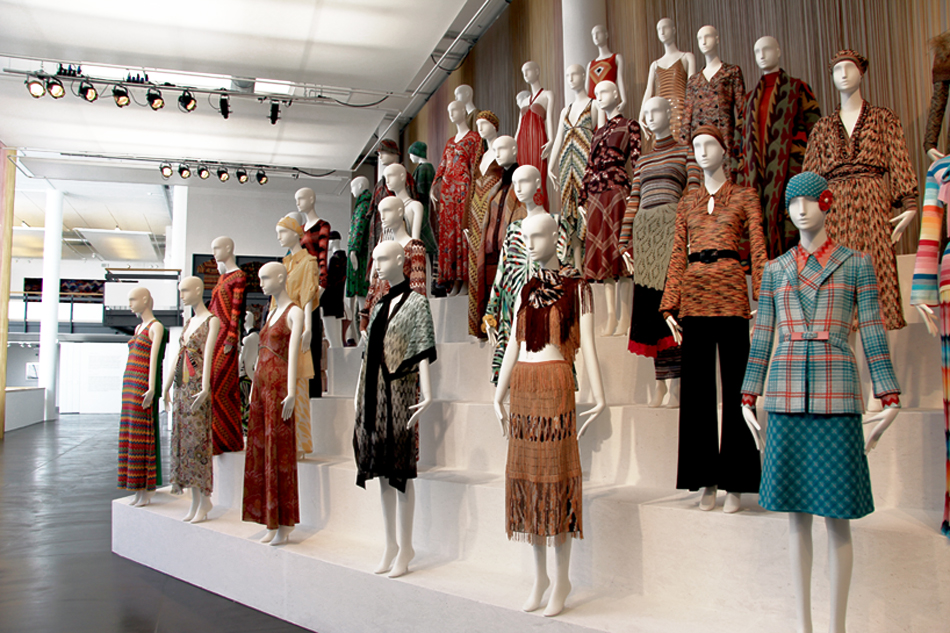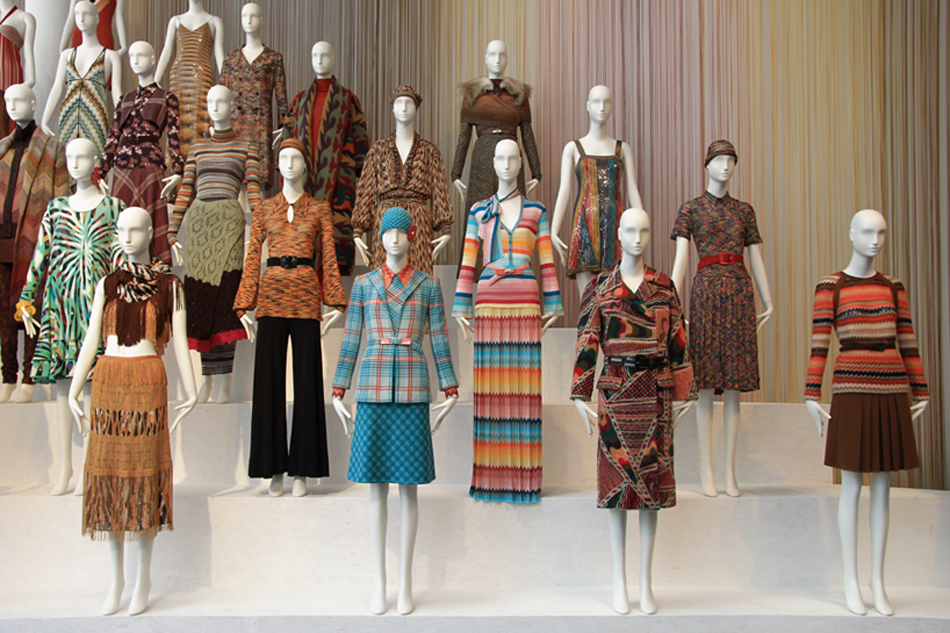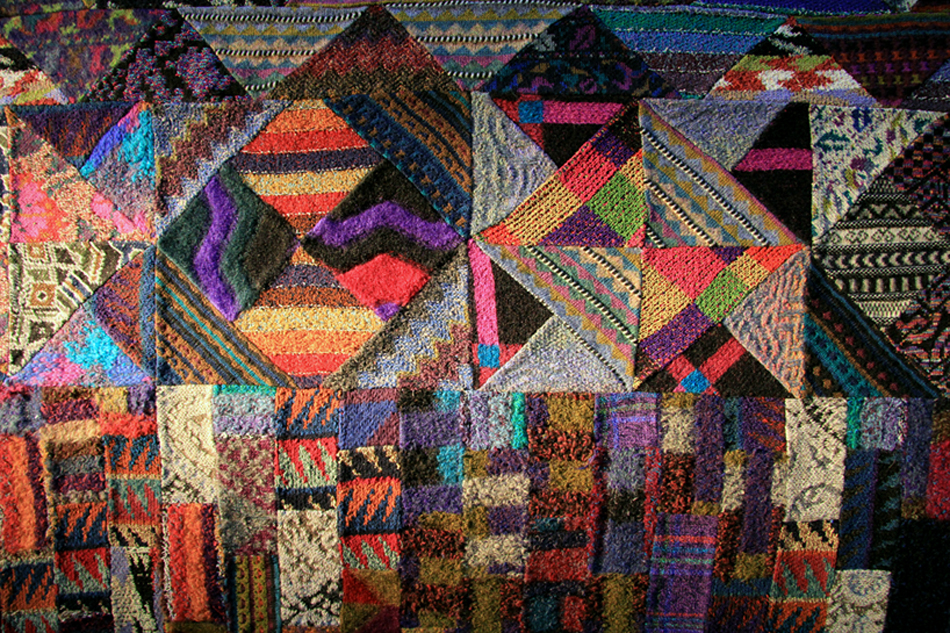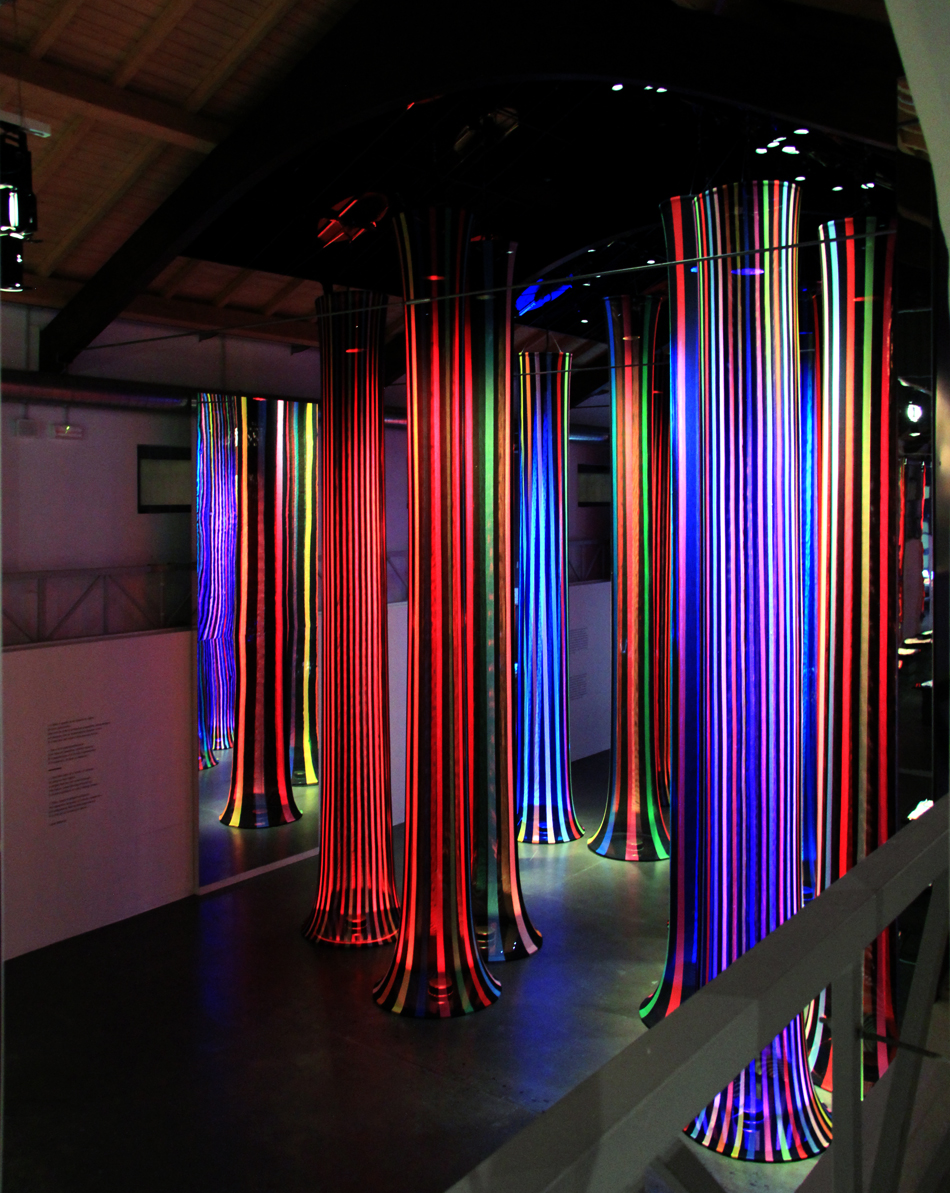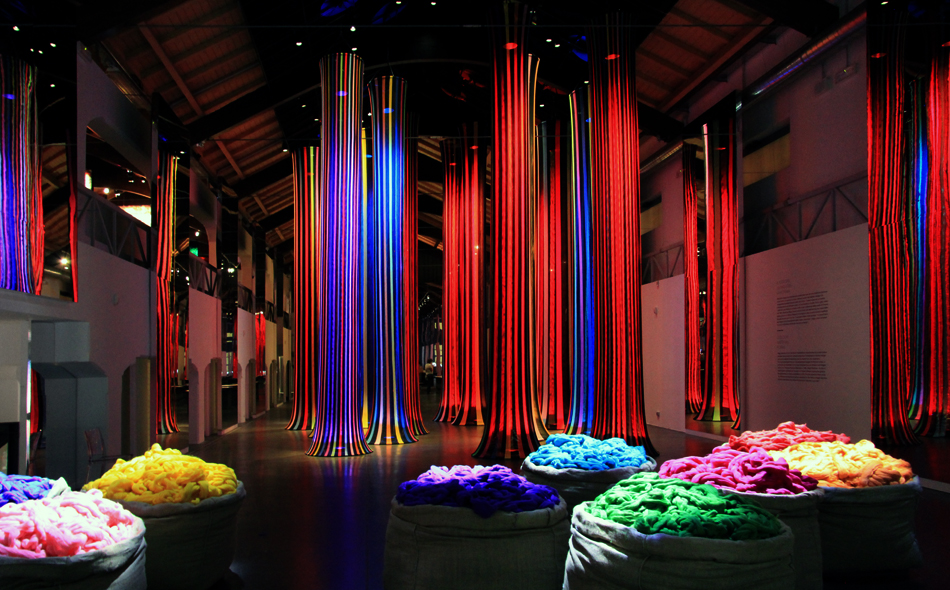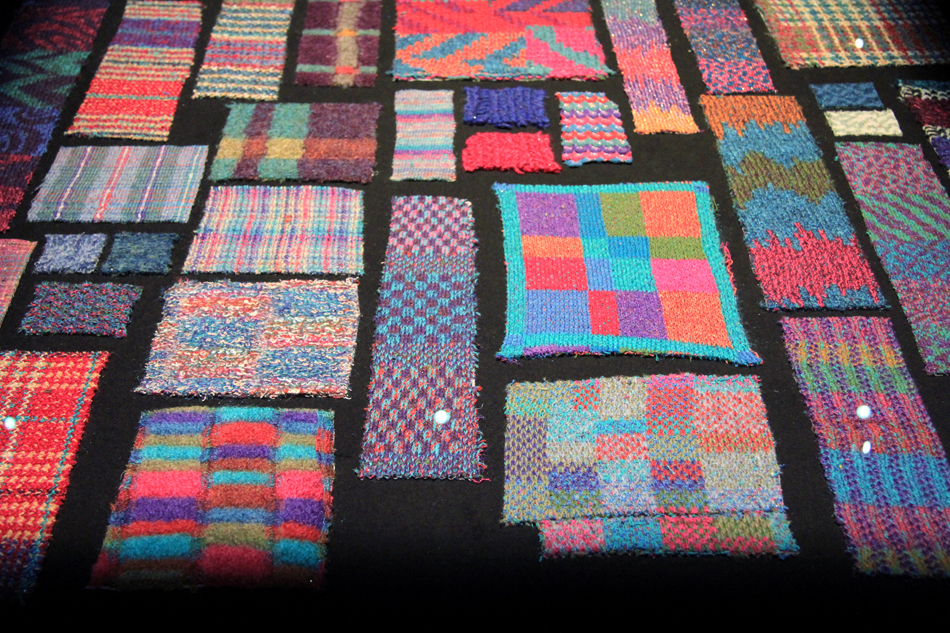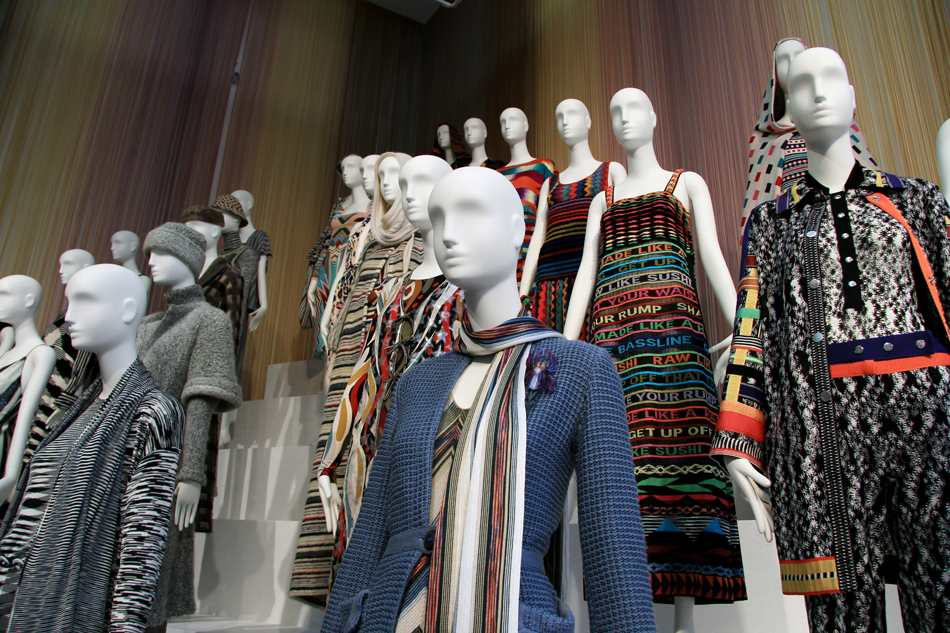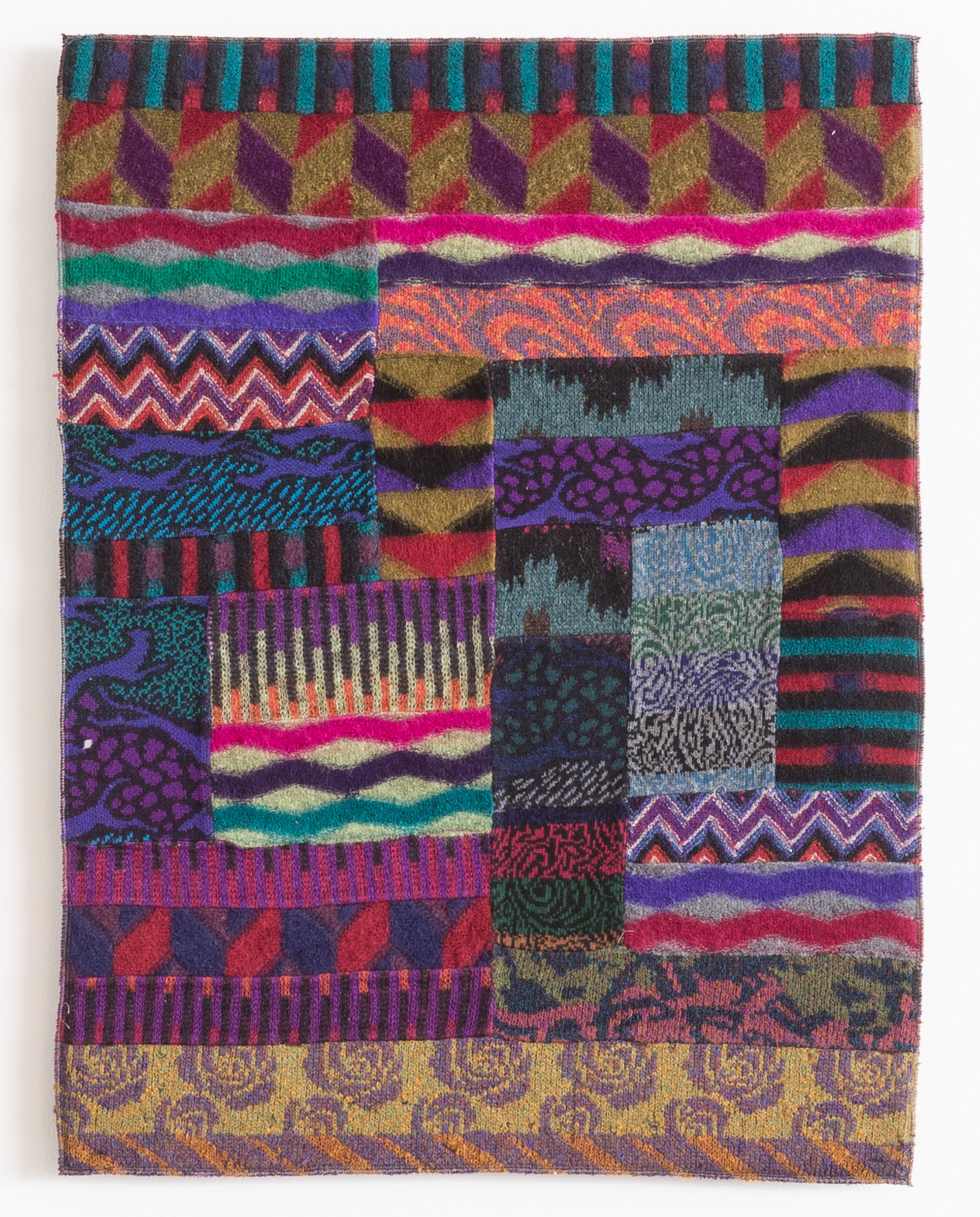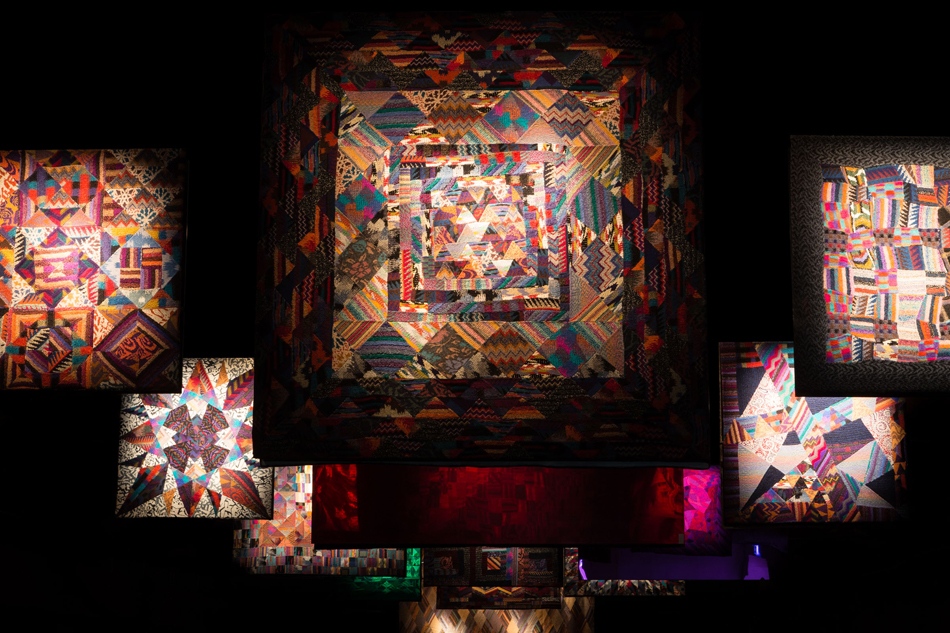 KEEP UP WITH OUR DAILY AND WEEKLY NEWSLETTERS
a diverse digital database that acts as a valuable guide in gaining insight and information about a product directly from the manufacturer, and serves as a rich reference point in developing a project or scheme.
designboom will always be there for you
milan, new york, beijing, tokyo

,
since 1999