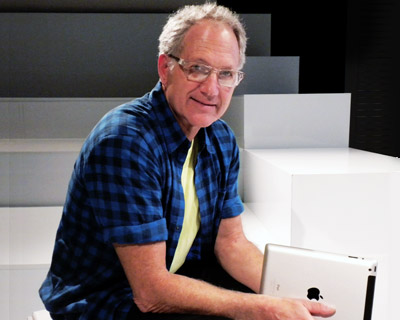 aug 07, 2013
tinker hatfield interview
tinker hatfield interview
portrait © designboom
tinker hatfield (b. oregon, USA, 1952) is the designer of some of NIKE's most popular and innovative shoes such as the AIR MAX ONE and the infamous AIR JORDAN range – now in its 28th edition. he oversees the 'innovation kitchen' where the brand cooks up some of their biggest and best ideas. he is NIKE's vice president of design and special projects.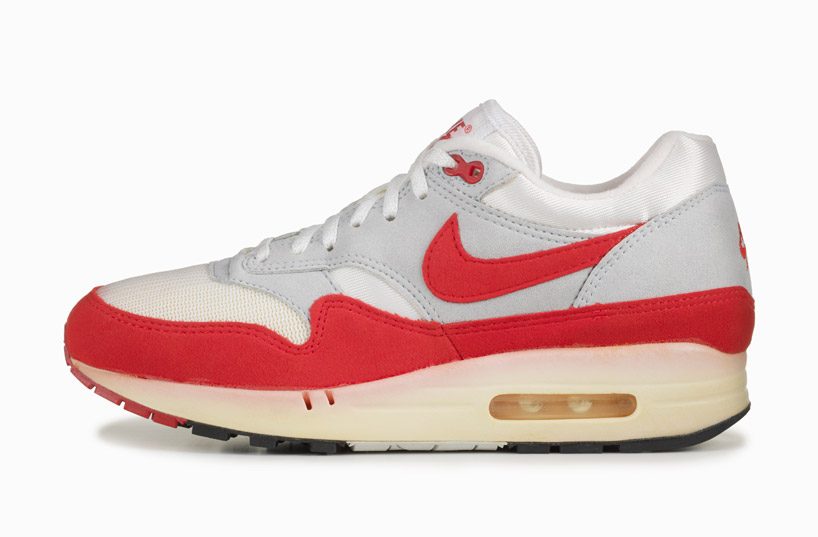 air max one, 1987
DB: how did you come to work for NIKE?
TH: my first job with the company was to illustrate a marketing book for geoff hollister in the early 1980s. later I working as an architect I designed retail spaces, which gave me a view into the design culture at the company from the outside. shortly after I joined the NIKE design team.
DB: how many of you worked in the design team back then?
TH: when I came there were nine designers and about the same number of developers for footwear. the aim of this team was simple: to make the best running shoes possible. back then virtually everyone was a runner – rather than a trained designer and because of this the approach was somewhat utilitarian. there wasn't much focus on aesthetics but I was able to bring in some insight having a background in architecture and design.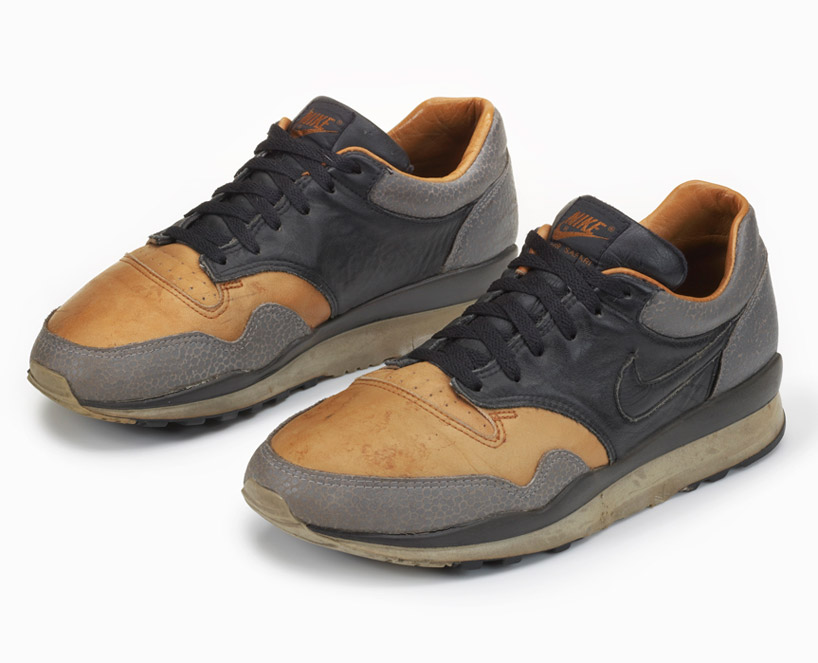 air safari, 1987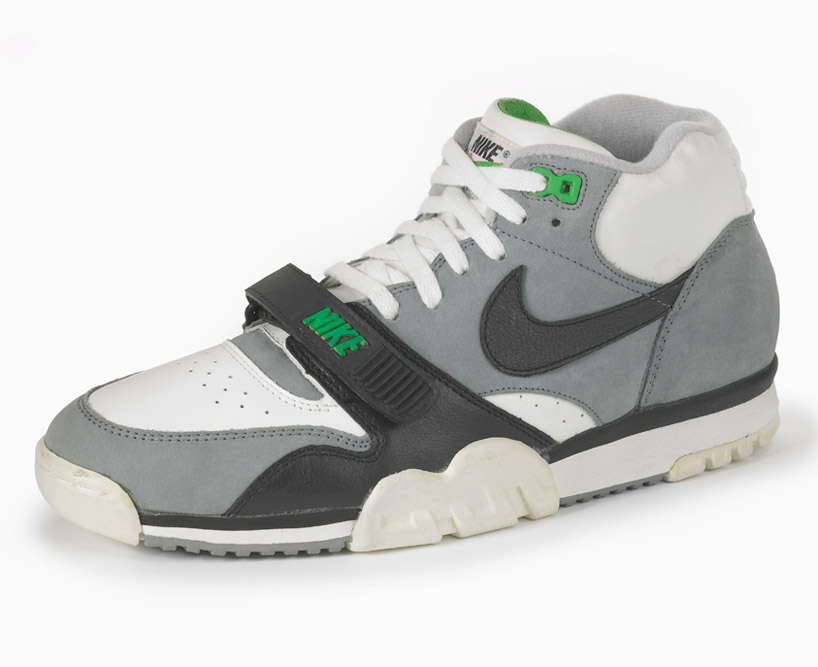 nike air trainer one, 1987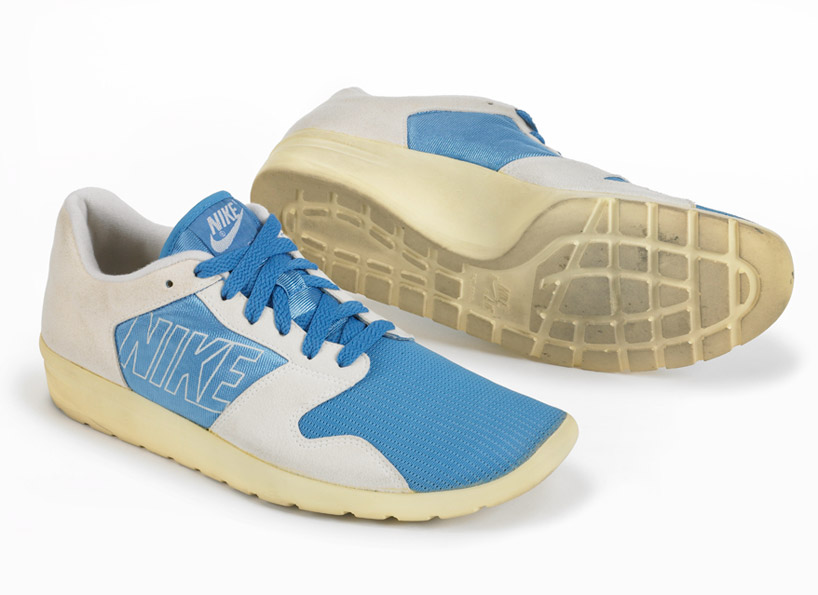 nike air sock, 1987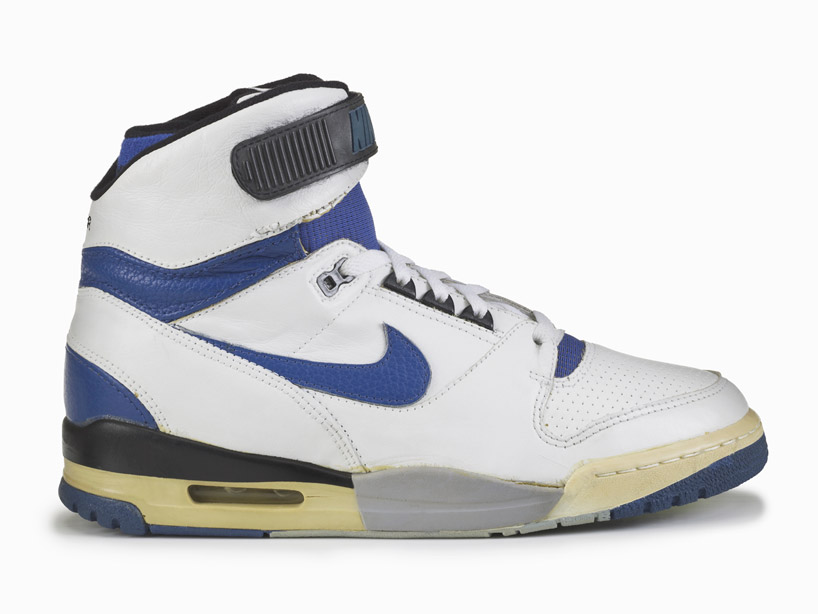 nike air revolution, 1988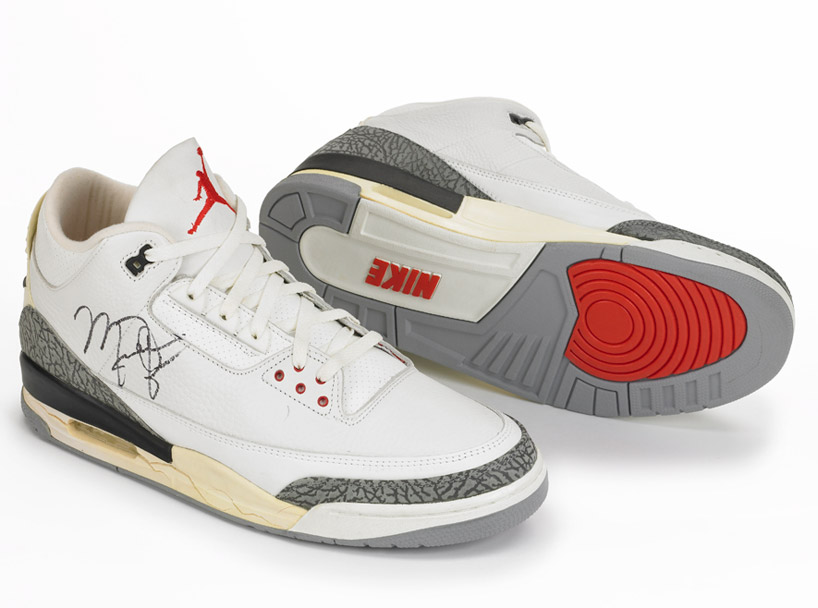 air jordan 3, 1988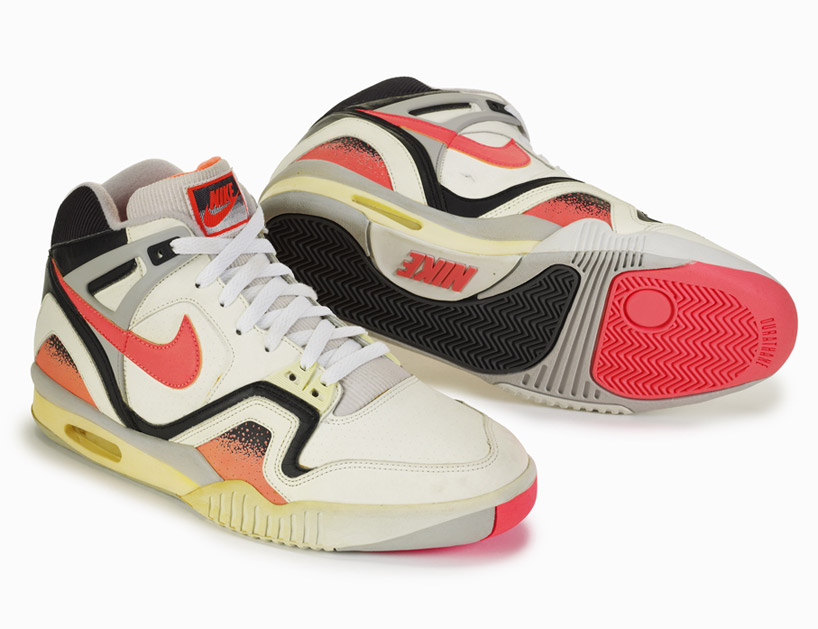 air tech challenge, 1990
DB: how did your background as an architect influence your work as a shoe designer?
TH: in the mid 1980s the brand was slipping behind its competitors a little and the only shoe that was top of its market was the AIR JORDAN 1. as an architect I had the feeling I could bring something new to the table in terms of design especially compared to the shoes that were in the marketplace at that time. so, I began working on a renegade set of shoes that were not part of a design brief or marketing drive: the AIR MAX ONE, the AIR TRAINER ONE, AIR REVOLUTION, AIR SOCK and AIR SAFARI. the AIR MAX ONE was a performance shoe but I wanted to bring a storyline that would highlight the technology to people. I went to paris around the same time and saw the pompidou center and was struck by how renzo piano and his team had turned this building inside out. that helped me come up with the idea of the visible air window – to help people understand the new air bag technology used in the shoe. it's gone on to become one of our best sellers and that shoe helped us understand how to sell a story and market our products.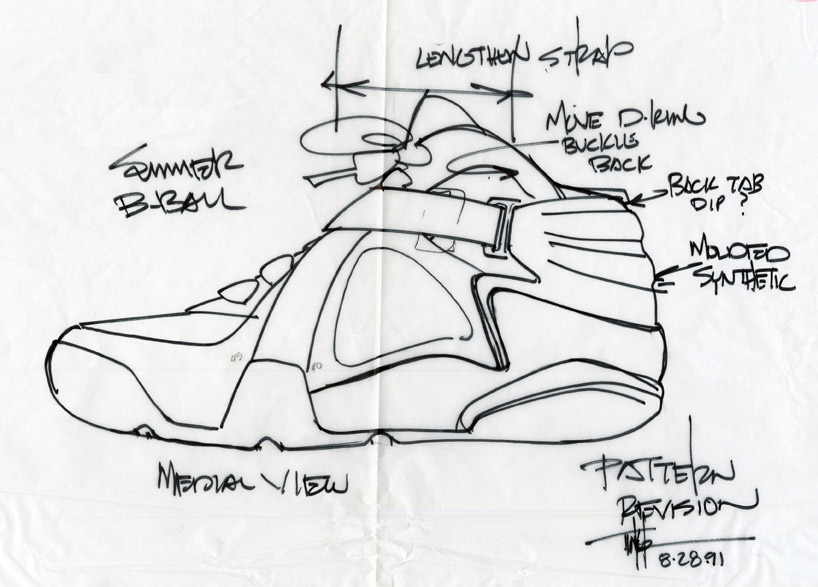 air raid drawing, 1991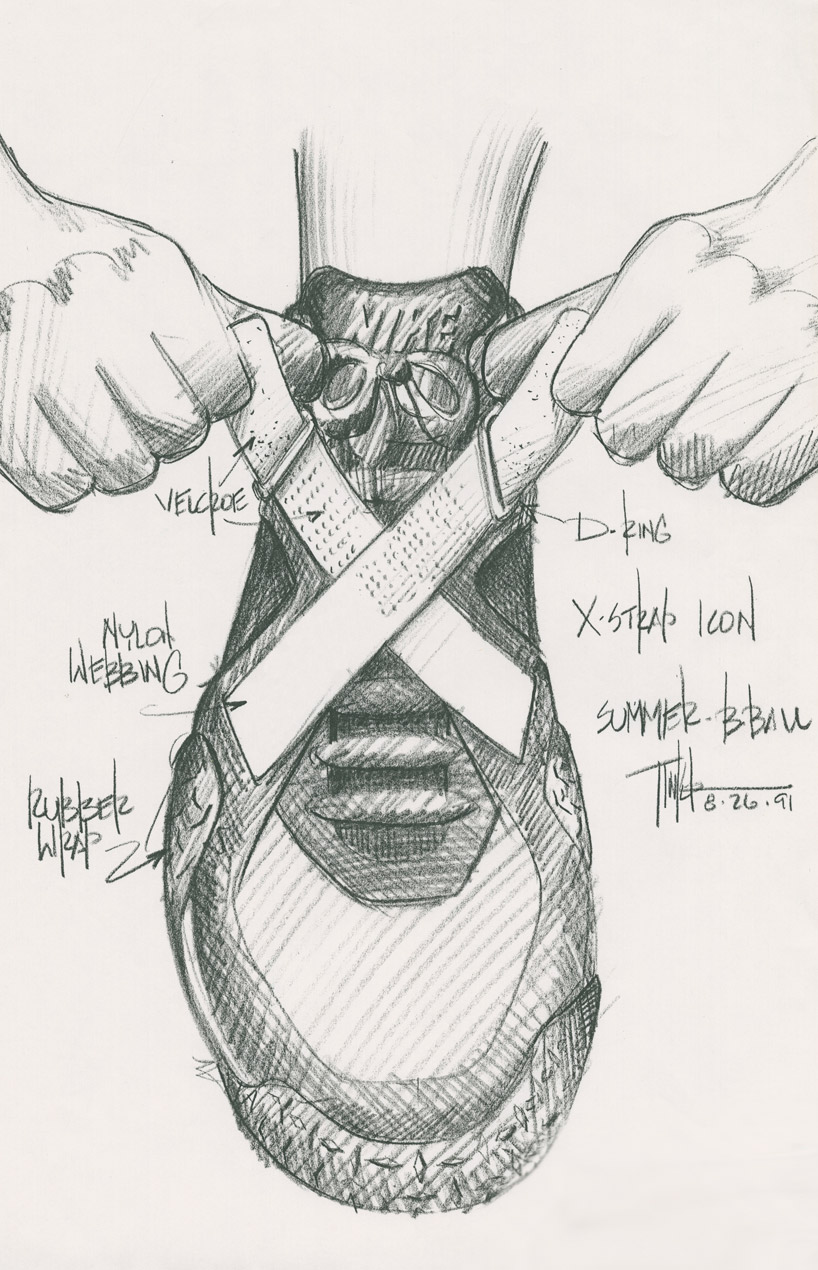 'I was looking at how athletes tape their ankles. that x was about strapping up to go into battle, because you're going to get knocked around the frickin' cage and you need to strap yourself in.' – TH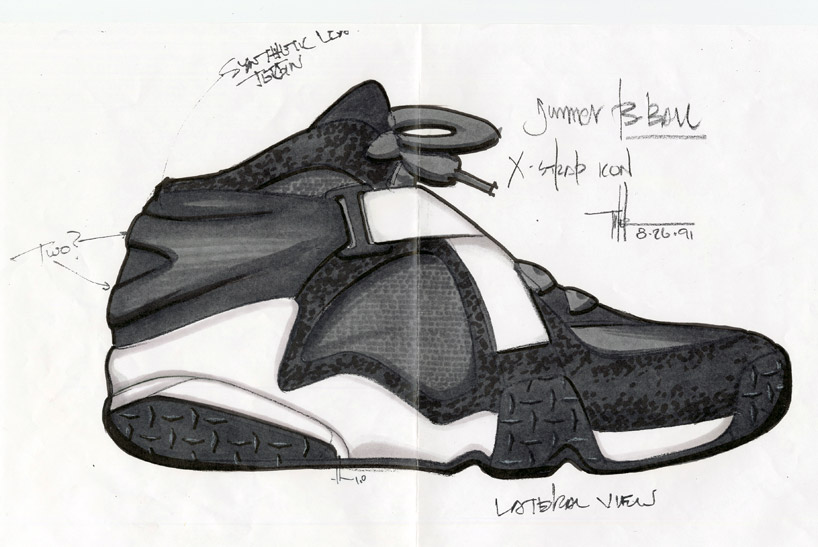 air raid drawing, 1991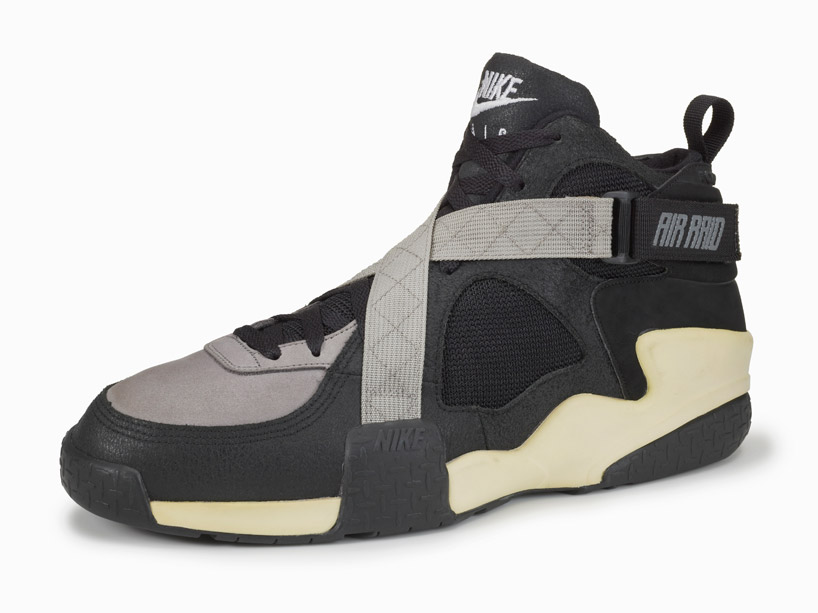 nike air raid, 1991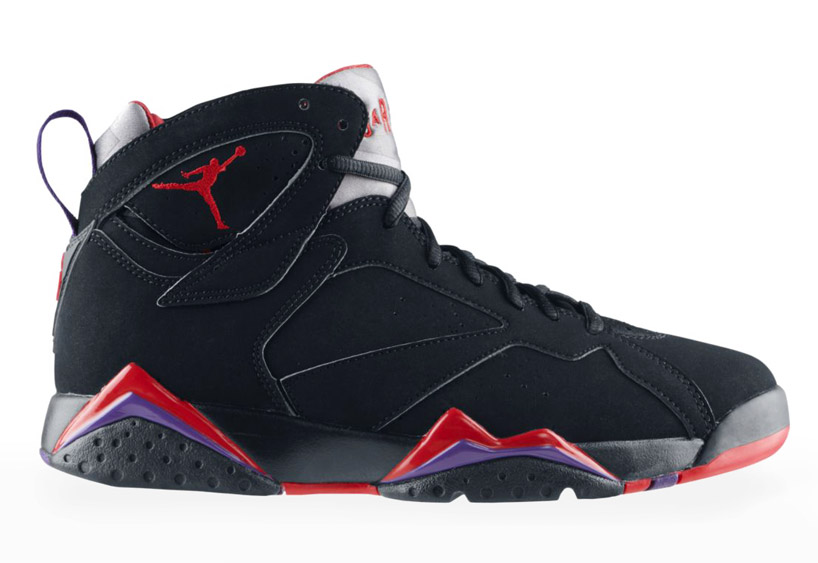 air jordan 7, 1992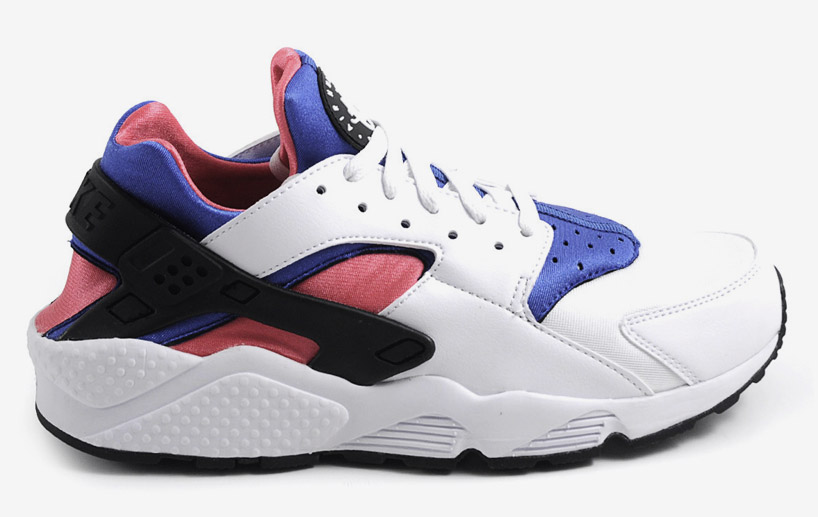 air huarache, 1992 (with eric avar)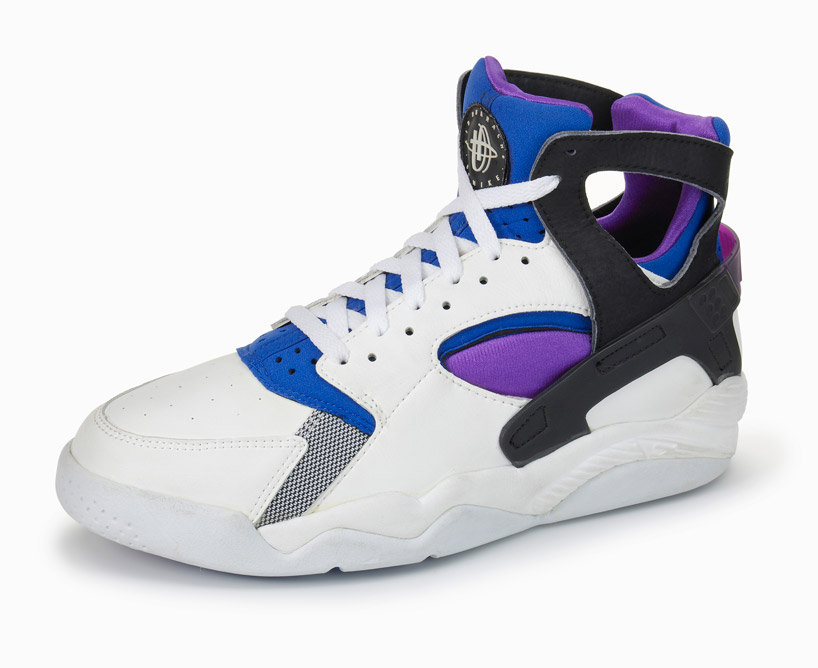 air flight huarache. 1992 (with eric avar)
DB: have any pieces of architecture or industrial design inspired you recently?
TH: everyday I see stuff – that's part of the job of a designer – to see what going on in the world, to look at what other people are doing. actually I was inspired in paris again recently. not by a piece of design but by the people and the city overall. you can think you know something and have preconceived ideas – but things are always changing, people are always changing. as a designer you have to pay attention to everything, to observe changes, think about them, and respond to them.
noticing a change in paris made me feel good and as a result I was having a lot of ideas. when you feel good it changes how you see the world, how you perceive things, and it's in these moments that I have my best ideas.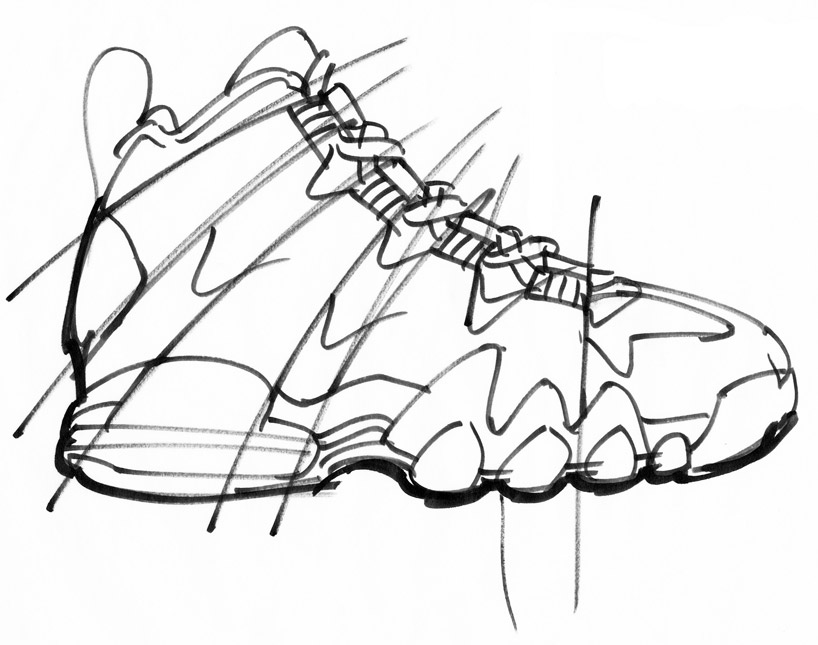 CB max 2 sketch, 1994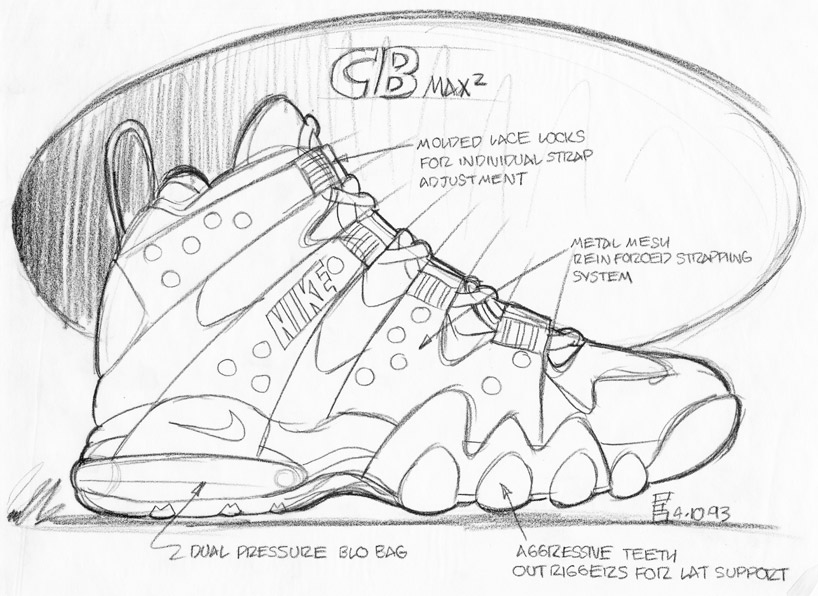 CB max 2 sketch, 1994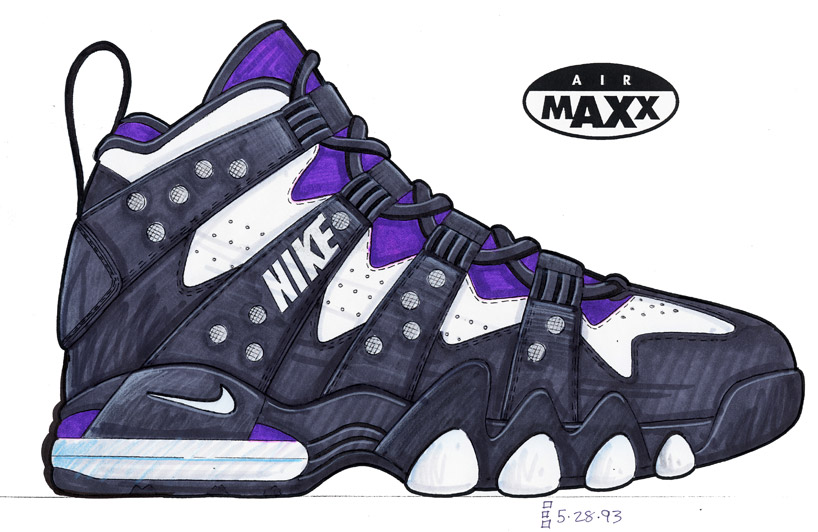 'the outlandishness of charles' persona and the beauty of the product married up perfectly. this shoe became more and more overt as a composition. we wanted to capture charles' game and his personality' – TH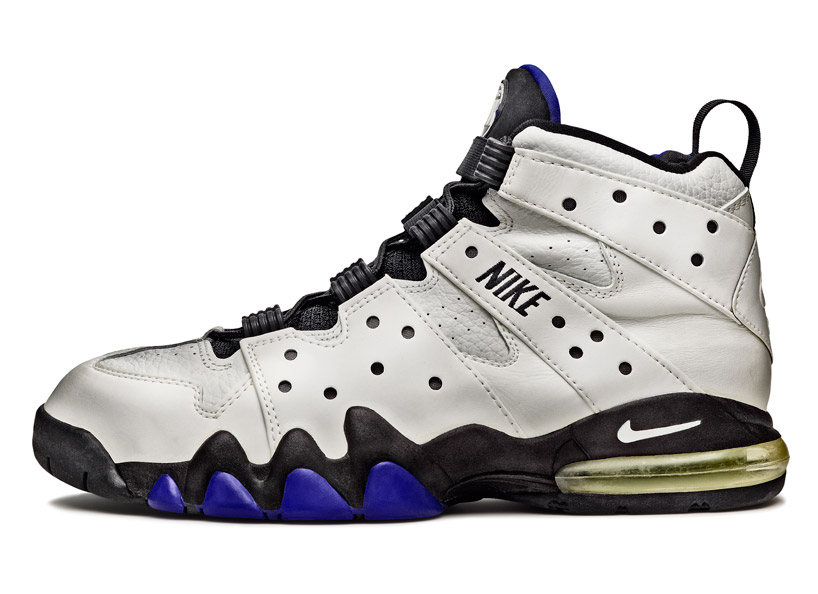 CB (charles barkley) max 2, 1994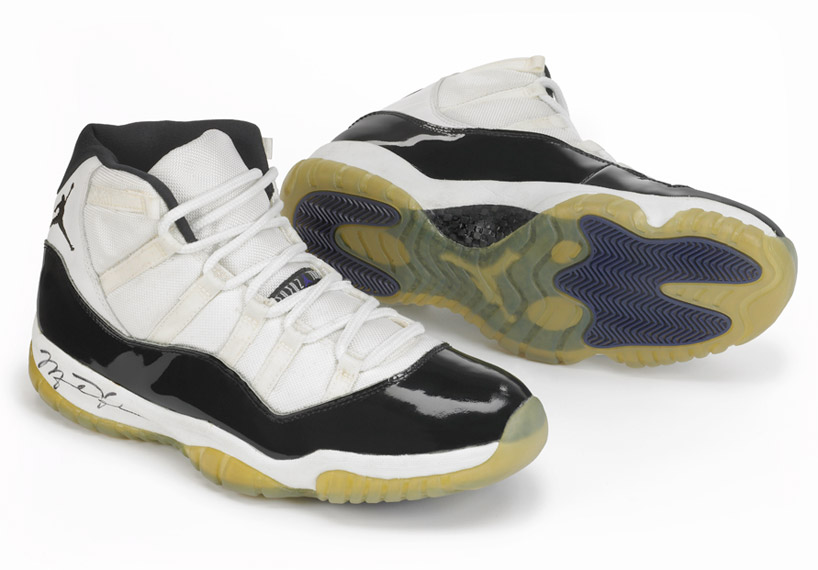 air jordan 11, 1996
DB: how do you think your work has changed from early in your career until now?
TH: in the beginning I was trying to be disruptive. like renzo piano with the pompidou center – and being disruptive is one way to call attention to your work and push the envelope. but now I'm thinking more and more about how to create new and interesting designs that are more beautiful and better looking than what's already out there.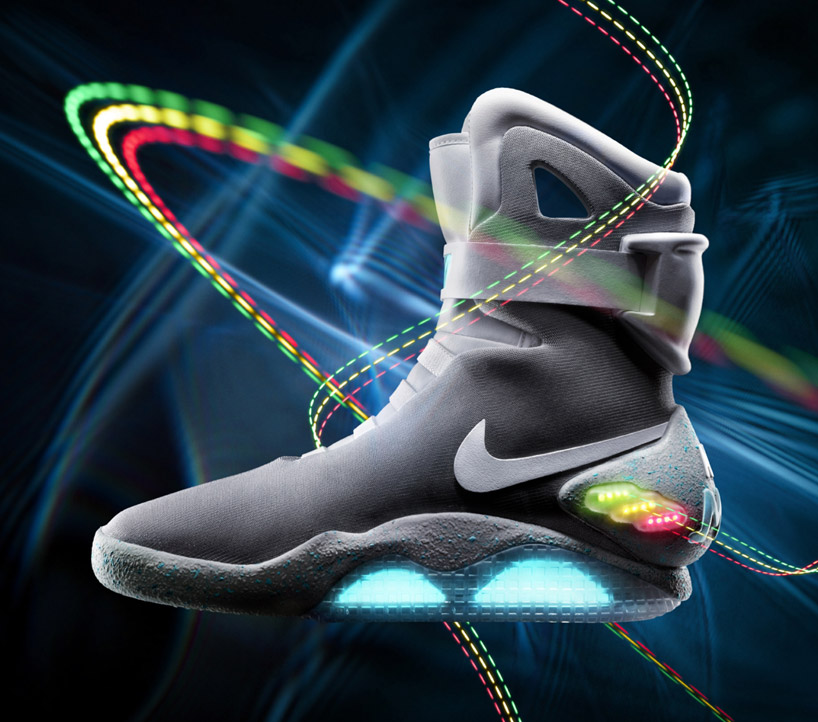 air mag, 1989 (limited release 2011)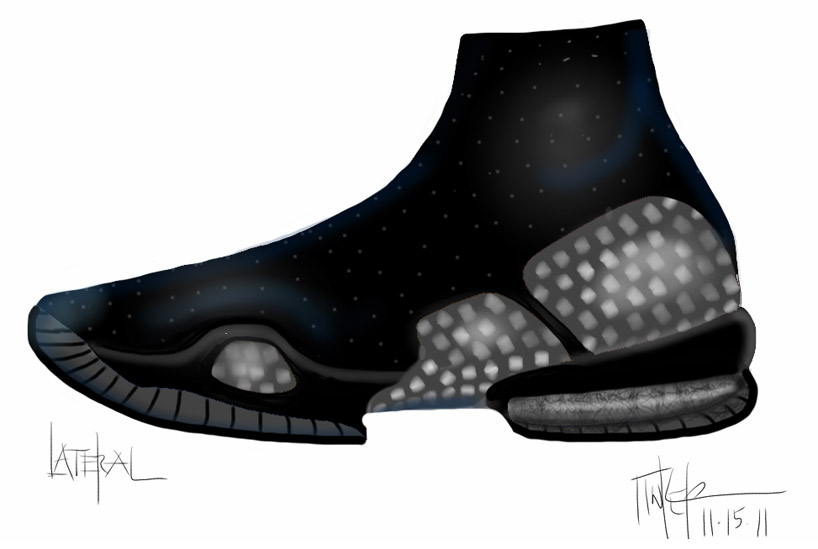 air jordan 28 digital drawing, 2011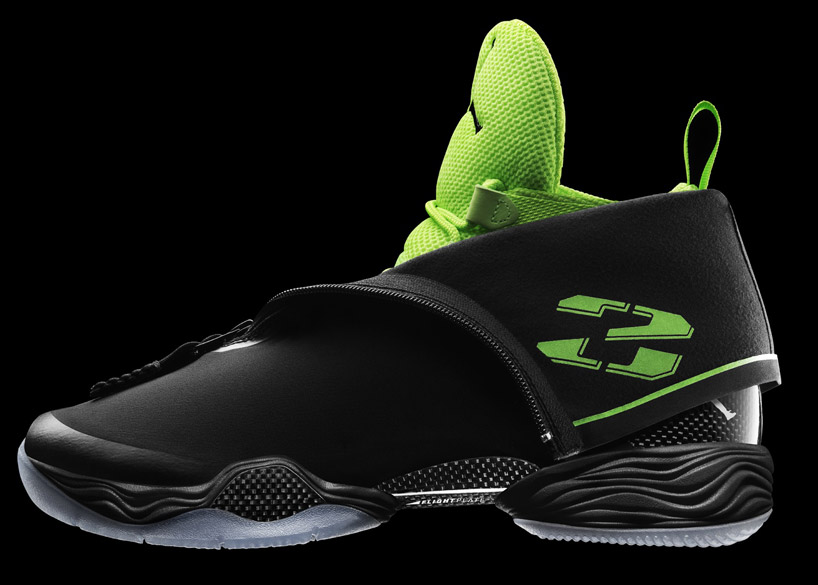 air jordan 28, 2012
DB: do you draw a lot?
TH: right now I'm drawing more often and it's largely thanks to the iPad. I've always carried around a sketch pad with me, but because I like to work in color I didn't always want to be carrying around lots of pens or equipment. with the iPad and SketchBook® Pro you can sketch easily and apply color or effects easily and the experience is very similar to the Wacom Cintiq tablet that I use in my studio. the new technology has encouraged me to draw more which is important – because drawing teaches you how to see, and drawing documents how you see things differently from the next person.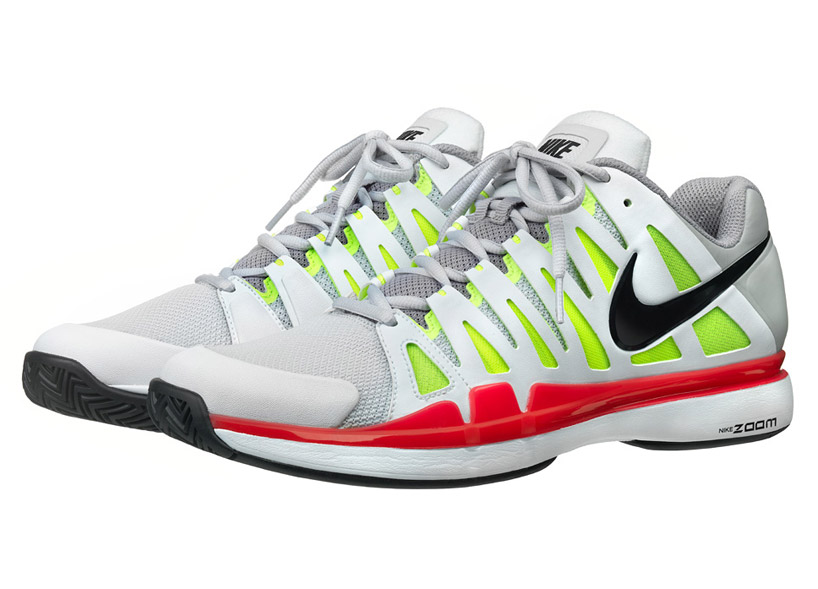 zoom vapor 9 tour, 2012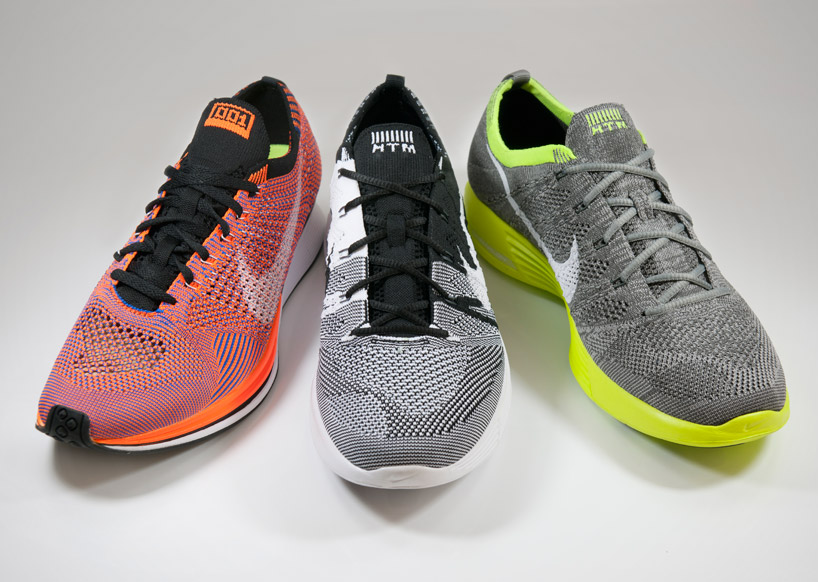 flyknit HTM, 2013 (with hiroshi fujiwara, and mark parker)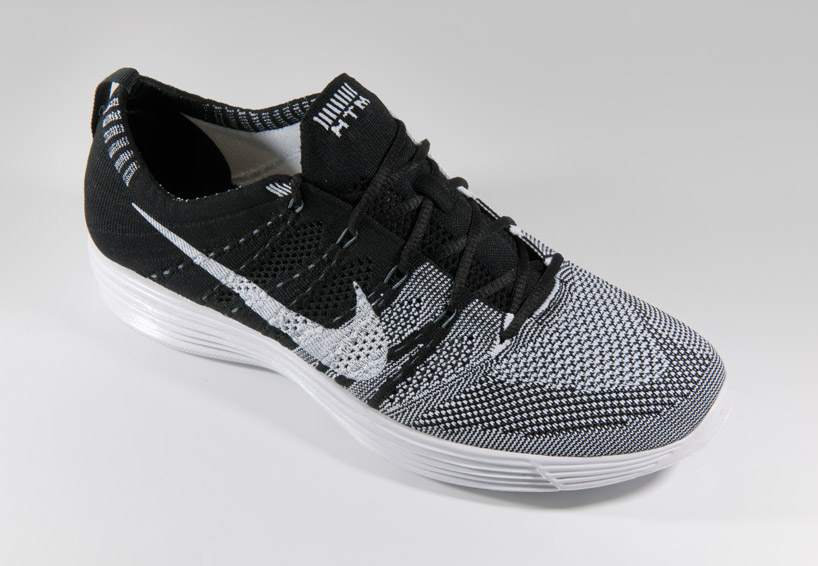 flyknit HTM, 2013 (with hiroshi fujiwara, and mark parker)
DB: what has been the most satisfying project you have worked on during your time at NIKE?
TH: that's a difficult question to answer without upsetting someone! (laughs) but some of the ones that stand out in my mind are the AIR JORDAN 11, the AIR MAX ONE and the NIKE AIR HUARACHE.
the AIR MAX ONE was a sort of revelation on how to design a shoe and tell stories through design and of course it sold very well.
the NIKE AIR HUARACHE was special because it came straight out of left field. I designed that shoe after a water-skiing experience, the use of neoprene got me thinking how it could be used on a shoe. I loved that project because it wasn't typical of my work at the time, in that I wasn't working with an athlete but basing the design on my own direct experience of water-skiing. that was a provocative shoe because people weren't sure about it – most people at NIKE didn't want to produce it but the marketing director at the time did. he manufactured 5000 of them and took them to the new york marathon and sold them all in just three days. that validated the design. we sold well over half a million pairs of that shoe over the next year.
I also really enjoyed the AIR JORDAN 11. everyone told me to stop designing AIR JORDANs because michael had decided to retire but I said no, it doesn't matter and continued with the project. of course he came back and ended up winning a championship in that shoe.
NIKE
(197 articles)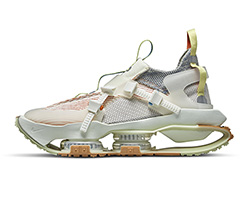 jul 08, 2020
jul 08, 2020
jun 29, 2020
jun 29, 2020
jun 01, 2020
jun 01, 2020
apr 19, 2020
apr 19, 2020
apr 08, 2020
apr 08, 2020
mar 28, 2020
mar 28, 2020
jul 28, 2017
jul 28, 2017
dec 12, 2016
dec 12, 2016
oct 24, 2016
oct 24, 2016
a diverse digital database that acts as a valuable guide in gaining insight and information about a product directly from the manufacturer, and serves as a rich reference point in developing a project or scheme.