Casa Atibaia: A DIGITAL JUNGLE HOUSE COMES TO LIFE
Casa Atibaia, the digital modernist jungle house by Nicholas Préaud and Charlotte Taylor that made waves when it was first unveiled back in 2020, is coming to life through a series of creative initiatives. Taking cues from Brazilian modernism and particularly Italian-born Brazilian architect Lina Bo Bardi's 1951 Casa de Vidro (Glass House), the two young designers have been developing and expanding the project over the past three years. Once completed, Casa Atibaia will serve as a foundation for art and design, a laboratory for research in sustainable construction, as well as a retreat for the members of the Atibaia key-holder community.
The first of its kind, Casa Atibaia will be built and operated through a process that extends beyond the traditional, client-commissioned process and involves a community of people who follow and believe in its vision.'The uniqueness of this project lies in the fact that although it started out in the most digital of fashions, a strong focus was kept on keeping the project real, constructible, and timeless in the sense that it is not subject to any of the trends we have seen in the past few years when it come to digital art or architecture,' Nicholas Préaud and Charlotte Taylor tell designboom. Since the beginning, the designers' goal has been to the bring Casa Atibaia to life through meaningful projects and events. 'Most of the architectural NFTs we have come across in the past years have ostensibly been on the unrealistic conceptual side of things which is an extremely interesting and visually pleasing exercise, but doesn't amount to anything that can be experienced with all senses,' Préaud and Taylor explain. Steering away from what we have already seen in the digital realm, the project's realistic design will allow it to be truly experienced in the physical world.
Upon the release of Casa Atibaia's first video trailer, designboom spoke with Nicholas Préaud and Charlotte Taylor to learn more about the project's architectural development, the designers' vision for the future, and the Web3 tools they are employing to bring the digital house to life. Read our interview in full below and watch the video trailer above.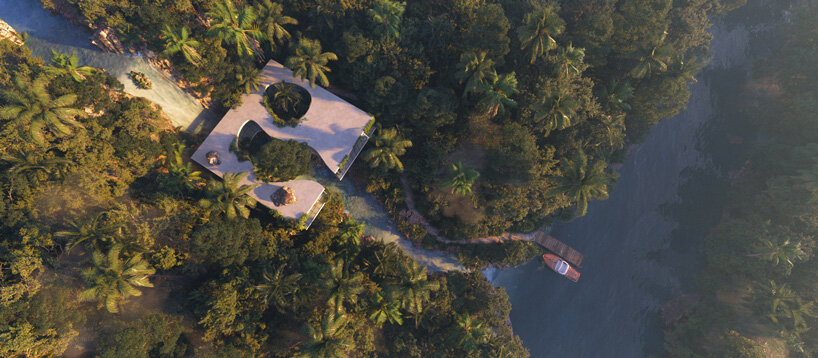 Casa Atibaia | all images courtesy of Nicholas Préaud, Charlotte Taylor, and Nicolas Gagnon
INTERVIEW WITH NICHOLAS PRÉAUD & CHARLOTTE TAYLOR
designboom (DB): How did you start working on Casa Atibaia and what is the stage of the project now?
Nicholas Préaud and Charlotte Taylor (NP & CT): Casa Atibaia was initiated by a shared admiration and passion for Brazilian Modernist design, particularly the work of Lina Bo Bardi. The project itself was driven by pure passion and excitement towards the topic and our desire to reinterpret the values of Brazilian modernism and design our very own jungle house, borrowing materials and concepts from the era. Starting with a conversation to sketch in 3D, the project has been originally developing and expanding over the past three years and will continue to do so for many years to come.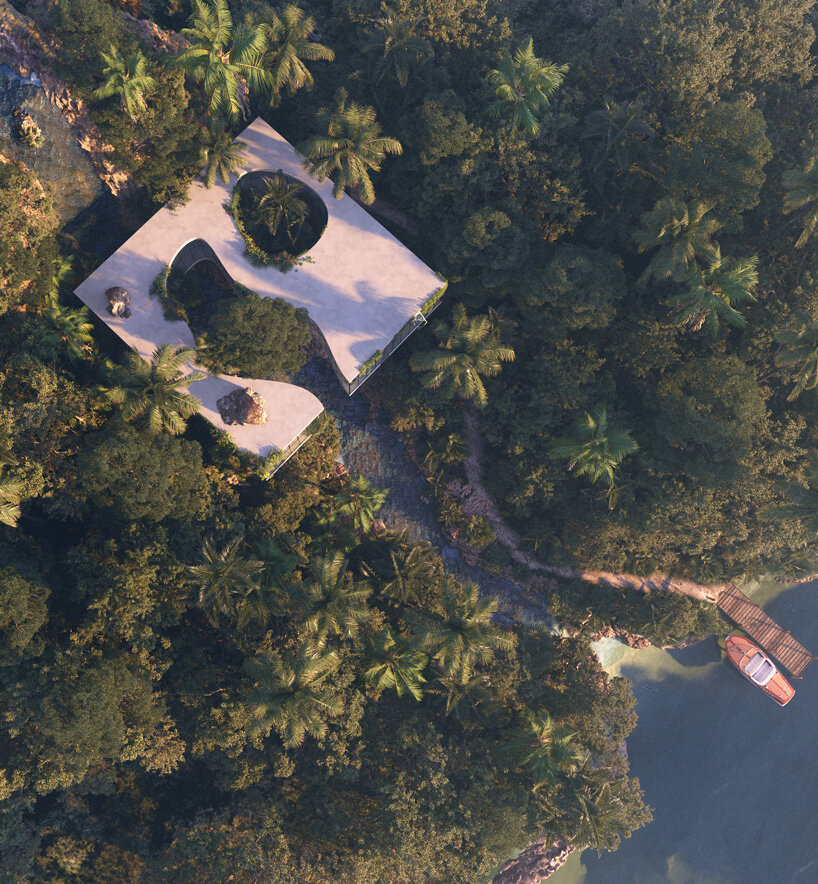 the modernist house inhabits the forest by coexisting around and in-between the landscape
DB: What are some architectural references that influenced the design of the project?
NP & CT: Lina Bo Bardi was a very prevalent inspiration for the project for her humble yet striking structures and blurring the boundaries between the inside and outside. The likes of Phillip Johnson and other prominent modernist architects who explored the open plan aspect and non defined rooms played a part in the airy and boundless nature of the house. Casa Atibaia is a building that inhabits the forest by coexisting around and in-between the landscape rather than imposing itself in its place. Brazilian modernism is about the contemplative nature of living inside with the feeling of being outside; the purity, elegance and lightness of glass façades. Casa Atibaia sits between this delicate and airy essence and a more brutal and primitive aspect.
The structure of the home follows the geometric modernist principles yet opens up onto an expansive organic inner courtyard that curves and responds to the surrounding vegetation, bridging a gap between the outside and inside. This boundary is further broken down by the landscape itself acting as a supporting element of the home; the entire structure is built around pre-existing rocks as natural pilotis, a more brutalist take on the modernist language. These rocks also occupy the interior as functional elements. The bathroom and dressing room are carved entirely out of such forms with the smaller rocks acting as furnishing elements, dictating the fluid layout of the home.
The residing furniture is a balance of modernist gems, antique pieces and more contemporary additions with the likes of Pierre Augustin Rose, Charlotte Perriand and Pierre Chapo.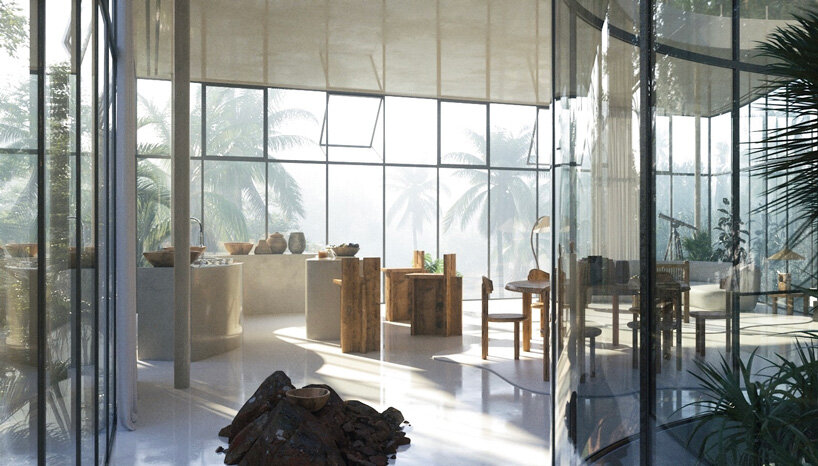 the building opens up onto an expansive inner courtyard that curves and responds to the exterior vegetation
DB: The project's development seems to be turning the traditional architectural process on its head, how are you planning on funding this project?
NP & CT: The most exciting part of this project is the intricate involvement we are seeking to harness from the community of people who follow and believe in our work and vision. By allowing early access to members of the community, through the sale of different art and design pieces designed and produced specifically for this project, we are aiming not only to raise funds, but also to give incremental access to the different aspects of the space once it comes to life. Different pieces of art and furniture will be auctioned off, as well as an Atibaia Key, holding precious information and updates, ultimately giving access to the house and associated spaces. One of the most significant and important pieces of the collection which we are working on is a record by Canadian artist Charlotte Day Wilson. This musical piece will also be the soundtrack to the short film which we release later this year.
The fact that this architectural project is being brought to life through innovative means, beyond the traditional client commissioned process is indeed uncommon. The strong vision we expressed through this once digital project is now slowly coming to life and fruition with the help of our community, institutional and corporate partners, as well as a handful of art collectors who have blessed us with their knowledge and ongoing support. We are also working on curating the ownership and structuring access to this extensive project in a way that makes sense for our collectors. Some aspects of the project will be accessible to all regardless of if you are a top or lower level collector, opening up access to our research, to the spaces and the variety of art and furniture pieces which lie within them.
Funding for this project will indeed come through different channels. Some of it will come from traditional investment from brand partnerships, hospitality and construction partners. Partners who will not only be involved with bringing the project to life, but also operating, maintaining and helping it expand over the years.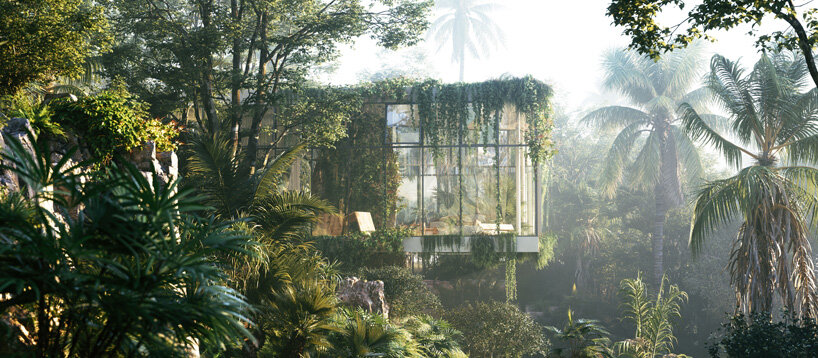 Casa Atibaia blends into its natural surroundings
DB: What kind of uses are you imagining for Casa Atibaia once it's built? Would it be a private house, a public building, an arts institution, a hotel..?
NP & CT: A Foundation for art and design,
a retreat for the Atibaia community of key holders,
an open-air Laboratory for sustainable construction,
a venue for an annual show of curated artists and designers whose artworks will build the collection of the foundation.
It will indeed be all those things at once. The main house will be a fully functional space for hospitality, a showroom for the most unique pieces of art and furniture, as well as a laboratory for sustainable and cutting edge construction. Our project aims to merge the educational and artistic purposes of a cultural center and foundation, with the comfort and beauty of unique accommodations for guests. We see the house not as a fixed, finished design but rather as a blank canvas for unforeseen and future spontaneous uses. The main house being the pivot for the event and cultural aspects, other satellite pavilions would accommodate guest rooms and an exhibition/event space. The house itself will be a springboard in which a much larger scale project will be born from. Other buildings which we have been developing will join Casa Atibaia in the future.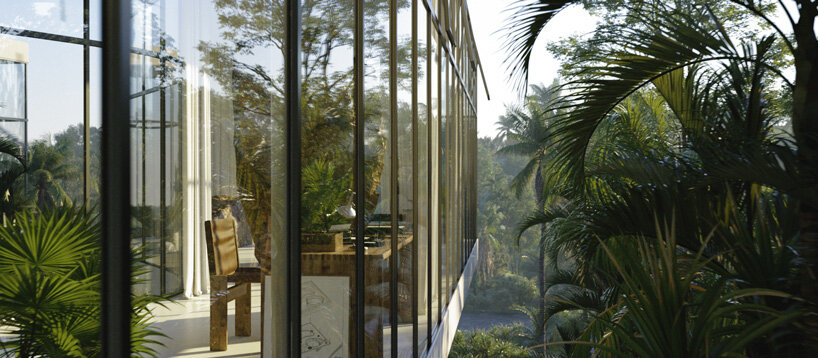 the structure of the home follows geometric modernist principles
DB: Once the first building's construction is done, would you imagine it as a one-off project, or as ongoing?
NP & CT: Moving forward, our goal is to expand the project with the gradual construction of additional accommodations, within a very limited number and a limited amount of time. Each new construction being a uniquely themed research project in and of itself, showcasing the latest and most innovative construction methods. Alongside these additional buildings, bespoke furniture, products and artwork will be associated with such developments.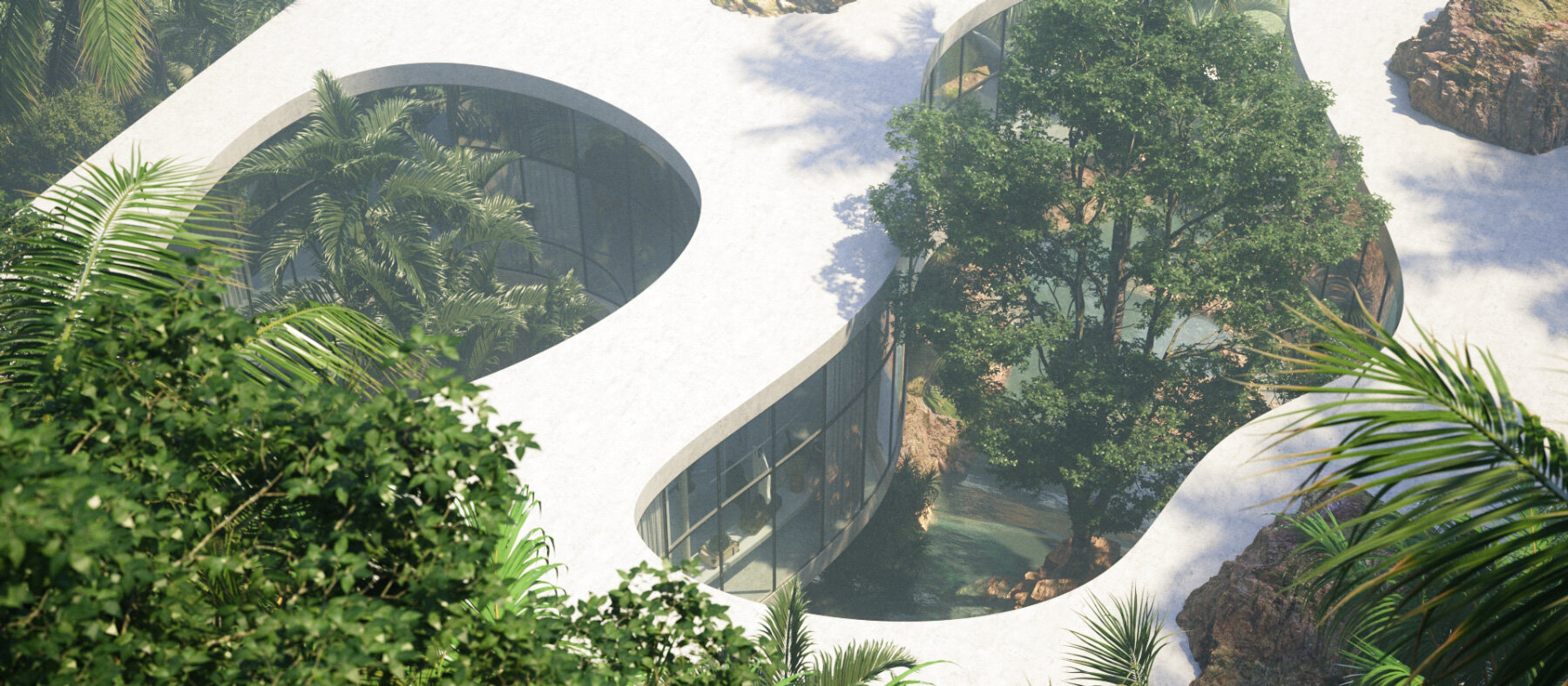 DB: What is the ideal location of the project?
NP & CT: We are currently looking at locations in Central and South America, as well as Southeast Asia. The location will be remote while being easily accessible, near a strong dynamic urban center. We are currently in discussion with hospitality partners about potential sites. The first phase of the project will be located and accessible digitally in the meantime until a location is secured.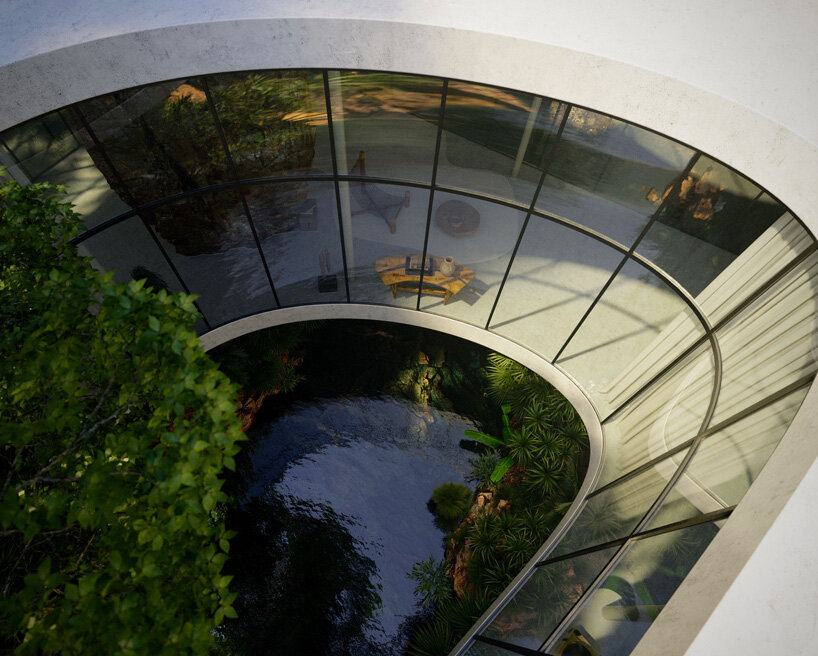 organic inner courtyard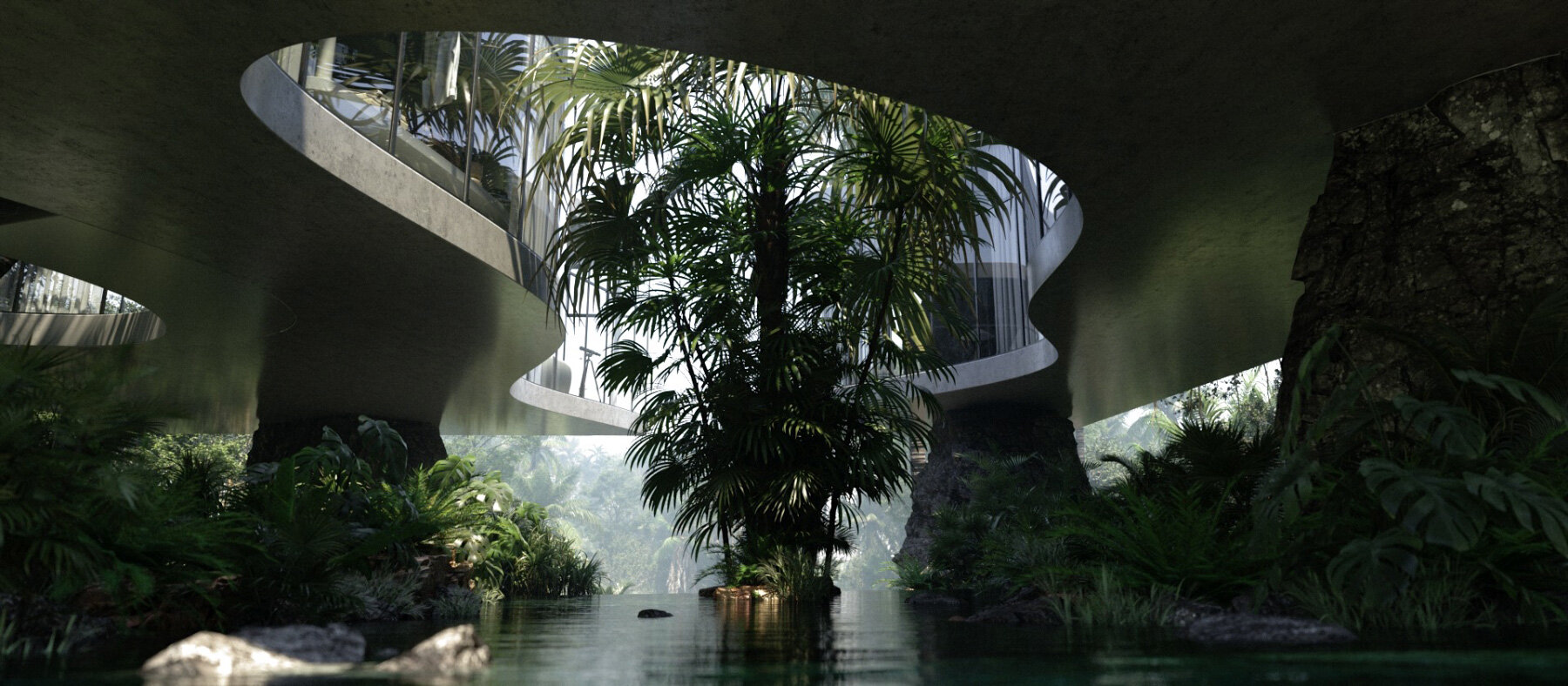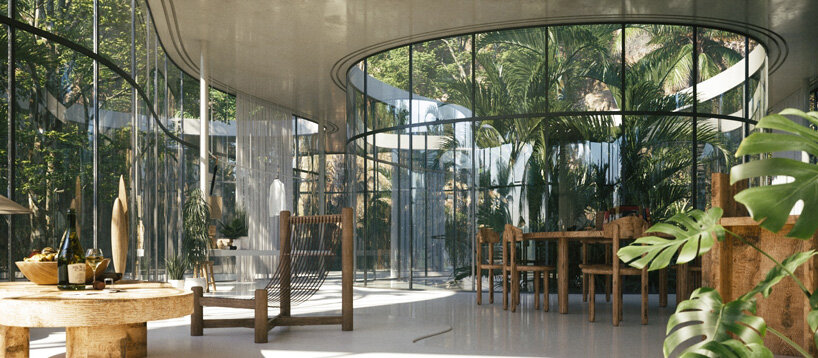 the residing furniture is a balance of modernist gems, antique pieces and more contemporary additions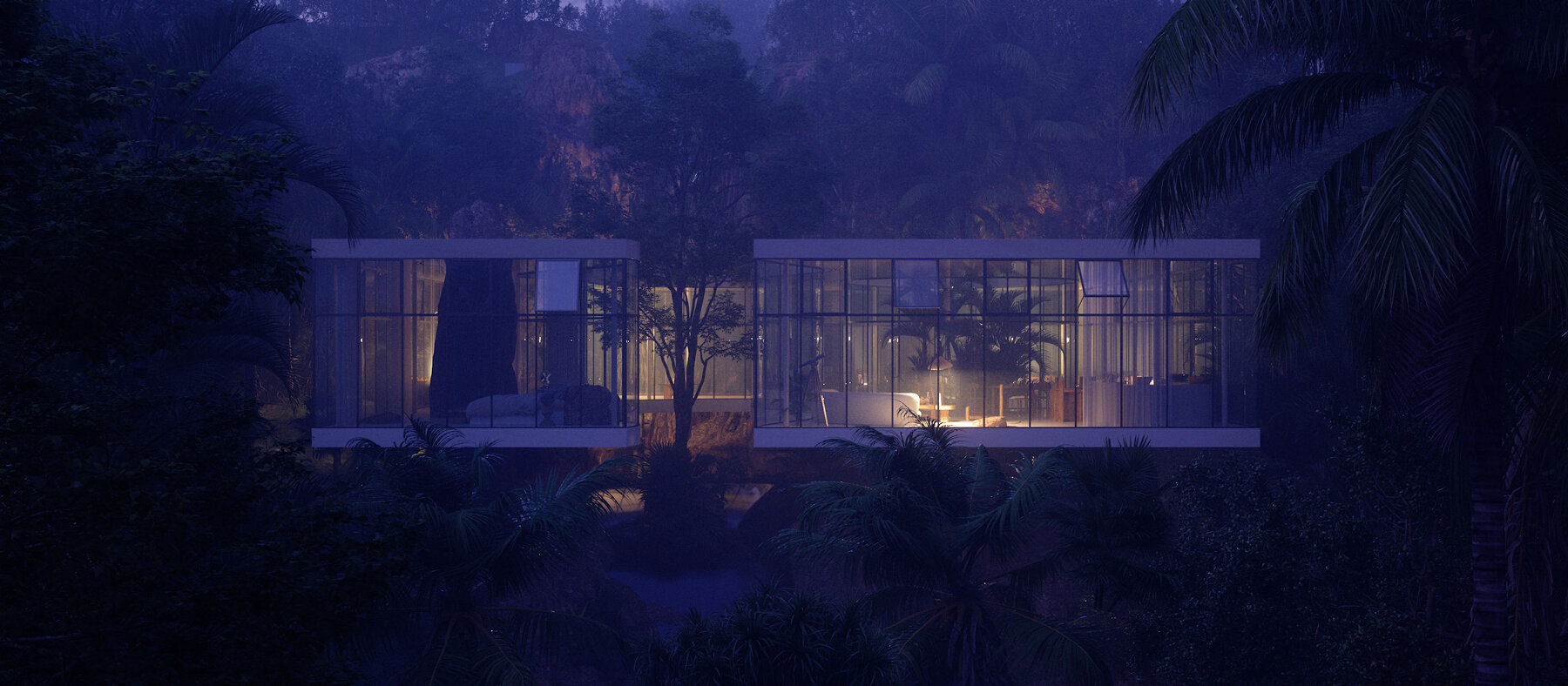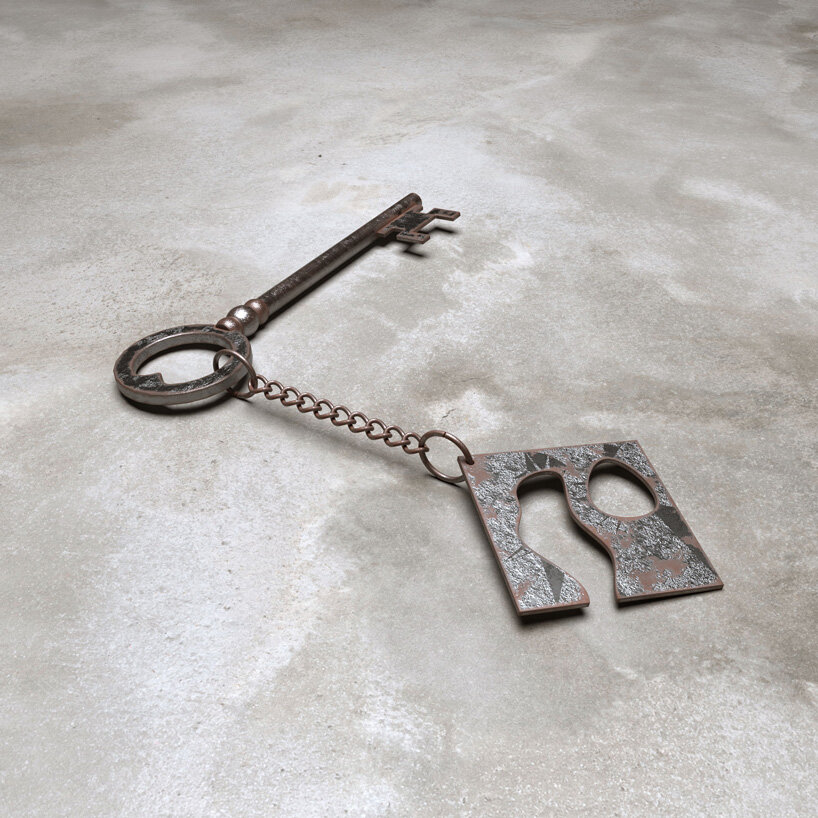 Casa Atibaia key
axonometric
plan
record of Charlotte Day Wilson's Find You, which is also used in the project trailer
project info:
name: Casa Atibaia
designers: Nicholas Préaud and Charlotte Taylor
visuals: Nicholas Préaud, Charlotte Taylor, and Nicolas Gagnon
trailer soundtrack: Charlotte Day Wilson – Find You
sofia lekka angelopoulou
I designboom
feb 22, 2023
KEEP UP WITH OUR DAILY AND WEEKLY NEWSLETTERS
a diverse digital database that acts as a valuable guide in gaining insight and information about a product directly from the manufacturer, and serves as a rich reference point in developing a project or scheme.
designboom will always be there for you
milan, new york, beijing, tokyo

,
since 1999